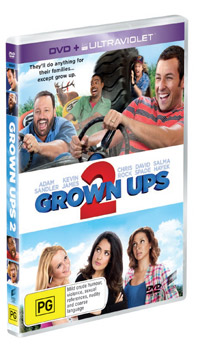 Grown Ups 2
Cast: Adam Sandler, Chris Rock, David Spade, Kevin James, Salma Hayek, May Rudolph, Shanquille O Neil, Taylor Lautner
Director: Dennis Duncan
Genre: Comedy
Rated: M
Running Time: 101 minutes

The all-star comedy cast from Grown Ups return with another impressive line up in Grown Ups 2. Bursting at the seams with outlandish antics from a crazy group of childhood friends, this unruly comedy proves that just because they're a little older, it doesn't mean they've grown up.

Three years after the events of the first film, Lenny Feder, a high-powered Hollywood talent agent, has relocated his family back to his Connecticut hometown where he and his motley group of friends grew up. Determined to unwind and let loose, he soon finds out that between old bullies, new bullies, wild bus drivers, cops on skis and 400 costumed party crashers, 'crazy' has a habit of catching up with you, and his hometown might not be the quiet family retreat he was looking for.

The gang, including sharp-witted Kurt, mama's boy Eric and the eternally seedy bachelor Marcus, are thick as thieves but still struggling with the demands of family life. It is not that they can't let loose anymore, it is that whatever they do, in the eyes of their wives it is never enough. Bu no-bull Deanne and high mainteance Roxanne are sassy, smart matrirchs whose whip cracking is the only reason anything gets done.

Grown Ups 2 is the perfect example of what an infantile anarchist has to give up to become a husband and a father. Let the dynamic posse take you into the fold with their weird, wacky and slighly gross adventures.
Special Features:
Deleted Scenes
Shaq and Dante: Police Force

Exclusive to Blu-ray Special Features:
Look Who Stopped By
The Feder House
Mr Spade's Wild Ride
Shaq and Dante: Police Force
Deleted Scenes

Grown Ups 2
RRP: $39.95
Blu-ray: $44.95