AUSTIN POWERS in GOLDMEMBER
Genre:
Comedy
Running Time:
1 hr. 33 min.
Rating:
M
Release date:
19/09/02
Starring:
Mike Myers, Beyonce Knowles, Michael Caine, Michael York, Seth Green
Directed by:
Jay Roach
Produced by:
John Lyons, Eric McLeod, Demi Moore, Eric McLoed, Mike Myers, Jennifer Todd, Suzanne Todd, Jay Roach
Executive Producer:
Richard Brener
Written by:
Mike Myers, Michael McCullers, Robert Wagner
Screenwriter:
Mike Myers, Michael McCullers, Robert Wagner
It's been three years since Austin Powers, that swinging secret agent, has faced his arch-nemesis, Dr. Evil. But after Dr. Evil and his accomplice Mini Me escape from a maximum-security prison, Austin is called to action once more in this third installment of the highly successful Austin Powers movie franchise.
The villainous Dr. Evil has hatched a new scheme for world domination. He plans to use a tractor beam to attract a meteor to Earth and make it crash into the North Pole, melting the ice cap and flooding the planet.
The 'evil' plot also involves the kidnapping of Nigel Powers, Austin's beloved father and England's most renowned spy. To make sure the shagadelic spy doesn't get in his way, Dr Evil teams up with a '70s disco club owner named Goldmember (due to an unfortunate smelting accident).
As Austin chases the villains through time, he pauses in 1975 to join forces with his old flame, Foxxy Cleopatra. Together Austin and the sass-talkin', sexy Cleopatra must find a way to save Nigel and foil Dr. Evil, Mini-Me and Goldmember before it's too late.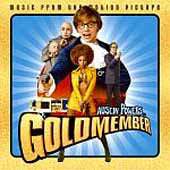 Austin Powers - GOLDMEMBER SOUNDTRACK
The soundtrack is as star studded as the film. Including tracks by: Beyoncé Knowles, The Rolling Stones & Britney Spears amongst many others....
You've got to have one baby! It's dead sexy!
Track Listing:
1. WORK IT OUT - BEYONCE KNOWLES
2. MISS YOU - THE ROLLING STONES (DR. DRE 2002 REMIX)
3. BOYS - BRITNEY SPEARS/PHARRELL WILLIAMS (THE CO-ED REMIX)
4. GROOVE ME - ANGIE STONE
5. SHINING STAR - EARTH WIND & FIRE
6. HEY GOLDMEMBER - FOXXY CLEOPATRA
7. AIN'T NO MYSTERY - SMASH MOUTH
8. EVIL WOMAN - SOUL HOOLIGAN/DIANA KING
9. 1975 - PAUL OAKENFOLD
10. HARD KNOCK LIFE (GHETTO ANTHEM) - DR EVIL (DR. EVIL REMIX)
11. DADDY WASN'T THERE - MING TEA
12. ALFIE (WHAT'S IT ALL ABOUT, AUSTIN?) - SUSANNA HOFFS
Visit the official site
http://www.austinpowers.com