Gemma Bovery
In this vibrant seriocomic re-imagining of Flaubert's literary classic Madame Bovary, life imitates art in uncanny ways when earthy British beauty Gemma Bovery (Gemma Arterton) and her furniture restorer husband Charles (Jason Flemyng) move to a charming ramshackle old farmhouse in the very same Norman village where the novel was written a century earlier. Their welcoming neighbor, local baker and Flaubert expert Martin Joubert (Fabrice Luchini) becomes entranced with Gemma and sets out to be her guide and mentor to her new surroundings. It doesn't take long before he is drawing parallels between the literary and real life woman, while he insinuates himself into her life.

As reality sets in on the fantasy of rural French domesticity, the Boverys' marriage begins to fray and Gemma finds herself at loose ends. She soon catches the eye of a handsome young playboy and when her magnetic ex suddenly reappears, she finds herself at a crossroads and seems to be fulfilling Joubert's worst fears that her destiny is linked to that of Flaubert's doomed heroine. Director Anne Fontaine's (COCO BEFORE CHANEL) clever adaptation of Posy Simmonds' graphic novel Gemma Bovery is at once a cheeky literary mash-up, a sensuous romance, a witty feminist commentary and a heady celebration of French provincial life.


Gemma Bovery in cinemas 28th May.


AN INTERVIEW WITH GEMMA ARTERTON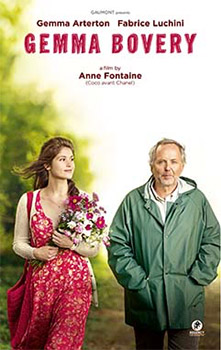 What attracted you to this project?

I must admit that when I got the script initially, I wasn't sure if I wanted to take part in this project because I'd already filmed Tamara Drewe, which is a film adaptation of another Posy Simmonds' novel. The style of it was similar, but the main character was very different, and there was something about her that attracted me more: I see more of myself in Gemma than in Tamara. Besides, the story takes place in France and I was pleased at the prospect of learning French! Not forgetting that Anne Fontaine is a director of great sensitivity and I had really wanted to film under her direction.

Had you heard of the graphic novel by Posy Simmonds?

I knew that the novel existed, but I'd never read it. So I had read the script first, and then the novel, which is extremely brilliant. Besides, the film moves a bit away from the book as the main parts occur in London, which is the opposite of the film. Posy is especially great, she provides lots of detail and is very precise in the characterization of her characters. On the other hand, what interested me was that in the novel Gemma is a lot
more aggressive, more bad-tempered and frankly not very nice. When you're filming a movie, you can't portray such a character as nobody would want to see it! I wanted to be able to identify with the character.

Did Flaubert's heroine, Emma Bovary, help you to better understand your character?

Absolutely. It allowed me to get a grasp of the character's identity – her idleness – Madame Bovary doesn't have a lot to do in life, and Gemma is a modern day Madame Bovary. What was equally useful were the scenery, the society and traditions that were painted in the book, and that you still find in Normandy today. It corresponds to this romantic idea of Normandy that English people have, and it's very much exactly in this state of mind that Gemma and Charles arrive in the region.

How could you depict Gemma? Is she aware of being this young woman of ravishing beauty?

Not at all! She doesn't have any self-confidence at all. When she was in London, she was only a normal, young girl who was nothing out of the ordinary, and she had hardly any experience with men. When they settle into Normandy, she lights up, and in my opinion, as an English woman, who is the opposite of those around her, she comes across as exotic, while she herself doesn't feel the least exotic!

Talk to me about the relationship between Gemma and Fabrice Luchini's character.

At the start, she doesn't know anyone, and this man helps her to heal a bit: she sees him everyday when she goes to buy her bread, and she finds him kind, although a bit strange. But when you don't speak the same language, you can't escape from misunderstandings, and that's also what happened between Fabrice and me because at the time I didn't speak French very well. It's a bit similar between Gemma and Martin; they can't communicate well, and so their relationship isn't very clear. She appreciates him, without being conscious that he's obsessed with her. It's important because at the end of the day, when she realizes that he's confusing her with Madame Bovary, it's a shock for her as she's not in love with him. And at the same time, it touches her because he's romantic and he lives in fiction – and she too has always looked for ways to escape her daily life – so they have that in common. He watches her with the enthralled gaze of a child. It's not really sexual because, if that were the case, it would be a bit offputting. There's some innocence in their relationship.

How did you prepare for the role?

As I had to learn French, I moved to Paris a few months before filming began. I freaked out because I didn't speak even one word! As such, I was immersed in the local culture and remember Anne constantly reminding me, 'you're just like your character!" In one way, she was right: it was true to Gemma because she was supposed to be submerged in a culture that wasn't her own, feeling like a foreigner. Consequently I returned to Brittany for a few weeks to perfect my French learning. And I also went out with French people, went to concerts with them, etc. and it was a kind of preparation.

Did Anne Fontaine guide you in this stage of preparation?

I spent a lot of time with Anne, and it was the first time I'd filmed with director who had guided me so much during preparation. We met up once or twice a week to talk about the film, and she explained to me how to repeat my dialogue without any intonation, simply so I get used to the sound of the sentences. Besides, once on set, I didn't want to be obsessed with the language to the detriment of my work as an actor. This is without a doubt the longest time in preparation that I've spent on a film, given that I started in January and we finished filming at the end of August.

What kind of director is she?

She has great respect for the original text, which is something I appreciate in a director, since she works on it well in advance to make sure that any changes she wishes to make are ready to go when filming. So that means when she's on set, she knows exactly what she wants and is extremely prepared. At the same time, she is perfectly open to unexpected events that can occur and to spontaneous suggestions. She's a great director of actors: she dedicates an enormous amount of time in preparation, to the extent that once on set she is entirely at the disposal of the actors and doesn't have to worry about the camera angle! And she completely adopts the actor's point of view, which I really appreciated.

This is the first time that you've filmed with a French team…

I've loved this experience, as here they have a great respect for cinema. All the technicians were experts in their area, and our cinematographer was astounding. For everyone, the most important thing involved telling the story as best we could.

How did working with Fabrice Luchini go?

It was very strange – a bit like in the film. The funniest thing, it was only at the beginning, I didn't speak French, and he was telling me all sorts of funny things in this voice that didn't belong to him: that bored me stiff as I didn't have the slightest idea what he was talking about! Everyone burst out laughing except me! That's what our relationship boils down to. Yet near to the end of filming, I loved filming with him more and more, and we took great pleasure in playing opposite each other. I love the scene in which he kills this mouse: he's trying to concentrate, staying silent for quite a long time while I start screaming because the mouse climbs over my foot. How we laughed filming that!