Adrian Grenier Entourage
Cast: Adrian Grenier, Jeremy Piven, Kevin Connolly, Jerry Ferrara, Kevin Dillion, Billy Bob Thornton, Haley Joel Osment, Perrey Reeves, Emmanuelle Chriqui, Rhys Coiro, Debi Mazar, Rex Lee, Constance Zimmer, Nora Dunn, Emily Ratajkowski, Alan Dale, Scott Mescudi, Rhonda Rousey
Director: Doug Ellin
Genre: Drama, Comedy
Rated: MA

Synopsis: Movie star Vincent Chase (Adrian Grenier), together with his boys, Eric (Kevin Connolly), Turtle (Jerry Ferrara) and Johnny (Kevin Dillon), are back…and back in business with super agent-turned-studio head Ari Gold (Jeremy Piven). Some of their ambitions have changed, but the bond between them remains strong as they navigate the capricious and often cutthroat world of Hollywood.

Also starring are Billy Bob Thornton and Haley Joel Osment as father and son, Larsen and Travis McCredle. Returning cast from the series also includes Perrey Reeves as Ari Gold's wife; Emmanuelle Chriqui as Sloan; Rhys Coiro as Billy Walsh; Debi Mazar as Vince's publicist, Shauna; Rex Lee as Lloyd; Constance Zimmer as Dana Gordon; and Nora Dunn as Dr. Marcus. Emily Ratajkowski appears as herself. Rounding out the cast are Alan Dale, who appeared in the series, rapper Scott Mescudi, and Rhonda Rousey.

Entourage
Release Date: June 4th, 2015
About the Production
'The next level is coming!" "Ari Gold

Ever cruise Sunset Boulevard in a stretch limousine, and then hit the red carpet at a star-studded movie premiere? Stop by an impromptu party on the beach in Malibu, where the sun always shines and the cocktails flow? Score the best table at the hottest restaurant in town, no reservation required? And all the while, everywhere you go, gorgeous starlets wave as you pass by.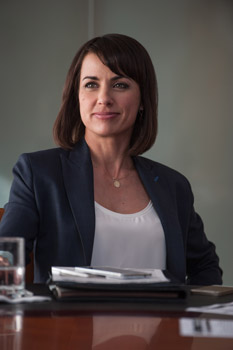 It's everybody's fantasy to live the Hollywood dream, but Vince, Eric, Drama, Turtle and Ari Gold really do, and they make it all look so easy. Boy, do the boys of 'Entourage" know how to do it up and do it right, how to dream large"and live larger.

To take the guys and their enviable lifestyle of access and excess to the big screen, writer/director/producer Doug Ellin, who created the hit HBO series on which the movie is based, knew that the feature film 'Entourage" had to be even bigger"no small feat, considering all the ground they'd covered before. 'Although the show was a big show with a lot of locations, I wanted to take it to another level for the movie, so it's -Entourage' on steroids, with glamorous yachts, planes and houses, and the stakes for everyone higher than ever."

From the opening seconds of the first episode in 2004, viewers followed driver/errand boy Turtle as he exited his bright yellow Hummer and strode distractedly through a sprinkling of Hollywood hotties into a hip Melrose Avenue restaurant, where he joined his homeboys from Queens, New York: the quartet's de facto leader, up-and-3 coming movie star Vincent Chase; former pizza boy-cum-talent manager, Eric Murphy; and Vince's half-brother, out-of-work C-list actor Johnny 'Drama" Chase. Turtle's momentary mission: to have Vince autograph a poster from his first big film in order to keep their local sneaker hook-up happy.

Cut to 2015 and, with nothing but blue skies and bright sun overhead, 'Entourage" opens on the familiar trio of manager-cum-movie producer Eric, drive-cum-tequila mogul Turtle, and still sometime working actor Drama. But this time they're navigating the wide-open sea in a speed boat, their destination a huge luxury yacht off the coast of Ibiza, where Vince, rising actor-turned-megastar, 'mourns" the demise of his five-day marriage, surrounded by 200 or so of his closest acquaintances…mainly of the scantily clad female variety. But it wouldn't be a party without his boys, and clearly the party is back on.

Despite the TV show's popularity and its 26 Primetime Emmy Award nominations"including six wins in such categories as acting, directing, writing and outstanding comedy series"Doug Ellin knew he not only had to up the ante, he also needed to reach moviegoers who may not have been series devotees. 'The way we structured the film, you do not have to have seen one second of the show to enjoy it," he conveys. 'You're instantly inside a movie star's world and hanging out with him and his best friends, having fun, livin' the dream."

Rob Weiss, who co-wrote the story with Doug Ellin, was happy to be involved in bringing these guys and their dream lives to moviegoers. 'It's always great working with old friends to bring other old friends back to life."

The key to making the film was to have the core cast from the series back together and, in classic 'Entourage" fashion, to have as many guest stars and celebrity cameos as possible.

'If any one of us had said we didn't want to do it, the movie wouldn't have happened," Adrian Grenier, who plays Vince, candidly states. 'But of course we all wanted to do it. We knew we'd have a great time and were excited about it, and we also wanted to give fans, old and new, even more"more famous people, more toys and more hot girls. Basically, the -Entourage' Hollywood lifestyle in all its glory, experienced through the eyes of these lifelong friends."

With curious onlookers lining the streets of Los Angeles during the film's production, and real stars and athletes clamoring for a chance to have a cameo, the job of making the movie mirrored the very lifestyle the characters enjoy, and made each day on set as unpredictable as ever.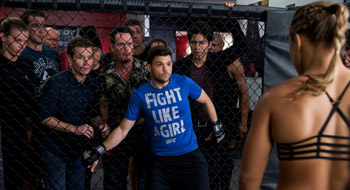 Kevin Connolly, who plays Eric (aka 'E") says, 'We've always had so much fun working together, it almost feels wrong to call it work. So it didn't take long to get back into the groove with everybody; we all just kind of clicked back together, almost on the spot. Even though it had been a couple of years, it really just felt like an extended hiatus, and with Doug at the helm it was easy to step back into being these guys."

'Working with Doug Ellin is amazing and a real collaboration," Kevin Dillon echoes. Kevin Dillon, who portrays Drama, notes, 'I've been in this business a long time and there's nothing in this movie that doesn't really happen in Hollywood. Doug Ellin gets this stuff from the real world grapevine, and it was great to see him take it to the next level, and still be able to show it all through these four friends who really care about each other and stick together no matter what."

'Doug Ellin is a genius writer," Jerry Ferrara, who plays Turtle, agrees. 'But I think where he really shines is when he's both writing and directing, making those on-the-fly adjustments that only he can make. We'd be shooting a scene, and he'd be watching with both hats on, and with just a minor line change or piece of direction, it'd go off in a whole other arc that I didn't even see coming. Like the best coaches, he's on the sideline, but he's also right there with you in the game."

As über agent-turned-studio head Ari Gold, Jeremy Piven, who essentially plays the fifth man in this tight-knit family of friends, observes, 'I really think everything works in the movie, just as it did in the series, because everything Doug Ellin writes comes from these characters' core motivations. Doug Ellin knows exactly what the audience wants to see; he chums the waters perfectly, but he never jumps the shark." Because the filmmakers had made a concerted effort to shoot with viewers' aspirations in mind, the jump to the big screen felt almost like fulfilling the ultimate fantasy for the wish fulfillment-based concept.

Producer Mark Wahlberg, who served as an executive producer on the series and on whose life the idea for the original 'Entourage" was loosely based, recalls, 'When the show was on the air, fans couldn't get enough of it; I'd get asked about it all the time. We'd always planned to make a feature length movie, and we knew in order to do it, it would have to make sense for all the characters. Doug Ellin found a way in: it's the guys being the guys, along with all the great -Entourage'-style moments you got from the original, but bigger in every way."

ARI: My first movie as studio head and"boom!"I want you to star in it.
VINCE: Whatever I do next, I also want to direct.
Ari? Ari??

'Entourage" picks up where the series ended. Six days later, to be exact. Vince, having flown from Los Angeles to Paris in order to marry the woman of his dreams, is now on his honeymoon, alone. Well, not quite alone. Rather, he is cruising the Mediterranean on an enormous yacht with a couple hundred beauties in bikinis, minus his soon-to-be-ex-wife.

In order to reach their pal in his time of need (and to partake of the flowing champagne and other available vices), Eric, Turtle and Drama rush to his side. 'It's about loyalty, friendship and brotherhood," Doug Ellin conveys. 'These guys all take care of each other; that's what matters the most. All the fancy cars and beautiful women, which we see plenty of in the movie, they all come second."

The Movie Star

'Vince happens to be a movie star, but, first and foremost, he's a loyal friend," cites Adrian Grenier. 'He brought his buddies out to Hollywood to give them a taste of the good life he was given because of his rising stardom, and he's shared it with them ever since."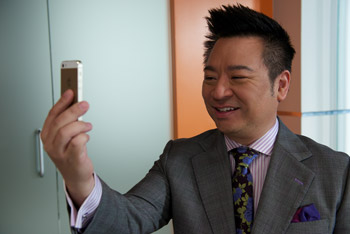 Doug Ellin describes Vince as 'a young guy with everything at his fingertips: talent, looks, and everybody loves him. Everyone wants to be him or be with him. He's always brought his boys along and given them as much of that lifestyle as he can." Shortly after the arrival of his troops on the high seas, Vince takes a phone call from Ari. No longer his, or anyone's, agent, Ari presents his former star client with news, as well as a new opportunity: Ari has become head of a major movie studio, and his first order of business is to offer Vince the lead in the very first movie he will greenlight. But Vince now has the impulse to do something different with his life, something he hasn't done before: direct. 'He's at the height of his career and excited about taking the next step," Adrian Grenier relates. 'I think it was Doug Ellin's way of making sure that the world is Vince's oyster and that for him and, by association, his friends, anything is possible."

Until six months later, after Vince has directed and starred in 'Hyde." But, like many first-time filmmakers, he's hesitant to show his work...at least not until he gets a little more money to finish it, despite his promise to Ari not to go over budget.

Adrian Grenier explains, 'I think it's the natural instinct of a director to want to put the best product forward. Vince doesn't want to show his movie to anyone before it's done, because he doesn't want to be judged on the work before it's polished. In particular, he wants to make sure Ari's happy, as the head of the studio. But mostly, Vince is an artist and as an artist, he just wants to get it right."

'It's like that dream where you're walking into a room with no clothes on," Kevin Connolly offers. 'Showing a cut of something, as a director, you're never more vulnerable. That's not a comfortable place for Vince to be."

The Manager

In addition to being Vince's best friend, manager, and now the producer of his directorial debut, Kevin Connolly describes his character, Eric, as 'the moral compass of the group. He tries to be level-headed and he usually is, though he gets hung up on girls pretty easily," the actor concedes.

'E is the everyman; we see the world through his eyes," Doug Ellin states. 'He's on a path most of us would like to be on"wealth, fun, fantasy; a regular guy who worked at a pizza place and is now hanging around stars and beautiful models. But unlike his friends, he feels compelled to be mindful of his surroundings, and not just enjoy it as if it will never end."

Eric's journey in the film is two-fold. As a producer, his responsibility to Vince has amplified. 'At the end of the day, it always comes down to directors needing more money, so it's his job as producer to ask Ari for it, which is not as easy as it sounds," Kevin Connolly laughs.

E's other big issue is his rocky relationship with on-again, off-again girlfriend Sloan, which now includes imminent fatherhood. The couple is not, at present, a couple, and Eric is juggling his feelings for her with those for his new girlfriend, who is not at all happy about the situation.

'There's some work to be done in Eric and Sloan's relationship, and that plays itself out in the movie," he continues. 'They've agreed not to be together, but to share the parenting, and that's hard. They've just been through so much together, good and bad, and they're trying to see if they can recover from the damage that he has done in the last six months."

The Mogul

Contrary to E's weightier problems, the now-svelte Turtle has continued to ride high on the success of his tequila partnership with billionaire businessman Mark Cuban. But he remains as down-to-earth and loyal to Vince and company as ever.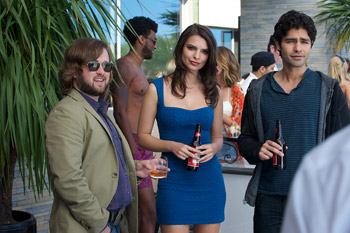 'All the characters have served a purpose for Vince besides just being his friend," Jerry Ferrara offers. 'Drama is his brother but also doubled as his chef and trainer; E is his best friend but also his manager; and Turtle, for all intents and purposes, was a low-level assistant/driver. But what's nice is that, even though he is successful and probably has more money than all the other guys, in our world he still drives for Vince. He's a millionaire, and he still drives his buddy around."

Something else that hasn't changed between the friends is all the friendly ribbing they dish out to each other, though arguably no one gets more than his fair share. And while Turtle remains a target for the guys' jokes, he is perhaps not quite as big a mark as before.

Doug Ellin supplies the obvious reason, stating, 'Off-camera, Jerry completely transformed his body, so we incorporated that into Turtle's life. It was interesting, because both Jerry and that character have really grown and matured with the show.

Outwardly"both physically and career-wise"Turtle's probably changed the most, from where he started to where he is now. Of course, he's the same great guy underneath, just like Jerry."

True to form, Turtle's got much more on his mind than workouts and work. As Jerry Ferrara tells it, 'He's always dated over his head a little bit"outpunching his weight class, in a sense. Because of his close association with Vince, he's gotten very beautiful, intelligent women. So he's either really funny or really good in bed," he grins.

For the movie, however, even Turtle's love life had to be amped up. 'Doug had the same M.O. in mind: Turtle going after a girl that is probably unattainable, which is crazy because by L.A. standards, he's a lot more attractive now that he's so successful," Jerry Ferrara continues. 'But Doug pushed the needle all the way with Ronda Rousey. She's a world-class fighter, a champion. There's no contest in which she doesn't do Turtle real, physical harm. It would be over in seconds. So, of course you don't want to piss her off. And of course, Turtle does."

Apart from getting in the ring with one of the toughest women in the world, Jerry Ferrara says that one of the best things about being part of the 'Entourage" world is playing a guy who 'gets to hang out with his three best friends every day. That's the secret wish fulfillment. That's what, along with the fast cars, the money and the girls, makes their lives the perfect storm."

And part of what Kevin Dillon loves about the group.

'The friendships are still so real," Kevin Dillon says. 'They all take jabs at each other"I would say Drama and Turtle probably hit each other the most with their verbal sparring"but I love all that snappy, insulting New York stuff."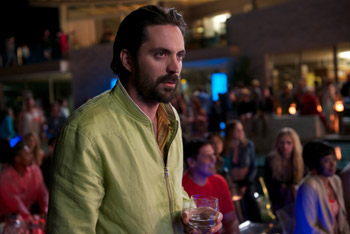 'Drama and Turtle got paired up over the years," Jerry Ferrara says. 'Vince and E were always going off to meetings, and we were going off doing these wacky things that only Kevin Dillon can sell. He's just hilarious. What he's done with Johnny Drama, everything from calf implants to a meltdown in an audition… You wouldn't think it could get worse, but it does."

The Master Of Missed Opportunities

'Johnny Drama has probably evolved the least of these four friends. He's just the poor guy who can't get that break he's looking for," Doug Ellin says. 'Everyone loves him because at one point or another, everyone can relate to that. He's just a loveable loser."

Loveable, Doug Ellin declares, due in large part to the fact that 'every time Kevin Dillon says a line it's funnier than what I anticipated. He's a genius. His face is so expressive, his choices are so distinct, no matter what Drama says you root for him, you want him to win."

Kevin Dillon points out, 'Drama is a little crazy but a lot of fun. He's got a lot of love for the fellas and he'll do anything for them. Even though Vince is making the money, he's still Johnny's kid brother, so Johnny feels like he's got a little seniority over everyone else, and Vince has respect for him. All Johnny Drama wants is to be a big star, and he's not really sure why that's never happened for him."

The seasoned actor relishes playing the clueless character. 'I have a great time with him because he's so flawed and he's got so many issues. You never know what he's going to do, he's got a big temper and he could snap at any minute."

That unpredictability comes into play once again when Drama gets himself into trouble"the kind that shows up on TMZ. 'What he does could threaten his career," Kevin Dillon speculates, 'but in Hollywood, it could just as easily help it. You never know." That elusive chance at stardom comes around for Drama once again, thanks to a small role in Vince's movie, 'Hyde," which the supporting actor feels might be just the thing to take him to the next level. 'He has probably felt that many times," Kevin Dillon asserts, 'but he thinks this might be it. One thing about Vince, he always drags Drama along and throws him a bone in anything he does. But this is probably the biggest bone he's ever gotten, and it's only four scenes." Nevertheless, for Drama, Kevin Dillon notes, 'they are four pivotal scenes."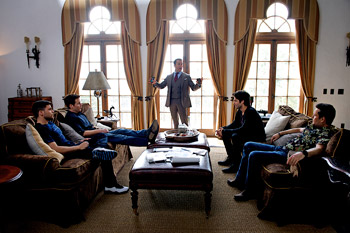 The Man

The only way movie star Vincent Chase would be making his directorial debut in a $100 million studio movie would be if super agent Ari Gold made it happen. However, thanks to severe anger management challenges, the bombastic ball-buster left his agency behind at the close of the series, 'retiring" to spend time with his family.

Yet when the film opens, six days after saying 'ciao" to Hollywood and making the oft-promised move to Positano, Italy, to 'get away from it all," Ari Gold has already taken a new job as head of a major motion picture studio…in Hollywood.

Jeremy Piven, who embodies the larger-than-life character, surmises that, while Ari has been promoted to head of the studio, in all likelihood, 'in Ari's eyes it was a demotion, because he was promised more. It was a great touch by Doug, because it really keeps a chip on Ari's shoulder and creates wonderful friction between him and John Ellis, who remains his boss. Of course the reality is that even when you think you've made it to the top, there's always someone above you.

'Whether an agent or a studio head, Ari is abrasive, says the unthinkable at times, and can be very offensive," Jeremy Piven expounds. 'At the same time, he represented Vince for years and is incredibly loyal to him. He got Vince his first real acting job, and now he's giving him his first directing gig and an operating budget of $100 million, which is a ton of money even by Hollywood standards."

To reward that loyalty, the first thing Vince and Eric do"in typical 'Entourage" fashion"is ask for more money. 'They've promised Ari they wouldn't go over budget, and that's exactly what they do," Jeremy Piven nods. 'So it makes Ari crazy because he's already stuck his neck out for these guys. And it means everything to him that Vince's movie turns out good, because their entire future is in that movie"if they don't deliver, they're all screwed. The stakes couldn't be higher, and that's not exactly great for Ari's stress level."

Doug Ellin has long-admired Jeremy Piven's ability to go all out with Ari. 'There's no stopping Jeremy Piven," he attests. 'He's able to play an ass and make that ass so likeable that you want to be him."

The Money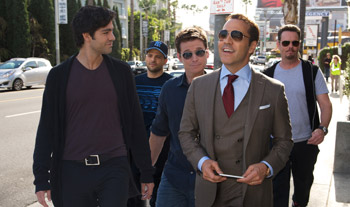 Despite their untimely request for more cash, Vince and his entourage aren't Ari's biggest headache this time around. That honor goes to Larsen McCredle, a Texas oil baron who, as the movie's co-financier, writes the checks.

'Poor Ari. The film's over-budget, Vince has put his brother in the movie, Eric's the producer, and on top of everything, Ari now has to fly to Texas to beg for more money," Doug Ellin encapsulates. 'So much for being the king of Hollywood."

Billy Bob Thornton, who has experience as a filmmaker as well as an actor, plays billionaire industrialist McCredle. '-Entourage' is a satire," he allows, 'but it's so close to reality and so inside Hollywood that, to tell the truth, the line is pretty thin. I think that's why it's so appealing."

Billy Bob Thornton says that insider's vibe carried through on set. 'Any time you do a scene and it's so real you forget you're in a scene, you're just talking to each other…that's a good sign."

McCredle may be a thorn in Ari's side but it's his son, Travis, who's the real pain in his rear. The Southern rich kid with a sense of entitlement is portrayed by Haley Joel Osment, who says, 'I'm pretty sure Larsen McCredle actually had to work to get where he is, but Travis has been born into it. He doesn't have his father's industriousness and good sense; money is just money. It's a vehicle for his ego. So when he gets to Hollywood and gets into that fantasy world that Vince seems to breeze through effortlessly, he's overwhelmed with envy because he's never been anything but the top dog before. He brings this antagonistic quality to the situation and gives Ari and Vince a lot of trouble."

'Haley Joel Osment is such a nice guy off camera, but when I watch his scenes I really want to reach through the camera and grab Travis and kill him," Doug Ellin confesses, laughing. 'I can't imagine anyone playing these characters but Billy Bob and Haley Joel Osment," Jeremy Piven adds. 'They were both so brilliant in the roles and so much fun to go up against." For Travis, one of the upsides of coming to L.A. to meet with Vince and see the work in progress"apart from lording his power over them all"is the chance to be around the many beautiful models and actresses that go along with Vince's lifestyle.

The Muses

Once again taking advantage of the theory that 'everyone knows everyone in Hollywood," Doug Ellin, as he frequently has in the past, recruited actresses to play themselves opposite the fictional foursome, crafting make-believe relationships that seem strangely plausible. Thus, real-life Emily Ratajkowski plays friend-of-Vincent-Chase Emily Ratajkowski, and MMA/UFC champion Ronda Rousey plays MMA/UFC champion Ronda Rousey. In her 'backstory," Ronda Rousey and Turtle apparently had brief but memorable contact at Coachella"the fictional one of Doug Ellin's world"two years prior. 'Both women were great to work with," Doug Ellin says. 'Emily Ratajkowski is such a lovely person and a smart young lady, down to earth. Just a really great addition to the entourage." Ronda Rousey truly enjoyed her turn as Ronda Rousey. 'I played myself, and I happen to be an authority on myself, so I was obviously qualified."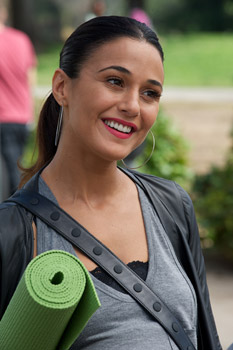 In the film, Ronda Rousey and Turtle have a somewhat volatile reunion following a misunderstanding, and an even more explosive meeting when she invites him to her place. 'In the story, I'm always getting hit on by guys who are trying to make money off of me, or who are big meathead athletes, and I'm tired of them. Turtle seems like a good-looking, successful, normal guy who wants to hang out with me, but then I get the impression that he really is just trying to make money off of me, too, and that hurts my ego…which is not good for Turtle."

'I've watched most of Ronda Rousey's fights and was a fan long before she came on to the movie," Jerry Ferrara says. 'She's very intense when she has to be, so I enjoyed seeing that armor come off a bit, and her personality come through. She has a lot of heart and takes her work very seriously, and is just a really talented, impressive person." Ronda Rousey took in all she could from the more seasoned actor. 'I've only done action movies before, and I'm good with the whole run around/say one cool line/shoot something and punch that guy kind of thing. But I'm new to comedy, the walking-and-talking and the timing, and Jerry Ferrara guided me through our scenes and made me feel more comfortable, especially in a romantic situation where I'm just not smooth. If I really like someone, I can become very guarded, but working with him helped me lighten up. Probably a good dating tip for my own life."

Obviously well past their own first date, Eric and Sloan have a lot to deal with in the film, primarily the baby she's about to have. Emmanuelle Chriqui returns as E's sometimes love interest.

'She's about to pop," confirms the actress. 'It's a big deal"the first baby in the group. But they're not together right now, so it's hard on them both. And she's going to have this baby whether he wants to be a part of it or not."

Whether or not they end up together, Emmanuelle Chriqui says, 'E and Sloan are two people who are soulfully connected. They have a love for each other, despite all the stuff that's gone on, and that's what makes their relationship both special and frustrating for her."

Frustrating for Sloan, yes, but for Emmauelle Chriqui, shooting the film 'was like coming home after a really long vacation; you're so happy to see everybody. Like muscle memory, we all fell right back into our rhythms and patterns and our characters' banter."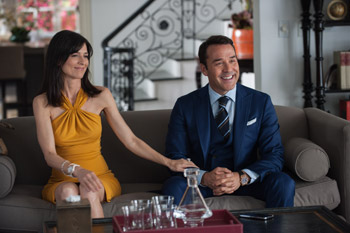 One couple that is"perhaps surprisingly so"still together: Ari and 'Mrs. Ari," also known as Melissa Gold, played by Perrey Reeves. 'Of course now that he's back with his wife, who he promised he would quit all of the things that caused him so much stress, Ari is immediately diving back into the same routine, leading them right back into therapy," she says. 'But she's a strong woman, and she's tough on him because she feels it's what he needs in order to be able to handle all the other crazy parts of his life and still stay with the family."

Jeremy Piven concurs. 'In their marriage, they are completely honest and brutal and harsh and funny and touching, all at the same time. He's like that with the guys, so of course he's like that with his wife, too. For Ari, it's always game on."

Some might say that some of the funniest scenes in the series occurred when Ari and Mrs. Ari went to therapy, so Doug Ellin saw no reason not to revisit them.

'Doug Ellin will probably kill me for saying this," Jeremy Piven shares, 'but I think a lot of those therapy scenes might've been loosely based on his own experiences. They were just too good, too juicy, too staggeringly accurate not to be real."

Perrey Reeves says, 'It's always fun when Ari just explodes, but of course they're there to get help. As much as Ari seems to hate going, I think he does have a secret desire to keep things on track. Either that or he's just doing it to keep her happy, which isn't a bad thing considering all the things he does that make her angry."

In the film, Ari seems to get under the skin of more than one woman in his life. One in particular, Dana Gordon, rose through the ranks in the entertainment business and is now running the studio alongside him.

Constance Zimmer, who plays Dana Gordon, offers, 'Dana and Ari love to hate each other. Yet they don't really hate each other, they just love the conflict. Ari likes to give Dana just enough information so she can be frustrated by not knowing more."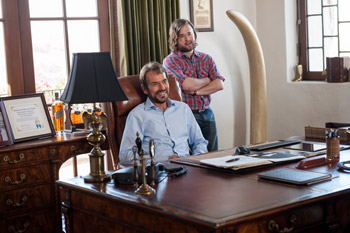 As for riffing with Jeremy Piven, Constance Zimmer adds, 'We get into trouble because we do a lot of cursing, which is really fun. Jeremy Piven can go off within his character and, because of how Ari is, it's all still believable, no matter how far he goes. As Dana, I have to keep it together just to balance him out."

Doing her own balancing act is Shauna, Vince and Drama's publicist, played by Debi Mazar, who notes, 'It's a full-time job. Her phone is on 24/7 with scandals to squash. She's essentially the mother of these boys, giving advice, yelling at them. But I love it. I have a blast playing her."

Lloyd!!!

'Entourage" wouldn't be 'Entourage" without Ari's former assistant-turned-fellow agent, Lloyd. One of the few minions ever to stand his ground with his overbearing boss, Lloyd sees a side of Ari that may only exist in Lloyd's mind. He adores Ari, despite himself, and has never been afraid to show it.

Rex Lee returns as the eternal optimist. 'The underlying dynamic between Ari and Lloyd hasn't changed," he remarks. 'On the surface there was always a lot of abuse and yelling, but Lloyd always believed that underneath it all, Ari loved him. It's the same now, with a little less yelling. This time, Ari's trying to avoid Lloyd because Lloyd wants a favor from him"a really big one." Like the rest of the supporting cast, Lee was thrilled to walk in his character's footsteps once again. 'It was like putting on your favorite pair of shoes, so comfortable. I expected a good time, but I couldn't have foreseen how much joy we'd all have coming back together. And everything was even bigger and better, which made it that much more fun for all of us."

Familiar Faces, New Friends & Cameos Galore

A number of series semi-regulars make appearances in the film, including Rhys Coiro as indie director Billy Walsh; Alan Dale as Ari's boss, John Ellis; Nora Dunn as Dr. Marcus; and Gary Busey and Bob Saget as Gary Busey and Bob Saget. There are also a few new famous faces popping up in small roles, such as Scott Mescudi (aka Kid Cudi) as Ari's new assistant; Richard Schiff as Richard Schiff, in a casting session with Drama; and Piers Morgan as himself, in an extended segment at the beginning of the film that will quickly catch up any newcomers to 'Entourage" on the characters' history.

The filmmakers' inclination to go big carried over to the cameos. The movie is chock full of them and even Lloyd is a direct benefactor. He's getting married, and the other groom? Olympic diver Greg Louganis.

The long, long list includes"but is not limited to"Jessica Alba, New England Patriots Tom Brady and Rob Gronkowski, Warren Buffett, Kelsey Grammer, Armie Hammer, Tip 'T.I." Harris, Green Bay Packer Clay Matthews, Liam Neeson, Ed O'Neill, David Spade, Pharrell Williams, Seattle Seahawk Russell Wilson and, in a nod to his Season One, Episode One appearance, Mark Wahlberg.

'They were nice enough to ask the old man to come back, and I was happy to be there," he smiles.

VINCE: If it doesn't work out, we can always move back to Queens.
DRAMA: I don't wanna go back to Queens, bro, I like the weather out here too much.

They say in the real estate business it's all about location, location, location, and 'Entourage" highlights some of the sweetest hot spots Los Angeles has to offer. Thanks in part to its elevated, faux-documentary style of shooting, one of the production's greatest strengths has always been to capture the environment in which the characters live and work, and that means going to the most beautiful beaches, stunning mansions, and hottest stores, restaurants and clubs in and around the city. For the film, the cameras caught that action against a backdrop featuring the everyday to the exclusive in Hollywood, Beverly Hills, Palos Verdes, and, of course, Burbank, where they shot on the Warner Bros. Studio Lot and its adjacent Ranch facilities.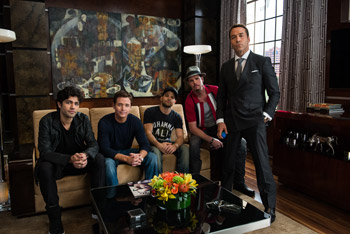 According to Doug Ellin, 'Whenever possible, we wanted to be in the real places and we want people watching this movie to say, -That's where we should go. That's where we should eat. That's where we have to work out.' That way, we set the stories in reality and keep the lives of the characters as aspirational and as current as can be."

The filmmakers recognized early on that the production would greatly benefit by bringing on board as many of the pivotal crew members from the series, thereby maintaining the synergy and shorthand established between them during their years of shooting. Doug Ellin called upon director of photography Steven Fierberg, editor Jeff Groth, costume designer Olivia Miles, and production designer Chase Harlan. 'If you want to see what it's really like beyond that velvet rope, -Entourage' is your way in," Chase Harlan advises. 'When we're filming a location, we are at that location. We not only get behind the curtain at some of these places of luxury and power, we often use their staff"lord knows there are plenty of SAG actors working as waiters in Hollywood! We've been granted unbelievable access and it's been really eye-opening, and incredibly fun."

Taking the production for a brief excursion on the opposite coast, the film's opening sequence was shot in the ocean off Miami, Florida, which doubled for the Mediterranean. Back on their home turf, later scenes were accomplished at the Montage Hotel in Beverly Hills, in front of the famed La Brea Tar Pits, and the Burbank Airport. The iconic Madonna Mansion in the Hollywood Hills set the stage for Vince's home, while Turtle's palatial Malibu estate, where Vince holds a massive screening party, sits atop four acres in the cliffs of Rancho Palos Verdes.

'The first time we see Turtle's house, it's a pretty slick presentation," Chase Harlan relates. In designing the interior, he says, 'The character's got a little bit of that East Coast hip-hop thing, so we incorporated some really cool artwork and, of course, his sneaker collection. It's not at all showy, but it's very personal, very Turtle."

One of the few sets Chase Harlan's team built for the film was Ari Gold's office. 'Ari is king of the world now that he's not working for the agency," Chase Harlan conveys, 'so we created a fantasy version of a studio head office for him. To be honest, it's ten times more glamorous and grander than the real thing would be, but it's for Ari, after all. He's bigger than life so the set had to echo that. He would want it designed to intimidate."

And to last. Chase Harlan explains, 'Jeremy Piven is such a passionate actor and when he's playing Ari, well"over the years we've had to have a couple of backup TVs or computers for his desk because you never know when, as Ari, he's going to, well, throw it off the desk! He's dynamic and he really moves around, and Doug Ellin encourages that improvisation from him because it brings so much to the performance. We just learned to be ready."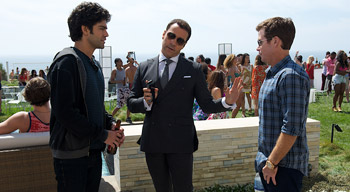 Being ready, Chase Harlan quickly learned, comes with the job. 'Welcome to -Entourage,' somebody's in town, so-and-so is coming to set, what can we do with him?" he muses. With the vast number of cameos in the film and the filmmakers eager to capitalise on each one of them, on-your-feet thinking became a necessity, more so than ever before.

'We bounced ideas back and forth with Doug Ellin, the producers and our DP, Steve," he continues. 'Because it's L.A. and it looks so effortless on screen, people don't realise how much goes into making these cameos happen. But that's part of what makes -Entourage' so great, too."

For Vince's directorial debut, 'Hyde""the movie within the movie"Doug Ellin and his creative team employed a wholly different visual style. They spent two nights with 26 SWAT Team members and stunt people and eight pyrotechnic specialists, with shooting accomplished via second unit simultaneously with the main production. Among Chase Harlan's favorite 'Entourage" elements are the amazing cars they've been granted use of over the years, beginning with Johnny Drama's 1965 Lincoln Continental, complete with suicide doors. Prominently featured in the series' opening sequence and driven throughout its eight seasons, the vehicle has remained with the guys throughout, and stars alongside them in the movie. Threatening to replace it in the film, however, is a brand new Cadillac Ciel, a concept car"with suicide doors"which has, to date, not come to market.

'There's a certain modern, almost futuristic zeitgeist about this property and this film that's appealing to companies who want Vince and the boys to be the first -consumers' of their product," Chase Harlan observes. 'I mean, -Entourage' is cool, the guys are cool, so if they're driving a car or talking on a phone or drinking a certain brand of alcohol, it's cool. And we've been so blessed.

'Staying ahead of the curve, that's one of Doug Ellin's many strengths," Chase Harlan continues. 'He has real vision; he seems to be ahead of his time in terms of being aware of music, clothing, current events…all the toys coming down the pike and all the bells and whistles that go along with them. We just try to take advantage of that vision so that the audience can benefit from it."

To dress the entourage of 'Entourage," costume designer Olivia Miles stayed true to each character's established fashion sense. For Vincent Chase, Olivia Miles, knowing that as a movie star he would have designers sending him their newest items, made sure that he was outfitted accordingly, even when he's only wearing jeans and a t-shirt. Drama continued with his preferred shades, hats and bold-patterned button-down shirts, starting off with a print that nods to one of the character's best-known characters, Johnny Bananas. Turtle was, and is, all about the sneakers. And at the top of that ladder would have to be Ari Gold, whose wardrobe, consisting almost exclusively of the three-piece suit, was provided by Italian designer Domenico Vacca.

Doug Ellin states, 'The goal of -Entourage' is and has always been wish fulfillment, the ultimate fantasy. No matter where you are in the world, say you're sitting somewhere in the freezing cold, you can go to the theater and look at what's happening on the screen and say, -Wow, I really want to go there.' It's good friends living the good life, and there's nothing better than that."



Entourage
Release Date: June 4th, 2015