Family Law Arrangements for Christmas
It's supposed to be the most wonderful time of the year, so the last thing you want is conflict over shared care arrangements during the Christmas season. Unfortunately, while many parents attempt to organise informal parenting arrangements for the holidays, there can be major issues with negotiating things like Christmas Day. This is not unusual – no parent wants to spend a child-oriented day such as Christmas Day without their kids!

This can cause a lot of stress for the parents, but nobody suffers more than the kids themselves. No matter how much you try to hide the conflict, children have a knack for picking up on it. They don't ever deserve to be the pawn in the middle of a family battle, no matter what time of year it is.

So, your best bet is to sit down long before Christmas Day and negotiate an arrangement that suits everyone involved, but with special emphasis on ensuring your children have an enjoyable, happy memory of Christmas. This should not involve randomly rushing your kids between two or more households, as this would prevent them from being able to relax and enjoy the day or the company of their family. Here are a few ideas to achieve a good balance:


A shared day – if you and your children's other parent are able to spend time together without feeling uncomfortable or arguing, there's no reason you can't spend the day together with your children. After all, you are raising children together, which means you'll always be a family and there's nothing as wholesome for children as a happy family spending Christmas Day together. Obviously, if there's even a slim chance of squabbling, this should be avoided – especially if alcohol is involved.

A shared lunch – this is a great idea if you don't want to spend an entire day together or split the care arrangements equally, but both want to be present for at least some of the day. It's also a good idea if one of you has visiting relatives who want to spend time with your entire family. You can either have one parent having care of the children for the entire day with the other parent just attending for a few hours then leaving again, or you can exchange care of the kids after the lunch. As long as the children can relax and know they don't need to go anywhere until a set time after lunch.

A two-day arrangement – this is a common arrangement made by parents where one parent has the children on Christmas Day and the other celebrates with their children on Christmas Eve or Boxing Day. Children usually have no complaints about celebrating two Christmases, so this can often work well. If this doesn't work for your family though, there is a different way of doing it where one parent spends 24-hours with the children (for example, from 3pm Christmas Eve to 3pm Christmas Day), then the other parent spends 24-hours with their children (from 3pm Christmas Day to 3pm Boxing Day), before they return to the first parent and normal shared-care arrangements apply.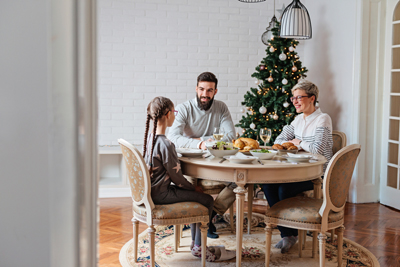 Of course, this could be extended to 48-hours or any other time period that suits your family and the arrangements could be reversed each year so that everybody gets a fair share of time together on the special days. The purpose of doing it like this is that it gives the kids plenty of time to feel like they've experienced a relaxed day with each parent.

Parenting orders – If all else fails, you can opt for more formal arrangements and oftentimes setting things out on paper can completely stop arguments. Parenting orders are formal orders that can either be made under order of a judge, or by mutual agreement by both parents. They can be very simple or very complex, with many specifications – it's completely up to your family, but whatever arrangements are made, they must be in the best interests of the children. This means the arrangements must benefit the children by allowing a meaningful relationship with both parents, while also ensuring the children are protected from harm or exposure to family violence. A good family law professional – like one of the friendly team at Taylor & Scott – will be able to advise you on how to proceed with a family parenting order and all other legal aspects involving children and parenting.

Regardless of whether you come to a happy agreement yourselves, have a little help from a mediator during Family Dispute Resolution, or need to have a judge make a decision for you, a dedicated family lawyer can guide you through it all with an aim of achieving a win-win and a Merry Christmas for you, your children and their other parent.