The Impossible
Cast
: Ewan McGregor, Naomi Watts
Director
: Juan Antonio Bayona
Genre
: Drama, Thriller
Rated
: M
Synopsis
: A powerful story based on one family's survival of the 2004 Indian Ocean tsunami, The Impossible stars Naomi Watts and Ewan McGregor and is directed by J.A. Bayona (The Orphanage).
Maria (Naomi Watts), Henry (Ewan McGregor) and their three sons begin their winter vacation in Thailand, looking forward to a few days in tropical paradise. But on the morning of December 26th, as the family relaxes around the pool after their Christmas festivities the night before, a terrifying roar rises up from the center of the earth. As Maria freezes in fear, a huge wall of black water races across the hotel grounds toward her.
Based on a true story, The Impossible is the unforgettable account of a family caught, with tens of thousands of strangers, in the mayhem of one of the worst natural catastrophes of our time. But the true-life terror is tempered by the unexpected displays of compassion, courage and simple kindness that Maria and her family encounter during the darkest hours of their lives. Both epic and intimate, devastating and uplifting, The Impossible is a journey to the core of the human heart.
Release Date
: January 24th, 2013
About The Production
In 2004, the day after Christmas, the sea roiled and roared and devoured the western coast of Thailand-the worst natural disaster ever to strike the country. The deadly tidal waves - crashing onto Thailand's beach communities in ten-minute intervals - resulted in over 5,000 deaths and over 2,800 missing souls and created 1480 orphans, in just that country alone.
One family - husband and wife Henry and Maria and their sons Lucas, Simon and Thomas - on Christmas holiday in Thailand - will become caught in the mayhem of the tsunami. Separated in an instant and seriously injured, they struggle to survive and to reunite in a remarkable true story of perseverance, love and unshakable faith in each other and in the thousands of strangers who are also victims of the catastrophe.
The Impossible is filmmaker Juan Antonio Bayona's follow-up to his hit horror movie The Orphanage. The Orphanage premiered at the Cannes Film Festival in 2007 to a standing ovation and represented Spain at the 80th Oscar® ceremony. The film garnered numerous awards nationally (with seven Goya Awards, amongst others) as well as internationally. It also became the highest grossing Spanish-language film in the history of Spain and one of the most the most successful Spanish-language films abroad.
While The Orphanage is pure fiction, he approached it, Juan Antonio Bayona told The New York Times, "… as drama, as real life. The horror aspects were merely ingredients." The same could be said for "The Impossible," except amplified 200% because the "horror aspects" actually are real life.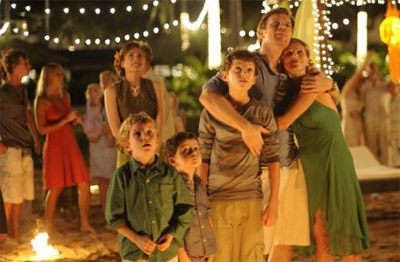 The Impossible is based on the true story of a family who faced one of the worst disasters in recent history. Their fortitude and overwhelming love for each other in the most horrific of circumstances gripped Juan Antonio Bayona. "We're not just dealing with a survival film. It also raises the question of who you want to survive for and in what way. There is something very powerful that goes beyond the tragic and speaks of the human condition, something that moves people very deeply when they hear the story," he says.
Committing their experience to screen was not easy. The technical aspects alone were daunting, not to mention the tricky tonal balance of real life horror and the triumph of the human spirit - and sustaining the suspense in story to which the ending is already known. As Juan Antonio Bayona recalls "it was an incredibly personal project for me but we were not even sure was going to happen." Nonetheless, Juan Antonio Bayona and his team were determined. According to produce Belén Atienza, "In one way or another there was always a bit of madness in this film: we always believed we could make it, even if at the beginning we didn't have a clue how."
Although The Impossible is based on the incredible survival story of a family, the Alvarez Belons, they are Spanish in real life, not English as in the movie. However, their cinematic doubles, played Naomi Watts and Ewan McGregor as parents Henry and Maria, and their three boys, played by Tom Holland, Oaklee Pendergast and Simon Joslin, are truly citizens of the world. Although they speak in their native British dialects - Ewan McGregor favouring his Scottish brogue - Ewan McGregor's character Henry works in Japan, and Naomi Watts' character Maria is a doctor who has put her practice on hold so that she and their sons can travel with him.
It was not easy for the Alvarez Belon family to entrust anyone to depict their lives to screen, but, asMaria Belon points out, they realised their story was bigger than themselves and telling it would also be cathartic for the family. The filmmaking team did its utmost to involve the Alvarez Belons in the process and, ultimately, Juan Antonio Bayona and company won them over.
"I don't know how they felt in our first meeting, but I was very nervous," admits Maria. "They didn't know it, but I needed to tell this story, although I was unable to do it by myself. And right before going to the meeting, before they turned up, I thought, Maria, you need to do something to decide today. We had a three-hour conversation and I realised they HAD to do this, their vision was more or less what happened. In certain ways, what I experienced during the process of making the movie was the same I had during the tsunami. I thought we were not going to make it, but we did and that's fantastic!"
The process began when producer Belen Atienza heard the story of the family on the radio.
Screenwriter Sergio Sánchez remembers, "[Belen Atienza] arrived in the office in tears and told us about it. Suddenly, J.A. said, 'we've got to make a movie of this!' It's an incredibly compelling and moving story, everyone had the same reaction to it when we told them about it. The movie begins with a moment that changes their lives completely, in seconds, but from then on, the film is a journey, a forward escape. We all saw the calamity and devastation of that tsunami on television and through the Internet, almost in real time.
What The Impossible explores is the moving, emotional and very human story of the people who lived through it. That's very far removed from everything we've heard in the news."
Sergio Sanchez, who penned The Orphanage, adds that the finding the right balance and tone was intimidating. The Impossible is as scary as a horror film but also a powerful testament to the human spirit. It is also a true story and not everyone was as lucky as the Alvarez Belon family.
"What scared me the most was telling the story of five survivors within a context where almost 300,000 people died made me wary. The most important thing for me was to find a way to respectfully tell a story about such a tragic loss that would affect the audience profoundly - to tell a dramatic, true-to-life story in which people could relate to this family and also to all those who lost someone - in the tsunami or in any way. Then we had to get the structure right, which was the hardest part. It was the most difficult element because we had five people with a shared story and we knew they'd survive at the end of the film. However the characters experience separation - they go through the whole process with grief because they assumed the other half of the family was dead. The challenge for us was to tell the story of the five members, but to maintain the tension that they felt, so those who don't know the story are also on the edge of their seat," Sergio Sanchez says.
Fortunately, Sergio Sanchez had the opportunity to work directly with the family, specifically Maria Belon, which was a unique and rewarding experience for all concerned.
"Sergio Sanchez is a very special person. I have become very close with him and I learned a lot. His ethic is incredible - he fights for what he believes in. I remember the first time Sergio Sanchez re-told my story. I was so impressed. He dove in and saw things that I couldn't," Maria recalls.
Indeed, Sergio Sanchez in some ways had to help the family remember some of the harrowing events because, as with many people who suffer post-traumatic stress, they blocked out or reimagined the more painful circumstances.
"Well, the research was easy, as the five main characters were always available on the other end of the phone. They graciously allowed us to sit and talk to them any time. It was an interesting process because you see how the brain tricks you, especially when you have experienced a traumatic event. Sometimes each family member had a different version of what happened. So we documented events with the whole family - showed them footage, press reports," Sergio Sanchez recalls.
The opportunity to work with Juan Antonio Bayona and Sergio Sanchez's screenplay attracted Ewan McGregor to the project. "I liked the script very much. There was something honest and true about it and a brutal simplicity that made it very vivid. And I liked The Orphanage very and wanted to work with Juan Antonio Bayona. I made film with Naomi some years ago, so it's always nice to work with someone that you've worked with before. Sadly we don't have many scenes together but it was wonderful. Because we knew each other and have a nice easy way, hopefully that came across on screen. We are both parents and we tried to make this couple seem real, not like a movie family," Ewan McGregor says.
The story of the family also resonated with Ewan McGregor in a very personal way.
"When Henry finally sees his kids in the hospital after his family has been separated by the tsunami, when he finally reunites with his family, that made me cry as I was reading the script. It was such a moving moment. I've four children now. And I've never really played a parent in a film before. I felt like I wanted to make Henry much more like me. I could play it as a character, but I wanted to, explore being a parent against this horrible disaster. I thought the most effective way to do that was to just play him as me," Ewan McGregor says.
Ewan McGregor tried to meet his Spanish doppelganger prior to production but their respective busy schedules didn't allow for it. And yet, reading the script, Ewan McGregor says he got sense of the real people.
"There's a moment between Maria and her oldest child Lucas that touched me the most. When he sees the extent of her wounds for the first time, he says something like, 'Oh Mama, I can't see you like that.' I thought there was something incredibly truthful about that line a child looking at his injured mum and he just can't bear to see her hurt. I don't think I knew at the time that it was a true story but it felt incredibly accurate and really described the tone of the movie to me," Ewan McGregor says.
Naomi Watts, on the other hand, spent a lot of time with the real Maria, before and during production.
"When I first read the script, I thought, wow, it sounds so clear and true, not like someone just decided to use this tsunami as a terrible backdrop for this family. I later found out that much of it was based on Maria and Henry's words and their experiences. It was incredibly powerful to meet her and talk to her about it. She was so generous and helpful and right there every time. It all came flooding through her. She is incredibly strong and courageous," Naomi Watts says.
The scenes between Lucas and Maria also touched Naomi Watts. The tsunami engulfs everything like a runaway, speeding train but luckily mother and son manage to find each other in the monstrous sea and help each other survive. Consequently, Naomi Watts shared many harrowing scenes with Tom Holland, who plays Lucas.
"I love the relationship that develops over the course of the film between mother and son and Tom Holland is beyond a gifted actor. He has a talent that was so easy to work with and so inspiring. He lifted everyone's game around him because he can do nothing but tell the truth. And we got into the horrible physical stuff of the tsunami early on. There really wasn't much acting involved in that - we were being pummeled by water and debris, it was like the wave was dictating emotions - as it must have in real life. You couldn't really speak. All you could do was feel and experience. But Tom Holland and I had a couple of moments there where we came together and I could tell how wonderful he was and what an incredible and fine ability he had. One of the greatest highlights for me was developing an on and off-screen friendship with Tom Holand off-screen and exploring this beautiful relationship between mother and son," Watts says.
Although Tom Holland has vast stage experience from his turn as "Billy Elliott" at the Victoria PalaceTheatre, London, he makes his motion picture debut in The Impossible. He describes the film as "… a love story between a family." That it was a true story made it that much more compelling.
"I've never heard such an amazing story and that this tragedy actually happened to them … and not just to them but to the thousands of people who were there. I thought this film would be a way to tell their story to the world, to make sure everyone knew what happened," Tom Holland says.
Lucas' emotional as well as physical journey intrigued Tom Holland, especially the evolution of his relationship with his mother.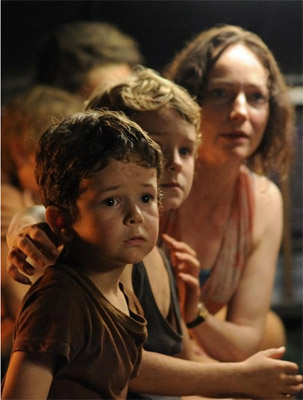 "At the beginning of the film, his connection to his mum, to his family, isn't that strong. When the wave comes and separates the family, Lucas has to become the adult because his mum is really injured. He has to be strong for her because if he starts to cry then she will and the worst thing is if your parents cry. He has to take on the part of the adult and make Maria feel safe. He grows up a lot during the film. It's a massive journey for him and by the end, the bond between Maria and Lucas is a thousand times greater than when they started," Tom Holland says.
While mother relies on the son in the movie, Tom Holland says the reverse was true of his relationship with Naomi Watts.
"Working with Naomi Watts has just been incredible. I have learned so much from her, in terms of how to play things. She's so generous with her acting - even if she is not on camera, she will give it her best to help you," Tom Holland says.
Of course, Tom Holland also inherited two siblings on the film, Simon, played by Oaklee Pendergast, and Thomas, portrayed by Samuel Joslin. The trio really became like brothers and Tom Holland took what he learned from Watts and shared with Oaklee Pendergast and Samuel Joslin.
"It was great because I got to help them and pass along some of the advice and tips that Naomi Watts gave me. They are both so funny and clever and dedicated. They became such good friends, like brothers, even," Tom Holland says.
Like Naomi Watts, Tom Holland spent time with the real Lucas.
"He's so cool. We chatted for about three hours. We spoke about his experience, how he felt, we went through everything he went through, all of his emotions, how the tsunami forced him to grow up. He told me that he relied a lot on his instinct just to survive the wave," Tom Holland says.
All three boys impressed Ewan McGregor, personally and professionally.
"I liked our kids very much. Tom Holland, Oaklee Pendergast and Samuel Joslin, I think they're really special children. And it was wonderful watching Tom Holland who had never worked in front of a camera before, to see him really get it and grow as a film actor as he went along. He's really talented and polite to everyone. It's very easy for children to lose perspective but he's absolutely on the right road and brilliant actor. And the other wee boys, Samuel Joslin and Oaklee Pendergast, are great, too. Oaklee Pendergast was really little but totally in the moment when we were playing scenes, completely engaged. He's not doing a school play. He's really there," Ewan McGregor says.
Of course, boys will be boys, and, well, pre-tsunami, they were at this lovely resort with a swimming pool …
"Ultimately, Samuel Joslin and Oaklee Pendergast are two young kids who like to have fun and we shot scenes in that swimming pool right before the wave comes. And they just wanted to swim around because they're kids. Just before cameras rolled, I was the one always saying, 'Come on, you've got to concentrate. Remember, you're really upset. You'll never see your mom again. Everyone's going to die.' There's a point where I thought, what am I doing to these poor kids?" Ewan McGregor says.
Ewan McGregor shares the majority of his scenes with Oaklee Pendergast and Samuel Joslin and those were the most satisfying moments of the movie for Ewan McGregor.
Those two little kids were the best part for me. My growing relationship with those two boys has been really fantastic. At the beginning, where they were quite shy of me but a month later, it was completely different. There were always there, coming into my trailer in between shots, and I really liked that. That will be my favourite memory of the movie, working with those two wee boys," Ewan McGregor says.
The Impossible prepped for almost two years and shot for 25 weeks between Spain and Thailand on more than 60 sets. Principal photography took place at the studios of Ciudad de la Alicante, Spain and at multiple different locations in Thailand, many of which were where the actual events had occurred. Because the film is about real people who underwent unimaginable horror and devastation, to honour and portray their experience, Juan Antonio Bayona insisted on a rigorous authenticity.
While the movie plays like a horror film in the beginning, the furious ocean as monster, it soon turns into something more, a real-life tale of courage and redemption.
"A movie based on real events is easier and harder in different ways. Easier in that you've got the voice of truth as a touchstone but also there's pressure because these people really went through this. It was our responsibility to honour it with as much authenticity as possible, to convey as honestly as we could what it felt like at the time," Naomi Watts explains.
Ewam McGregor adds that they tried to pay homage not only to their characters but to everyone who endured the tsunami.
"When you tell a true story, you have a responsibility towards the people that you're playing but in this film, more than any other I've done, I felt a responsibility towards everybody touched by the tsunami.The people who died, those who survived, the Thai people themselves, because so many people were affected by it. If the tsunami were used just as a dramatic backdrop, then I'd be really upset. But that's not what we've been trying to do," Ewan McGregor says.
Juan Antonio Bayona insisted on shooting at the real locations where the Alvarez Belon's ordeal occurred, employing extras who had also been through the tsunami. One critical location was The Orchid Resort where the family had gone for Christmas holiday. Maria Belon joined the film company at the resort, her first time back since the disaster.
"I found myself not just at The Orchid, but sitting exactly where I was when the wave hit. The sounds of breakfast, the easiness of the tourists, the trust that the hotel is in full working order, a few guests making plans for the day…the situation was exactly the same in the movie version as it was in reality. It was a beautiful morning on our holiday, then life changed completely in a matter of minutes. I have so many mixed feelings - they call it survivor's guilt, I think. But the days I spent at The Orchid through the film I had the chance to interact with some of the local people who survived the tsunami, to talk to them about it. It was such a shocking experience and I thought J.A. did a beautiful job of depicting it and my feelings about it in the film," Maria says.
Watts empathised with Alvarez Belon and marveled at her willingness to return to a place that clearly provoked such horrible memories.
"For me, even landing at the airport in Phuket, knowing that the family was there and what they went through - the vibes, the negative energy was huge. So for Maria to come back with the family and experience it again, it hit them in such unpredictable ways, sort of returning to the scene of the crime. But it was also maybe a way from them to get past it, to feel safe again," Naomi Watts says.
In order to recreate the tsunami, the production worked with six special effects companies. It took one year to create the impressive, horrific ten minute sequence in which the first enormous and deadly wave engulfs the coast. Award-winning special and visual effects masters Félix Bergés and Pau Costa were tasked with creating perhaps the most important character in the film: the tsunami itself. For Alvarez Bergés, the only option was to use real water. "Digital water was not considered for very long, it just isn't realistic enough," he says.
That decision led to some daunting production challenges. For example, the crew had to move over 35,000 gallons of water on a daily basis in order to recreate the violent mass of water.
Alvarez Bergés' team conducted extensive tests in order to create the most realistic and ferocious deluge without actually drowning the actors.
"The idea was to create a channel of around sixty meters. But we saw that it was possible was to prepare a channel that between ten and fifteen meters, to keep the actors safe and be able to guide them without any problem when using elements such as trees, or rubble or many other things. We are talking about a sequence that, from the beginning, we knew would last about eight minutes and would have one hundred or so shots, so it had to be something very versatile," says Alvarez Bergés.
The production filmed the scenes in which the family is swept away and particularly the tighter shots of Maria as the water literally swallows and bashes her, in a tank in Spain for about a month and a half, a process that Alvarez Bergés calls "a nightmare."
"We shot the flood with two units and the underwater scenes were very technical and complex. The tank was 100 x 80 meters, with a light blue screen at the back. We couldn't use a green screen because we had so many green elements but a traditional blue screen would have seemed to dark, so we painted it ourselves. The difficult thing about filming the flood is that water moves at a vertiginous velocity, EVERYTHING moves. So each change required an enormous crane to move something that weighed four tons," he recalls.
While filming the violent water was controlled, that did not make the experience any less terrifying, particularly for Naomi Watts, who bore the worst of it.
"That was definitely the most challenging part of the movie. I'm not Tom Holland's age, it's not normal for me to be thrown around like that. It was a hard thing to do for a month. I remember J.A. telling me lines to say, and I was like, I can't speak, I've got a mouthful of water," Naomi Watts recalls.
For Oscar®-winning production designer Eugenio Caballero, the horrific aftermath of the storm proved to be the greatest hurdle.
"Initially, the greatest challenge of the film was to recreate the tsunami. The big surprise was to discover that it was nothing compared to what came afterwards."
Like Alvarez BergĂ©s, Eugenio Caballero tried to avoid digital tricks and instead "… tried to make the movie the old way …so there were physical sets, a physical sensation so that the actors would feel like the characters, feel that their story was real. Digital tools are useful to complete what would be difficult to make physically, but as much as possible we tried to stay away from that."
Eugenio Cabellero's efforts to establish the most realistic circumstances for cast and crew included a recreation of the devastated landscape that was eight times the size of a soccer field. The trickiest set piece turned out to be a "simple" tree, which becomes a haven in the tempest for Maria and Lucas.
"The most difficult set was that of Maria's tree. It is a very big set, difficult to tackle. It was the first set that we began to build in Thailand. When we got there we realized that the space that we had chosen had lots of access problems. The level of the water table was very high. We had to build a dike to contain the water because when there was high tide there would be a flood making it impossible for us to work there. It was technically very complicated and I understood the tree, conceptually, as the heart of the movie. I believe that in another country it would have been very complicated to make such a tree, but we took the advantage of the fact that in Thailand you can cut off a branch, and roots emerge from it, and suddenly from a branch you have a live tree. It was a very important structural job and it was also a very important sculptural job. Once we marked out the space where we were going to build the tree and its surroundings, we started first by making a concrete moat to control the water and maintain the same level, so that the water was clean and so that the actors could move. Then we realised we could not dig to make the moat. We had to make it from the floor level up, so we had to add soil and raise the surroundings a bit to create a feeling of chaotic destruction. From there we built the foundation for Maria's tree, which measured approximately seven meters. The branch where they were was tested many times to make it comfortable, so they could get up on it and we could tell the story the way we wanted," Eugenio Caballero says.
Eugenio Caballero adds that perhaps the most meaningful part of creating the world of The Impossible was the reaction of the local people who worked on the movie or appeared as extras as they saw havoc and destruction of the tsunami reappear.
"Many of the people that worked with us were local, families that lost members in the event and there were very different reactions. I remember a taxi driver who arrived with a passenger at The Orchid when we had it all set up with the destruction. He stared at the set for two minutes, shaking his head. He had lost his wife who had worked in a hotel too, for him it was like going backwards in time. That type of reaction happened on the set and also at the hospital. Many of the nurses that were there are doctors and nurses that took care of the injured people that came in," Eugenio Caballero recalls.
In fact, the production filmed at the very hospital where Maria recovered and Eugenio Cabellero's crew returned it to its state of post-tsunami disarray.
"Another complicated but very important set was the hospital. We built ours at the real one whereMaria was. It was difficult for people that lived through that process, seeing it repeated years later. We looked at lots of references and I hope we succeeded in producing that sense of chaos that was there in the first hours after tsunami hit," Eugenio Caballero says.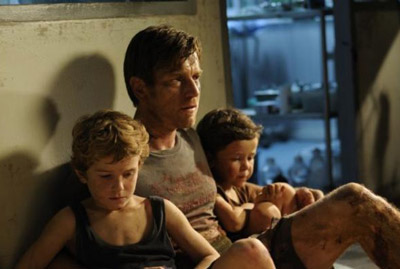 Cinematographer Oscar Fauro wanted audiences to "…feel the tropical heat of Thailand, the humidity, the sweat, etc. The images turned out very rich and atmospheric."
Achieving that goal turned out to be a constant technical challenge.
"The characters are moving constantly. We'd shoot inside and outside the water, with cranes, underwater cameras, aerial shots...we even had three units working simultaneously. There was a moment where the shoot was taking place on land, sea and sky at the same time," he says.
Because the characters were constantly in motion, on land and in the ocean, Oscar Fauro's challenge was to maintain "visual coherence."
"I always insist on controlling the contrast of the image and direction of the light so it stays coherent from shot to shot and that was my fight on this one. Characters were always moving and so we created different systems and mechanisms to follow them while we filmed. One was to send an operator into the water with the actors. When the actors were in the tank, we designed special wagons for them for safety that pulled them by steel cables. The operator got in a wagon that could go parallel or just in front of them. We also designed the lanes of the channel to be close to the shore so we could use hot head cranes, a camera with a remote control, we also used a telescopic crane and we took shots from the air. We also had cameras guided by cable, the CAMCA, we also used a hot head that could submerge, to put the camera at water level, the water almost at optic level. The flood was to be explained in a documentary fashion, harsh, without too much frills or movement. It is impossible to recreate a real tsunami but we could give the feel of one through the camera work," he says.
The production also created a special rig so that Oscar Fauro's team could film the critical scenes with Naomi Watts underwater, a tricky sequence because she is trapped in a roiling sea, so the water is not crystal clear. Much of that was shot not in the tank but in a tiny ditch.
"We needed to control the density and opacity of the water so that we would be able to manipulate the way the water looked. The water couldn't be transparent and we couldn't film with dirty water from the tank because you couldn't see anything. In the ditch, which was much smaller, you couldn't even see the walls. You had to be on top of the characters in order to appreciate the details. We put the actors, in this case Naomi Watts, in a moving chair we named 'the giratutto' to which we fixed the camera. She could turn with the camera fixed to her and we also included physical elements to give the sensation of movement. Later, we noticed bubbles also helped. We wanted to imprint this idea of a journey from light into darkness onto this character. There's a literal transition to darkness, until it's completely obscure. Then, a wall breaks and she exits through the other side of the hotel to the exterior. There was the intention of explaining this journey," Oscar Fauro explains.