Estée Lauder Golden Alligator Compact
Vintage-inspired looks dominated the 2012 Oscars with the likes of Emma Stone, Jessica Chastain and January Jones positively glowing with understated elegance.
Create your own picture perfect red carpet moment with the Estée Lauder Golden Alligator Compact.
Of all the ways to make a personal statement, one of the most telling is a woman's compact. Such a subtle, quiet accessory, yet it's chosen with care and elegance and asserts volumes about tastes and attitudes.
Estée Lauder's compacts, have become collector's items each year, and are every woman's perfect handbag accessory. Whether you are known for "handbag elegance" or are waiting for the opportunity to treat yourself to something very special, this exclusive jeweller's designs - filled with Lucidity Pressed Powder - are made to be loved.
Of course, they all have the "click and flick" quality. The click is just the right sound of substance when you snap open the clasp. Only compacts worth carrying have it, a signal as important as the way a luxury car door closes. And when a compact opens the flick also has to be perfect, "like an oyster, offering an invitation to discover what's inside," one expert has said.
On the most wanted list is Estée Lauder's Golden Alligator compact, a perfectly elegant powder compact for that quick touch up.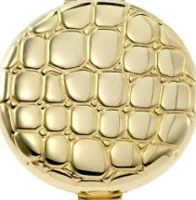 Estee Lauder Golden Alligator Compact RRP: $85.00
Stockist Number: 1800 061 326
www.esteelauder.com.au