Eric Bana Deliver Us From Evil
Cast: Eric Bana, Edgar Ramirez, Olivia Munn
Director: Scott Derrickson
Genre: Crime, Thriller
Rated: MA15+
Running Time: 118 minutes

Synopsis: In Deliver us from Evil, New York police officer Ralph Sarchie (Eric Bana), struggling with his own personal issues, begins investigating a series of disturbing and inexplicable crimes. Discovering the crimes are occult related, he seeks help from an unconventional priest (Edgar Ramirez) to aid him in the investigation. Based upon the book, which details Sarchie's bone-chilling real-life cases.

Deliver Us From Evil
Release Date: July 24th, 2014



About The Production
An Iraqi desert palm grove in the year 2010. Three combat hardened U.S. Marines descend into an eerie subterranean chamber, oblivious that something awaits them even more terrifying than the battlefield above…

…Four years later, in New York City, a mother, as if hypnotised, suddenly hurls her little boy into a lion's den at the zoo, while a strange, hooded figure looms nearby…

…Strange noises from the basement and other strange phenomena frighten a family in the middle of a dense urban landscape…

…Archaic Latin writing and strange symbols are discovered in several different locations, opening a mystery which is perhaps too frightening to discover...

What is coincidence? What is imagined? And what is linked together in a sinister chain which stretches from one end of the world to another?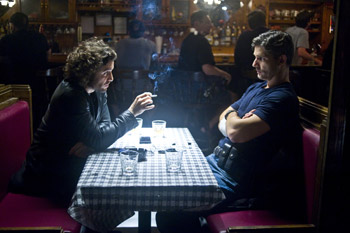 Sergeant Ralph Sarchie (Eric Bana) of the NYPD has seen his share of darkness on the mean streets of the South Bronx. Assigned to the 46th Precinct in one of the toughest neighborhoods of the country, Sarchie has witnessed behavior on the outer edges of inhumanity, and it has begun to darken his soul, to the point of affecting his relationship with his wife, Jen (Olivia Munn), and their young daughter, Christina (Lulu Wilson).

But when the increasingly troubled Sarchie and his police partner Butler (Joel McHale), a sardonic ex-Army Ranger always ready for a fight, are summoned to investigate a bizarre incident, the events which follow will test the pragmatic Sarchie's beliefs and understanding. He finds himself in a tenuous alliance with Joe Mendoza (Edgar Ramírez), a renegade priest whose own faith has been tested more than once, and who tries to convince a skeptical Sarchie that the increasingly horrifying occurrences are nothing less than an encounter with several cases of demonic possession.

Together, the policeman and the priest uncover layer after layer of evidence that what Mendoza describes as primary evil has taken root, and Sarchie is forced to question his entire belief system as they attempt to do battle with the malignant forces threatening the city, and even those he loves the most…his family.

Screen Gems' and Jerry Bruckheimer Films' Deliver Us From Evil is a supernatural thriller that brings together the dynamic talents of director Scott Derrickson, whose most recent film was the smash hit Sinister, and producer Jerry Bruckheimer, responsible for some of the biggest blockbusters in motion picture history. The screenplay is by Scott Derrickson & Paul Harris Boardman, based upon the book by Ralph Sarchie and Lisa Collier Cool. The executive producers are Mike Stenson, Chad Oman, Paul Harris Boardman, Glenn S. Gainor and Ben Waisbren. Scott Kevan is the director of photography, Bob Shaw is the production designer and Christopher Peterson is the costume designer. Music is by Christopher Young, and the editor is Jason Hellmann.

Filming Deliver Us From Evil: A Matter Of Faith

The very fact that Deliver Us From Evil was finally brought to the screen, more than 10 years after the book on which it is based was acquired for filming, represented producer Jerry Bruckheimer, director/writer Scott Derrickson and author Ralph Sarchie's unshakeable faith in the project.

'We read a proposal about 11 or 12 years ago that Ralph Sarchie brought to us," recalls Jerry Bruckheimer, 'and we thought it was interesting, intriguing and scary. It excited me, and we thought we could bring it to the big screen. The story was really compelling, and it was based on fact: how a tough, blue-collar detective in a rugged part of the Bronx, becomes convinced that some of the incidents he's investigating go far beyond the norm."

Executive producer Chad Oman, president of production for Jerry Bruckheimer Films, recalls that Sarchie, then still an officer in the Bronx's 46th Precinct, had submitted the story as a six-page proposal for a book which would become 'Beware the Night," which was written by Sarchie with Lisa Collier Cool. 'I took it home and read it one night at about midnight after my wife and kids went to sleep," confesses Chad Oman. 'I got about three or four pages into it, and had to stop. I went into the room where my wife was to finish reading the proposal, because it was that frightening." Jerry Bruckheimer, company president Mike Stenson, and Chad Oman were fascinated by the possibilities of merging a classic New York police story with a tale of the paranormal based on real events which Ralph Sarchie recounted in his book. 'The basic idea that I sparked to," says Chad Oman 'was taking a skeptical, meat and potatoes cop, who investigates something he can't explain. The policeman has lost his faith, yet finds himself working with a priest who has complete faith in the existence of God, and seeing how both of them grow throughout the experiences they share."

While Ralph Sarchie and Lisa Collier Cool's book might seem like an offbeat project for the producer, who has become best known for epic adventures and high octane action films, Jerry Bruckheimer has in fact from the beginning of his storied career sought out interesting stories based on fact, which have resulted in films both hugely-scaled and more intimate. Glory Road, Veronica Guerin, Black Hawk Down, Pearl Harbor, Remember the Titans and Dangerous Minds were all based or inspired by true-life stories or incidents. 'We look for great stories and characters anywhere we can find them," notes the producer, 'and Ralph Sarchie's extraordinary story was totally compelling."

In looking for appropriate screenwriters to tackle Ralph Sarchie's book for the screen, Jerry Bruckheimer, Mike Stenson and Chad Oman set their sights on young Scott Derrickson (whose only filmed writing credit at that early point in his career was the feature Urban Legends: Final Cut) and his creative partner Paul Harris Boardman. 'We love to nurture young talent," notes Jerry Bruckheimer, 'especially when it's clear how talented they are. Even back then, it was clear that Scott Derrickson was uncommonly gifted, with a maturity and creativity beyond his years."

Scott Derrickson, who by nature is drawn to themes which are both spiritual and 'supernatural""and sees strong links between the two"was immediately drawn by the compelling tales which Ralph Sarchie described in his book. 'In the book," says Scott Derrickson, 'Ralph Sarchie talks about his experiences as a cop in one of the most dangerous crime districts of New York, but also his gradual involvement in investigating cases of the paranormal, which eventually led him to become an assistant to an exorcist."

One of the challenges facing Scott Derrickson and Paul Boardman was how to mold the episodic nature of the book into a coherent narrative. Notes Chad Oman, 'The book was a collection of stories about different paranormal incidents which Ralph Sarchie had experienced throughout his career. When Scott Derrickson and Paul Boardman first tackled the project, their story was mainly focused on the spiritual-supernatural events, it wasn't weighted towards the police procedural aspects of the story. Years later, when Scott Derrickson returned to the project as a writer/director, he added a pretty equal story focused on the police aspects of the story, then merged the two together."

'Jerry Burckheimer's idea from the very beginning," explains Scott Derrickson, 'was to blend the police and paranormal genres, which I thought was an extraordinary concept that people would want to see. Which I would want to see. The movie is not based on a true story in the full sense of the word, but rather inspired by paranormal cases in Ralph Sarchie's book, strung together in a single narrative. The storyline that ties the different pieces together is fiction, but the scary sequences that you see in the movie are all based on real things which happened to Ralph Sarchie."

Although the film's protagonist, Ralph Sarchie, is quite real, Scott Derrickson invented the character's counterpart, the unconventional priest, Joe Mendoza. Explains Scott Derrickson, 'Joe Mendoza is an amalgam of two real people who were instrumental in Ralph Sarchie's life in helping him recover his faith and take seriously what he was experiencing and investigating," explains Scott Derrickson, 'and then ultimately train him to be an assistant in the rite of exorcism. One of them was a bishop who actually performed the majority of the exorcisms that Ralph was part of, and the other was a Catholic priest who wrote books on the subject. Rather than try to pick one of them, we blended the two into a single character, and then gave him his own fictional backstory."

Scott Derrickson, whose The Exorcism of Emily Rose was highly regarded for its serious treatment of the phenomenon of demonic possession and exorcism, now found himself plunging even further into research for Deliver Us From Evil. 'Monster movies are based on things that are not real phenomenon," he observes. 'Exorcisms are real. They happen often. And no matter what you think about them, they're fascinating and they're frightening. I've read a lot of documentation of cases and seen a lot of case videotapes, and they're incredible disturbing and compelling. I think that there's an inherent interest and fascinating in the connection that these kinds of films have to a real phenomenon in the world.

'I'm not really interested in trying to propagate people's belief in the reality of demons or not," says Scott Derrickson, 'but I do think that the phenomenon of exorcism is something that people need to take seriously. Religious faith is a subject that a lot of people don't want to talk about, because it raises questions of morality, ethics, the afterlife, how we're supposed to live, all the great questions."

As often happens in the world of filmmaking, the property which would become known as Deliver Us From Evil entered a limbo stage which would extend for a decade…but with its main participants never giving up hope. The project was infused with new life in the aftermath of the huge success and critical acclaim of Derrickson's 2012 film, Sinister. 'I had a meeting with Clint Culpepper, the president of Screen Gems," recalls Scott Derrickson, 'and he asked me what I would most like to do next. I told him about a project that I had written for Jerry Bruckheimer years before that I thought would make a tremendous movie. Clint Culpepper read and loved the script, and said okay, let's make it. I did one more rewrite, and the rest is on film."

For Ralph Sarchie, who had kept the faith for a decade that his book and life experiences would one day be filmed, receiving a fateful e-mail from Scott Derrickson with the news still took him by surprise, if not shock. 'I e-mailed back to Scott Derrickson that -I think you sent this e-mail in error,'" laughs the ex-policeman. But he wrote back, -No, I really believe that we're going to actually make this movie.'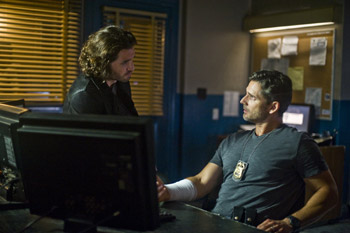 Inhabiting The Roles

After such a long gestation period, Jerry Bruckheimer and Scott Derrickson were determined not to compromise on their choice of actors to inhabit Ralph Sarchie and the other leading roles of Deliver Us From Evil. And to portray the Bronx police officer whose life and work inspired the story, the filmmakers focused on Eric Bana, one of the most versatile stars working today. 'Clint Culpepper suggested the brilliant idea of casting Eric Bana as Ralph Sarchie," says Jerry Bruckheimer, 'and Scott Derrickson and I naturally agreed. He's someone we think is a great actor, and love working with him."

Jerry Bruckheimer and Eric Bana already enjoyed a collaborative history, as the producer and director Ridley Scott had helped to catapult the Australian-born actor to fame in his role as Delta Sgt. First Class 'Hoot" Gibson in Black Hawk Down (which coincidentally was released in 2001, around the time Jerry Bruckheimer began to develop Ralph Sarchie's book into a film). 'Eric Bana is an amazing actor," says Jerry Bruckheimer, 'and getting him to play Ralph Sarchie is a win-win for us. We were really fortunate to have him in Black Hawk Down before he really hit stardom, and his work ever since has been exceptional in everything from Munich to Hanna."

For Eric Bana, the feelings expressed by Jerry Bruckheimer were entirely mutual. 'Jerry Bruckheimer being the producer of Deliver Us From Evil was a very big factor in my wanting to do the film. He gave me my first big American film. Black Hawk Down was really important film for me, personally, and a great thing for my career. It was Jerry and his team at Jerry Bruckheimer Films that brought me that project with Ridley Scott. We've kept in touch through the years, and there have been a couple of projects that we came close to, but just wasn't the perfect fit…until this. I responded to the material straight away. I was at home in Australia, and Jerry and I had a really great, long chat about the film and its potential, so I'm really excited to be working with him again."

Eric Bana was drawn to the role of Ralph Sarchie in Deliver Us From Evil because he saw something in Scott Derrickson's previous work which transcended the horror genre. 'Scott Derrickson's movies, like The Exorcism of Emily Rose and Sinister, are really incredibly written and performed character films that are set in genres. And when I met with him, I felt that I just had to do the film. He has total respect for the genre, knows more about it than anyone I've ever met, but understands the importance of character and story.

'I was also attracted to the character of Ralph Sarchie," continues the actor. 'I was very much intrigued by the genre and subject matter that was wrapped around the story, but when I read the script, what jumped out to me the most was a brilliantly written, intense and fascinating character who I thought would be a really great challenge to play, and the kind of character that I like to go to the movies to see.

'I liked the fact that Ralph Sarchie was this really tough, experienced street cop in the Bronx, who ends up being exposed to a world that's so far removed from the practicalities of police work. At the beginning, we have a character whose belief system is founded purely on facts and physical things. Ralph Sarchie's journey is what makes it so intriguing. This is the one time in his career where procedure is blocked because of inner demons and his past doings, and he has to deal with that. In this case, Ralph Sarchie has to deal with something very dark from his past, and deal with it in a very dramatic way in order to move forward as a person. It's a very relatable theme for people who are carrying secrets and things they've done in the past that they'd like to shake off. I like to believe that we don't. We pay for it eventually, somehow, some way."

Eric Bana spent considerable time with the real Ralph Sarchie, but rather than talk about the film, 'We would just sit around and chat. It was very helpful for me to meet Ralph Sarchie prior to production because there was a certain physicality to him that was very important. Ralph Sarchie would be very important to us throughout production as an adviser regarding the police work, but outside those parameters it was two guys chatting. He's a really great guy."

Finding the right actor to play the demanding role of Joe Mendoza, an unorthodox priest who has battled his own inner demons and enters into a partnership with Ralph Sarchie at first uncertain and then bonded by the recognition of the evil which they are facing, was not an easy task. However, it led Scott Derrickson and Jerry Bruckheimer directly to Edgar Ramírez, the actor who had already staked out a hugely versatile career, first in his native Venezuela and South America, then around the world. 'I saw Edgar Ramirez in the television miniseries Carlos," says Jerry Bruckheimer, 'and thought he was just amazing. He carried the entire five hour long show, speaking several languages and even changing his physicality. Edgar Ramirez was absolutely fearless, and we thought he would be just perfect to play this tormented priest."

'I don't think I've ever seen an actor work as hard at a role as Edgar Ramírez worked at forming the character of Father Mendoza," observes Scott Derrickson. 'Edgar Ramirez spent so much time investigating this Jesuit priest, a Latin American, a little bit of an outsider, a smoker and drinker who has made mistakes in the past. What began to emerge was a character who was certainly the character that I wrote, but had more layers than even I had imagined. That's what a good actor does. A good actor brings more to the table than is even in the script, and Edgar Ramirez did that through his research and preparation."

'At the very beginning," Edgar Ramírez explains, 'Mendoza was a mere presence, serving as a catalyst for Ralph Sarchie to solve the cases that he was investigating. I told Scott Derrickson that I felt that we needed to find a journey for the character, that Mendoza will discover something about himself by getting to know Ralph Sarchie, that he shouldn't only have religious and philosophical answers for Ralph Sarchie, but that there's something that Ralph Sarchie brings to him as well. There's certain access that the priest doesn't have, and certain information that the police officer doesn't have, so they kind of feed each other in order to solve these cases. In the beginning, they couldn't care less about working together, but one has what the other one needs in order to solve the case."

'The relationship between Ralph Sarchie and Mendoza is as important, in many ways, than the relationship between Ralph Sarchie and his wife," explains Eric Bana. 'Mendoza is pretty much a Pied Piper for Ralph Sarchie, leading him down a path of trying to open his eyes and educate him. They absolutely become partners, and we were aided by a director who understood the importance of dialogue scenes as opposed to just non-stop action. It's a very special relationship, and it was superbly cast with Edgar Ramírez. His preparation was absolutely fantastic, and Edgar Ramirez is also really interesting and a lot of fun to hang around with. He brought real intensity but also gentleness to Mendoza, and he put a lot of thought into that character."

To prepare for his role, Edgar Ramírez felt that 'it was very important to understand what a priest thinks and feels when he's not giving the sermon in church on Sundays. I was lucky enough to talk to priests who were open to share their everyday feelings and anxieties. I also researched exorcism, and the psychological and emotional consequences that come from performing such a rite. The interviews that I did and the information that I collected indicated that it's very close to post-traumatic stress disorder, because when you face the devil, you are going to war.

The filmmakers then found their Jen Sarchie"the wife of Eric Bana's Ralph Sarchie, whose love for her husband is tested when he drifts further into the darkness which seems to envelop him as he combats everyday and then paranormal evil"with their casting of the dynamic Olivia Munn. A comedic television sensation on G4's Attack of the Show! and, more recently, Comedy Central's The Daily Show, the vivaciously talented Munn has as of late won acclaim for more serious roles, including Steven Soderbergh's Magic Mike, and her portrayal of Sloan Sabbith in Aaron Sorkin's HBO series, The Newsroom. 'Olivia is really an up-and-comer," notes Jerry Bruckheimer. 'I think she's brilliant in The Newsroom, with real depth to her acting. We had been following her career for a long time, and Deliver Us From Evil presented a great opportunity."

'Jen is based on a real character," notes Scott Derrickson, 'and when I met the real Jen during my writing of the initial draft of the script, I was struck by her strength of character and manner of accepting and holding together the dark world that her husband had become part of, both as a cop and as an investigator into the demonic. And what Olivia Munn understood was the most important thing about Jen's character was that she has her own strength and didn't want to be neglected while her husband was immersed in combating all kinds of darkness. What Olivia brought to the role was a perfect blend of strength, self-sufficiency and compassion for what it was that her husband was going through."

'When Olivia Munn's name came up," adds Eric Bana, 'I was really excited about the opportunity. Scott Derrickson, Olivia Munn and I had some really good chats about the dynamic of Ralph and Jen's relationship, and how to make it believable. We don't have a lot of scenes together, so it was really important to establish a relationship that was both realistic, in terms of conflict and complexity, but also in terms of compassion and intimacy. It also helps that Olivia Munn is a bunch of fun. She's absolutely hilarious when the camera's not rolling."

'I felt like I won a radio contest when I heard that I was cast in this movie," laughs Olivia Munn. 'Like I called on the third Beyonce song of the hour and they said, -And you get to work with Eric Bana, Jerry Bruckheimer and Scott Derrickson.' I was like, -That's amazing, where do I pick up the tickets?'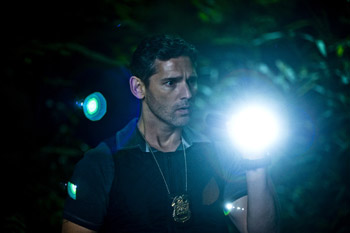 'This is the kind of character I haven't played before, continues Olivia Munn. 'One thing that I love about Jen is her relationship to her family, Ralph and their daughter, Christina. One of the hardest strengths to have is just to hold back and love without any judgment. I wanted Jen to be the foundation of their home, so when Ralph's off facing what he has to deal with, she's at home pulling it all together, and not being the nagging wife who doesn't understand. 'I grew up in a military family," Olivia Munn continues, 'and the one thing that you have know either dating or being married to a cop or a soldier is to be really understanding of the things they have to go through. As much as it may hurt you, it hurts them more, and you have to love them through it. Ralph and Jen have such a sweet relationship, and Eric Bana and I got along from literally the second we met, and Lulu Wilson, who plays our daughter, is such an amazing little actress. Hopefully it shows the heart of the story and what Ralph Sarchie has to lose when things start to go down."

Perhaps the most unorthodox casting in Deliver Us From Evil is Joel McHale as Butler, Ralph Sarchie's sarcastic but loyal and lethal partner in the 'Four-Six." For years, Joel McHale has kept television audiences in proverbial stitches as the acerbic host of E!'s The Soup and as the star of NBC's comedy, Community. But Joel McHale and Scott Derrickson have quite a shared history. 'Joel McHale has been my best friends for many, many years," says the director/writer. 'I've known him since he first moved to L.A., before he was any kind of actor or celebrity, before he even had an agent. I wrote the role of Butler for Joel McHale, because I always thought there was something cop-like about him in real life, not his TV persona. Joel McHale was a tight end for the University of Washington, he's in amazing physical condition, he has a fascination for knives and there's a volatility to him. The Joel McHale you get in the movie is more like the real guy than the characters he plays on television. However, Jerry Bruckheimer points out that Joel McHale's comedic skills are also called into play for his role in Deliver Us From Evil. 'We wanted to bring some levity to the film, and Joel McHale is the perfect choice. He fits right into the role."

As Joel McHale tells it, tongue firmly planted in cheek, Scott Derrickson casting him as Butler was an inevitability. 'I have a lot of dirt on Scott Derrickson," confides the actor. 'Photos. Recordings. He's committed a lot of crimes that are legal in only a few countries. So I said that I would not expose him, and Scott Derrickson offered me this role. He said -I'm going to give you this part,' and I was like, -Awesome. I cannot wait to watch someone else do it.' But eventually, Jerry and Screen Gems came on board, and thank God, I got it. And believe me, I'm still pinching myself right now, because it's a thrill to do a role like this."

Joel McHale knew that people might think that the role of Butler is out of his comfort zone. To which he responds, 'I get to fight with knives in this movie. That IS my comfort zone! Where I feel most comfortable is wielding steel." The actor describes Butler as 'an ex-Army Ranger from Seattle, one of those guys who just likes to fight. He would rather not be safe, so he transferred to the Bronx to get more action. Butler likes to make people uncomfortable. He likes to take that people think is normal and turn it around, such as wearing a Boston Red Sox hat all the time in the Bronx, home of the New York Yankees. He does it just to piss people off.

'Sarchie and Butler are very different from each other, but they work really well together," notes Joel McHale. 'Sarchie is very dark and brooding, with a lot of baggage. The weight of the world is on him. And Butler is always making jokes and jabbing him. But Butler also recognises that Sarchie has a kind of radar, a sixth sense, and when it goes up, we're going to get into some real s"t. But Butler will gleefully go into those situations."

'The relationship between police partners is super important," adds Eric Bana. 'I think in order to portray a cop accurately, the relationship between him and his partner needs to be completely realistic, and the reality is that there's a lot of gallows humor and ribbing that goes on. Humor is what gets you through and especially with what these guys have to deal with. Fortunately for me, Scott Derrickson cast Joel McHale, whose comedy background was really beneficial. It meant that we were able to muck around with each other. They put us in a car and let us loose for 45 minutes one night, and we were just brutal to each other." Joel McHale was also delighted to work on a film from one of moviedom's most legendary producers. 'Jerry is, I believe, the most successful movie producer in history. He knows how to make a movie, how to sell a movie, and if you get him behind something, you've got a way better shot than usual. He's always such a calm presence on set, and he's got your back."

The man selected to portray Sarchie and Butler's nemesis in the film, Mick Santino, was Britain's Sean Harris, who has proven over many years (including the Showtime series The Borgias, opposite Michael Caine in Harry Brown and in Ridley Scott's feature Prometheus) that he can play virtually any role with equal verisimilitude and an almost ungodly devotion to the task. 'Sean Harris is scary, he's brilliant, he makes unusual choices, and that's why he's the perfect person to play Santino," says Jerry Bruckheimer. 'Sean Harris is some sort of conjurer," notes Joel McHale. 'He became Mick Santino."

'Sean Harris embodied the Santino character in a way that was deeper than I expected," says Scott Derrickson. 'Sean understood the character from the inside out. Because he's British and lives in London, I didn't have an opportunity to read him for the role. I cast him based on his performance in Harry Brown. I saw how deep he went into that role, and I'm not exactly sure why, but I knew that Sean was the guy to play Santino. He's the only person that we offered the role to. I had confidence that he could do it, and I was thankfully proven to be right."

Scott Derrickson and Jerry Bruckheimer assembled the remainder of the fine cast, including Dorian Missick and Mike Houston as Sarchie and Butler's fellow NYPD officers, Gordon and Nadler; Olivia Horton as the tormented and possibly possessed Jane Crenna; and seven-year-old native New Yorker Lulu Wilson as Ralph and Jen Sarchie's daughter, Christina. Meanwhile, a top team of New York-based film veterans were to comprise the crew, as the company set forth on a two-month adventure filming on some of the most challenging locations, and in some of the most skin-and-soul drenching weather conditions, of their considerable careers.

Hot, Wet Bronx Summer

There is plenty of moody, atmospheric rain which falls on screen in Deliver Us From Evil, some of it thanks to the special effects team…most of it thanks to Mother Nature.

June 8, 2013, was fated to be the single rainiest day in the 145-year-long recorded meteorological history of New York City, with rainfall measuring at 4.16 inches.

Thankfully, being a Saturday, that was an off day for the Deliver Us From Evil company. However, that entire month of June was the wettest one in NYC history, with 10.26 inches of rain drenching the venerable city in a Noah's Ark-like deluge, and from that, the film's company was definitely not spared. Especially when one considers that Monday, June 3rd, 2013 was the first day of principal photography of the film, which would continue for 41 soggy shooting days until the end of July. 'Somehow, our films always seem to shoot under extreme weather conditions," muses Jerry Bruckheimer. 'We've survived hurricanes, tornadoes, sand storms, blizzards, earthquakes…and now, a New York City summer!"

True to the script's greatly atmospheric backdrops, the first two days of filming were actually at the first of only two locations outside of New York City limits, in the nearly medieval confines of a mostly shuttered building which was part of the still active Nassau County Correctional Facility in East Meadow, Long Island. Cast and crew were compelled to pass through multiple well-guarded barred gates to access the dark, chilling confines of the interior sets"a psychiatric ward for the criminally insane housing, among others, Jane Crenna, portrayed by Olivia Horton (putting her eight years of training with The Joffrey Ballet to good use with her slinking, catlike movements). Jane's horrifying physical state gave make-up special effects designer Mike Marino the first opportunity to perform his considerable artistry. 'We used 30 or so prosthetics on Olivia Horton to create Jane Crenna's self-inflicted wounds," explains Marino, whose team worked alongside make-up department head Lori Hicks and hair department head Jerry DeCarlo's units. 'As opposed to monster movie makeup, this film is supposed to be grounded in reality. So all of the makeups that we did on Sean Harris, Chris Coy and Olivia Horton were based on a huge library of photos that I've found of people who inflicted wounds on themselves." For Olivia Horton, it was a four hour makeup process…which, as things would turn out, was literally half of what Sean Harris would have to endure for the exorcism sequence which climaxes the film.

Two nights later would see the crew filming the first of many night shoots in the production's primary location: the gritty, fascinating, vibrant, culturally diverse, teeming and often steaming borough of the Bronx, in which Sgt. Ralph Sarchie served with the 46th Precinct of the New York Police Department.

The Bronx is a symphony of urban monochrome, a gritty poem of red, brown and beige brick occasionally interrupted by splashes of brilliant greenery. Tenements virtually unchanged for a century or more vie for space with modest, mostly working-class single or two family homes. This unique landscape provided Derrickson, highly creative director of photography Scott Kevan and acclaimed production designer Bob Shaw with a richly atmospheric backdrop against which to play out the drama and terror of the story. 'The Bronx, for me, is visually compelling because it's a part of New York that I haven't seen very much of on screen," says Scott Kevan. 'It's a fresh place to be photographed, and I think that's exciting. There are blocks and blocks of incredibly designed buildings in various states of disrepair, elevated subway trains, all of which fit in perfectly with the visual style of the film."

'In terms of filmmaking, the Bronx has been undershot," agrees Bob Shaw. 'It has a very rich architectural history, and gave us a great opportunity for some really interesting textures." The Bronx does not yet, and may never, have cool, gentrified neighborhoods so prevalent in large swaths of Brooklyn, or hipster coffee houses by the bucketload. Instead, the Bronx has a completely authentic vibe, a rich stew of residents who are primarily African-American, Latino, Caribbean and African emigres, along with remnants of the huge Italian, Irish and Jewish populations who preceded them, music from merengue to rap to soca to soukous blaring out of shop and apartment windows, mingled smells of ethnic cooking wafting in the summer wind. Derrickson, Kevan, Shaw and location manager James D. Lee and his team of scouts, selected locations which ranged across the entire borough, particularly the South Bronx and West Bronx. 'We decided to shoot in the Bronx because that's where it takes place," says Jerry Bruckheimer matter-of-factly. 'It gives the film real verisimilitude, and the locations are fantastic. Many of them are real places where Ralph Sarchie worked and patrolled, and it adds an exciting element to the movie."

'It was never an option in my mind not to shoot in the Bronx," states Scott Derrickson, 'because the Bronx is not like any other place in the world. 'The architecture, the people, the feeling, the density, the building structures…the Bronx is a character in the movie. And because of the proliferation of crime in the particular district where Ralph worked in the -Four-Six,' I wanted to shoot in that area. While we were filming, Ralph would constantly point out buildings and tell extraordinary stories of things and people that he had encountered as a cop. It's a very alive place, not as rough as it used to be back when Ralph was a police sergeant. The NYPD and city government have done a really good job of cleaning up that area compared to what it was 15 years ago."

While the Bronx would provide a great urban stage on which the characters would play out the suspense and drama of Deliver Us From Evil, responsible for appropriately attiring the actors was costume designer Christopher Peterson, who was determined to match the filmmakers' desire for realism while at the same time using clothing as a means to explore the personalities on screen. 'We wanted to make an extraordinary effort to make the ordinary interesting," says the designer. 'The starting point is always the script, and both Scott and Jerry really wanted this to be a character-driven piece. Since he's playing a policeman, Eric Bana as Ralph Sarchie wears bulletproof vests, and I thought that rather than hide it, we should make a feature of it. That way, we see Eric's athleticism but it also has components of reality. As Father Mendoza, Edgar was even more of a challenge, because since time immemorial, audiences have seen priests as the guy in black with the white collar. I thought it would be more interesting to have him moving through the film as a dark central figure without the use of traditional ecclesiastical garments. So we've got Edgar in basic t-shirts, jeans and a fantastic black leather jacket, then a black suede trench coat."

Since Christopher Peterson had already designed for Olivia Munn when they worked together on Magic Mike, the designer knew that 'she has great instincts not only about acting, but also about clothing. She's very smart about keying into the emotional punch of a garment and how it can affect a scene. When you have someone as beautiful as Olivia Munn playing a Bronx mom like Jen Sarchie, you have to bring it down to a realistic level.

Olivia Munn made the point that Jen is a mother with a child on the way, not somebody who's checking her lipstick every five seconds."

The first evening of filming in the Bronx featured scenes of Edgar Ramírez inside and out of Joe Mendoza's modest apartment, located on Morris Avenue, a street of brownstones built from 1906 to 1910 which was deemed a landmark block by the New York City Landmarks Preservation Foundation. The delighted and occasionally rowdy residents of the street happily watched cast and crew go about their business, sitting on stoops, watching the video monitors and in effect creating something of a block party. The following two nights brought the company to a rather sinister house on Bainbridge Avenue in the Fordham district, built in 1905 with a gloomy stone exterior perfect for the frightening goings-on inside the residence of the Alberghetti family. The two nights also brought torrential rains to New York, courtesy of Tropical Storm Andrea, with signs and portents that more such meteorological conditions could be in the offing for weeks to come…as indeed they were.

During the filming on Bainbridge Avenue, Scott Derrickson turned nature's fury to his own benefit, simply setting the exterior scene with Eric Bana, Joel McHale and the actors portraying the Alberghettis in the middle of a rainstorm…without the need for special effects rain towers! It was fortuitous that in Derrickson and Paul Harris Boardman's script, so many exterior scenes featured rain, for the following week brought more near-biblical deluges for the film's introduction of Sgt. Ralph Sarchie in an alleyway on Anderson Avenue. The company found some relief with the shooting of a powerful interior scene with Eric Bana and Edgar Martinez in a chapel designed and built by production designer Bob Shaw and his art department on the top floor of the North Central Bronx Hospital, with an incredible nighttime vista of the flickering lights of the Bronx and Manhattan outside of a panoramic window. Ferocious rains delayed by one day shooting inside of the famed Bronx Zoo, America's oldest and largest zoological parks. The clouds parted long enough to allow filming of nighttime scenes of Sarchie and Butler investigating a bizarre event inside of the lush, nearly tropical oasis of the 114-year-old Bronx Zoo, America's oldest and largest zoological park. The mingled smells of a thousand animals combined with honeysuckle and other flora, as well as an oratorio of sounds from the avian inhabitants, created a magical atmosphere for the company throughout the night. Deliver Us From Evil is, astonishingly, the first feature to be permitted to film inside of The Bronx Zoo since Ken Russell's Altered States in 1980. 'The authorities of the Zoo are rightfully discerning in allowing filming," notes Jerry Bruckheimer. 'I think they were pleased that we wanted the Bronx Zoo to rightfully portray itself."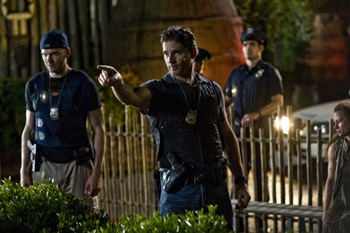 After enjoying some green space in Barretto Point Park at the edge of the East River in Hunts Point, for a scene in which Ralph and Jen Sarchie watch their little daughter, Christina, play a game of soccer, the following two days saw the company filming with Eric Bana, Edgar Ramírez and Joel McHale at the Kingsbridge Heights Community Center, which had been coverted by Bob Shaw into a re-creation of the 46th Precinct. Originally built in 1901 as the 50th Precinct of the NYPD in 15th century palazzo style as part of 'The City Beautiful" architectural movement, the extraordinary building was brought back to life as a police station, so realistically that Ralph Sarchie, an on-set adviser, was stunned by the realism with which his former workplace had been re-created. Sarchie could not help but to invite several of his former fellow officers from the 'Four-Six" to the set to marvel at Bob Shaw's ingenuity. 'I can't explain the way I felt when I walked onto that set," says Sarchie. 'I was in a building that wasn't really the Four-Six, but I felt like I was actually in the Four-Six. And any of the cops that came to the work had the same reaction. We couldn't believe our eyes. It exceeded my expectations to the point where I had to keep looking to believe it."

One of the most enjoyable locations for the company, for sheer gustatory reasons, was in a still heavily Italian neighborhood on East 187th Street, lined with restaurants, delis, grocery stores, fresh pasta shops, bakeries and churches (no surprise, then, that crew members kept ducking into the salumerias and cheese shops and exiting with loaves of bread, cannoli and containers of fresh mozzarella). A little less exciting, but of crucial importance for a scene in which Sarchie and Mendoza discuss the reality of demonic possession, was American Legion 774, was converted by Bob Shaw and the art department into a smoky, crowded firehouse recreation room and bar. The working class home of Ralph Sarchie and his family was an amalgam of two separate houses (and sets later built on an Astoria Kaufman Studios soundstage) on the leafy, bucolic Yates Avenue in Morris Park.

Eric Bana found that shooting in the Bronx helped him find and sustain his New York accent. 'To be completely honest," confesses the Australian-born Eric Bana, 'I think the accent would have been impossible if we had shot out of town. You can put your homework in, and listen to tapes, but shooting in the Bronx and being around New Yorkers every day was absolutely essential for me. And again, having Ralph Sarchie on set was extremely helpful. I had a great dialect coach, Nadia Venesse, who was also working with Edgar and Olivia. We'd done quite a few films together and have a shortcut process, and she was brilliant, as always."

It was sheer irony that just as New York's rainiest month ever came to a welcome close, the company went behind the protective closed doors of Stage H at Astoria Kaufman Studios, across the East River from Manhattan in the borough of Queens where, among many other sets to come, Bob Shaw had created little Christina Sarchie's bedroom…the site of some of the film's most frightening sequences. Kaufman Astoria has an amazing history of its own, originally built by Famous Players-Lasky in 1920, and host to some of the most fabled movies ever made, from the Marx Brothers comedies The Cocoanuts and Animal Crackers to numerous films directed by the likes of the New York-based Sidney Lumet and Woody Allen. Kaufman Astoria was designated a national historic district and added to the National Register of Historic Places in 1978.

But just a couple of days later, cast and crew were back out on the streets of the Bronx, on a day so hot and humid that the company was dissolving into liquefaction. One of the worst heat waves to hit the city in years, temperatures for much of that week exceeded 95 degrees, with humidity bringing the heat index to as high as 105. A fading brownstone on Topping Avenue in the Mt. Hope district was used for the strange and seedy house occupied by ex-Marine Jimmy (Chris Coy) and his wife, and Shaw and company created a truly bizarre environment for Jimmy's combat buddy, Griggs, a few blocks away on the legendary Grand Concourse. The huge, labyrinthic and truly eerie basement of one of the Concourse's faded art deco apartment buildings was the site of one of the film's key suspense/action sequences, and Bob Shaw took full advantage of what was already there. 'The basement was beneath an absolutely enormous apartment building which stretched from one end of the block to the other," notes the production designer. 'Just mapping out the different levels of the basement, with boilers and pipes, from very tall to short spaces where you can't even stand, all in the same building, was amazing. It would be such an enormous thing to build, and this gives us great production just by showing up and doing a little abatement."

A claustrophobic stairwell in a tenement building on Anderson Avenue in Highbridge"with the Shrine of Baseball, Yankee Stadium, looming in the near distance"provided stunt coordinator George Aguilar and fight coordinator Chuck Jeffreys with a challenge of choreographing a vicious knife fight between Joel McHale's Butler and Sean Harris' Santino. 'It was such a workout doing it," says McHale, 'and thank God we're not using real knives because I would have bled out a week ago. George and Chuck taught us a Filipino knife fighting style, which is terrifying and wonderful all at the same time. The fight is a hurricane of slices, cuts and stabs, and that's what it should be, because that's what real knife fights look like."

Thankfully, Joel McHale had by then recovered from a pulled hamstring he suffered in a scene where Sarchie and Butler chased Jimmy (Chris Coy) down a city street in the rain. 'They offered stunt guys," notes Coy, 'but Joel was just as much into his role as I am into mine, and I want to live it like he wants to live it. Joel and I probably sprinted five miles that night, but while you're doing it, there's an adrenalin rush and you don't notice it." For this scene, Coy underwent extensive makeup by Mike Marino which rendered him as somewhat animalistic. 'Our inspiration was a wolf," notes Marino, 'so we made Chris' pupils smaller, his eyes lighter, fingernails longer and self-inflicted injuries more extensive than we see Jimmy in the film earlier. We even widened his cheekbones to accentuate the animal look." Marino and tattoo designer Anil Gupta also designed the numerous tattoos worn by the characters played by Bana, McHale and Coy.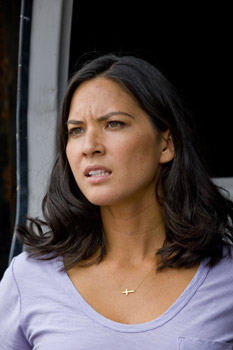 ll in all, though, Joel McHale felt that he was in pretty good fighting shape for the film. 'When I arrived to start shooting, I saw that Eric already had arms the size of tree trunks, and I thought that if I'm supposed to be a badass knife fighter, I'd better try to be in as good a shape as him. I hit the weights hard, and my diet kicked in. I was only eating steam at a certain point. I was doing an average of two hours a day weight training, and then three hours of knife fighting." The second foray outside of New York City and into Long Island was for filming at a Bronx Zoo lion habitat, designed by Bob Shaw and constructed at the Planting Fields Arboretum in Oyster Bay, Long Island. The nature of the scene, which involves much action inside of the habitat, demanded that such an environment be built rather than to shoot in real habitats inside of the Zoo…not to mention the extensive visual effects work courtesy of supervisors Robert Habros and Curt Miller. 'We brought in all of the old school techniques to bring the habitat scenes together as opposed to just pushing the digital button," explains Habros, including green screen, compositing and split screen. Surprisingly in these CGI heavy cinematic times, Habros claims that 'I'm trying to be as invisible as possible. My job is to service the storytelling and I think Scott Derrickson wants the film to be as natural, believable and as close to real as possible. Any visual effects work that we do has to blend right in."

The company then returned to Kaufman Astoria Studios for major sequences on various sets, including Santino's apartment building hallway, the 46th Precinct communications room and finally, the Precinct's stark observation room, the site of the intensely terrifying, climactic exorcism sequence. All roads led to this sequence, and the atmosphere on set was suitably tense throughout the incredibly rigorous week of filming. Even for hardened New York production veterans, witnessing the shooting of this scene was something to behold, including the ghastly sight of the possessed Santino as portrayed by Sean Harris. 'We developed that makeup over a couple of months," explains special effects make-up designer Mike Marino. 'Originally it was just a camouflage makeup that slightly morphed into a more demented, evil-looking camouflage, and after some 35 odd designs later, Sean finally came in for tests and we decided at the eleventh hour to put a Latin invocation with occult symbols and cuneiform that appears in the film on his body as if Santino had carved them himself. This became an eight hour a day process in which we applied more than 150 prosthetics to Sean." Luckily for Marino and his makeup team, Harris had developed a close working and personal relationship with them, and had infinite patience. 'He entertains us and himself, and we get through it. We couldn't have asked for anybody better than Sean."

Along with other unusual tasks for the film, Marino and his crew also created a cat entirely from fabricated materials. 'No animal parts were used, we sculpted and built it from scratch. Totally fake," assures Marino.

As per the overriding philosophy set forth by Derrickson, visual effects supervisors Habros and Miller oversaw extraordinary impressive work on the exorcism sequence, but as Habros notes, 'it's a great combination of acting, stunt work, prosthetics and Drew Jiritano's special physical effects. I'm there to help blend the scenes between each of those departments and those disciplines."

Edgar Ramírez truly threw himself body and soul into the exorcism sequence, and emerged after the week of filming completely drained. 'I loved that Scott envisioned the scene taking place not in a bedroom or a church, but in an interrogation room in a police station," observes the actor. It felt very real and very intense, because we were all very committed. We weren't treating it like a horror scene, but a dramatic scene."

Both Bana and Ramírez were impressed with the chilling power which Sean Harris brought to the sequence. 'Sean has a fascinating working method and an intensity that I've not often seen on a movie set," observes Eric Bana, 'and he did an incredible job. We were all very respectful of his process, but he has a great sense of humor and brought absolute magic to his character." Adds Ramírez, 'Sean's level of commitment was really mind-blowing. We never met and never talked until we began shooting the exorcism scene. He made me very nervous, in a good sense. He really channeled something dark and uncomfortable, and I feel a lot of respect for him because in many ways Sean is playing the most difficult character in the movie. He really went down the rabbit hole and put himself through a lot."

Although Christopher Young, who also wrote the highly original and sonically disturbing scores for Derrickson's The Exorcism of Emily Rose and Sinister and numerous other films in the horror/fantasy/thriller genre, wrote the film's atmospheric score, the director also incorporated The Doors as an integral part of the story. 'I've loved The Doors since I was a kid," confesses Derrickson, 'and for this story, I thought about the whole concept of the band's name, which came from Aldoux Huxley's The Doors of Perception. The doors that separates the material and immaterial worlds. There's a textural quality to the music that is very cinematic, it cries out for cinematic love. It wasn't just the value of the songs, or the meaning of the songs, but there are places where the lyrics are referenced in the movie and it becomes part of the narrative trail that Sarchie is tracking."

In the end, despite the rigors of filming on the New York locations, the company agreed that the film could not possibly have been done any other way. 'It was so special to be able to film in the Bronx," confirmed Eric Bana. 'We've been through storms, a heat wave, mostly night shooting, and whilst it's been extremely challenging and made it harder from a physical production standpoint, the production values, the sights, sounds and people of the Bronx were fantastic. In this day and age, where the audience has to put up with so much fakery and CGI and cities that are cheating for other cities, it's really special to be in the proper world of the story. We were in real places every single day, and I think we got great mileage out of that in the film."

The final leg of the Deliver Us From Evil shoot, took the company some 6,842 miles away from the Bronx in far-off Abu Dhabi in the United Arab Emirates for the film's opening sequence, set in 2010 Iraq. Abu Dhabi has become very film-friendly in recent years, with an active film commission and expert local production personnel attracting such films as The Bourne Legacy, The Kingdom and Syriana. 'We always like to film where we can get the most production value," notes Jerry Bruckheimer, 'and Abu Dhabi had everything we needed: a great desert landscape, terrific accommodations, a very cooperative film commission and really wonderful crew."

While still in New York, the three actors, portraying Marines engaged in a desert firefight before coming upon a mysterious underground chamber, received military training from one of film's foremost experts in that field, Harry Humphries. A former Navy SEAL, Humphries has a long and storied history with Jerry Bruckheimer, having applied his expertise to The Rock, Con Air, Armageddon, Enemy of the State, Pearl Harbor, Black Hawk Down, Bad Boys II, King Arthur, National Treasure: Book of Secrets and Prince of Persia: The Sands of Time, as well as the television series, Soldier of Fortune, Inc. 'Harry showed up in New York and basically said 'I'm going to give you guys eight weeks of basic training in four hours," recalls Chris Coy, 'and he succeeded. By the end of it, I felt like if the zombie apocalypse happens next week, I'll be fine. He taught us everything from how to properly hold a sidearm, how to patrol, call out contacts, how to go from linear to flat formation. Considering that I come from a military family, it was an incredible experience for me."

The subject matter of Deliver Us From Evil raised questions to be pondered not only by audiences, but also by the filmmakers and actors who starred in the film. 'During pre-production," says Eric Bana, 'I was exposed to some materials and tapes about exorcism which, on the one hand, were beyond fascinating, beyond interesting and beyond scary. They are materials not for public consumption, so I had mixed feelings about seeing some of them…one in particular did have an effect on me, and I found it extremely difficult sleeping and being in a room by myself for a week after seeing it.

'My thoughts are that there is definitely something that exists which, unfortunately, leads to a very large amount of human suffering," continues Bana. 'However that's described or diagnosed is actually completely irrelevant. At the center of it is a massive amount of suffering and pain. Ralph Sarchie, in doing what he calls -The Work,' goes and helps people deal with these things. I have no doubts that there will be moments when audiences will be truly scared, but it's really something truly different, which is always exciting. I think that a lot of Sarchie's journey in the film, whilst sometimes brutal, is fascinating, entertaining and thought-provoking."

Adds Edgar Ramírez, 'In his previous films, Scott Derrickson gives you the chance to believe that whatever happens in the movie was either the creation of a sick mind, or the influence of an evil force or spirit. So depending on what your beliefs and background were, then you could pick one of the two. In Deliver Us From Evil, Scott offers us the same choice. I like the possibility of completing the information myself. . I think there is a huge amount of evil out there, evil that we cannot understand or grasp. But at the same time, this journey of playing Mendoza also taught me that there's a huge amount of compassion and solidarity, and people who want to do good for the world."

'Whatever your beliefs," says Jerry Bruckheimer, 'there are some phenomena which cannot be entirely explained by science or medicine. Deliver Us From Evil explores the gray areas which may or may not be supernatural or paranormal. If you are already a believer, then Ralph Sarchie's story will confirm what you know. And if you're not, then the story is perhaps food for thought…but at the very least, a really exciting two hours in the movies."

Deliver Us From Evil
Release Date: July 24th, 2014