Emmanuelle Bercot Polisse Interview
Cast
: Karin Viard, Joey Starr, Marina Foïs
Director
: Maiweenn
Genre
: Crime, Drama
Running Time
: 127 minutes
Synopsis
: The daily grind for the police officers of the Child Protection Unit - taking in child molesters, busting underage pickpockets and chewing over relationship issues at lunch; interrogating abusive parents, taking statements from children, confronting the excesses of teen sexuality, enjoying solidarity with colleagues and laughing uncontrollably at the most unthinkable moments.
Knowing the worst exists and living with it. How do these police officers balance their private lives and the reality they confront every working day?
Fred, the group's hypersensitive wild card, is going to have a hard time facing the scrutiny of Melissa, a photographer on a Ministry of the Interior assignment to document the unit.
Release Date
: June 28th, 2012
Interview with Emmanuelle Bercot
Question:
How did you get involved in the film?
Emmanuelle Bercot
: I had met Maïwenn on several occasions but didn't know her very well. Then we crossed paths at a film festival and we exchanged ideas and wove stronger ties. One day she told me she intended to make a movie about the police, with a large number of protagonists. She knew that I had personally written an ensemble piece with a lot of characters and said she was unable to get ahead with her own work because she was not methodical enough. She gave me about thirty pages to read: even if the character arcs were incomplete, a certain number of characters were already outlined, but the script was teeming with details and therefore a bit messy. I explained to her how I had been using a structured, concrete style to put in place parallel character arcs. A few months later she wrote the first draft.
Question:
Were you personally interested in the realm of the Child Protection Unit?
Emmanuelle Bercot
: Yes I was fascinated. Not only have I always loved cop movies but in this story there are children involved and I am particularly moved by stories about them. Anyway, had I not been totally fascinated I wouldn't have accepted to work on the project. On the other hand, Maïwenn did a lot of research, which was not the case with me. But as she has a remarkable sense of sharing, she performed the scenes she had witnessed for me and was able to convey all the emotions she had felt in the course of her research. Consequently it was as if I had been with her during her investigation. It helped me feel immersed in an environment it was essential to express accurately and truthfully.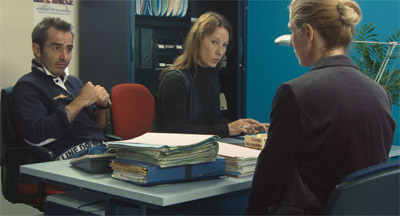 Question:
You write and direct movies on your own terms. Did you find it difficult immersing yourself in the world of another director?
Emmanuelle Bercot
: I started writing for Claude Miller ten years ago, when he was making Little Lili. But as I was busy with something else I stopped mid-way and so I have never done this before. I must admit it's a difficult exercise and I was a little scared to begin with. As far as my own films go, I find the work on structure and narrative quite tedious, so when she asked me to co-write the script I was reluctant. Then I told her that I was willing to help but I was not going to participate in the narrative. So she asked me to develop the scenes of the cops' private lives. I first agreed to help for the sake of friendship, it was going to be just for a week, and there would be no contract. In fact as time went by, we talked about the structure, then about the characters, then the storyline. And finally there I was, writing the script with her - after her first draft - and therefore I got more involved than I had expected.
Question:
What about the dialogue?
Emmanuelle Bercot
: As I was aware of Maïwenn's method from her previous films, I thought it would be no use working hard on dialogue because it would all blow up during the shoot. But personally I am a strong believer in dialogue, in the search for the right word. I believe in giving each character the right tone and lines. Maïwenn is a very talented dialogue writer. I remember telling her that she didn't need anyone to write the dialogue and that her style is so personal that nobody can replace her. And yet, although some dialogue from the first draft hasn't been changed, especially the interrogation sequences, which were inspired by actual events, I did contribute: we would write it and then read it aloud. I must say that we didn't write the entire dialogue because during the shoot, Maïwenn gives the actors free rein to improvise, so they are the authors of some of it.
Question:
How collaborative was working with Maïwenn?
Emmanuelle Bercot
: The first draft was very long; she had jotted down all her ideas. It was dense and compact, you couldn't make head or tail of it, but there was a powerful storyline and many life-like characters. And above all there was the subject matter she wanted to address. So before getting into the details of the scenes, we had to select stuff,cut, alter or re-organise some, complete character arcs, eliminate certain characters and invent others, etc.
Our method consisted of spending time together, in an office from morning till evening. Most of the time, it was Maïwenn who typed what we came up with. We wrote only a very few scenes separately. In this sense you can say that it was a collaborative effort. I learnt a lot working with her, and generally speaking I have difficulty writing on the spur of the moment.
She and I would bring up a scene, discuss what she wanted to say and write as we talked. Maïwenn actually acted out the scenes, which was very helpful because we could see immediately what didn't work. What we wrote was never final. Maïwenn does not regard her writing as sacred. Things change all the time and her method is very alive. What was really exciting was that the more I had to rephrase my ideas to convey them to Maïwenn, the better I was able to analyse script writing mechanisms. I have learnt a lot thanks to this collaboration.
Question:
Can you tell me more precisely how you helped her?
Emmanuelle Bercot
: Maïwenn has one quality that can be perceived at each stage of creation - her freedom and total indifference to rules and conventions. But she doesn't have an academic education and she is not overly methodical and organized. Unlike her, I am very methodical, the good student type... though I don't take much pride in it. Therefore I tried to help her to be more disciplined and rigorous, which is essential if you want to write a good story. By the way, she often called me "Teach"!
Question:
Can you be a little more specific?
Emmanuelle Bercot
: It's very hard to sum up work on a script because the process is complex and you have to be careful about every single detail. I would point out what such and such a choice meant for the rest of the narrative.
Or see to it that no scene would lack realism, credibility or truth. For instance, Maïwenn wanted an action scene to have stamina: the first draft contained the case, drawn from real life, of a wealthy man who got away with incest against his daughter. In this story, the cop character, played by Joeystarr wasn't willing to let the case slip away from him and swore revenge on the man. As the man owned a jeweller's shop, the cop organised a hold-up in the shop etc... This situation didn't seem realistic and sounded contrived. So I told her that the scene had to go.
But Maïwenn would often allude to this action scene and her determination to bring forcefulness to it. My role was to listen to her and respond. One day, she told me that when she was at the police unit a cop had been looking for volunteers for an operation monitored by the Organised Crime Repression Unit: she explained that when there was a staff shortage they sought back-up from other departments. Most of the time, the Child Protection cops are ready to help because they like action and have too few opportunities to get it. I proposed to start from this premise to create the action scene. It allowed us to see the unit in action performing their duties, which also meant sticking to the subject matter. That's how it became the scene of the arrest of the Yugoslav gang.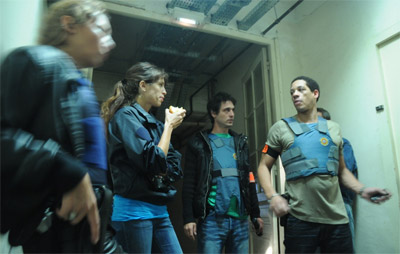 Question:
Did you have to rewrite scenes?
Emmanuelle Bercot
: The difficulty in an ensemble piece lies in the organisation and overlapping of the character arcs. It's like the work of an architect. It was difficult to write the parallel stories of the professional and private lives of these police officers and the story of the two men in love with Melissa, played by Maïwenn. She would often say that she was not able to make up characters and could only write about her research, about her own life experience or what she had observed in other people's lives.
My role was to help her fulfil her wish to write fiction. Maïwenn's obsession is to write true-to-life scenes and she believes that it's only possible when actors improvise. I tried to convince her that a well-written script is not an obstacle, far from it. One of her favourite films is Fish Tank. I often used this example to convince her that what sounded incredibly true and natural in the film had been carefully written and that the film was nonetheless highly realistic.
Question:
In the end, is it a tightly written script?
Emmanuelle Bercot
: Definitely. Maïwenn was not used to writing such structured, well-rounded material and dialogue, even if it serves as a work base. We had typed the whole script except when there were many characters. During the shoot, either the actors performed the text itself, and then went on improvising, or the text blew up and just a few bits and pieces remained. But at least Maïwenn could rely on a written text. She hadn't had written scripts in her previous films. By the way, her crew was surprised to see her holding a script. But even here she would whisper lines to the actors that she invented during the takes.
Question:
How did you develop the love story between Joeystarr's character and Maïwenn's?
Emmanuelle Bercot
: She insisted on mixing the story of the police unit with the love story, which accounts for nearly half the script. It was crucial for her to approach the female character, torn between an upper class husband and a cop who, like her, came from a working-class background. It took us a long time to think up the scenes in which Joeystarr, who plays the cop, manages to bring the girl back to her roots. She was a poor, young woman who grew up in Belleville, a working class Paris neighbourhood. She suddenly finds herself in a world that she does not identify with and the cop makes her realise who she really is. The challenge was that we couldn't lose sight of the life of the police unit and at the same time relate the love story, with its own development and conclusion. After this, we worked on the romance as if it was a story in its own right, and our aim was to make it credible on set. Of course it wasn't the easiest thing in the world.
Question:
Did you put much of yourself into the film, too?
Emmanuelle Bercot
: I love Maïwenn and I love what she does as an artist. It was great working with her. I think that film directors who write their own scripts are used to being the centre of attention. Poliss as my first experience working for someone else and I tried to play ball. It taught me to be unassuming. I did not try to impose my ideas. Sometimes, I disagreed with Maïwenn, but the only thing that mattered was to be dedicated to her, to her film and to her story. Working hand in hand meant we had to look constantly for harmony and mutual understanding. In this way, I've probably put some of myself into the film. In any case I love it immensely.
Question:
Are there any films that influenced your writing?
Emmanuelle Bercot
: We only watched documentaries in order to study how the Child Protection Unit operates and how police officers speak even if each of us have our own references like Pialat's Police, Tavernier's L.627 or Xavier Beauvois' The Young Lieutenant. I think that we both like these films but we never brought them up. We mentioned others: for example, for her husband's character Maïwenn had in mind Yves Montand's performance in Cesar and Rosalie and I also remember a reference to Michael Mann's Heat to help put together some scenes, but of course that film has nothing to do with Poliss!
Question:
How important was it to appear in the film and portray one of the characters?
Emmanuelle Bercot
: We hadn't even considered this option to start with! Until three days before the script final draft, my character was supposed to be a man. And then, one morning Maïwenn told me that the character had become a woman called Pascale and that she was going to call the police superintendent after her former name - Balloo. So we reworked on the 'Pascale' character and it had not occurred to me that I was going to play the part. It was a good thing because I might have overdone it! It was only much later, once the script was completed, that Maïwenn offered me the part.