Emma Seibold Winter Nourishment Plan
Emma Seibold shares her typical day-on-a-plate and recipes for the cooler months: 'In winter I tend to crave more dense and nourishing foods. A healthy way to meet these cravings is to make lovely, warming soups, curries and casseroles with warming spices such as cardamom, cinnamon and ginger," Emma Seibold.

Breakfast/Snack:
Super Green Berry Olive Leaf Extract Smoothie
Serves 2

Ingredients
1 cup of frozen berries (your choice)
1 small to medium banana (ripe and peeled)
2 handfuls of baby spinach
1 tbs chia seeds (soaked in a little water so it forms a gel-like consistency)
A handful of ice
½ cup of water or coconut water (add more liquid if needed)
1 tsp berry flavoured Comvita Fresh-Picked Olive Leaf Extract (Olive Leaf Extract is traditionally used to support the immune system to guard against winter cough, cold & flu bugs).

Method
Combine all ingredients in blender. Blend and serve in two glasses.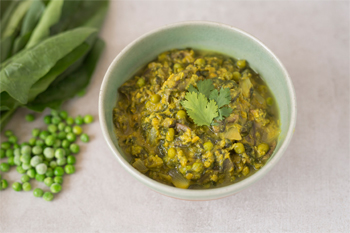 Lunch:
Magic Green Soup
Serves 4

Ingredients
1 small onion, chopped
4 cups vegetable stock
1 tsp cumin
250g frozen spinach
2 head of broccoli
Handful of cashews or almonds
1 cup of peas
¼ tsp pepper

Method
Saute the onion, cumin and pepper in a little of the stock for 10 mins.
Add the broccoli, cashew nuts and stock.
Bring to boil, cover and cook on low heat for 30 mins.
Leave to cool for 10 mins.
Add the peas.
Blend until smooth.


Dinner:
Mushroom & Spinach Dahl
Serves 4-5

Ingredients
1tbs coconut oil
1 onion, chopped
½ tsp salt
3 cloves garlic
2 tbs ginger puree
2 tsp turmeric
1 tsp ground dried coriander
1 tsp ground cumin
1 cup red lentils
3 cups water
2 tbs honey or maple syrup
¾ cup coconut cream
1 cup of peas
250g frozen spinach
250g chopped mushrooms

Method
In a large pot, cook the onion on a low heat with the salt, garlic and ginger.
When the onion is soft and translucent, add the spices and cook for a further minute.
Add the lentils and water and bring to boil. Turn down to simmer for 20 minutes.
Add the spinach and mushrooms and simmer for a further 15 minutes.
Add the coconut cream, peas and honey and heat to desired serving temperature.
Serve with basmati rice.