Alt-Indie band Emily-Rose and the Wild Things release an emotive new single 'Complete as One.' A single that channels modern day anxieties filled with constant distractions, exploring the theme of "how nice it would be to be complete as one."

Recorded during COVID times, the single pulls listeners in with a mysterious synth arpeggiator reminiscent of the Stranger Things soundtrack. The single will get listeners hooked with a drum and bass groove by Abby Constable alongside Nick Henderson holding it down on the electric bass.

The almost robotic verses of Emily-Rose's vocals split into three tracks, are juxtaposed with an indie ballad type chorus and a beautifully spacious guitar solo moment from Luke Chapman. The violin, played by Chris Stone, forms a unit together with guitar, balancing the vocals and adding a wonderfully unusual tapestry of textural layering. On the single, front-women Emily-Rose said, "The lyrics revolve around the fast pace and anxieties of modern day life expectations, giving way to a chorus which laments 'how nice it would be to be complete as one,'"

"Of course it is impossible to feel a complete human with nothing but ourselves in life, but we often fill our time and spaces with many unnecessary things, whether they be tangible or intangible."

Emily-Rose and the Wild Things is led by Emily-Rose Sarkova, the multi-faceted artist who sings, plays keyboards, synths and pioneered most of the material for their upcoming album 'Upon these Open Skins'. The band itself is a wonderful fusion of musicians spanning Jazz, Folk, Funk, Metal, Classical, Electronic, Indie and all the in-betweens. It consists of Nick Henderson on bass, Chris Stone on violin, Abby Constable on drums and Luke Chapman on guitar.

Every inch the enchantress in her confidently beautiful performance, Emily-Rose is amongst the new generation of Indie artists to emerge over recent years. From performing classical piano in French cathedrals and klezmer accordion across Poland, to playing tango in Buenos Aires and funk keyboards and synths at the infamous Pineapple Lounge, Woodfordia, there isn't much music Emily-Rose hasn't explored.

The single 'Complete as One' is off her upcoming album 'Upon these Open Skins' slated for release in July 2021. 2021 is set to be her break-out year, as her album refreshingly pushes the boundaries with her innovative style and clear enjoyment of her craft. Emily-Rose has all the makings of a sensational artist.


Interview with Emily-Rose
Question: How would you describe your music?

Emily-Rose: It's a melting pot of my experiences in jazz, classical, folk, electronic, world and indie music. I've had people tell me it sounds sometimes like Joni Mitchell and other times like Hiatus Kaiyote. The musicians have backgrounds in rock, metal, acoustic folk, jazz and electronic beats - and I grew up playing Bach on piano but always sang to Ella Fitzgerald tracks and my favourite band growing up was George (with Katie and Tyrone Noonan). A fellow muso said they had to listen to the new single on repeat to 'decipher this madness'. So I think it is a kind of beautiful music madness - with grooves that make you want to move and lyrics that resonate deeply with the times we live in.


Question: Which is your favourite song to perform live and why?

Emily-Rose: Must I have a favourite?! Ok well if it has to be one to perform live, I think I get a particularly great buzz out of the unpredictability and wild ride of a tune I have called Road to Bello. It's got kind of got a video game esk beginning but then has a funk neo-soul chorus, an afro beat groove in 3, a super fun shout chorus and a piano cadenza that could really go anywhere depending on the live vibe.


Question: If you could have anyone, in the world, attend a show, who would it be?

Emily-Rose: If it was possible I would love to have my Grandpa attend one of my shows - he's not with us anymore, but I wish he could see this manifestation of my music. If it needs to be someone still alive... I would think it pretty rad if Jacob Collier attended a show. He's pretty rad and it would be very interesting to know what someone like that would think of the music I make.


Question: Do you prefer performing live or recording?

Emily-Rose: Both are completely different and I don't prefer one over the other. Both have different spheres of possibility. In the past couple of years I've become a lot more understanding and savvy in the recording studio - understanding why the studio is truly a very different place to create music than in a live setting. If I want a string section and a whole choir, I can create that with just a couple of people in the studio - and sometimes I can re-create and re-compose over things that have been recorded and use them as new inspiration. Live it is a different story - it's a time to take daring moves because of collective band adrenaline and reach out to live listeners in a more personal way.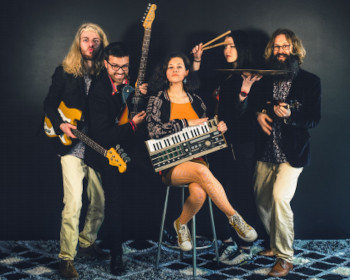 Question: What motivates you most when writing music?

Emily-Rose: Writing alongside my partner Nick, my garden, my piano, listening to others' music I admire, and long drives alone.


Question: Which music/artists are you currently listening to?

Emily-Rose: I've been loving the music made by Australian Monique Clare, Canadian string group The Fretless, the album Our Songs, Not Songs by Australians Kristen Berardi and Sam Anning, anything by British-Australian The Magic Lantern (Jamie Doe), anything by English James Blake and the whole catalogue of amazingness that is Knower (Louis Cole and Genevieve Artardi). Right at this very moment I'm listening to an album called The Headlight Serenade by Triosk and I have a Jorden Rakei cover of 'Lover you should've come over' cued up to play next.


Question: What or who was your inspiration to go into the music industry?

Emily-Rose: I would say that the one person that initiated, facilitated and continuously encouraged me to follow my music ambitions was my mother Eliska. She gave me all the basis of my musical training as a child. I grew up playing piano, singing and being on stage from a very young age. I don't think that 'going into the music industry' was a thought that I had - initially it was a decision to be a serious classical pianist. I went to study at the Conservatorium of Music to pursue this passion and soon found myself realising that I just had too many interests in the musical world to stick to a hard and fast path in classical music. In any case, after quite a few years of being a musician - which also means manager, tour booker, designer, marketer, music arranger, grant writer etc. - it seems that I am indeed in the industry!


Question: If you could collaborate with another artist, who would it be?

Emily-Rose: I do already get to collaborate with some awesome people - but outside of that, if it was an Aussie artist I would love to do something with Katie Noonan. If it was someone international I think it would be very fun and challenging to do something with Jacob Collier.


Question: Did you have any pre-conceived ideas about the music industry?

Emily-Rose: This question feels a bit like as if I was just starting out in the industry. I have been in it for a while, but just doing a lot of things that weren't heading my own band of original music and songs. So - I would say I have some very fully formed ideas. One fairly big one is this: music that lies outside most pop, rock and electronic is terribly marginalised - especially here in Australia. I don't believe there are enough radio stations, playlists, well publicised gig lists etc. to support the absolutely incredible breadth of really excellent music that is happening all the time right down the road from most people's front door. But for some reason - if it's not a stadium concert of a big touring artist from overseas, so many people won't go and see live music. It is not built into our culture like it is in other places around the world. That makes me terribly sad for all the people of the nation missing out on the benefits of live music on mental health, socialisation and of course stimulation of our local economy.


Question: What's a typical day like?

Emily-Rose: Well - it's changed a lot since Covid (when life was very different everyday, being on tour and travelling a lot with different projects). At the moment a typical day consists of waking up to native bird sounds, drinking a stovetop coffee, exercising with my partner to some of our favourite music and working on whatever music related thing needs to be worked on using a pomodoro timing system (25 minutes on 5 minutes off). Those activities may be writing music, recording music, rehearsing music, setting up for live-streaming, planning recording sessions at our home studio with other artists, answering emails and admin or teaching some students. Somewhere in there I will do some gardening in my very extensive veggie garden.


Question: What has been your favourite part of becoming a music artist?

Emily-Rose: Meeting some of my most favourite humans ever. In general I think that the music world is just full of really generous, fun loving and kind people. Especially in the folk and jazz world, which I've spent a lot of my time.


Question: Can you tell us 5 things required for a happy healthy and enjoyable life?

Emily-Rose: Eat healthy. I think this includes understanding the food chain, nutrition and where you are sourcing your food.
Have close friends you can count on for anything and who inspire you.
Spend a good amount of time in natural environments - that includes exercising in them - long walks, hikes, swims etc.
Be creative and playful. Play music, make art, write, design, grow food...
Be giving. Give your time to those who need it - care about fellow humans, creatures and the precious earth we walk on.


Question: Can you share your socials?

Emily-Rose: Instagram
Facebook
Website
Bandcamp
Patreon