Chrislyn Hamilton is one of Australia's premier entertainers with a powerhouse voice and soulful personality. After finding a national audience via television platforms Australian Idol, Australia's Got Talent, and more recently, The Voice Australia, Chrislyn returns to The Old Museum to mark a massive milestone – the release of her first ever single!

It's Over is the long-awaited debut track by Chrislyn which delivers in its statement. "It's about taking back control, and ownership after toxic relationships, and manipulations. It's about reclaiming my power, picking up the pieces and proving the doubters wrong. It's me saying that's over" Chrislyn says of her debut.

In a special 80-minute show (with intermission), Chrislyn and her acclaimed band will take audiences on a journey of music that has inspired her and made her the songstress she is today.

Chrislyn will take you on a journey from the first song she ever learned and performed live, to songs performed during her television journey. In this live and intimate show, Chrislyn will share the more personal moments in her life, such as falling in love, becoming a mother, and her life today including the forthcoming release of her own solo material.

After a recent milestone, Chrislyn is ready to finally share her soul as she embarks on the next exciting chapters of her life.

This is a one night only show, so grab your family, mates, and lovers and be prepared to be taken on journey through music, and show stopping entertainment.

Tickets on sale now via The Old Museum.
Interview with Chrislyn Hamilton
Question: How would you describe your music?

Chrislyn Hamilton: I would describe my music as soul/funk with some alternative vibes.


Question: Can you tell us about your debut single It's Over?

Chrislyn Hamilton: 'It's Over' is a song about taking back control and making the choice not to be held back or controlled anymore. I initially wrote it about a toxic relationship, and it's turned into something way more than that. I guess it can be about anything toxic in life, and taking back ownership after experiencing something negative like that.


Question: Is there a particular message you hope listeners take from your music?

Chrislyn Hamilton: Yes, I just think if you have the dream to sing and perform then you can do whatever you put your mind to. But also, I want my music to empower people and make them feel unstoppable. While also being relatable and somewhere people can go for truth.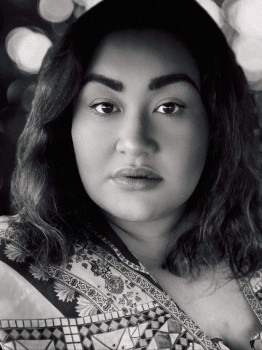 Question: How has your performance on talent shows (Australian Idol, Australia's Got Talent, and The Voice Australia) influenced your music?

Chrislyn Hamilton: I think because I have been around such amazing musicians and different styles, it's influenced me in the way that I am not afraid to express myself. That also means I can be who I want to be, and what style I chose to be too.


Question: Do you prefer performing live or recording?

Chrislyn Hamilton: I LOVE performing live, it's what makes me happy to wake up in the morning, and it gives me a moment to express my heart to the audience and just connect like that.


Question: What can we expect from your performance at The Old Museum?

Chrislyn Hamilton: A story about my life, some good laughs, emotional times and also, I just hope people can forget their stresses and worries for a while and listen to mine 😉


Question: If you could have anyone, in the world, attend a show, who would it be?

Chrislyn Hamilton: I would love love, LOVE to see Joss Stone live. I'd also love to meet Rebel Wilson and if I could ever sing with Christina Aguilera, I wouldn't complain either! I am also a HUGE Lizzo fan and how awesome it would be to meet and see her perform too!


Question: Which music/artists are you currently listening to?

Chrislyn Hamilton: Olivia Rodrigo, Catie Turner, Lizzo, Cardi B, Ariana Grande, JoJo.


Question: What or who was your inspiration to go into the music industry?

Chrislyn Hamilton: Christina Aguilera & Pink.


Question: What was your first performance?

Chrislyn Hamilton: My first performance I did myself was at one of my aunties weddings, I was terrified!


Question: If you could collaborate with another artist, who would it be?

Chrislyn Hamilton: Definitely Lizzo!


Question: What has been your favourite part of becoming a music artist?

Chrislyn Hamilton: Connecting with people in a meaningful way through music. Music is what brings people together, and I love that feeling it brings to us all in that moment.


Question: What's a typical day like?

Chrislyn Hamilton: My typical day is replying to emails, being a Mother, Rehearsing, Doing gigs and spending lots of time with my family which I'm grateful to be able to do!


Question: What's next, for you?

Chrislyn Hamilton: Good question! After releasing my single I'd love to perform everywhere and make more music and just share my story through music for the rest of my life.


Question: Can you share your socials? (links please)

Chrislyn Hamilton: Instagram
Facebook
Snapchat: @chrislynjoy


Interview by Gwen van Montfort