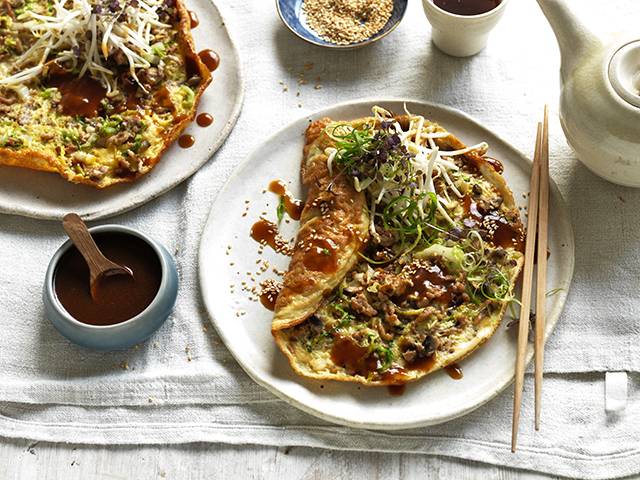 'Cheap Eats' Recipes Courtesy of Australian Eggs
With the cost-of-living crisis continuing to squeeze household budgets and no end in sight, being able to feed the family well, but for less, has never been more important.
With a mix of meal time recipes to choose from Australian Eggs has suggestions to feed the whole family on a budget.
Egg Foo Young
COST PER SERVE: $6.14
Serves: 4
Prep time: 15minutes
Cook time: 25 minutes
Ingredients:
Omelette
8 eggs
¼ cup vegetable oil
3 cloves garlic, crushed
1½ tablespoons ginger paste
300g pork mince
100g white mushrooms, chopped
2 cups (160g) shredded Chinese cabbage
3 green onions, shredded, plus extra for garnish
2 cups (110g) bean sprouts, plus extra to serve
1 teaspoon salt
2 tablespoons toasted sesame seeds
Sauce
2 tablespoons light soy sauce
2 tablespoons hoisin sauce
1 teaspoon sesame oil
1 chicken stock cube, crumbled
1 cup (250ml) water
1 tablespoon cornflour
Method:
Omelette
Heat 1 tbsp oil in a small non-stick frying pan. Add garlic and ginger. Cook, stirring, for 30 seconds or until fragrant. Add pork mince and cook, stirring, using a wooden spoon to break up any lumps until browned. Add mushrooms and cabbage and cook, stirring, for 4-5 minutes or until softened.
Add green onions and sprouts and cook a further 2-3 minutes. Remove from heat and place in a heatproof bowl. Set aside and keep warm. Wipe pan clean.
Whisk eggs together and season with salt.
Heat 2 teaspoons of oil in the same pan over medium heat. Add ¼ of the egg mixture and cook for 2-3 minutes, tilting the pan to form a round omelette. Turn over and cook for a further 1 minute or until the egg is set. Turn out onto a plate. Repeat with the remaining oil and eggs to make four omelettes.
To serve, spoon pork and vegetable mixture on top of omelettes. Drizzle over sauce. Garnish with extra sprouts and green onions. Scatter with sesame seeds.
Sauce
Combine soy, hoisin, sesame oil, stock cube and water into a saucepan. Bring to a boil, stirring over a medium heat for 2 minutes. Add cornflour and cook for 3 minutes or until sauce thickens to a thin gravy consistency.
Tips & Hints:
● Pork mince can be replaced with peeled green prawns or chicken mince.