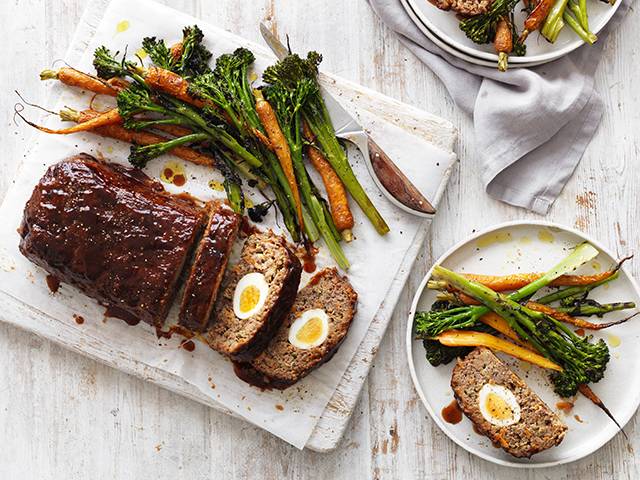 'Cheap Eats' Recipes Courtesy of Australian Eggs
With the cost-of-living crisis continuing to squeeze household budgets and no end in sight, being able to feed the family well, but for less, has never been more important.
With a mix of meal time recipes to choose from, Australian Eggs has suggestions to feed the whole family on a budget.
Egg-Stuffed Meatloaf
COST PER SERVE: $4.86
Serves: 6
Prep time: 20 minutes
Cook time: 1 hour
Ingredients:
Meatloaf
6 eggs
3 cloves garlic, crushed
¼ cup (60ml) smoky barbecue sauce
2 tablespoons Dijon mustard
750g beef mince
1½ cups (120g) fresh breadcrumbs
1 onion, grated
½ cup (50g) shredded parmesan
1 carrot, peeled (125g), grated
1 small zucchini (125g), grated
Salt and pepper
Roasted baby carrots and broccolini to serve
Glaze
⅓ cup (60ml) smoky barbecue sauce
1 tablespoon Dijon mustard
1 tablespoon olive oil
Method:
Meatloaf
Boil 4 eggs in a pan of boiling water for 4-5 minutes. Immerse in cold water to stop cooking. Once cool enough to handle, carefully peel and set aside.
Preheat oven to 200°C/180°C (fan-forced). Lightly spray an oven tray with oil and line with baking paper.
Crack remaining eggs in a large bowl and add garlic, barbecue sauce and mustard. Whisk well. Add mince, breadcrumbs, onion and parmesan cheese.
Squeeze excess moisture from grated carrot and zucchini and add to mince mixture. Season with salt and pepper. Mix until well combined.
Shape about a third of the mixture into a 10cm x 25cm rectangle on prepared baking tray. Make 4 indents into the top of the mixture with the back of a spoon. Place boiled eggs lengthways along the centre. Top with remaining meat mixture and shape into a loaf. Bake for 35 to 40 minutes.
Glaze
Combine sauce, mustard and oil in a small bowl. Remove meatloaf from the oven. Spoon over the glaze to cover. Cook for a further 15 to 20 minutes, or until juices run clear when tested with a skewer.
Rest for 10 minutes. Slice and serve with baby carrots and broccolini.
Tips & Hints:
● This meatloaf is suitable to freeze. Wrap individual portions of cooked meatloaf in plastic wrap and freeze for up to 1 month. To serve, defrost portions overnight in the fridge. Reheat in the microwave or wrap in foil and heat in a 180°C oven.
● Use a clean tea-towel to squeeze out excess moisture from the grated vegetables.