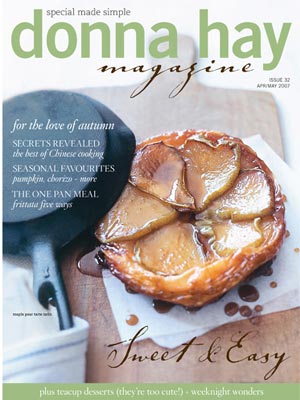 Donnay Hay - Autumn cooking, special made simple
As the cooler days roll in enjoy the flavours Autumn brings with your new issue of Donna Hay Magazine.

From scallop and garlic chive dumplings and salt and pepper prawns to tender soy chicken and Chinese fried rice, each recipe contains the sublime oriental flavours that mingle salty, sweet and spicy with crispy vegetables and traditional cuts of meat.

Take advantage of this seasons offerings by making sweet and easy desserts like fig and marsala pudding , plum and chocolate clafoutis or a heavenly maple pear tarte tatin.

What do you love about autumn?
Autumn always makes me want to bake. As the weather starts to become a little crisp I love to spend a Sunday afternoon in my kitchen making a sweet, indulgent dessert. The warmth from the oven and the smells that float around the house are heavenly.

What desserts do you like baking?
In autumn I love to make use of beautiful fruits that are in season, including figs, plums and pears. My favourite thing to bake is a maple pear tarte tatin, partly because it tastes wonderful and looks stunning and partly because it's so easy and uses only four ingredients.

Isn't a tarte tatin difficult to make?
A traditional one is but at donna hay magazine we're always trying to find clever ways of making things easier. With our maple pear tarte tatin you can achieve the same delicious taste and caramelised finish without having to use complicated techniques.

What other sweet treats are in the new issue of donna hay magazine?
We've discovered that the humble teacup is a clever way to cook beautiful desserts. A light and fluffy lemon soufflé served in a dainty little teacup is the perfect way to turn a simple desert into something special. A spoonful of vanilla rice pudding or crème caramel from a petite little cup makes me feel like a little girl in a fairytale.

What else will you be making this season?
The latest issue of donna hay magazine has a fantastic collection of easy Chinese recipes that are bursting with flavour. I love sticky barbecued pork with a simple marinade of coriander, star anise, garlic, ginger, hoisin and some Chinese cooking wine. It infuses through meat making it tender and deliciously fragrant. Add some ginger Asian greens and you've got the perfect dinner for a Saturday night at home.



Maple Pear Tarte Tatin
25g (3/4 oz) unsalted butter
1/4 cup (2 fl oz) maple syrup
1 pear, sliced
375g (13 1/4 oz) block store-bought puff pasty...

Preheat the oven to 180°C (355°F). Place the butter in a 13cm (5 in) non-stick frying pan over medium heat until melted.

Add the maple syrup and arrange the pear in the base of the pan and cook for 5-6 minutes or until just soft. Remove from the heat and set aside.

Roll out the pastry on a lightly floured surface to 5mm (¼ in) thick. Cut out a 14cm (5½ in) circle to fit inside the pan over the pears.

Bake the tart for 30-35 minutes or until the pastry is puffed and golden.

Allow to stand for 2 minutes then invert onto a plate.

Use a thick dry cloth that covers both your arm and hands to cover your skin when flipping.

Place a plate on top of the tarte tatin pan then flip it directly on to the plate.

Serve the tarte tatin warm or at room temperature. Serves 2.