Marion Grasby Eat Pray Love Interview
In celebration of the Blu-ray and DVD release of Eat Pray Love, MasterChef favourite Marion Grasby has prepared exclusive recipes inspired by the film. The acclaimed chef, who rose to fame in the last season of MasterChef, will take you behind the scenes through her destination inspired recipes from Italy, India and Bali - a perfect way to celebrate Valentine's Day and cook for your loved one.
Eat Pray Love stars Julia Roberts and tells a true story of Liz Gilbert who travels to Italy, India and Bali to discover meaning and happiness.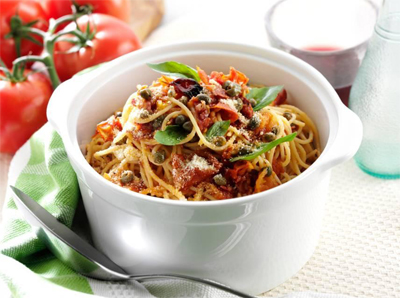 Roasted Tomato and Salami SpaghettiIngredients
500g Ripe tomatoes
400g Dried spaghetti
¼ cup Extra virgin olive oil plus 1 tbsp
3 Garlic cloves, finely sliced
50g Salami, finely sliced
½ tsp Chilli flakes (optional)
1 tbsp Capers
½ cup Basil leaves
Sugar to taste
Sea salt & pepper to taste
Parmesan to taste
Method
1. Preheat your oven grill to medium high. Cut tomatoes in half and place on a baking tray. Drizzle with 1 Tbsp olive oil and season with plenty of sea salt and pepper. Place tomatoes under the grill for about 15 minutes or until they're softened and starting to blacken around the edges.
2. Meanwhile, cook the spaghetti in plenty of boiling salted water according to packet instructions or until al dente.
3. Heat the olive oil in a large, deep frying pan and fry the garlic and salami for about 2 minutes or until garlic is softened. Add the roasted tomatoes along with any of the juices from the baking tray. Use the back of a wooden spoon to mash and break up the tomato. Stir through the capers.
4. Taste the sauce and add a pinch of sugar if the sauce is too tart (this will depend on the ripeness of your tomatoes). Season with salt and pepper to taste.
5. Drain the spaghetti and toss into the pan with the tomato sauce. Add the basil leaves and toss through. Pile into serving bowls and grate over loads of parmesan.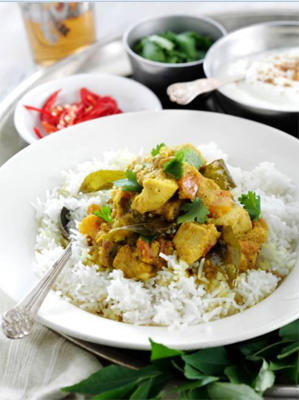 Chicken and Yoghurt CurryIngredients
500g Chicken thigh fillets
1 bunch Coriander with roots and leaves, rinsed
1 Onion, roughly chopped
3 Garlic cloves, roughly chopped
4cm Ginger, peeled and roughly chopped
3 tbsp Ghee or vegetable oil
1 tsp turmeric
1 tsp Coriander seeds, ground
1 tsp Cumin seeds, ground
½ tsp Cardamom, ground
½ tsp Chilli powder
1 Cinnamon stick
6 Fresh curry leaves
½ cup Natural yoghurt
2 Tomatoes
1 tsp Salt
Steamed basmati rice
Method
1. Cut off the coriander roots about 5cm from the tip of the root. Reserve leaves for garnishing. Place coriander roots, onion, garlic and ginger in a food processor and blend to a rough paste.
2. Heat ghee or oil in a large saucepan over medium heat and fry paste for about 5 minutes until just starting to brown.
3. Add turmeric, coriander seeds, cumin seeds, cardamom, chilli powder, cinnamon stick and curry leaves. Cook for about 2 minutes, making sure to stir so that the spices don't burn.
4. Stir in the yoghurt, half a cup of water, tomatoes and salt and bring back to a simmer.
5. Add the chicken, cover with a lid and cook on low heat for about 15-20 minutes or until chicken is cooked through.
6. Roughly chop coriander leaves and sprinkle over the curry just before serving. Serve with steamed basmati rice.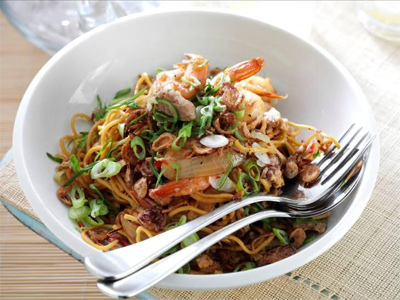 Mee goreng (Indonesian fried noodles) Ingredients
400g Thin egg noodles
3 tbsp Vegetable oil
1 Small onion, sliced
3 Garlic cloves, finely chopped
1 Long red chilli
1 tsp Shrimp paste
200g Pork fillet, thinly sliced
300g Whole raw prawns, peeled and deveined
2 Eggs, lightly beaten
1 cup Finely shredded cabbage (firmly packed)
2 tbsp Soy sauce
2 Spring onions
2 tbsp Fried shallots
Pepper
Method
1. Soak noodles in hot water for about 2 minutes. Use tongs to gently separate the noodles, then drain and set aside.
2. Heat vegetable oil in a wok over medium high heat. Add the oil and fry onion, garlic and chilli for about a minute or until onion is just starting to brown. Add the shrimp paste and stir fry for another minute to let the shrimp paste dissolve into the vegetables.
3. Now add the pork and prawns and stir fry for 2-3 minutes or until just cooked.
4. Move all ingredients to one side of the wok and pour the eggs into the empty side. Let them cook for about 30 seconds and then mix the partially cooked egg through the rest of the ingredients.
5. Add the cabbage and a generous grinding of pepper and stir fry for another minute or until cabbage is just wilted.
6. Now throw in your noodles and the soy sauce. Toss the noodles for about a minute to incorporate them and warm them through. Transfer the whole lot to a large serving plate and sprinkle with spring onions and fried shallots.
Interview with Marion Grasby
Question:
Can you talk about your MasterChef experience?
Marion Grasby
: I had the best time, I just loved it. In fact I caught up with Adam Liaw (from MasterChef) yesterday, we catch-up quite a bit and I was saying to him "that I hadn't seen any of the episodes, yet". So we went back to his house and watched a few, it was fun to look back at all the things we did, it was a really fun time.
Question:
How was it watching yourself on MasterChef?
Marion Grasby
: I find it very embarrassing! It was good to see all the different things we did in London and Paris and I would cringe every time I saw myself.
Question:
What did you learn from your MasterChef experience?
Marion Grasby
: Obviously I learnt so much about cooking and I was really able to develop my skills a bit more. You can't help but learn a lot of things when you are cooking with people like Heston Blumenthal or you are watching Rick Stein prepare a seafood feast, for me that was amazing. I also learnt from the other contestants in the house, we all cooked for each other and I learnt how to make an Indian curry from Jimmy Seervai and I learnt how to make ravioli with Adele Fragnitio- all those things were invaluable.
Question:
What was your favourite challenge on MasterChef?
Marion Grasby
: The Paris challenge was out of this world for me, Callum Hann and I got to do that challenge as a pair and it was filmed Amazing Race-style. Neither of us had been to Paris before and we loved it, even though I nearly died because we ran 2.5 kilometers - aside from that it was so beauty to run through the streets of Paris. We bought food from a Paris market and then cooked on the banks of the river, it was amazing.
Question:
What was the hardest challenge and why?
Marion Grasby
: Possibly the hardest challenge was the Adriano Zumbo Macaroons challenge - I think all of Adriano Zumbo's recipes are awful, they are so difficult! There is so much technical skill behind that patisserie and when you're not professional trained and you have never made a Macaroon in your entire life, it is very difficult to pump out 300 Macaroons, in a couple of hours. I can't even make a single cake let alone 300 Macaroons!
Question:
Which celebrity chef was the most inspirational?
Marion Grasby
: I think for me meeting Heston Blumenthal was the most amazing experience because he is someone who changed his career late in his life, he didn't actually go through and train or do an apprenticeship; he really just worked his way there because he loved cooking. He did it all himself which is really inspiring, to me. I have come from a background where I am not professional trained, either, but I love to cook. To me, someone like Heston Blumenthal who has reached the top of the world is amazing and he is a really nice guy with cool shoes!
Question:
What tips do you have for home chefs wanting to audition for the next series of MasterChef?
Marion Grasby
: I think if it is really well and truly your passion and your love then that is all you really need. People ask me all the time "how do you come up with recipes?" and "how do you know so much about foods without being professionally trained?" I personally think being a home cook is nothing to be ashamed of; we have the freedom to fiddle around in our own kitchens at home, without fear of a head chef getting angry at us. We are able to take inspiration from the places we have travelled, the places we have lived and even from movies such as Eat, Pray, Love. I watched Julia Roberts devour a huge pizza and those are things that home cooks can take inspiration from. If you are just cooking in your home and you love it, I think you have a good chance.
Question:
How does travelling inspire your food choices?
Marion Grasby
: Everywhere I go, everywhere I travel and the movies I watch are all inspirational because I look at the world through the lens of a food lover. When I see Julia Roberts in Eat, Pray, Love devour a massive tomato pasta, I want to go and make some tomato pasta, because that is what I love. All you really need is to really love food and be inspired by it.
Question:
Can you talk about how Eat, Pray, Love inspired your three Italian, Indian and Balinese dishes?
Marion Grasby
: For me I have never been to Italy, India or Bali so to be able to see Eat, Pray, Love and think 'I really feel like an Indian curry tonight' means I have to cook it! I love watching the Food Channel even that inspires me. For me it is very easy to fall into the trap of cooking the same things every week, because it is easy. You really need to challenge yourself in the kitchen especially because we are really lucky in Australia to have food accessible to us; there is a lot of variety in regards to produce and if I want to buy Indian spices, I can. If I want to buy Shrimp Paste from Indonesia, I can. Instead of buying a plane ticket and going to Bali, I can cook up a bit of Balinese at home.
Question:
When you're at home, what are your favourite dishes to serve?
Marion Grasby
: My Mum is from Thailand so I cook a lot of Thai food and for me, especially during summer, those fresh Asian herbs are great for Thai Salads and that is what I love to cook at home. My boyfriend is very demanding; he always wants Thai food, so I have to cook a lot of Thai food. I went to Thailand at Christmas and the food is everywhere!
Question:
Can you share your top tips for home chefs who are looking to impress their friends and family in the kitchen?
Marion Grasby
: It is really important, whenever you are entertaining or even if you're just cooking a special meal for your partner at home, not to get too stressed out and attempt a Macaroon Tower if it's not really your strong point.
Question:
What do you think is the perfect menu for an at-home Valentine's Day meal?
Marion Grasby
: I like to keep it really simple and choose really great produce, that's all you need to do. I would grab some really beautiful Australia prosciutto and wrap it round some grissini sticks and drizzle it with a little bit of truffle oil- that would be a perfect starter and very easy! Of course you would need a big bottle of Champagne to go with that!
Boys really appreciate something like a rack of lamb or piece of steak, that is always the best way, I think! For me, I like to keep dessert very simple and light, I would go something as easy as Strawberries and Cream- it is a very sexy sort of dessert. Valentine's Day is in Summer, in Australia, it's too hot to cook a big hot pudding, it's nice to have something refreshing after dinner.
Question:
What is the best cooking advice you have received?
Marion Grasby
: The best thing I have learnt has probably come from my Mum because she is a chef as well and she is from Thailand, the advice is to 'taste your food'. Particularly with Thai food it is important to get that balance of flavours right and think about things such as sweet and sour, salty, spicy and taste the food and adjust accordingly. Produce is always different, if you can try not to follow a recipe too closely, try and use your own judgment that is going to be the best thing- you're going to be the one who's eating it and if you find it tasty you've done a good job!
Interview by Brooke Hunter