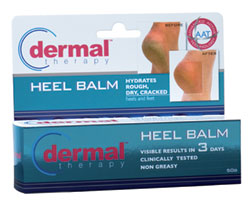 Dreading baring your dry cracked feet in strappy summer sandals?

Dermal Therapy Heel Balm is dynamite against dry, cracked, rough feet and will have your tootsies soft, smooth and supple in next to no time.

Dermal Therapy Heel Balm is an effective solution for severely dry and cracked feet and is also an ideal preventative moisturiser suitable for daily use. With a clinically tested non-greasy formula. Dermal Therapy Heel Balm hydrates heels fast. The soothing, moisturising properties and added exfoliation action ensures you'll see results in just three days.

Utilising Advanced Active Technology (AAT), Dermal Heel Therapy combines the latest functional ingredients with leading innovation.
> Ensures the ingredients provide multiple layers of skin nurturing and protection to the skin.
> Penetrates deep into the skin to hydrate and nourish.
> Designed to allow for continued absorption of these ingredients throughout the day while 'locking' in precious moisture.

Dermal Therapy Heel Balm, RRP $9.99 for 50g
Dermal Therapy Heel Balm is stocked at pharmacies and health food stores nationally.
For stockist details contact Brands Worldwide on 1300 5555 97.