Dead Europe
Cast
: Ewen Leslie, Marton Csokas, Eugenia Fragos, Kodi Smit-McPhee
Director
: Tony Krawitz
Genre
: Drama
Running Time
: 84 minutes
Synopsis
: You are what you believe.
Isaac Raftis is a 36-year old Australian-born photographer of Greek heritage living in Sydney.
He has never been to Europe, so when he is invited to exhibit his work in Athens he is determined to go despite his parents' protestations.
After failing to talk his son out of the trip, Isaac's father Vassili, drives his car into a truck. His grieving family are not aware it was suicide.
Isaac goes to Greece and takes his father's ashes with the intention of scattering them in his birthplace, the village of Papigo. He also plans to visit his brother Nico who is living in Budapest.
Isaac's trip starts like that of a typical tourist. He explores Athens - he visits the markets and tourist sights, he meets people and he takes photos.
At the opening of his photography exhibition his cousin Giulia arrives at the gallery alone. Explaining the rest of the family wanted to see him at home Isaac goes to visit them. Over the course of the evening Isaac's uncle mentions that their family protected Jews and saved lives during the war.
Isaac says that his father never told him that and, on the topic of his father, his aunt Adriana has an outburst of temper accusing Vassili of being a bad son and a liar. Isaac leaves thinking she is mad.
The following day, whilst in a park, he hears the sounds of a fight. Isaac investigates and comes to the rescue of Josef, a young refugee boy who has been mugged.
Isaac helps Josef get home to his apartment in a rundown building occupied by other refugees. Josef shares the place with Natalia, an older heroin addict who he claims is not his mother.
Intending to take some photos, Isaac leaves to get some film for his camera but first he promises Josef he will return. NB: We need to include that Josef asks for help. He tries to return that evening but gets lost in the maze of similar looking apartments and can't find his way back to them.
The following day Isaac drives to Papigo in the mountains with his cousin Giulia and her friend Andreas. The three of them take acid and soon after Isaac starts to feel haunted by Josef - he sees his face in the window of a bus and in an old photograph on a café wall.
Once in Papigo, things take a stranger turn when they go to the home of an old blind woman who claims to have known Vassili. Forcing Isaac's face over a steaming brew of water and herbs she starts chanting boys names and then muttering about a Jewish boy called Elias. A shaken Isaac storms out.
The idea of a family curse rears its head the following morning when Isaac has an argument with his cousin Giulia over her claim that his father was cursed. He asks her to leave. Scattering the ashes, accompanied by a mountain guide, he is disturbed when the guide also tells him that his father was cursed.
Back in Athens, Isaac receives an invitation to Paris from a man named Gerry claiming to be an old friend of Vassili's. Isaac decides to follow the trail to France.
It is in Paris where Isaac starts to find himself drawn deeper into the underbelly of Europe. Gerry wants Isaac's help to transport a Muslim woman to Australia illegally. Amina, the refugee in question, reveals an anti-Semitism that offends Isaac and is then arrested in front of him for being in the country illegally.
Gerry's wife Leah throws more doubt around the truth of the past by claiming Vassili moved to Australia, not to escape the fascists as he claimed, but to escape from the past. Leah is the first to suggest Vassili took his own life.
Shaken by his experiences in Paris, still haunted by the face of Josef, and losing his grip on reality, Isaac heads to his brother in Budapest where things take a darker turn.
Nico, now a junkie working in the porn industry, is not happy to see his younger brother. Isaac remembers their father with more fondness than his brother who is hostile to Vassili's memory. When Isaac shares his belief that Vassili may have taken his own life, Nico seems unsurprised.
Isaac asks Nico if he knows anything about a Jewish boy called Elias who their family may have protected during the war. Nico denies any knowledge.
That night they go to the home of Nico's boss Syd. Known as King Kike, Syd is a wealthy Jewish man who runs the gay sex scene in Budapest. Syd reveals to Isaac that Nico does know about Elias.
Fuelled by this information Isaac confronts his brother and Nico reveals the horrifying truth about their father's past actions and the family curse.
Still reeling from the information, Isaac and Nico go into a room where teenage refugee boys are lined up to be auctioned off to older men - this is the front line of the sex trade. Isaac spots Josef in the line up and is mesmerised. He stares as if he can't believe what he sees and offers Syd as much money as he wants for the boy.
The two go to a hotel room where a crazed and terrified Isaac confronts the boy who is the face of his haunting bringing the film to its shattering climax.
Release Date
: November 15th, 2012
About the Production
Director's Note
From the Director, Tony Krawitz
From the moment I first read Christos Tsiolkas' novel Dead Europe I became obsessed with the story's characters and themes. I found the book honest, poetic, disturbing and erotic. It lodged itself under my skin. I love its Gothic qualities, how it reminds me of Grimm's fairy tales and the extremely violent children's stories my German Jewish grandparents used to tell me.
Christos Tsiolkas is one of the few contemporary writers in Australia who is not afraid to shine a light on what we find most uncomfortable. He also is a master storyteller, who managed to craft a tale that gives fresh insights into the victims of Europe both past and present. I see this film as being about the forgotten people of Europe, the characters other Europeans sometimes wished didn't exist. A problem they wished could just go away. This goes to the heart of the film and why I wanted to adapt this material.
Dead Europe is about history, guilt and secrets. It is inspired by Greek tragedy and is biblical in resonance - how the sins of the fathers are passed on to the sons. Isaac is forced to confront the anti-Semitism of the past, the embedded bigotry in the bones of Europe and the nature of inherited guilt. It is a tale that unflinchingly examines the deep hatreds and superstitions of the past and how they bleed into the present day.
Isaac is a man who believes he is rational, agnostic and humanist. The film aims to draw the audience into his psyche and to create a certain duality in the material. Isaac's descent could be read as a descent into madness or the haunting of an actual ghost - literally the sins of the ancestors being visited on the son. Thus making the audience question whether Isaac is actually being pursued or haunted or whether he's disappearing into a Dante-esque hell that is somehow of his own creation.
In the film Isaac travels through suburbs that are the antithesis of travel brochures - an anti-travel landscape. People on Contiki tours generally try to avoid the reality of Europe by getting blind drunk and fucking their way across the continent. But there is something lodged in Isaac's genetic code - no matter how much he tries to avoid it or find his way around it. The past is bearing down on him and he's frozen in its approach.
This film is told on a broad canvas, from the refugee-filled laneways of central Athens, to the Dionysian carnival in a remote mountain village, from the Roma camp on the outskirts of Paris, to the underground sex club of Budapest. The film is littered with intriguing locations and characters. Isaac's external journey is mirrored by his internal journey. The macro and micro end up imploding in a baroque hotel room at the end of the film.
My intention was to make a film that had a verité integrity to it. To make a gripping urgent film that would draw the audience into Isaac's POV and then keep them trapped in the theatre, hanging on to the edge of their seats wanting to see what happens next.
This is a film that is meant to be not only entertaining but also provocative. To challenge people's assumptions about themselves and the world we live in. Our aim was to tell a story for the people in Europe who have no power, those to whom Europe has turned a blind eye. Cinema is a window on the world and what it shows us is not always pretty.
Tony Krawitz
Sydney June 2012
Production
Dead Europe was cast and location scouted in four countries over a six month period commencing in April 2011, and continuing through to the start of pre production on 22nd August 2011.
Shooting commenced in Sydney for four days and continued throughout September and October, with on-the-ground prep work performed as the crew travelled. They shot in Athens and the village area of Papigo in Greece for fourteen days, Paris France for four days, and Budapest Hungary for nine days. Overall shooting period was between September 19 - November 12, 2011.
A small core crew of ten formed the Australian main unit crew, with lead actor Ewen Leslie travelling with the crew. Three facilitating companies were used for all on the ground crew and location services in Greece, Paris and Budapest - Inkas Films, Ten to Ten Productions and Pioneer Productions respectively.
Post Production work was done in Sydney, Australia, with a total of eighteen weeks editing, seven weeks sound and music recording period, completing 25th May 2012.
The Production Story
Tony Krawitz and Emile Sherman both discovered the novel of Dead Europe in 2005.
Emile Sherman was familiar with Christopher Tsiolkas' work having studied Loaded at University, but it was a literary review of Dead Europe he read that inspired him to pick up the book.
When Tony Krawitz read the book he found himself completely absorbed by it and loved its unique take on Europe. As someone who has European roots he said 'having a story that dealt with European roots but also the darkness, the superstition and the religion and what effect that has on the contemporary world I found really fascinating, engaging and entertaining as a story.'
As Emile Sherman started looking into optioning the film rights he heard Tony Krawitz was also interested in the project so he invited him to discuss a collaboration.
They decided they wanted to work together and also agreed they wanted Louise Fox to write the screenplay.
Tony Krawitz had known Louise Fox for years and had worked with her before. Emile Sherman knew 'she has the rigorous intelligence to draw out the complexities of the story and is also a great story teller.'
Louise Fox was up for the challenge. 'My first thoughts on the book were that it was kind of impossible to adapt and I didn't really have a clue how to do it. It was huge and sprawling and very confronting but gripping and full of opportunity because it was so rich with ideas and it was so ambitious. It was trying to speak about so many things and it covered so many periods of history and it was such a huge journey that I went 'this is impossible.''
Emile Sherman said 'it is such a huge rambling genius of a novel that needed quite a culling to get to the clear story beats that are going to make it into a cinematic and really engaging film. So that was really the process - to keep reducing, reducing, reducing, and we were in amazing hands with Louise Fox.'
Fortunately it wasn't impossible to adapt, but it wasn't easy either, and it took a number of years and a number of drafts before they felt ready to go into production.
Adaptation
When they first tackled the project, Tony Krawitz says many people told him the book was unadaptable and he admits 'it deals with so many themes and ideas it was a very challenging adaptation.'
Louise Fox and Tony Krawitz had initial very clear discussions about what they did and didn't want to do and a lot of these decisions stayed throughout the development process.
The first decision was to make it a really contemporary story. Half the book is set in the past so Tony Krawitz and Louise Fox decided to bring in the bones of the past but not go there in the film. The death of the child Elias was one of the key historical events that impacts on the current story and they had to come up with a way to bring that into the present which Tony Krawitz said 'remained one of the trickiest things to do.'
'What we had to find was a way of making a really clear narrative for Isaac.'
In the book the father died some years ago from a heroin overdose. In the film they made the father's death a suicide and they brought it into the present. This event acts as a catalyst for the action. Tony Krawitz said 'so it's also the son finding out about his father's secrets that would make it more like a detective story in a way, someone searching for answers.'
Another thing that Tony Krawitz, Louise Fox and Emile Sherman all agreed on was they wanted to shine a light on the underbelly of contemporary Europe and not shy away from the problems currently facing the continent.
Emile Sherman says they wanted to look at the way 'the past is always there, ever present, ready to sort of bubble up. We knew we could find an incredibly original and dynamic story that was going to be cinematic as well.'
Tony Krawitz and Louise Fox discussed film genres and how they were going to shape the story. They watched numerous films to reference from Iranian cinema to psychological thrillers to documentaries to horror. Films such as Rosemary's Baby, Lilya 4 Ever and Don't Look Now feature on their list of references and influenced their approach to the story.
Through the development process Christos Tsiolkas was very happy to give the team free reign but was available when they needed him. Emile Sherman said 'at a couple of key moments we went to him with a script and he was able to give us insights into the authenticity of what we were trying to do.'
Christos Tsiolkas was very helpful with broad advice such as 'be bolder' said Louise Fox, and also providing cultural detail on Greece and Greek people where the all-Jewish creative team lacked the knowledge.
During development, Emile Sherman entered into a partnership with producer Iain Canning to form See-Saw Films. See-Saw is focused on making quality films with interesting directors, and its first films included The King's Speech and Shame. Iain Canning became equally obsessed with Dead Europe and with the collaboration with Tony Krawitz as director.
Financing
As the script got closer to being ready Emile Sherman looked after getting the project financed and he focused on the film's unique qualities.
'We always saw this as a very international quality film,' Emile Sherman said. 'It is a film for people who are interested in great cinema. And we approached the financing in that way.'
He knew the film needed financiers 'who were going to be very supportive of the vision, supportive of Tony Krawitz as a director, and of us trying to make a film that isn't afraid to take on some of the big questions and to do so in a very dynamic way.'
Dead Europe's principal investor is Screen Australian because 'their charter is to support interesting movies, movies that do take risks and they've been a great partner on this film.'
Transmission Films were an obvious choice for Emile Sherman and Iain for Australian distribution 'I often work with Transmission films [and] I've worked with them on many films including The King's Speech and Shame.'
For an international Sales Agent Emile and Iain approached Wild Bunch 'and we couldn't be in better hands. Wild Bunch are known as being at the forefront of really interesting, dynamic cinema around the world.'
Bringing Liz Watts On Board
Emile Sherman said 'when we realised we were going to make this thing, we realised that, due to the slate of films we had on at the time, we needed another producer to come on to really be leading the physical production of the film and to be on-set in Europe.'
At the time See-Saw had recently finished the release and subsequent flurry of the award season (including Oscars and BAFTAs) for The King's Speech. They were shooting Steve McQueen's Shame in New York which was to be closely followed by Jane Campion's TV series Top of the Lake in New Zealand. Emile Sherman knew he needed someone experienced and immediately thought of Liz Watts.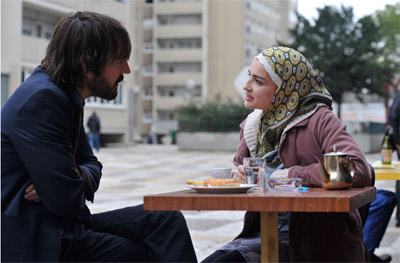 Liz Watts is one of the country's most experienced producers and her credits include Animal Kingdom, The Hunter, Little Fish and Lore. She had also worked with Tony Krawitz and Ewen Leslie on Jewboy.
Liz Watts was thrilled to be asked. She and Tony Krawitz wanted to work together again - and still have another project in development - and she was pleased to have the opportunity to work with Emile Sherman and Iain Canning for the first time. Adding to that was her 25-year friendship with Louise Fox and her love for the book.
When she read the script she said 'I was kind of amazed at what a fantastic job [Lou had] done in terms of adapting that kind of dense material into a single narrative.'
Casting
Casting the role of Isaac was always going to be crucial to the success of Dead Europe.
Not only is the story told from Isaac's point of view but he is in every scene. His character also has to go through huge changes - both geographical and psychological -so it was always going to be a confronting role for an actor and required someone with great craft and depth.
To add to the casting challenge Emile Sherman points out that the character of Isaac is not an average laid back Australian. 'In the Australian world he sees himself as very cosmopolitan. So we needed somebody who was sophisticated, a little bit intellectual, a cultured photographer, who finds that when he goes to Europe he's still very much a fish out of water.'
Ewen Leslie, who had starred in Jewboy, was one of many actors who auditioned for the role.
Ewen Leslie said 'I worked with Tony Krawitz in 2004 that was an incredibly rewarding experience for me personally, artistically and professionally. I was really looking forward to him making his first feature but I never for a second thought I would be a part of it. And that's the truth. I thought maybe if there was a small scene in it that has kind of three or four lines he might throw me a bone. [So] when I was sent a script that I knew he was going to be directing I already knew that it was something I wanted to be a part of, but when I read the script I kind of realised what the role was and what he was auditioning me for I was over the moon.'
Ewen Leslie described the emotional journey of Isaac as a tough one. 'I think he is someone who at the beginning of the film has a very clear idea of how he thinks the world works and he has a very clear belief system. But then through the course of the film the rug is constantly pulled out from under him. There's a sort of 'Alice down the rabbit hole' journey for him so he's constantly thrown into these situations where he is out of his element but I think he's able to go 'ok, no, I can deal with this, I've read about this, I know what this situation is and yeah it's a little scary but I can handle it.' And then I think increasingly during the film he realises more and more that he is completely out of his depth and has no way of dealing with it whatsoever, and obviously also through the film he gets information about his father and his family and his history and I think slowly, piece by piece he begins to unravel.'
'What attracted me to the role was that I was really terrified of it and I knew that it was going to stretch me as an actor. It wasn't a situation where I was going to show up and play myself or play a version of myself.'
Following the collaboration on Jewboy both Liz Watts and Tony Krawitz knew they wanted to work with Ewen Leslie again but when casting the role of Isaac it really came down to choosing the actor with the strongest audition. Emile Sherman and Iain agreed that Ewen Leslie was the man to lead the film and to take the audience on this journey.
Tony Krawitz said 'I think what set Ewen Leslie apart was his bravery. You know even in a casting room with no lights as such and quite a bland room he really went for it and each time he came in he really went deeper and deeper into the character and just exhibited a fearlessness and a willingness. This character goes to some really quite dark psychological places and Ewen Leslie was willing to go to those places and when we were shooting he just gave 110% to the role.'
Two other key roles were Josef and Nico for whom Sydney casting director Nikki Barrett suggested Kodi Smit-McPhee and Marton Csokas.
Josef's role is key as it is his haunting of Isaac that is so central to Isaac's psychological unravelling. Josef also has to appear in every country, in only a few short scenes, yet stay in character and create maximum impact.
'At one stage we were thinking of casting an unknown for Josef and in retrospect I am so glad we didn't,' Liz Watts said. 'This kid has to be able to pop in and out of the story and literally in and out of the shoot and fall back into character and someone of Kodi Smit-McPhee's skill could do that. I think with an unknown actor there would have been a tremendous amount of training.'
'Kodi Smit-McPhee is a fantastic young actor and is incredibly skilled and he has that beautiful haunting face that we wanted the audience to be haunted by him as much as he haunts Isaac.'
Tony Krawitz said 'it's a difficult role for a 15 yr old boy. It's a confronting role. Firstly he's a refugee who's living with a heroin addict and then he ends up getting sold into a sort of pornography smuggling ring so we felt a lot of responsibility to find an actor who understood the role psychologically and could handle it. Kodi Smit-McPhee and I met over Skype and we had a long chat about it and I spoke to his parents about it. He's a really grown up young man. Before this he'd done The Road (based on Cormac McCarthy) which is an incredibly confronting film for a young teenage boy to do so he was fully aware and really understood the role and ended up giving a really strong performance.'
As an Antipodean who had lived in the US and UK for many years Marton Csokas felt like the right choice for the role of Isaac's older brother Nico.
Nico plays a pivotal role in the story. He and Isaac haven't seen each other for years but when they reunite his deterioration into a junkie living in squalor is extremely confronting for his younger brother. Nico is also the key revealing the devastating family secret and his character illustrates how close to the surface much of Europe's anti-Semitism still is for some people.
Liz said 'Nikki Barrett suggested Martin Csokas so we looked at him and he and Tony did a lot of talking because Marton is the type of actor that works very much from discussion about character and about motivation and story and he just felt like the brother who had been in Europe for a long time.'
Ewen Leslie and Marton Csokas had worked together in 2007 on the play Riflemind at Sydney Theatre Company. 'Marton Csokas is someone I've always looked up to,' Ewen Leslie said 'and is someone that I've always gone 'I wanna be that good some day'. So when Tony Krawitz told me they'd cast him as my older brother it completely made sense and it kind of felt a bit like fate in a way.'
Tony Krawitz's focus for the rest of the casting choices was on authenticity.
'It was really important to us, and to me in particular to get every accent right, for it to be genuine, almost documentary like,' he said. 'So I wanted characters to be from the places they are meant to be and just to have that thing that I really love in films when the only reason they talk in English is because they have to speak to the lead character because he only talks English. But if they don't need him then they could break into Greek or French as happens throughout the film.'
To achieve this the production had four casting agents in Sydney, Paris, Budapest and London. For part of 2011 Tony Krawitz was based in Germany where his wife, the director Cate Shortland, was shooting her film Lore so he was able to go to those places for auditions but a lot of his meetings were over Skype.
The Shoot
Dead Europe was shot over eight weeks in two continents and four countries. It was vital to Tony Krawitz that they be able to catch things as they were happening. He wanted authenticity in action and setting as well as with actors.
Tony Krawitz strongly felt that as well as Isaac's story Dead Europe is very much the story of the forgotten people of contemporary Europe and he wanted to find those people and include them in the film in order to shine a light on this underbelly of contemporary Europe.
To achieve this the film had a small core Australian crew of ten people and they relied on different local crews in each country. The core crew had to be adaptable and flexible in their style which is why Tony chose to work with a number of people who had also worked on documentaries in their careers.
Liz Watt said 'Due to the narrative of an innocent, or a so called Australian innocent going to the old Europe which holds secrets and a mystery that he has to solve, we followed that in a way in terms of the production. We had key crew who came with us on the journey and we were really trying to shoot fast and swiftly but also in a small scale so that we could move very quickly and move around without being highly visible.'
'Tony Krawitz was always very clear, and it was never actually explicit in the book, but the film also centres around the émigré or the illegals of Europe today so we wanted to capture a sense of reality on the streets, particularly in Athens.'
The crew would arrive in a country, prep, rehearse and shoot. They would deal with whatever was thrown up - be it riots in Athens or visiting Romani camps in Paris - and then do it all again in the next country.
The size of the crew was vital in order to achieve this flexibility but as Ewen Leslie, the only actor with the crew the whole time, recalls it led to some interesting and challenging experiences.
'Tony Krawitz said to me at the beginning I am going to throw you in the deep end as much as I possibly can and he absolutely came through with that.'
Ewen Leslie recalls the day they shot the riots in Greece. 'We were sitting in this café having lunch and we looked up on the TV monitor and there was a riot happening at Syntagma Square and I could see this conversation happening between Tony Krawitz and Germain, the DOP and I thought they're talking about going there I know it. And I was absolutely up for it.' This was despite there being reports from other days of demonstrations of camera people and journalists being targeted by youths.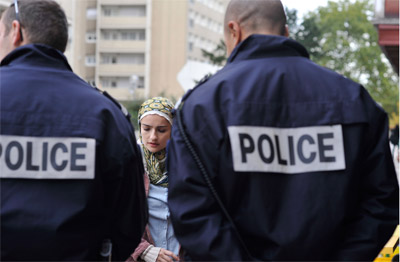 'So we said well let's just walk towards it and see what we can get. We got to this point as it got closer and closer and it got louder and louder and there was obviously a protest and a march going on at the top of the street and Tony Krawitz said 'Well, how about you walk up in that direction and we'll follow you with the camera?' I went 'Ok where would you like me to stop?' and he said 'let's find out'.'
'So we started walking up and we got further into it and we got up to the protest and we were in front of it and it was nerve wracking. It's a very emotionally heightened situation. We kind of looked like journalists and I was holding a stills camera. I never felt unsafe but I guess it was kind of a way of pushing it further and further so we could get the best footage and its really thrilling for me to watch some of that stuff in the film.'
Regarding the look and feel of the film important decisions were made during prep but a lot of decisions regarding costumes and the sets had to be decided on the spot in the ongoing quest to tell an authentic and current story.
DOP German McMicking, who had previously worked with Tony on the documentary feature The Tall Man said 'Tony Krawitz and I discussed the different states of Isaac's being as he journeys through the film. Essentially after the death of his father and his journey to Greece he starts to possibly take on this family curse or suffer some kind of mental breakdown and we really wanted to find a way to subtly show that as he de-evolves and turns from a free and happy kind of person, even though he's suffering some grief at the time, into someone who is quite shattered and falling apart.'
To show Isaac's mental deterioration they decided ahead of the shoot that they would shift from a sense of space and light in Sydney and Greece where Germain said 'we approached it in far more of an observational documentary way and the camera was lighter and fluid, there was more handheld' to something more enclosed and darker.
When they moved on to the scenes in Paris where Isaac starts to get a hunted, haunted sense they started 'to internalise not only with his character but with the camera work as well and take on a darker and more rigid style.'
Everything else, although discussed and planned to a point, needed a flexible approach.
Emily Seresin, the costume designer, described her working methods as sort of 'guerrilla style'. She also said that tyring to achieve that authenticity and cross the cultural and language barrier to translate ideas was a real challenge.
The nature of the shoot meant that 'it was much more collaborative in that I was very much dependent on feedback from actors and (local) crew because we really wanted to make it feel very true and authentic to wherever we were.'
'We didn't want to impose a palate on this film,' Tony Krawitz said. 'We wanted to react to what we found.'
Production designer Fiona Crombie said 'we had to be responsive because it makes for a much more interesting backdrop and I think that's what's really interesting about Dead Europe. There is this really alive backdrop of recent and current activity seen through the eyes of an Australian.'
Where possible Tony was looking for actual locations rather than dressing up places or building.
'What we tried to do in a way was not to mess with the places we went to.,' he said. 'We didn't build sets and create a fake world, but actually react to the world as we encountered it.'
In his quest for authenticity Tony Krawitz discovered that since there were 'worlds we didn't know so instead of having this idea of what refugees should live in Athens, we found places where refugees actually lived and got permission from the residents to film there.'
In the end he said 'the things we found were better than the things we could imagine.'
Tony Krawitz hopes that audiences will leave the cinema having experienced a dynamic ride through the story of the film but will also end up thinking about the issues that face modern day Europe and the secrets that lie beneath its surface.