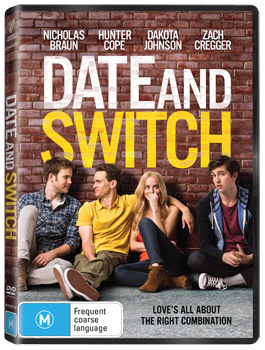 Date & Switch DVD
Cast: Nicholas Braun, Hunter Cope, Dakota Johnson
Director: Chris Nelson
Genre: Comedy
Rated: M
Running Time: 91 minutes

Love is all about the right combination!

Two guys who make a pact to lose their virginity before prom find their friendship tested when one of them comes out of the closet.

High school seniors Michael and Matty hve been best friends since the 3rd grade. Still virgins, they m ake a pact to help each other "score" before Senior Prom - but their mission suddenly takes an unexpected turn when Matty announces that he's gay.

Date & Switch
RRP: $39.95