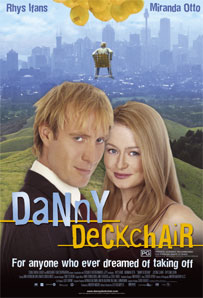 Genre: Romantic Comedy
Rated: PG
Twentieth Century Fox will be releasing Danny Deckchair nationally on July 31, 2003. Starring Rhys Ifans, Mirando Otto and Justine Clarke, Danny Deckchair is a feel good, Aussie romantic comedy that explores the ideals of escapism.
Synopsis:
When the long awaited holiday goes south thanks to Trudy (Justine Clarke), his scheming girlfriend, Danny (Rhys Ifans), a cement truck driver, escapes his suburban prison and blasts into the skies in a garden chair tied with helium balloons. A mighty thunderstorm blows him clean off the map and spits him out far away over the lush green town of Clarence, where he rockets into the world of Glenda (Miranda Otto), the town's only parking cop.
While the media back home run riot with the story of his disappearance, Danny gets to reinvent himself in Clarence and in the adventure discovers a true soul mate in Glenda.
Fate catches up with him eventually:
Danny's true identity is revealed and Trudy, now a '60 Minutes' celebrity, comes to Clarence to claim Danny and drag him back to Sydney. Danny however, is a changed man; he's discovered what it means to live and found a new self-worth. Saying farewell to Trudy, Danny makes a dynamic re-entry to Clarence, determined to win Glenda back again and embrace his new found zest for life.