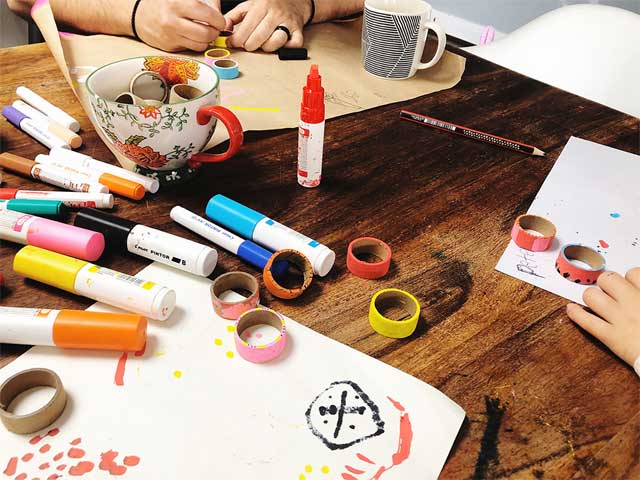 An Eggscellent Idea
With many kids and parents cooped up at home looking for something to do, getting stuck into some art and craft can be good for all the family, especially with Easter just around the corner.

Getting creative with craft offers the perfect opportunity to spend quality time with our kids, says Shannon Wong-Nizic, craft expert and owner of Oh Creative Day.

From cute bunnies, sweet chicks and colourful eggs, Shannon says Easter offers so many creative possibilities and it's a great way for the family to connect:

1. Making memories – working on creative Easter projects as a family is such a beautiful way to make memories. Store your favourite Easter craft to preserve these happy times with your children and you will also have a treasure trove of beautiful home-made decorations to enjoy for many years to come.

2. A chance to slow down – many studies have highlighted that one of the benefits of crafting is that it causes us to slow down and connect with those around us. Crafting with your kids is a perfect chance to change pace, check in, chat and reflect on the first busy term of the school year.

3. Connecting through conversation – while their hands are busy crafting, children will often make comments that give you insights into their world and the way they perceive it. Crafting is the perfect opportunity to have rich conversations with your children to deepen your connection.

4. Screen-free time – crafting is a wonderful 'back to basics' screen-free activity. It calls on families to turn the screens off and connect with each other. It can help with mindfulness and concentration, seeing a project through from start to finish without distractions.

5. An opportunity for self-expression – it gives children the chance to creatively express themselves whilst processing the world around them. There is no 'right' or 'wrong', just a chance to joyfully be in the moment enjoying freedom of expression.

6. It builds resilience and problem-solving skills – it can be frustrating when things don't turn out the way you planned. Different materials work in different ways and can require problem-solving. Creating requires you to take risks when you're not sure how things will look or work together. As a teacher, these are all skills that we try to develop in a classroom. Crafting is a process that develops these important life skills.

7. It provides fabulous fine motor practice – crafting is such a fun way to encourage children to practise and refine their fine motor skills. In order to hold a pencil and write, a child needs well-developed fine motor skills.

8. Craft makes us happy – it's true! Scientists have declared it so! Crafting releases serotonin and dopamine, which can lift your mood.

Shannon has developed two simple Easter craft activities using Pintor Paint Markers.

"Children love using Pintor Paint Markers because the colours are so vibrant and striking and you can use them on any material giving a fabulous range of creative expression," she says.

Pintor's new colour range features 24 fantastic colours including gorgeous pastels, providing the perfect colour palette for Easter projects.

To download Shannon's free Pintor craft templates, visit: www.pilotpen.com.au/activities.