HINES' MOONLIGHT SONATA
EXCLUSIVE Cheryl Hines, Serious Moonlight Interview by Paul Fischer
Best known as Larry David's now ex-wife in Curb your Enthusiasm, Cheryl Hines makes her feature directing debut with the comedy-drama Serious Moonlight, which she took on following the death of the film's writer, Adrienne Shelly, with whom she worked on Waitress. A sharp comedy about the dangers of infidelity starring Meg Ryan, Timothy Hutton and Kristen Bell, Hines talked to Paul Fischer in this exclusive interview.
QUESTION: Now, obviously the journey for you to direct this must have been a very difficult one. When was the decision made for you to take Adrienne's script, and do this? I guess you did this for her. At which point did you feel that you wanted to do this, to direct this movie?
CHERYL HINES: Her husband, Andy Ostroy, and Michael Royce, who produced Waitress and worked closely with Adrienne approached me and asked me if I was interested in directing Serious Moonlight. So it was then that I even considered directing a film.
QUESTION: What finally made you decide that this was what you wanted to do?
CHERYL HINES: Well, I thought it was very powerful that Andy and Michael wanted me to do this. And I read the script again, imagining what it would be like to direct it. And I felt compelled to direct it, and to tell the story that Adrienne had written. I felt like I would be able to communicate the drama and the comedy of her writing.
QUESTION: Did you have to make a conscious decision that you were not going to be an Adrienne Shelly clone, as a director? That you had to give this your own voice, and your own unique take as a filmmaker?
CHERYL HINES: Yes. I thought it was important to resist the urge to ask yourself, "What would Adrienne do? How would Adrienne do it? What would she want?" Because there are no answers there. So I'm sure I wouldn't have been able to have directed it in a way that she would have. [LAUGHTER] So, I knew it would be a mistake to approach the project with that idea. I knew I had to just do the best job that I could do. Otherwise - oh. You know, you're just fighting a losing battle, I think.
QUESTION: You are essentially known as a comedienne, as a comic actor. And you've played these comic character roles. What was more challenging for you, to bring out the drama in Adrienne's script, or the comedy?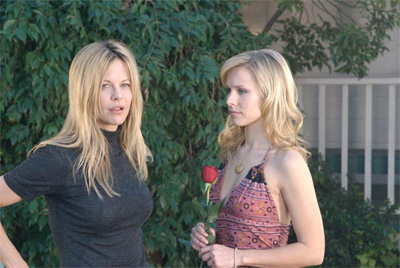 CHERYL HINES: That's a good question. It's probably more challenging to bring out the drama. There were some violent scenes in this script, that were challenging for me. And just exploring the darker side of the script, which was probably more challenging for me than the lighter side.
QUESTION: What, as a filmmaker, what were the things that you experienced as a first-time director, that you did not necessarily expect to experience? In other words, what surprised you the most about being a first-time director?
CHERYL HINES: I knew it was going to be stressful, but I didn't know why it would be so stressful. And when I started shooting, a realized, there are so many elements that you can't control. Things that you can't anticipate. And things that are unique to your shooting experience. So, nobody can even prepare you for it. Like, a frog that's croaking loudly during a scene, or if it rains, you can hear the rain on the roof. You know, there are things like that that you just don't know until you start shooting. And that was hard for me. It was hard for me to be okay with the - not knowing.
QUESTION: Was it challenging for you to cast? Did you have a very clear idea of Meg, for example, that she'll be perfect for this role?
CHERYL HINES: Well, casting is stressful, because you find the actors that you want, and you - and that's just the beginning of the process. You have to make sure everybody can shoot the schedule that we've laid out to shoot, and there are so many elements of the process that have to come together to make it happen. It's a miracle anybody gets cast in anything, I'm telling you. but, yeah. I knew I wanted Meg for this part. She's so charismatic, and she brings a lightness to the role of Louise that could be a very unlikable character. But Meg is charming, and we seen the charm in this woman that's coming undone. And I was just so happy to have Tim Hutton. Because it's a dramatic role for Tim, and there are humorous moments. And I had to find the right actor, that could, in a very convincing way, show us who this character, Ian, is, and why he has a change of heart.
QUESTION: Now, has doing this whetted your appetite to further your career as a filmmaker? I mean, do you want to do more?
CHERYL HINES: I do want to do more. When I was shooting, if you would have asked me this, I probably would have given you a different answer. Although I've also learned, since then, that every director says that while they're shooting they feel like they could never do it again. And then after they have a little time and a little perspective, they have a change of heart. But - you know, it would be - I think it would be exciting to do another film, knowing what I know now, and using it.
QUESTION: What was more intimidating, directing this movie, or working with the cast of Seinfeld?
CHERYL HINES: [LAUGHTER] They were both pretty intimidating, I have to tell you.
QUESTION: How was that experience, on Curb? I mean, it's a pretty amazing season for Larry to have pulled this off. Were you surprised that he was able to do that?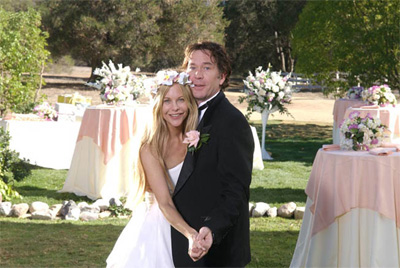 CHERYL HINES: I was surprised, only in that I was shocked that he could get all of those actors together in one place at the same time. Just logistically. It seemed impossible sometimes, people's schedules, and everybody's shooting, everybody's traveling, everybody's doing something. So, to have everybody there together - and then to bring the Seinfeld set - you know, to resurrect the Seinfeld set, and - it was really - it really - pretty overwhelming. In a good way.
QUESTION: It must have been rather strange for you to be on that set, and being part of that once-closed quartet of actors.
CHERYL HINES: I definitely felt like an outsider at times, which works for my storyline. So when I'm going up to Larry and saying, "Oh my God, I don't know what I'm doing," it was real.
QUESTION: What's next for you, beyond, obviously, getting the word out on this movie, and - I mean, you finished - Curb is done, I guess, for this season.
CHERYL HINES: We've finished for Curb. So, I'm waiting to hear if Larry wants to do another season or not. And while I'm waiting, I'm going to do an arc on Brothers and Sisters in January. I'm excited about that.
QUESTION: A dramatic arc, presumably.
CHERYL HINES: Well, it's a pretty dramatic show, so it would be a bit of a turn for me.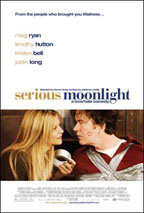 Serious Moonlight
Starring
: Meg Ryan, Timothy Hutton, Kristen Bell, Justin Long, Andy Ostrow
Director
: Cheryl Hines
Genre
: Comedies
Runtime
: 84 mins
Louise (Meg Ryan), a high-powered Manhattan lawyer, is touched when she arrives for the weekend to her familys upstate getaway to find it strewn with rose petals by her husband of 13 years, Ian (Timothy Hutton). Unfortunately . . . Ian is not expecting Louise, rather his much younger girlfriend (Kristen Bell). In fact, hes actually in the process of writing Louise a letter explaining his intention to leave her for good. An oddly cool Louise has other plans. She takes Ian captive, refusing to release him until he commits to working on their marriage together. When Ians impatient mistress shows up, not to mention an opportunistic gardener (Justin Long), things start to get seriously complicated. Not merely a war of the sexes, SERIOUS MOONLIGHT is a story of a war of the wills as Ian tries to talk his way out of the situation.
Directed by Cheryl Hines (Waitress, Curb Your Enthusiasm) from a screenplay by Adrienne Shelly (Waitress), the film stars Meg Ryan, Timothy Hutton, Kristen Bell and Justin Long. Screenplay by Adrienne Shelly. Produced by Andy Ostroy and Michael Roiff. A Night & Day Pictures and All for A Films production.