SNOW SCARES UP A STORM.
EXCLUSIVE Brittany Snow, Prom Night Interview by Paul Fischer.
From the time she burst on the scene in the acclaimed TV series American Dreams, beautiful Brittany Snow has had nothing less than a diverse, full-on career. Brittany Anne Snow was born on March 9, 1986 in Tampa, Florida and was modeling for print ads by the time she was just three years old. She began going to auditions with her mother, Cynthia, and earned several roles in spots for Nabisco, Kmart and McDonald's, for which she appeared as a box of French fries in the latter. Brittany Snow also took dance lessons and became active in regional theater, which led to roles on television shows including "SeaQuest DSV" (NBC, 1993-95) when she was eight. Though her mom continued to work, her dad, John, quit his job in the insurance industry to operate as her full time manager, hiring an agent for his daughter in 1998. Within a week, the agent sent over a script for "Guiding Light" (CBS, 1952- ) and offered her an audition.
The exposure Brittany Snow received from playing the vindictive youngster on "Guiding Light" earned her a starring role in "American Dreams," a period drama set in the 1960s and seen through the eyes of Brittany Snow's character, Meg, a 15-year-old who dreams of being on "American Bandstand." In trying to shed her good girl image, Meg danced her way through the turbulence of the 1960's while dealing with the typical hang-ups of a teen from any decade. The show brought to an end Brittany Snow's "normal teen" life when she and her mother transplanted to L.A. where they got an apartment.
Her new headquarters opened up new opportunities. In 2005, Brittany Snow landed a recurring guest spot playing a teenage neo-Nazi on "Nip/Tuck" (FX, 2003- ) and was also cast in her first feature, "The Pacifier," starring a Vin Diesel as a Navy SEAL who tries to redeem himself by taking care of the children of a scientist whom he failed to protect. Brittany Snow played a rebellious teen who gave Diesel more trouble than the bad guys out to kill him. In 2006, Brittany Snow's film career got a big boost with a starring role in the teen comedy "John Tucker Must Die," playing a mousy high school student recruited to help give the school Casanova his comeuppance.
"Tucker" was a moderate hit, but it was nothing compared to her follow-up, "Hairspray" (2007). In this adaptation of the Broadway musical Brittany Snow played Amber von Tussle, the stuck-up archenemy of up-and-coming dancer Tracy Turnblad, who will stop at nothing to secure her role in a popular TV dance party. "Hairspray" was one of the biggest hits of 2007 in addition to becoming the third largest grossing musical of all time.
Recognized for both her acting and now her singing and dancing, Brittany Snow became a teen household name. Brittany Snow currently stars in the remake of "Prom Night," where she plays the role originally made famous by scream queen Jamie Lee Curtis, "About Amanda" co-starring Matthew Broderick and Tony Kaye's Black Water Transit. In this exclusive interview, Brittany Snow talked to Paul Fischer.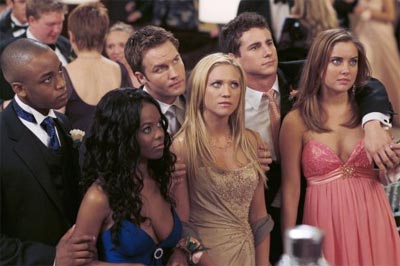 Paul Fischer
: To start off with, are you normally a fan of the horror genre?
Brittany Snow
: Yeah. I am, actually, but it kind of really depends. I really enjoy movies that are just very intense and kind of put you on the edge of your seat, and that you really - you know, walk away from being either really intensely scared, or laugh really hard, or really sad, and whatnot. So I like movies like Prom Night. I've always kind of been drawn to them. And I was hesitant at first, you know, doing a movie like this, and I wasn't sure if I wanted to, but after meeting with the director, Nelson McCormick, and kind of discussing our ideas about what we both wanted from this, and what we didn't want to do. We were basically on the same page, and that meant a lot to me.
Paul Fischer
: So what didn't you want to do?
Brittany Snow
: I didn't want it to be the stereotypical slasher film where a normal high school girl gets stalked by a monster, or something - you know, that there's a legend, and there's a campfire story, and stuff like that. I wanted to do something that actually was relevant to teenagers today, and that was legitimately more psychologically scary than blood and guts, and what horror movies have been doing lately. I wanted my character to have a voice in a certain way, and for people to be scared for her because they were invested in her character, and not scared because they were afraid they were gonna see a bloody hand, or something like that. Something that was really - that I could play with a little bit. And so he felt the same way. We didn't want to make a slasher. We didn't want to make a remake.
Paul Fischer
: Well, how close is it to the original?
Brittany Snow
: Oh, it's not a remake at all. It's just the same name, which is really a horrible thing, because this press tour has been tough because everyone thinks it's a remake, obviously, because of the same name. But it's really just the same name, and kind of inspired by the plot. It has nothing to do with each other.
Paul Fischer
: Did you deliberately then avoid seeing the original movie?
Brittany Snow
: Yeah. In fact, I did. I saw a little bit of the original when I was younger, but I didn't go back and watch it when I got the film, because I didn't want to make any sort of connections or similarities, or even subconsciously view it in any way that I could take something from it. I didn't want people to compare me and Jamie Lee Curtis's performance in any way, even though they might. I really just wanted it to be something different. And even though I think she's fantastic, and I want to pay tribute to her. But I think I just really wanted it to be something completely different.
Paul Fischer
: So, what do you draw on when you have to play a character like this, who is continually being terrorized? I mean, do you just rely completely on your imagination?
Brittany Snow
: It's a little bit of imagination, but it's also, I have to use certain things. Put myself in that situation, draw some of my own experiences. I think it's a melting pot. It's really whatever works, depending on the actor and the situation. And it also helps when you're in such an intense moment, and you've kind of psyched yourself up so much, the adrenaline is going. Your heart is pumping. You start shaking. And you kind of just believe what you're doing, which is a big help.
Paul Fischer
: Could you identify with this character?
Brittany Snow
: Definitely. I think everybody, in a certain way, has gone through something really dramatic. Maybe not necessarily your parents being killed in front of you. But, you know, my character has post-traumatic stress disorder and is going through a really hard time, and had to rely on her friends, and her aunts and uncles. And she's a survivor. And I think that everybody can kind of relate to that in some way. And I definitely did, and I thought that she's a girl who's been through a lot, but she's also just a regular girl who wants to enjoy her prom. And that's something that I definitely connected to.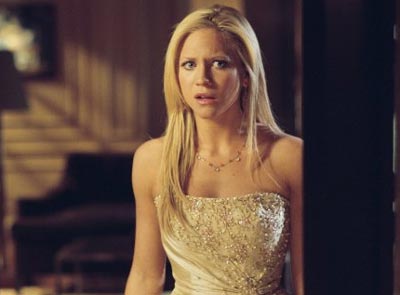 Paul Fischer
: Now, when American Dreams launched, you were singled out as being the discovery of that show. How surprised were you by the response that you had to that show, and the way your career has developed since then?
Brittany Snow
: You know, it's funny, because I didn't even really notice. I didn't ever really think that I was being singled out in any way. If anything, I just felt really lucky to do it, and I was really sad when it ended, because it was such an honor to get to be a part of a show that dealt with something so meaningful to me and to so many people. But, you know, as far as my career - I've always been such a perfectionist. I want it to be a certain way. This way, that way, whatnot. But I'm very lucky and very grateful that I get to do this at all. And of course I want to do this in the long run forever. So there's no real rush, in terms of wanting to get everything done now, and stuff like that. But my choices in what I've done, and what I like right now in terms of my career constantly changes with my life, and what I feel fulfills me as a person, as an actor. So lately I've been doing a lot of indie movies, and kind of feeling like that's maybe where I want to be.
Paul Fischer
: Is that because you want to play much more challenging characters, and they're not really all that present in the studio system?
Brittany Snow
: Yeah. I think it definitely has to do with the characters, and what they mean to me, and how they're relevant to my life. How I want to constantly be challenged by different characters that I do. And they seem to kind of be in that world, that's more of the independent genre. But that doesn't mean that I don't want to do bigger movies as well. It's just kind of - it's so rewarding to play these characters that have been in small films that I can really sink my teeth into. But what's great for me is that I just want to keep being diverse, in my different things that I do, and never be put into a box at all of one type of an actress. So hopefully if I just get to continue to keep doing that, then that's what will happen.
Paul Fischer
: What about singing? Because obviously you sing on the soundtrack of American Dreams, and of course Hairspray. Do you also want to do more of that?
Brittany Snow
: You know, I'm not sure. I don't want to be the girl who comes out with an album. I never really wanted to do that. I don't really want to be a pop sensation, although I respect people if they want to do that, and things like that. I think I would want to maybe do a song on a soundtrack that I was on, or something like that, and kind of put it in the background of a scene that I was in, or something like that. I would love to music supervise a movie one day. But in terms of singing, I'm not sure. I think right now I've got my hands full with acting.
Paul Fischer
: What are you up to next?
Brittany Snow
: Well, I just finished a movie two days ago in Connecticut called The Vicious Kind, which is an independent movie with J.K. Simmons and Adam Scott. it was great. We shot it in Connecticut in the middle of nowhere. And then I have Finding Amanda coming out at the end of this month, which is a black comedy with Matthew Broderick. And then I have Black Water Transit coming out this summer, with Lawrence Fishburne, Aisha Tyler, and Stephen Dorff, which is the movie that I did with Tony Kaye.
Paul Fischer
: What was it like working with Kaye? I mean, he's such a controversial director.
Brittany Snow
: Oh, I love him. He's completely the most different person that I've ever worked with, in terms of directing style. It was so challenging, so rewarding. I think he's brilliant, I think he's genius. I had the best time working with him, just because not many people can say that they worked with Tony Kaye, and I think I did the best performance that I always wanted to do but never could because I wasn't pushed as hard as I've ever been pushed. And so far Tony Kaye did that.
Paul Fischer
: Now, this is a New Orleans-set story.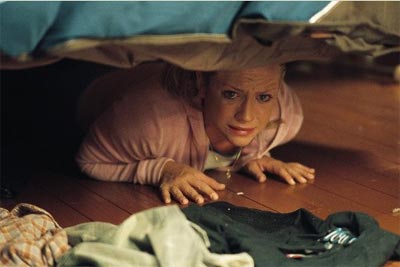 Brittany Snow
: Yeah.
Paul Fischer
: Who do you play in that?
Brittany Snow
: I play a prostitute named Sardoonah that has about 15 different personalities throughout the film, and kind of lives in an alternate universe, in a different state of reality. She's been raped and abused, and also has many different problems, and kind of creates this huge love triangle between the Lawrence Fishburne character and the Karl Urban character.
Paul Fischer
: Sounds like a huge barrel of laughs.
Brittany Snow
: Oh, yeah. It's a huge barrel of laughs. It's a comedy family film.
Paul Fischer
: Have you signed up for anything else?
Brittany Snow
: No, I'm actually gonna go on my first vacation ever after this.
Paul Fischer
: Where are you going?
Brittany Snow
: Hawaii, hopefully. I've never been to Hawaii.
Paul Fischer
: Oh, really?
Brittany Snow
: Yeah. I've never been on vacation. Ever.
Paul Fischer
: And you've never been to Hawaii before. Are you going to any particular island?
Brittany Snow
: No, I just decided. I was either gonna go to Europe and go backpacking, or I was gonna go to Hawaii. And I think that for my first vacation I just wanted to do something simple and go to Hawaii. But I really want to go to Europe. But I just started making music videos with my friends, and taking up photography and things like that. So I've got tons of stuff that I'm gonna do. There's no rush to doing my next movie, because I'm really trying to be picky with what I do from now on.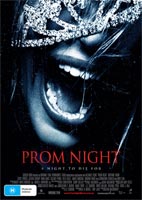 Prom Night
Cast: Brittany Snow, Kellan Lutz, Brianne Davis
Director: Nelson McCormick
Genre: Horror
Rating: M
Donna's senior prom is supposed to be the best night of her life, one of magic, beauty, and love. Surrounded by her best friends, she should be safe from the horrors of her past. But when the night turns from magic to murder there is only one man who could be responsible, the man she thought was gone forever. Now, Donna and her friends must find a way to escape the sadistic rampage of an obsessed killer, and survive their Prom Night.
www.sonypictures.com/movies/promnight/index.html