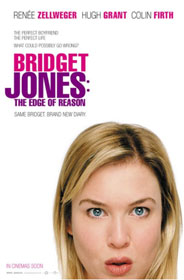 Cast: Renée Zellweger, Hugh Grant, Colin Firth, Jim Broadbent, Gemma Jones, Jacinda Barrett, Sally Phillips, James Callis and Shirley Henderson
Director: Beeban Kidron
Writers: Adam Brooks, Richard Curtis, Andrew Davies and Helen Fielding
Genre: Comedy/Romance
Rated: M sexual references, low level coarse language, drug references
Running Time: 108 Minutes

Same Bridget. Brand New Diary.

Synopsis:
At long last Bridget Jones (Renée Zellweger) - 30-something, self-doubting, self-analyzing, career-minded, calorie-counting London singleton - has found romantic bliss. For six glorious weeks (71 ecstatic shags), she has been the girlfriend of the exquisitely flawless lawyer Mark Darcy (Colin Firth) and nothing could be better. Or-could it? Despite Darcy's apparent devotion, Bridget still finds herself asking questions about life, love and the proper way to put away underwear. Having finally found her man, Bridget is faced with the equally flummoxing challenge of keeping him. She can't help but wonder: what exactly is it that comes after the happily ever after?

And just as she's starting to figure it all out, enter the competition: Darcy's drop-dead, leads-up-to-there, never-says-the-wrong-thing new colleague. Suddenly jealousy, uncertainty and temptation - in the form of Bridget's former boss and womanising heart-throb Daniel Cleaver (Hugh Grant) - threaten to upend Bridget's dream in a comic maze of bad advice, silly mix-ups and total disasters that could only happen to her.

In a story that travels from the streets of London to the shores of Thailand - and finds Bridget skydiving (or falling), skiing (sort of) and going straight to jail (all a big mistake, really) - 'Bridget Jones: The Edge Of Reason' takes our beloved Bridget on a hilarious and unexpected new journey as she navigates the treacherous territory of modern love without ever losing her inimitable sense of humour.

My Verdict:
Bridget is back. The lovable Bridget Jones (Renée Zellweger reprising fabulously well) of that famous diary notoriety has returned in a continuing episode of her life. This time Bridget has secured her man, Mark Darcy (the ever-gorgeous Colin Firth as the dead boring Darcy) and rid herself of the likes of serial womanising rat Daniel Cleaver (Hugh Grant perfect as ever), or so she thinks. Bridget's romance with Darcy is causing her to question the whole romance issue and after a disagreement she tells him to take a hike. She is still working as a tv journalist which gives an opportunity for a trip to Thailand where Cleaver will also be working for the same station. She is unintentionally involved in drug smuggling and lands herself in a Thai jail, is rescued and returns home a wiser person.

'Bridget Jones: The Edge Of Reason' is disappointing in some aspects. Many scenes appear to be included just to re-introduce characters without any real relevance to the story. Bridget's trip to Thailand seems like it was created in order to have Cleaver included in the story and her stay in the Thai prison is purely embarrassing. Another scene involves Bridget and Darcy on a mini-weekend away to ski, which seems to be included to allow for some rather silly skiing courtesy of Bridget, which was a venture into slapstick and didn't feel quite right. Many of these episodes were unrelated mini-acts and only held together because Bridget was in them.

There is not much inclusion of Bridget's parents, especially of Bridget's father with whom she obviously has a special relationship as seen in the first movie and so it was disappointing that they have so little screen time. Bridget has also been allowed to become a lot more ditzy and clumsy which detracts from the charming idiosyncrasies of Bridget from the original movie. She still has retained some of those quirks and mannerisms that can only be Bridget Jones but these were few and far between and were sadly lacking. The appeal of Bridget just wasn't as abundant and it sometimes felt like this is the sequel you have when a movie is such a mega-hit.

Still, 'Bridget Jones: The Edge Of Reason' has plenty of moments to make you laugh and it was fun to see the next episode of Bridget's diary. There is plenty of scope for a return visit to see more of Bridget Jones, so this may not be the last.

Rating : C

Christina Bruce


Editor's Review:
Delightfully funny, with yes slapstick comedy that IS Bridget Jones. There is a little of Bridget in all of us which is why she is such an appealing character. Always jumping in before checking the water, opening her mouth only to change feet, Bridget's irrational behaviour is real. I thoroughly enjoyed Bridget Jones Diary: Edge of Reason, and rate it better than the first.