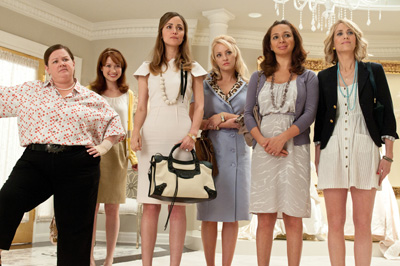 Bridesmaids Review
Cast
: Kristen Wiig, Maya Rudolph, Rose Byrne, Wendi McLendon-Covery, Ellie Kemper, Melissa McCarthy, Chris O'Dowd
Director
: Paul Feig
Genre
: Comedy
Rated
: MA
Running Time
: 125 minutes
Synopsis
: Annie's life never seems to turn out like she plans. She has lost her bakery, her boyfriend and now, thanks to holey matrimony, her best friend. Finding out that Lillian is engaged sends Annie into turmoil, and as Maid Of Honor, dealing with a group of colorful and slightly dysfunctional bridesmaids is not on the top of her agenda. Annie finds herself in competition with Helen, the bridesmaid that seems to be able to do everything Annie can't with poise and sophistication. As she brings Lillian's bridesmaids along on an escalating series of disasters, Annie realises the person who knows her the best has introduced her to four strangers who will shake up her life for good.
Verdict
: 'Bridesmaids' has it all. One moment you are laughing, the next crying and the next thing you know, you are crying of laughter. Watching Annie and Helen fight it out to be the better MOH (maid of honor) for Lillian is not only hysterical but heart warming. Annie tries her absolute hardest but always seems to fall short whereas Helen seems to get everything right. From planning the bridal shower, to finding the perfect destination for the hen's weekend, the competition becomes fierce, while the other bridesmaids sit back and enjoy the ride.
This feel good movie will make you laugh out loud, and I would highly recommend it for a bit of girl's night out fun.
Rating
: ****
Morgan Sutherland
Best Laugh Out Loud film this year! - Femail.com.au
Release Date
: 16th of June, 2011
Website
:
www.bridesmaidsmovie.com