New realms to explore in Bush Baby World
A magical place where dreams are made!

Fans of Bush Baby World now have new realms and new characters to fall in love with.

A magical place, Bush Baby World is home to a host of different types of cute and cuddly Bush Babies, each with their own stories and personalities. The latest two regions little fans can explore are Blossom Meadow and Blue Rock. Blossom Meadow is home to the sweet and flowery -Blossom Bush Babies.' The Blossoms look after the brightly coloured flowers, plants and trees that grow in Blossom Meadow. They also grow the Bush Babies' favourite food - Glitter Corn. Yummy!

Blue Rock is the most mysterious place in Bush Baby World and not much is known about this strange place. Its only inhabitant is Princess Izzabeth, the troublesome sister of Princess Melina. This is where she and her cat, Midnight, plot how to steal Princess Melina's magical sceptre and cause trouble for the Dreamstars!
The Bush Babies' fun and adventures are shared through animated webisodes on a dedicated YouTube channel, online creative play and downloadable content, and storytelling, all of which support a unique range of toys.
A clever little mechanism at the back of the toys' heads brings them to life, in your very own hand! You can wiggle their eyes and waggle their ears, all with the squiggle of a finger.

Blossom Meadow
The latest arrivals to the Bush Baby World hail from Blossom Meadow, joining their friends from the Dream Tree and Shimmer Mountain.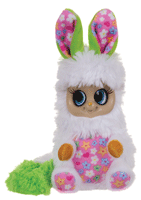 Blossoms RRP $16.95
The Blossom Meadow Bush Babies live in Blossom Meadow, just across from the magical Dream Tree!
Featuring beautiful flower patterns, golden paws and sparkly noses, the Blossom Meadow Bush Babies are named after flowers (Bluebelle, Petalina, Tillani, Butterlee, Pozee and Fleur) and enjoy picking their favourite food - glitter corn!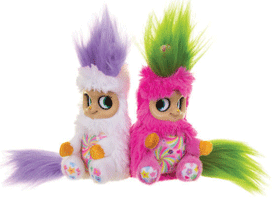 Scented Blossoms RRP $24.95
Lili and Rosi are best friends but the complete opposites of each other! Rosi is quiet, gentle and tidy, whereas Lili is loud, giggly and messy. But both have a delicious blossom signature scent! They also have beautiful long quiffs of brightly coloured hair which is fun to brush with their sweet floral-shaped brush.