Black Swan
Cast
: Natalie Portman, Mila Kunis, Barbara Hershey, Vincent Cassel, Winona Ryder
Director
: Darren Aronofsky
Genre
: Psychological Thriller, Drama
Rated
: MA
Running Time
: 108 minutes
Synopsis
: A psychological thriller set in the world of New York City ballet,
Black Swan
stars Natalie Portman as Nina, a featured dancer who finds herself locked in a web of competitive intrigue with a new rival at the company (Mila Kunis). A Fox Searchlight Pictures release by visionary director Darren Aronofsky (The Wrestler),
Black Swan
takes a thrilling and at times terrifying journey through the psyche of a young ballerina whose starring role as the Swan Queen turns out to be a part for which she becomes frighteningly perfect.
Black Swan
follows the story of Nina (Portman), a ballerina in a New York City ballet company whose life, like all those in her profession, is completely consumed with dance. She lives with her retired ballerina mother Erica (Barbara Hershey) who zealously supports her daughter's professional ambition. When artistic director Thomas Leroy (Vincent Cassel) decides to replace prima ballerina Beth Macintyre (Winona Ryder) for the opening production of their new season, "Swan Lake," Nina is his first choice. But Nina has competition: a new dancer, Lily (Kunis), who impresses Leroy as well. Swan Lake requires a dancer who can play both the White Swan with innocence and grace, and the Black Swan, who represents guile and sensuality. Nina fits the White Swan role perfectly but Lily is the personification of the Black Swan. As the two young dancers expand their rivalry into a twisted friendship, Nina begins to get more in touch with her dark side with a recklessness that threatens to destroy her.
Release Date
: 20th January, 2011
Website
:
http://www.foxsearchlight.com/blackswan/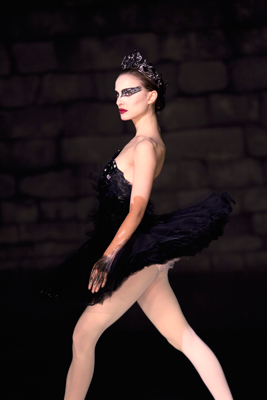 Black Swan is a must-see for those who consider themselves quality film fans...
Black Swan
is a clever, art house film which showcases a fascinating insight into the tireless world of professional ballet with an impressive twist of suspense.
Hot starlets, Natalie Portman and Mila Kunis both deliver career shaping performances as outstanding unbalanced ballerinas in
Black Swan
where both push their bodies, physically, to enthrall audiences with the raw reality of professional ballet.
Natalie Portman certainly deserves an Oscar nomination as she delivers the best performance of her career as the uniquely sensitive Nina. Portman is breathtakingly graceful, providing the balance in this dark and unbelievably sexy film. Whilst Mila Kunis showcases her ability to portray sexy and passionate Lily, an engaging contrast to her previously 'cheeky' characters. Both starlets had to train daily, for six months straight, with a ballet trainer to transform their bodies and minds for their roles as rival ballerinas.
Black Swan
has been nominated for a Golden Globe for Best Motion Picture- Drama. Whilst Natalie Portman has received a nomination for Best Performance by an Acress in a Motion Picture -Drama and Mila Kunis has a nomination for Best Performance by an Actress in a Supporting Role in a Motion Picture.
Provocative and unpredictable director, Darren Aronofksy has followed up from The Wrestler with beauty and grace engaging audiences into the dark world of ambitious ballerines.
Black Swan
has been critically acclaimed; becoming one of the most talked about films after premieres in Venice, Toronto and the United States.
Described as a "masterpiece" by critics, worldwide,
Black Swan
is a fulfilling film, perfect for females who consider themselves quality film fans.
Oscar-worthy
Black Swan
opens in Australian cinemas on the 20th of January, 2011.
View the Black Swan Trailer:
http://www.foxsearchlight.com/blackswan/
Black Swan sneaks peaks
nationally at participating cinemas on Jan 13, 14, 15 and 16.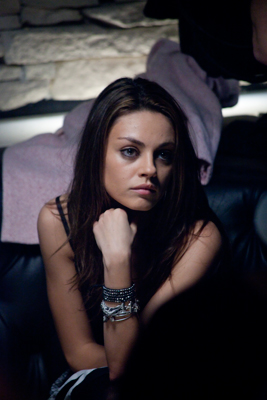 Dancing Good and Evil: The Story
The daring and original director Darren Aronofsky (The Wrestler, The Fountain, Requiem For A Dream) lures audiences into a haunting, fractured world of delusions, doubles and paranoia in Black Swan, his first psychological thriller. He spins a sensual and chilling tale of a prima ballerina locked in an obsessive battle with dark impulses that slowly engulf her.
Academy Award® nominee Natalie Portman (Closer) stars as Nina, an ambitious young New York ballet dancer who is after the ultimate double role: the delicately innocent White Swan and the seductively evil Black Swan of the star-making classic "Swan Lake." She gets the role but is unsure if she can let go enough to embody the dark side of the Swan Queen. As she ascends to new heights with her body, her most deeply buried fantasies, jealousies and nightmares begin to ensnare her mind into the blackest depths causing a dangerous clash with the provocative newcomer who is her greatest rival. Nina quickly becomes all too perfectly entwined with the bewitching and deadly Black Swan.
Far from the typical thriller set in a world of crime or haunted houses, Darren Aronofsky's vividly intimate portrait of a woman unraveling at the very seams of her psyche takes place in the least expected of realms, the artistically electric and physically demanding world of professional ballet. For Darren Aronofsky, it was the perfect place to unfold a visually explosive tale of the obsessive pressure to be perfect. As with The Wrestler, the film also gave him a chance to plunge into an unseen world and peel back what makes the people who are driven to sacrifice so much.
Although he started thinking about this story fifteen years ago, Darren Aronofsky notes that Black Swan is intentionally a companion piece to his most recent film, The Wrestler. While wrestling and ballet might seem like they couldn't possibly be more disparate worlds, Black Swan dips into moments of sheer psychological horror unlike anything Darren Aronofsky has done before. The two films are tied together by themes of bodily extremes, souls in turmoil and by a filmmaking style that pulls the audience inside the characters' fascinating inner worlds.
"Some people call wrestling the lowest of art forms, and some call ballet the highest of art forms, yet there is something elementally the same. Mickey Rourke as a wrestler was going through something very similar to Natalie Portman as a ballerina," Darren Aronofsky explains. "They're both artists who use their bodies to express themselves and they're both threatened by physical injury, because their bodies are the only tool they have for expression. What was interesting for me was to find these two connected stories in what might appear to be unconnected worlds."
The two films are also tied by a lead performance that dives well beneath the surface, says Darren Aronofsky, who compares Natalie Portman's commitment to that of Mickey Rourke. "The role of Nina is quite different from anything Natalie Portman has done before," notes Darren Aronofsky, "and she took it to another level. Playing Nina was as much an athletic feat as a feat of acting."
The challenges of making Black Swan were also similar to the notably intense production of The Wrestler, perhaps even harder. As secretive as the world of professional wrestling can be, Darren Aronofsky found the ballet world even more insular and closed-off to outsiders.
And then there was the training that Natalie Portman had to undertake in order to make the film's ballet scenes as incandescently lyrical as they are full of mounting tension and foreboding. "Ballet is something most people start training for when they're four or five years old and as they live it, it changes their bodies, it transforms them. To have an actress who hasn't gone through all of that convincingly play a professional ballet dancer is the tallest of orders. Yet somehow, with her incredible will and discipline, Natalie Portman became a dancer. It took ten months of vigorous work, but her body transformed and even the most serious dancers were impressed. I'm convinced that the physical work also connected her to the emotional work," states Darren Aronofsky.
Darren Aronofsky notes that he was gratified to find a cast who could take on this challenge. They, in turn, were attracted by a story that became a suspenseful, yet daring, odyssey into a dancer's sudden rise and terrifying descent.
Darren Aronofsky finally got the chance to express his idea for Black Swan ten years ago via a screenplay by Andrés Heinz - a dark drama that took place on Broadway, setting up a perilous rivalry between an actress and her mysterious understudy. Darren Aronofsky was intrigued, but having grown up as a witness to his sister's shockingly tough training as a ballet dancer, he wanted to switch the backdrop to that of a premiere New York ballet company. This change led to the creation of Nina and Lily, two competitive rising dance stars willing to sacrifice anything and everything for that one perfect performance.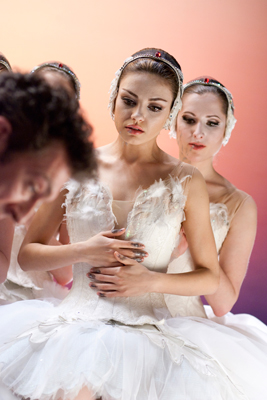 Even as he was engaged in other projects for many years, Darren Aronofsky continued developing the project with Mark Heyman (co-producer of The Wrestler).
It was Darren Aronofsky's idea to merge Andres Heinz's original concept with the story behind the world's most popular ballet, "Swan Lake," which tells the story of a dramatic duel between innocence and wickedness. All the while, he was also working with Mark Heyman to create the macabre new twist which galvanised the tale. In the final draft, the key elements of "Swan Lake" - swans, demons, spells and doubles - became entwined with Nina's psyche as it shatters into a psychosexual kaleidoscope of shards, turning her from a naïve young girl into a dangerous, metamorphosed creature.
"Darren Aronofsky and I had talked for years about doing a ballet thriller," recalls Mark Heyman. "What I did was to take the initial drafts of the screenplay and adapt the plot of 'Swan Lake' right into the center of it. That changed everything and became the jumping off point for a modern New York story about duality, about doubles and about the fear of someone or something taking over your life."
"The story became about Nina's fears of losing who she is," continues Darren Aronofsky. "That is something I think everyone can relate to, but Nina becomes completely overtaken by those fears until her reality becomes inseparable from the character she is playing."
As the final script became a world unto itself, Mark Heyman says it was increasingly difficult to place it into a genre. Was the story a plunge into biological horror as a woman morphs into a demon swan or a riveting portrait of a driven artist losing control of her mind under extreme pressure? Mark Heyman hopes the answer is both things at once.
"My favorite films are always difficult to categorise," says Mark Heyman. "Our hope for Black Swan is that it would be one of those films. That it would scare people but also get under the skin in a lasting way."
The project soon attracted a producing team that included Mike Medavoy, Arnold W. Messer, Brian Oliver and Scott Franklin. "This is both new ground and familiar territory for Darren Aronofsky. On the one hand, it is a departure for him into the psychological thriller element, which is something he's never really attempted before and yet it evokes an intense realism with his attention to detail, camera style and the way he works with actors to get very real performances," says Scott Franklin.
Adds Brian Oliver, "If you've seen Darren Aronofsky's films, you know he's doesn't do anything in a standard way. Just as The Wrestler made people really feel what it would be like to be an aging wrestler, he delves deeply into the world of a dancer, while building psychological suspense to fantastic levels."
Executive producer Jennifer Roth says of the film, "Black Swan is not simply a thriller nor a movie about dance. It encompasses all these different aspects and crosses over to a dark but fascinating place."
Woman into Swan: Natalie Portman as Nina:
Even before the screenplay for Black Swan was completed, Darren Aronofsky knew who would play Nina, the hopeful solo dancer overtaken by unsettling fantasies and eerie events as she prepares for the greatest role of her life. It had to be Natalie Portman, whose diversity of memorable roles ranges from Queen Amidala in the Star Wars series to her Oscar®-nominated and Golden Globe®-winning role as a stripper in Mike Nichol's adaptation of Closer. Not only had Natalie Portman studied ballet as a child, more importantly, she had the commitment and drive to plunge into the immense physical and psychological demands of a part that would have her leaping, spinning and losing touch with reality, all at the same time.
Darren Aronofsky approached her several years ago to talk about the film, then still in a fledgling state.
"Very soon after I first started thinking of the idea for Black Swan, I met with Natalie Portman for coffee in Times Square," he recalls. "She had done a lot of ballet before she became an actress and had continued doing it over the years just to stay in shape. She told me straight away that one of the things she'd always wanted to do was play a dancer."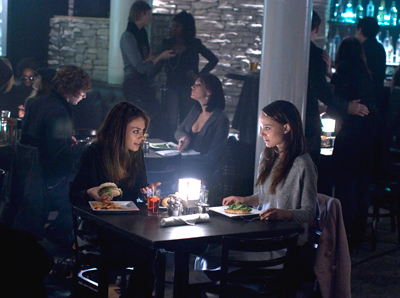 Though it would take almost ten years after their meeting before the Black Swan screenplay was finished, when Natalie Portman read it, she was riveted by Nina's twisting psychological journey.
Nina starts out as what the ballet world calls a "bunhead," a not-so-endearing term for a ballerina so devoted to dance that nothing else matters, who is sheltered by her equally driven, former-dancer mother and who never really developed an adult life of her own. But when she gets the role of the Swan Queen, it awakens something new in her, a need to explore her deepest, darkest feelings which begin to unhinge the fragile edges of her mind. Nina, like the Swan Queen she wants to embody, suddenly becomes embroiled in a story of enchantment, desire and danger.
This pushed Natalie Portman to edges that she had never before explored on screen - and required her to peer into the abyss. "Nina is dedicated, hardworking but also obsessive," the actress explains. "She doesn't yet have her own voice as a dancer, as a young woman, but she progressively changes as she searches to find her sensuality and sense of freedom. At the same time, she also starts to come undone, and that was the challenge. "
She continues: "What Nina wants is perfection, which is something that can only exist for a moment, a brief, fleeting moment -- but like all artists, she may have to destroy herself to find that. When she tries to become the Black Swan, something dark starts to bubble inside her. It becomes an identity crisis where she's not only unsure of who she is but the lines become blurred between her and other people. She starts literally seeing herself everywhere."
Trapped in this dizzying world of doubles and deceptive appearances, of mysterious encounters and erupting wounds, Nina begins to lose control -- and Natalie Portman had to do so, also.
"As Nina begins to rebel against all the structures around her," she notes, "it comes with all this paranoia that takes her to a dark place, where she isn't sure what other people want from her and whether or not she's losing her mind."
Amidst the darkness, Natalie Portman was thrilled to have a chance to immerse herself in the ballet world she, like Nina, dreamed about as a young girl. "I loved the authenticity of all these very real dance world details in the screenplay," she says, "and I especially loved how Nina's story parallels 'Swan Lake.' I saw her as someone really trying to break free of a spell - trying to break free of everyone else defining who she is and trying to see through all of it who she really is as a person and an artist."
And yet, as Nina begins to lose the thread of reality, she cannot let anyone know what she's going through, lest she lose the role of the Swan Queen to her most threatening rival, the sensuous, shameless Lily -- who becomes Nina's alternate, both literally and figuratively.
Natalie Portman was intrigued by Nina and Lily's twisted, envy-driven relationship which operates on several levels. "I like how when they first meet, they size each other up the way that girls really do," she says. "It's a survival mechanism, to scope out who your biggest competition is and in this case, Nina sees right away that Lily is gorgeous, talented and a total threat to her position. But she also doesn't yet know who Lily really is."
To reveal all this on screen, Natalie Portman put herself through both rigorous physical and psychological preparations. The physical training was beyond anything she ever imagined, as she began training intensively, with single-minded focus, for five hours a day, every day, some ten months before production even began. She did so under the tutelage of several pro-level teachers and trainers -- including Mary Helen Bowers, formerly of the New York City Ballet - who put her through a gruelingly complete dance education in record time.
"I did a tremendous amount of dancing, and I also did a lot of swimming and weight training as well as cross training, so I wouldn't get injured because dance is so hard on the body," Natalie Portman explains. "It's incredibly challenging, trying to pick ballet up at 28. Even if you've taken dance lessons before, you just don't realise how much goes into it at the elite level. Every small gesture has to be so specific and so full of lightness and grace. I knew it would be a challenge, but I never expected just how physically tough it turned out to be."
In addition to having studied dance in her youth, Natalie Portman studied psychology at Harvard, which yielded further insights into Nina's disintegrating psyche, allowing the actress deeper into Nina's surreal inner experience. "I saw Nina as being caught in a cycle of obsession and compulsion," she assesses. "The positive side of that for artists and dancers is that by focusing so hard you can become a virtuoso, but then there's a much darker side, an unhealthy side, in which you can become completely lost. That's where I had to take Nina."
Natalie Portman explored that darker side with fearlessness in each of Nina's relationships: with the ballet company's relentless artistic director, Thomas Leroy (Vincent Cassel) who pushes her to explore the unvisited, dark corners inside herself; with her over-involved, former dancer mother (Barbara Hershey), who keeps a constant close eye on Nina; and by the veteran dancer (Winona Ryder) whose career Nina once idolised and whose sudden downfall sends her reeling.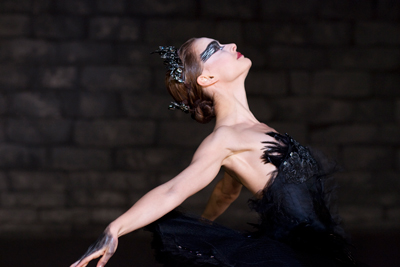 Shadowing the Swan: The Supporting Cast
Surrounding Natalie Portman in Black Swan is an accomplished supporting cast whose performances add to the film's hypnotic mix of beauty, mystery and fear.
To play Natalie Portman's rival Lily, Darren Aronofsky chose Mila Kunis, the Ukrainian born actress who has been rapidly rising with roles in Book of Eli and Forgetting Sarah Marshall, who brought the brashness and dark charm to her role as the overly ambitious newcomer.
"Mila Kunis plays Lily as someone who has exactly what Nina wants. She is much freer, more alive and more sexual than Nina," says Darren Aronofsky. "Lily has the freedom to express herself and that becomes the source of both great allure and intense friction for Nina."
Mila Kunis was instantly drawn to her wildly uninhibited character and to the intriguing idea of playing a dancer though the brutal reality knocked her for a serious loop. "I had this idea in the beginning of grandeur, of feeling graceful and wearing a tutu, but you have no idea how physically demanding it is until you do it," Mila Kunis says. "It really takes a toll on your body!"
Nevertheless, she threw herself into training and into exploring the upending effects Lily has on Nina. "The key to Lily is that she had to be exactly the opposite of Nina, her mirror opposite, in every way," says Mila Kunis. "Even their dance styles are opposite. Nina is a very technical, beautiful dancer while Lily is more raw, free and spontaneous. Nina's whole life is ballet but Lily eats hamburgers, parties, has sex, does drugs and explores everything. She's the complete antithesis of Nina and embodies the Black Swan."
Taking on Lily as both the ultimate impulsive woman and an apparition was a tightrope act, one Mila Kunis says she could not have done without Darren Aronofsky providing a safety net. "I wouldn't have done this movie if not for Darren Aronofsky," she confesses. "This character could be very iffy in the wrong hands. There isn't a right way to play Lily. I didn't read the script saying, 'Oh, I've got this character figured out; I know exactly how to play her,' because in every scene she's different. But I trusted that in Darren Aronofsky's hands it would work. I don't know if I would've felt like that in the hands of any other director."
If Lily represents all that Nina wants to access within herself, then the company's brilliant choreographer and artistic director, Thomas Leroy, is the man who pushes her without mercy to do just that. Playing Thomas is Cesar-winning French actor Vincent Cassel, who is lauded in Europe but has also worked in a range of Hollywood films such as Oceans Twelve, Shrek, Elizabeth and Eastern Promises.
"Vincent Cassel is one of my favorite actors on the planet," says Darren Aronofsky. "I'm a big fan of his work in both his French and American films. Here he plays a Machiavellian character - the artistic director who is all about the art, and doesn't care about the victims he leaves along the way. He was wonderful to work with in the role, in part because he moves so beautifully."
Vincent Cassel says the role was impossible to resist. "First of all there was Darren Aronofsky, who I always wanted to work with. Then, there was Natalie Portman, who I've admired for years. After that, came the idea of making a thriller set in the ballet world, which is so attractive. The ingredients were cool. I knew it would be dark but very sexy. Then, I discovered Mila Kunis and soon Winona Ryder got involved, and I was going to be in the middle of all these women like a circus master. So, honestly, how could I say no?" he laughs.
Yet, Vincent Cassel also knew Thomas would not be an easy man to inhabit especially in his willingness to push the dancers to their limit. "He's not exactly a womaniser," he explains. "I don't think he's really interested in women so much as he's excited by going after the extremes of perfection, beauty and art. He wants to see the dancers he chooses blossom into the ultimate expression of himself, and he drives them very, very hard." To play Thomas with an authentic air, Vincent Cassel dove into research, studying the lives and magnetic personalities of the world's great choreographers, from Balanchine to Baryshnikov. He was further inspired by observing the film's choreographer, renowned dancer Benjamin Millepied of the New York City Ballet. "Seeing the way Benjamin Millepied interacted with the dancers, and the way he carried himself, gave me a lot of interesting input," notes Vincent Cassel.
Rounding out the main cast are two Academy Award-nominated and Golden Globe®-winning actresses: Winona Ryder as Beth, the company's legendary star dancer who finds herself rapidly falling from grace and Barbara Hershey as Nina's mother, Erica, who both shields and smothers her daughter.
For Winona Ryder's character, Beth is key to Nina's story as a prophesy of what awaits her in the future. "Beth has been the star for awhile but now she's at an age where, in one swoop, she gets fired and dumped by her lover, the ballet's Artistic Director," explains Winona Ryder. "It brings up the whole question of what dancers have to endure, the tragedy and unfairness of how short their careers are."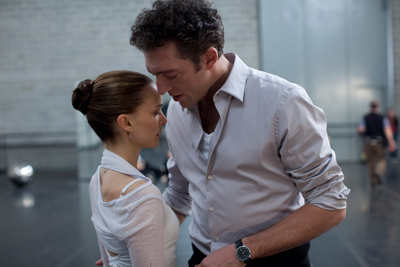 She continues, "I think it also deals more generally with the quest for perfection, because what dancers have to go through to perfect their performances is beyond anything an audience ever sees. Beth has worked on her art since she was a child and suddenly, she comes to a place where everything she's worked so hard to develop has just broken her down. And she doesn't handle it well."
Darren Aronofsky says of Winona Ryder, "Winona Ryder was fantastic for the role because she is such a superstar herself. I think the audience will really connect to her as the famous prima ballerina who is being pushed out as Nina steps in to replace her."
Barbara Hershey, too, was entranced by Black Swan and her unusual role. "I'm sure some people will look at Erica as the mother from hell but I see her as a mother in hell, which is a big difference," says Barbara Hershey. "I think she's pretty tortured. For everything she does, there's this opposite thing happening at the same time. She loves her daughter yet there's an obsession to it. She wants her to succeed but at the same time she knows her fragile mental state. She's terribly jealous of her daughter, yet she wants the world for her. She wants Nina to fly -- but she doesn't want her to leave."
Both women were captivated by Darren Aronofsky's techniques for working with actors. "I wasn't available for rehearsal because I was working on another film in England at the time," recalls Barbara Hershey, "so Darren Aronofsky had me do something I thought was so brilliant. He asked me to write two letters to Nina as my character. So, while I was working on this other project, I was already thinking of the relationship between Nina and her mother. I started writing and the character just started speaking. Then Darren Aronofsky took these letters and gave them to Natalie Portman at strategic moments."
Behind the Scenes of Black Swan
www.femail.com.au/behind-the-scenes-of-black-swan.htm