Black Swan - Dancing Good vs Evil & Film Review
www.femail.com.au/behind-the-scenes-of-black-swan.htm
Pointe and Punishment: The Training and Choreography
Just as he had penetrated the starkly human yet hidden world of professional wrestlers in The Wrestler, amidst the psychological thrills of Black Swan, Darren Aronofsky submerses the audience into the gritty, sweat-and-anxiety filled backstage reality of dance that few people ever see. While ballet has long been a part of cinematic history, from Michael Powell's classic The Red Shoes to Herbert Ross' 70s hit The Turning Point, Darren Aronofsky's film looks like no other dance movie before it.
To shoot ballet from the inside looking out would take a combination of personal research, intensive actor training and visceral camera techniques. "As a filmmaker, Darren Aronofsky is obsessed with details," says co-writer Mark Heyman. "So despite the fantastical elements of the story - seeing your double and the transformation of Nina - it was very important to him to ground the film in a lot of authenticity."
As production neared, Darren Aronofsky began to hone in on how he was going to create the film's dynamic stage performances which he wanted to have all the first-person intensity of the fight scenes in The Wrestler, yet also capture the grace and lyricism that makes ballet a kind of poetry of the body…and do justice to the legacy of "Swan Lake."
To start, he recruited a ballet team headed by choreographer Benjamin Millepied, himself a star dancer with The New York City Ballet and a globally acclaimed creator of new ballets. Though it was his first time choreographing for film, Benjamin Millepied took to it immediately. "I got really into the whole process, and I was blown away by the actors," he says. Benjamin Millepied also had fun stepping in front of the camera to play the role of David, the company's lead dancer.
His task was to take key moments from "Swan Lake" and choreograph them so they would perfectly integrate with both Darren Aronofsky's screen vision of Thomas Leroy's idea of a fresh, "stripped down" production and at the same time be performable by the two actresses who, devoted as they were, were not life-long ballerinas.
"It was really important to Darren Aronofsky to keep true to a real "Swan Lake,'" explains Benjamin Millepied. "But we both knew that you can't train someone to be a lead ballerina in six months, so we worked very hard on choosing specific movements for Natalie Portman and Mila Kunis that would work on film. Natalie Portman had already started taking dance classes before I was introduced to her and she had done some training in her childhood, but Mila Kunis had no training whatsoever. So my role was to really refine their movements and to use the choreography to bring out exactly what was needed. Fortunately, Darren Aronofsky has a great understanding of what good dancing looks like, so that made my job a lot easier."
For Natalie Portman and Mila Kunis, it would be an intense education. To help train them further, Benjamin Millepied brought in a crew of ballet coaches, including the legendary Georgina Parkinson, a principal dancer with the Royal Ballet and mistress of the American Ballet Theatre for 30 years, who sadly passed away just two weeks before filming was completed. Also working with the actresses were the ballet mistresses Marina Stavitskaya, director of classical repertoire for the Manhattan Youth Ballet, and Olga Kostritzky, whose past students included Mikhail Baryshnikov and Jock Soto.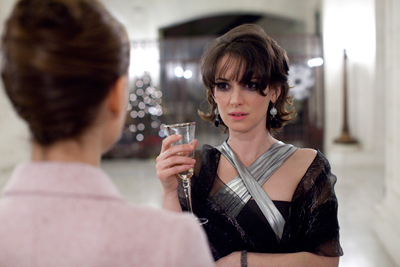 They pushed Natalie Portman and Mila Kunis to do things with their bodies they never know possible - and both paid a physical price. "I love dancing so much, I thought it was going to be so much fun to dance at work," Natalie Portman recalls. "I had no idea how grueling it would be."
Grueling wasn't even the half of it. Both she and Mila Kunis would battle injuries and overtraining fatigue as they raced the clock to be ready for the shoot. "Two torn ligaments and a dislocated shoulder later, I was asking myself, 'What am I doing?'" laughs Mila Kunis.
She continues: "The pointe shoes are especially brutal. I could probably have them on for a maximum 20 minutes. You don't even have to get up en pointe for them to hurt. All you have to do is walk around. Your feet can't go forward because there's this wooden box at the tip. You trip over yourself. To have them on all day, your feet swell and turn black and blue."
Natalie Portman, who danced more than 90% of her scenes on screen, also suffered an agonising rib injury while training. "It was pretty intense because I had to deal with it for about half of the shoot," she admits. "But it's hard to complain when you see what the professional dancers dance through all the time. They're constantly dancing with very serious injuries, like sprained ankles. They are accustomed to dancing through pain."
Despite all the difficulties, the two women were guided so expertly, they grew ever stronger and more confident as dancers. "It was one of the hardest things I think I'll ever do in my life," admits Mila Kunis. "I also think ballet isn't given enough credit as one of the hardest sports in the world. But the really amazing part comes when you realise how all that hard work and suffering can produce an art that looks so effortless."
That effortlessness, which characterises the most powerful dancing, is what Benjamin Millepied was after on the screen, a stark contrast with Nina's nightmarish personal journey. "It was amazing to watch Natalie Portman and Mila Kunis progress. We set the bar very high and they were able to pull it off," he comments.
To accompany Natalie Portman and Mila Kunis on stage, Benjamin Millepied and executive producer Ari Handel brought in a corps of professional dancers from the Pennsylvania Ballet - including male lead Sergio Torrado, who plays Von Rothbart in the film's "Swan Lake." Due to the timing, it turned out to be far more difficult to find the right ballet company than it was to find the starring actors.
"We found out that a lot of companies, like the New York City Ballet and ABT, were in season, so they couldn't spare any dancers for us," says producer Franklin. "Fortunately, the Pennsylvania Ballet was on hiatus. They agreed to work with us only a few weeks before shooting."
"We were thrilled to be able to make this work," says Roy Kaiser, Artistic Director of the Pennsylvania Ballet. "It's a fantastic project and was a great experience for my dancers. They've had a chance to help show ballet in a realistic light and were so excited to work with this phenomenal cast."
Hall of Mirrors: The Visual Design
Production of Black Swan began outside Lincoln Center, home of the New York City Ballet, and continued for several weeks, entirely on location in New York, mainly in Manhattan but also shooting at the Performing Arts Center at the State University of New York Purchase, the versatile stage where Bob Fosse shot portions of the cinematic dance classic, All That Jazz.
Darren Aronofsky worked with his talented design team to entwine two visual ideas: a visceral view of ballet featuring raw, handheld camera work and a more surreal and frightening but equally gritty, series of images filled with refractive mirrors and eerie sightings of doppelgangers that blur the edges of reality. The always-moving camera seems to both dance and descend with the main character.
The team included many Darren Aronofsky regulars, headed by cinematographer Matthew Libatique, ASC (The Fountain), production designer Thérèse DePrez (Howl), costume designer Amy Westcott (The Wrestler), editor Andrew Weisblum, A.C.E. (The Wrestler) and visual effects supervisor Dan Schrecker (Requim For a Dream).
Bypassing a century of both dance-on-film and psychological thriller techniques, Darren Aronofsky and Matthew Libatique instead brought their own trademark style to a world rarely seen in this kind of raw intimacy. Most of the film's scenes rely on a single hand-held camera that moves continuously, sinuously, with no resetting for masters or close-ups.
"I was excited to shoot a psychological thriller mostly hand-held because I couldn't think of a time when it had been done before," says Darren Aronofsky. "There are sometimes a few scenes in thrillers where you see from the monster's POV with a hand-held camera, but to do the whole thing hand-held in a documentary style felt unique."
He continues, "I also felt that bringing a handheld camera into the ballet world would help to get inside it, as we had done with the wrestling ring in The Wrestler. The camera is dancing and spinning with the dancers. It captures the energy, the sweat, the pain and the artistry close up."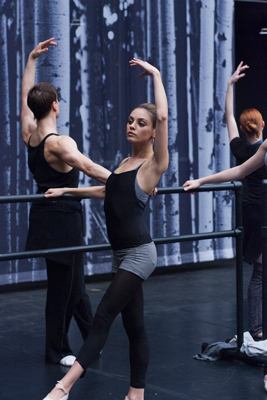 And then there are the mirrors, which play a major role in the film's visual architecture. "In the world of ballet there are mirrors everywhere," explains Darren Aronofsky. "Dancers are always looking at themselves, so their relationship with their reflection is a huge part of who they are. Filmmakers are also fascinated by mirrors, and it's been played with before, but I wanted to take it to a new level. Visually, we really pushed that idea of what it means to look in a mirror. Mirrors become a big part of looking into Nina's character, which is all about doubles and reflection."
The task of forging the physical world of Black Swan fell to production designer Thérèse DePrez. Here, she faced the double challenge of designing both a Manhattan-based psychological thriller and an on-screen production of "Swan Lake" meshing them together in every detail. "I've wanted to work with Thérèse DePrez for a long time," says Darren Aronofsky. "She created a really big canvas for us on a very tight budget. She created a world that is not the real world, but feels like it is real, which is a very hard thing to pull off."
"Darren Aronofsky is very organic in the way he approaches his films," says Therese DePrez, "so I started by looking at the palette, which was inspired both by 'Swan Lake' and by what Nina sees everyday - the rehearsal spaces that are both Old World and modern New York. We wanted something very minimalist so it is mostly shades of black, white, grey and the pinks of ballet, which were divided into the innocent pinks of Nina's character and Beth's pinks which are a little more worn. Then there are some greens, which come from Rothbart and also the nature settings of 'Swan Lake.' But that's really it. We kept the colors very limited."
Many of the film's sets would quietly presage what is later seen on stage in "Swan Lake" during the explosive climax of the film including Thomas Leroy's stark, black-and-white apartment, where he gives Nina an unusual homework assignment as well as Nina's pink, childlike bedroom, which offers her fewer and fewer comforts as the story builds. "It's all very subtle, but there are common visual threads that keep weaving throughout," points out Therese DePrez. "One thing about Darren is that he doesn't like to over-stylise anything. So a lot of the design was about grounding Natalie Portman's character in reality."
It all built up to Therese DePrez's most massive challenge: designing sets for a new take on "Swan Lake," one that would be dark, modern, edgy and, most of all, highly cinematic.
"One of the things that was very important to Darren Aronofsky and me was to have movement in all of the set pieces on the stage. We didn't want anything stagnant or still," she explains. "So, you'll see in every act of the ballet there are stage elements that move. There are tree scrims that spread apart, there's a moon that is backlit, there's a cliff with a moving ramp. Everything also has a touch of photorealism to make it more modern and unexpected. It all had to be very intricately composed."
Her designs even extended to the wings of the stage. "The wings were almost as important as the stage itself," she says. "We made sure there were ballet bars where the dancers are stretching, and of course, mirrors. Everything is there for the camera to capture."
That same attention to Nina's reality with the visual elements of "Swan Lake" intertwined throughout can be found in the work of costume designer Amy Westcott, who started by throwing herself into the ballet world. "I sat in on classes, went to performances at ABT and New York City Ballet, and then began to put lots of idea together," she explains.
Having collaborated with Darren Aronofsky before on The Wrestler, Amy Westcott knew what to expect. "Darren Aronofsky likes to dive into a world and get it right, and it's our job to dive in right after him," she says. Key to getting Black Swan right was finding a look for Natalie Portman as Nina, one that shifts as her reality lurches. "I wanted to get across that, at first, Nina's mother has a big influence on how she dresses," says Amy Westcott. "Her mother wants to keep her in a childlike state, so Nina wears mostly three girlish colors: white, grey and pink. We start out heavy on the pink. But, by the end, she wears mostly black. Once you start to see her in black tights instead of pink, you know something's snapped and she's on the other side of the fence."
Amy Westcott used each of the character's core personalities to influence their look. "Lily is about sexy confidence so she wears a lot of black with flashes of silver. There's also a dream-like quality to her that we tried to convey. Thomas Leroy is very strong and so Vincent Cassel wears black, grey and white."Then there was the extraordinary task of coming up with costumes for a New York ballet company's new spin on the classic "Swan Lake." To do this, Darren Aronofsky spoke to two exciting fashion stars, Kate and Laura Mulleavy, sisters known collectively to the fashion world as Rodarte,. Darren Aronofsky felt that Rodarte's gothic, romantic, yet rough-edged designs could update the ballet's traditional look in unpredictable ways. "Visually it's a very different take on 'Swan Lake,'" he says. "Rodarte's ballet costumes take it to another plane, they're both classic and cutting-edge at the same time".
The Mulleavy sisters were intrigued and excited by the concept of a new take on "Swan Lake." "The aesthetics of ballet are compelling to us as designers and we have always loved Tchaikovsky's 'Swan Lake.' Reading the script, we were immediately drawn in to the story and began to envision Natalie as a ballerina and the world that Darren Aronofsky would create with her character. Darren Aronofsky is a true auteur and we were excited by the concept of bringing our visions together. We met with Darren Aronofsky in New York and Natalie in Los Angeles and instantly knew the vision for the movie was an aesthetic we wanted to help bring to life."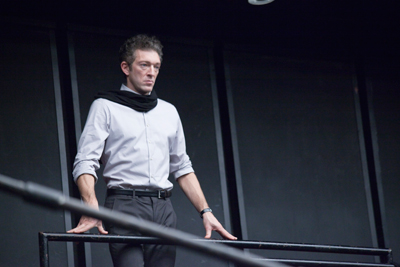 They continue, "Black Swan is a story of beauty contrasted with a dark transfiguration. We developed the costumes with the characters' dual identities in mind, always trying to find the balance between their delicate and brutal natures and actions. We used colors (cool grey, pale pink, white, black, and dark green) and textures (wool and angora, feather, tulle, metal, and embroideries) to illustrate their on-stage and off-stage personas."
Another key component in building the mood, suspense and emotions of Black Swan is the music composed by Darren Aronofsky's long-time collaborator Clint Mansell. Clint Mansell began by going straight to the source of Nina's obsession - "Swan Lake" - and wove strands of Pyotr Ilyich Tchaikovsky's iconic music for the classic ballet throughout the fabric of the film's score.
When Darren Aronofsky approached him about the film, Clint Mansell had just seen a production of the ballet in London. "I was knocked out by it as a live, visceral experience, and I thought, 'this is going to be cool,'" he recalls.
In creating the score, Clint Mansell was faced with an intriguing challenge with how to be true to Tchaikovsky's timeless legacy while creating a distinctive sonic environment for Nina's dark, modern journey. "It was a tremendous privilege to work with Pyotr Ilyich Tchaikovsky's fantastic piece of music. I had the deepest respect for it, but I also felt I had to have no boundaries, that I had to really go for it," the composer says. "I really hope that in the end, people won't think 'oh that part is Pyotr Ilyich Tchaikovsky and that other part isn't.' I hope it's a journey of the two woven together to become a new take on 'Swan Lake.'"
Clint Mansell's idea was that Pyotr Ilyich Tchaikovsky's lyrical masterpiece would, in a sense, haunt Nina, following her, altering and shifting into something stranger and stormier, as she becomes more and more overtaken by her role as the Swan Queen.
"The music is always referencing Pyotr Ilyich Tchaikovsky or echoing it in some way," Clint Mansell explains. "Pyotr Ilyich Tchaikovsky was always the foundation, but then I started experimenting."
The process grew more personal as it intensified. "Pyotr Ilyich Tchaikovsky's score is so wonderfully complex and there's so much going on in it, it tells the story in every note," Clint Mansell observes. "But modern film scores are more subdued, more minimalist if you will, so I had to almost deconstruct the ballet. I broke it down into certain rhythms, progressions and melodies, and then rebuilt those into the score for the film. As I continued writing, the score took in more of the way I hear music with more atonal and discordant elements that bring out the suspense and turmoil."
Clint Mansell also worked with the music's organic elements to mirror Nina's subconscious and her passage into corridors of paranoia, overwhelming desire and fear. "It wasn't hard to dial in that element of terror," he notes, "because Pyotr Ilyich Tchaikovsky's music is already so powerful and expressive. Ballets back then were like films today, they were written to take people on an imaginative trip."
Before production even began, Clint Mansell wrote portions of the score so that the film's ballet sequences could be shot to the music then later, he began writing to picture as dailies started coming in, providing fresh inspiration. At last, he traveled to London for the final recording sessions, where he heard the score performed for the first time by a 77-piece orchestra. "When the music takes on a life of its own in the hands of great musicians, that's breathtaking," says Clint Mansell.
Darren Aronofsky was exhilarated by what Clint Mansell created. "This is some of the most extraordinary work I've heard from Clint Mansell," says the director. "You feel Pyotr Ilyich Tchaikovsky everywhere but it also feels new. It's eerie, mesmerising and beautiful."
"From the music, costumes and sets, to the melding of choreography with camerawork, every aspect of shooting the "Swan Lake" scenes was a major learning experience but each paid off," Darren Aronofsky notes. "We started out knowing very little about ballet, about how to shoot it and how to get people excited by it, but I think the film really works to connect people to the art form, to make it accessible," he says.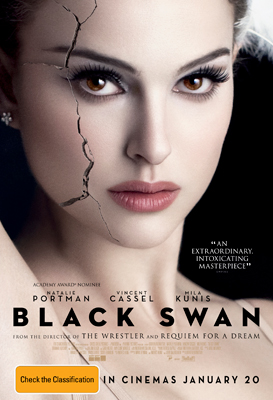 Black Swan
Cast
: Natalie Portman, Mila Kunis, Barbara Hershey, Vincent Cassel, Winona Ryder
Director
: Darren Aronofsky
Genre
: Psychological Thriller, Drama
Rated
: MA
Running Time
: 108 minutes
Synopsis
: A psychological thriller set in the world of New York City ballet,
Black Swan
stars Natalie Portman as Nina, a featured dancer who finds herself locked in a web of competitive intrigue with a new rival at the company (Mila Kunis). A Fox Searchlight Pictures release by visionary director Darren Aronofsky (The Wrestler),
Black Swan
takes a thrilling and at times terrifying journey through the psyche of a young ballerina whose starring role as the Swan Queen turns out to be a part for which she becomes frighteningly perfect.
Black Swan
follows the story of Nina (Portman), a ballerina in a New York City ballet company whose life, like all those in her profession, is completely consumed with dance. She lives with her retired ballerina mother Erica (Barbara Hershey) who zealously supports her daughter's professional ambition. When artistic director Thomas Leroy (Vincent Cassel) decides to replace prima ballerina Beth Macintyre (Winona Ryder) for the opening production of their new season, "Swan Lake," Nina is his first choice. But Nina has competition: a new dancer, Lily (Kunis), who impresses Leroy as well. Swan Lake requires a dancer who can play both the White Swan with innocence and grace, and the Black Swan, who represents guile and sensuality. Nina fits the White Swan role perfectly but Lily is the personification of the Black Swan. As the two young dancers expand their rivalry into a twisted friendship, Nina begins to get more in touch with her dark side with a recklessness that threatens to destroy her.
Release Date
: 20th January, 2011
Website
:
http://www.foxsearchlight.com/blackswan/