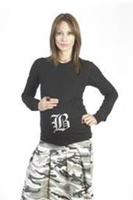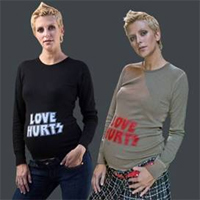 Belly Button Maternity brings rock chic attitude to town with Ruby Van materni-tees.
Belly Button Maternity is the sole distributor in Australia of creator, Ruby Fays, formerly ex-rocker of UK band Caine, rocker style maternity wear.
Her Love Hurts T-shirts are a hit among Hollywood celebrities and have been spotted on Hollywood rebel girl Angelina Jolie.
The tees are snug, long enough to cover the belly during the entire 9-months and completely sexy. The seditious slogans across the belly act as a reminder to all partners that just because shes going to be a mum doesnt mean she has lost that touch of teenage renegade.
Best international slogan sellers will also be available in Australia including: Water Flower, Cherry Bomb, ? (question mark), Its a boy, Mothers do it better, Guitar, Early Rider and Girl in short and long sleeved tees and hoodies and Ruby Van singlet tops in black, ice grey, army, white and red.
The tees are one size fits most. Pre-pregnant sized women 6 - 12 will fit Ruby Van tees right through to their ninth month.
The gorgeous chinese print inspired Yukata kimono silk lounging around gown and wrap skirts with adjustable Velcro panel belts will also be made available on request.
Short-sleeved tees RRP $89 and long sleeved tees RRP $99.
Ruby Van gear can be purchased online at
www.bellybutton.com.au
Belly Button Stores are located in Moonee Ponds, Carlton, Fairfield, Brighton and Camberwell in Victoria and Castle Hill in Sydney, NSW.
Please also read the article on Fashionable Maternity Clothes.