Belle Gugu Mbatha-Raw
Cast: Gugu Mbatha-Raw, Matthew Goode, Emily Watson
Director: Amma Asante
Genre: Drama
Running Time: 105 minutes

Synopsis: Set in 18th Century England, inspired by a painting and the true story of Dido Belle, Belle is the tale of a mixed–race girl, raised as an aristocratic Lady, as she navigates her way through race and class, in a fight for love and self-acceptance.

Half black and half white, Dido (Gugu Mbatha-Raw) is the result of a union between a British Naval officer and an African slave woman. When, at six years old, her mother dies, her father – Sir Admiral John Lindsay (Matthew Goode) - claims her and beseeches his uncle, the Earl of Mansfield (Tom Wilkinson), to take the child into his care and raise her in a manner befitting her aristocratic blood line.

As Lord Chief Justice, Lord Mansfield is the most superior judge in England. With his wife Lady Mansfield (Emily Watson), he already has charge of one great-niece, Elizabeth Murray (Sarah Gadon), and reluctantly finds himself agreeing to his nephew's wishes, accepting Dido, too, into his home. Here, on the grand estate of England's beloved Kenwood House, nestled in the English countryside, Dido will be raised alongside Elizabeth, with equality and privilege, the likes of which were unheard of in England for a -negro' child.

As the girls reach their late teens, the family has become a loving unit. Dido has grown into a beautiful young woman - an adored -daughter' to Lord and Lady Mansfield, and both girls are seemingly on the brink of being formally introduced into -good society' for the purposes of marriage. Dido's biological father dies, leaving her an inheritance intended to establish her as a woman of -fortune' - whilst it is known that Elizabeth's blood father intends to leave her nothing.

Unusually, for a woman of the time, Dido is deemed intelligent enough to assist with Lord Mansfield's paper work in his private study-room at Kenwood. It is here that she meets John Davinier (Sam Reid) a young legal apprentice of Mansfield's. As the son of a clergyman, John is beneath the attentions of any society lady, but he is handsome, intelligent and propelled by integrity.

John's introduction to Dido is a spiky one – as each repels the other. Yet it is the beginning of a love story that will catapult Dido onto a path of self-discovery and see her grow from girl to woman. It comes as Dido's life is proving far from straightforward. Her impending adult years are bringing with them rules which are firmly attached to her black origins. She is not permitted to eat with the family in formal company and soon we learn that Lord Mansfield is forbidding her from entering the marriage market, and from ever getting married, in order to protect her. His fear is that, due to her half-slave bloodline, she will not be able to achieve a marriage equal to her Mansfield standing and position in life.

In a world where marriage was essential for middle and upper class women to receive society's utmost respect and value, Lord Mansfield's decision is devastating to Dido and tension between Dido and Lord Mansfield grows. This heightens as Dido discovers through John Davinier, that Lord Mansfield is presiding over a case in the Supreme Court – an appeal case known as The Zong Affair, which is resonating through England.

Under the orders of a ship's captain, 130 slaves have been deliberately drowned by crew, during a journey from Africa to the Caribbean. The ship's owners are suing their insurers for compensation on each of the dead slaves and Lord Mansfield must decide whether the slaves were rightfully drowned and thus if insurance money is rightfully due. His decision will set a precedent, and define through case law, whether a black life may be taken, purely so that a financial transaction may be made upon the murder. His decision will have a massive impact on the slave trade of both England and America, and John Davinier, begins what becomes a passionate campaign, applying pressure on Lord Mansfield to -do the right thing' and deny the ship owners a pay-out.

As elements of the case unfold, and Dido's wider world is revealed to her, she struggles with her identity and when Lord Mansfield becomes furious at John's growing proximity to her, John loses his pupillage, separating Dido and John. Yet circumstances throw them back together as Dido accompanies Lady Mansfield and Elizabeth to London for the Summer season and Elizabeth's introduction to society.

Despite all Lord Mansfield's concerns, a suitable gentleman of high regard and good family comes forward to state his intentions towards Dido and his wish to marry her. A very pragmatic match, Oliver Ashford (James Norton) would achieve greater status from her inheritance money, and Dido would achieve greater respect from the marriage by uniting her family name with another family of old money and good heritage. Whilst Oliver's mother, Lady Ashford (Miranda Richardson), is initially shocked by the sight of a mixed-race 'Lady", she is keen to make a match with a woman of means for her youngest son. Her elder son James (Tom Felton), meanwhile, is unable to hide his disdain for Dido - a disdain based purely on the colour of her skin – and, when they are alone, assaults Dido both verbally and physically. Unaware of his harassment of her beloved cousin, Lady Elizabeth grows infatuated with the idea of a match with the elder Ashford son and Dido must fight to suppress her true opinion of him and the unsuitability of such a union.

Lord Mansfield gives his blessing for Dido's engagement to Oliver Ashford, but as matters in The Zong case become intensified, so too do Dido and John's feelings for each other. Lord Mansfield's decision on The Zong will say everything about Dido's future world and her value to Lord Mansfield.

Her choice between John Davinier and a gentleman of statu s will say everything about her integrity, her need for love verses position, and her value for herself. Against the backdrop of the controversial 18th Century case of The Zong and its murdered slaves, Belle weaves through themes of morality, identity, cla ss, gender and race, to bring to the fore the love story of Dido Belle and John Davinier, in a world in which one of England's most powerful men stands between them.

Belle
Release Date: May 8th, 2014
About The Production
Belle – The Painting

At the time, Jones was mulling over the idea of making a period movie. 'It's a genre I hadn't done before," he explains, 'and I had an interest in trying to do the dress - up and make believe of a period piece. I was not initially a huge fan of that type of film, so what interested me more was finding a story that piqued my interest and could perhaps add something to that genre."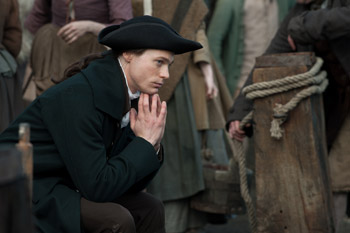 Painted in 1779, the picture shows two girls, one black, one white. Both are looking out at the viewer, the black girl smiling impishly with a finger to her cheek. The other, resting from her book, has almost absent - mindedly taken the other girl's arm. Both are beautifully dressed.

'I came upon it while I was visiting Kenwood House in north London," says Jones. 'I was astonished to see this completely ambiguous portrait, a painting of a stunning white woman and a stunning black woman. Were they friends? Were they sisters? Was one of them a servant, or a visitor? You co uldn't tell. They're touching, there's a wry smile… It's fascinating - indeed the painting and the history behind it have even been credited with influencing Jane Austen's Mansfield Park . It's fair to say most portraits of the period, unless they're obviou sly servants or slaves, do not feature black people. So I thought it would be really interesting to delve deeper."

Jones took an early draft screenplay to Chris Collins from the BFI Film Fund, who recognised the project's potential and came on board to support the development of the film . At the time, Jones had been looking for a project with which to approach British filmmaker Amma Asante, who had impressed him with her 2004 directing debut A Way of Life . Filmed in Swansea, Wales, the film tells the story of Leigh - Anne, a white, unemployed, teenage single mother who, together with her friends, becomes involved in a violent racist attack. What surprised many at the time of its release was the compassion in the story; although it did not flinch from the seri ousness of its subject, Amma Asante's script looked objectively at the lives of this faithless, hopeless generation and examined the roots of the violence that, for many, ha d become – as the title suggests – routine.

'I thought it was really interesting that A Way of Life was written and directed by a black female director," says Jones. 'You wouldn't have guessed that this would be a story she wanted to tell and , for a first movie, it was really well done."

To get Amma Asante's attention, Jones sent the director a postcard of the painting. Recalls Amma Asante: 'He said, -What do you think about this? I've been trying to get a project o f f the ground for a little while about these two girls – but particularly the black girl.'"

The image immediately intrigued her. 'It's an unusual painting, because it's very clear that they're both equals," says Amma Asante, 'and it's one of the first, or at least the first of its kind that we know about in England, to depict a person of colour next to a white person as an equal. A few months before receiving the postcard, I'd gone to an exhibition in Holland that traced the appearance of people of colour in art, in classical European art, from about the 14th Century onwards, right up until the 19th Century, and it charted their progression from background character through to muse. So I felt I knew enough about the painting to know how unusual it was."

Most of all though, it was the image of the black girl that grabbed Amma Asante . 'I felt really strongly that what made the painting really fascinating was Belle's presence," she says. 'That this person of colour was there, dressed in silk as an equal to her white counterpart – that's what changed it from being the stock, standard 18th Century portrait to something quite extraordinary."

The composition of the painting also struck screenwriter Misan Sagay. 'The black woman is standing a little behind the other girl, but she is nevertheless not in any way a slave," she remarks. 'The paintings we know from that period would normally feature a little black mannequin in some way, and she wasn't that. I was struck by her grace a nd beauty, but there was also a directness in her gaze out of that painting that spoke to me. I was also struck by how she was dressed: there was nothing kitsch about her, the way she w as dressed was very bold, with these large pearls. And I felt this was somebody who was experiencing Jane Austen's England as a black woman in a very different way from the way you normally would have thought."

From the conversations that followed, Jones realised that Amma Asante would be perfect to direct the project. 'She knew the world of Jane Austen very well and also the colour has an effect, she's a female black director which is rare in this country, especially in drama, and I thought she would find mea nings in the material that we really wanted to bring out and bring to thefore." Asante jumped at the chance to explore the hidden history of this painting, describing it as 'A nugget of history that has yet been untold."

The Story Behind The Painting

Though there is very little in the way of clear historical fact surrounding the painting, historians know that the portrait depicts Dido Elizabeth Belle and her cousin, Lady Elizabeth Murray. Dido was the illegitimate daughter of John Lindsay, a Royal Navy captain on the HMS Trent, and a West Indian woman, and Dido was sent by her father to stay with his uncle sometime in the early 1760s.

In certain accounts of the story Belle's mother was a slave, in others not, but in both versions Dido finds herself in the household of William Murray (1705 - 93), The First Earl Of Mansfield and Lord Chief Justice of The King's Bench. There, she would meet her half - cousin Lady Elizabeth Murray, daughter of David Murray, the Seventh Viscount Stormont, another of Lord Mansfield's nephews.

That Dido found her way from such lowly origins to such a prestigious household was immediately interesting to Amma Asante. 'I don't think I can express enough how courageous it would have been at the time for Lord Mansfield to take in a little mixed - race child," she says.

Adds Jones: 'We also discovered that both of the two girls were adopted by Lord Mansfield, and the more we learned about the family history, the more it became a fascinating exploration of this woman's journey of self - identity and self - discovery – how the two cousins grew up together, and how colour and class all came into play."

Key to this was the figure of Lord Mansfield. 'Frankly, there aren't enough facts known about what actually happened throughout the girls' daily lives," says Jones. 'But there was definitely a lot written about Lord Mansfield – he was a masterful lawyer who set down certain legal principles that I believe are still in operation today. He was at the top of his game, and lawyers and solicitors would vou ch for his influence to this very day."

Mansfield's standing in society made his decision to adopt Dido all the more significant. Says Asante, 'He didn't choose to make Dido a servant, he didn't choose to hide her origins – he chose to be very open about them a nd not only did he make her a central part of the family, he chose to enshrine her in a painting that still exists today. The level of courage that would have taken… Well, there aren't the words for me to express that. I am so in awe of his courage."

Developing The Story

Once she signed up, Asante knew she would need to throw herself in to a very particular world. 'It was a question of where to start, really" she says. 'I wanted to go back to scratch, to start again with the project – find out exactly who Dido was, how much of her story we knew, how much of it I could create to turn it into a dr amatic piece of work in a film."

For Asante, this raised some very interesting questions about the real Dido. From the limited information that was availabl e it was clear that Dido went on to marry after the death of her uncle, which gave Asante the key element she was looking for. Not only would this be an exploration of the social mores of the time, it would also be a love story – a love story that would re flect not just Belle's standing in society but her place in the wider world. 'What was really important for me was to make sure t hat Dido had a very clear arc," she says, 'and that this story arc involved her going from a person who is a little bit unsure about who she is – this combination of being black and white, of being rich and coming from a very poor background – and ensure that this journey paralleled the love story. Essentially, what you have is a girl who grows from a girl into a woman by falling in love, but also by being given the information that allows to her to become a woman."

In this respect, the story is the opposite of what we might expect from a period film about a mixed - race socialite. 'It's not My Fair Lady," says Jones . 'Dido has bee n raised in this household from a very young age."

So instead of being the story of an outsider trying to fit in, Asante's film became the journey of an insider who is trying to break out. Explains Jones, 'She's illegitimate, she's of mixed race, and she' s adopted into this aristocratic family who raise her as if she's one of their own. And when she comes to an age when it's time to enter society and get married, it seems she's going to be denied that – her fate appears to be that she will inherit the keys to the house and be the governess of the family, just like the governess who raised her."

At this point, the filmmakers added an interesting twist. 'Her father, whom she hasn't seen for years, dies, leaving Dido a lot of money in his will," Jones continues. 'Suddenly she is a catch, she can start to make her own decisions. As much as she loves them, she's no longer beholden to her adoptive family. She can make her own choices, so she starts to reflect on her own parentage and her heritage on her mother's side. She starts to question the people around her: do they or don't they treat her as an equal?"

It was important to the director, then, that the love story should give Dido's world an equilibrium, but this time a balance of her own making. This she does by choosing a lover based on her new feelings about self - worth and equality. Says Asante, 'It tells a beautiful story of a young lady who develops in character as she grows through her journey. She comes to learn who she is, where she fits in, what she wa nts out of life – and also at the very heart of it is a true love story, in the sense that we have two young characters that fall in love, each finding themselves in the other."

Lord Mansfield And The Trial Of The Zong Slave Ship

Played by Tom Wilkinson, the figure of Lord Mansfield is a formidable character and possibly the most profoundly influential person in Dido's life. 'Lord Mansfield is the patriarch," says Asante. 'He is the Lord Chief Justice of England – the highest judge in the land at the ti me – and he is a fascinating character because he really straddles the point of change that is happening at the time we come into this story. He is a man of conditioning, a man of the rules, and he is a man who definitely feels that the world is a better world if rules are in place. That is why he is a man of the law.

'So he has one foot in that area of life," she continues, 'but at the same time he is also looking forward. He is quite progressive, without acknowledging it a lot of the time, and I think i t's this side of his nature that causes him to take in Dido. He is not going to reject her, even though she's a mixed - race child, because he is a man of progression. He is looking forwards, and he is able to do that in a wo rld where many of his peers are unable to do that."

Says Tom Wilkinson, 'Lord Mansfield was an interesting man, in the sense that he didn't come from the upper class. He was Scottish, certainly not from the aristocracy, and he worked his way up through the ranks by virtue of his academic and legal brilliance."

Significantly, at the moment that Dido is becoming a woman and preparing to enter society, Lord Mansfield is heavily involved in a court case involving events on board the slave ship Zong at the tail end of 1781. Built by the Dutch, th e vessel was acquired by a Liverpool shipping company in March of that year and was transporting 442 slaves from Accra in Ghana, Africa, to Jamaica when the incident occurred. Having taken on too many slaves, who were forced to live in cramped, unsanitary conditions, the ship's owners realised that their 'cargo" was falling prey to disease and would not fetch a good price at market.

Says Asante, 'They had become ill – too ill to achieve their value on the open market. They weren't going to arrive at the e nd of their journey healthy enough to be sold, and so it was seen as being easier to drown them and claim the insurance than to try to sell them for a very low sum of money, knowing that they would probably die a few weeks after their arrival."

Asserting that water supplies had become too low, and hoping to exploit a loophole in maritime law that allowed for insurance claims under the aegis of 'general average", the Zong's owners deliberately set about jettisoning approximately 142 men, women and children.

The Zong's owners deliberately manipulated the facts of the claim, to the extent that when it was first brought in March 1783, Lord Mansfield actually found in favour of the ship's owners. But when the insurers refused to pay, an appeal was ordered, by which time more details had emerged. Not only did the ship have several opportunities to replenish water supplies – not just at the ports it passed, but via a day's heavy rainfall – the crew had weighted down particularly rebellious slaves with iron balls. This time, Mansfield would see things differently.

As Asante notes, Mansfield was progressive in this area. Prior to the Zong case, Mansfield had made a landmark judgement in 1772 at the hearing of Somersett's Case, in which a runaway slave named James Somersett had become a point of contention when three people, claiming to be the man's godparents, challenged the rights of Somersett's 'owner". Mansfield's ruling refused to recognise slavery in the UK, paving the way for abolition throughout the rest of the Empire.

However, it is a measure of the times that, even when faced with the deaths of so many innocent men and women, Lord Mansfield was obliged to give full consideration to the Zong owners' case and, to his peers, it was always possible that this fastidiously legal - minded man might decide again in their favour. Did Dido influence his thinking? It was a question that weighed heavily on Asante's mind. 'Every day while we were filming," she says, 'it was going through my head. It's very difficult to know for certain, but I think it would be disingenuous to believe that her presence in the house didn't have some impact on him. How much? I can't say. I like to think that Lord Mansfield would have done the right thing anyway – I truly believe he would have. But it certainly makes for a more fascinating and complex story to think that his love for this child opened his eyes, or perhaps helped focus him a little more clearly on the plight of those drowned lives."

Finding Dido

Asante had the task of cast ing the movie. 'It wasn't easy to find Dido," she admits. 'We knew that we were going to have to find a rising star and we knew that this person would have to carry the weight of an entire film on her shoulders – she's in almost every single scene." After a long search, having seen 'quite a few girls that matched the criteria", Asante and Jones settled on British actress Gugu Mbatha - Raw, an Oxfordshire girl of South African descent.

'I've been a fan of Gugu's work for a number of years," says Jones. 'She w as actually in a film of mine years ago, Straightheads (2007), in a tiny, blink - and - you'll - miss - it scene, so I was following her career with a lot of interest. We stayed in touch, I followed her career. She went to America; she was Ophelia in Hamlet with Jude Law, and that took her to Broadway. After that, she got great roles in TV and films in the States, where she's been working for the last two or three years. And what she's learned out there has really elevated her – she's one of the best actresses in t he country. It's a great role for any actress, but she was always head and shoulders above everyone else."

By Asante's own admission, however, the character of Dido would still be a challenge for any actress, no matter how talented or experienced. 'There is a complexity to Dido," she explains. 'It's very difficult to paint Dido as a girl who has all these wonderful things around her – she's privileged, she has a family that loves her and has been whisked away from a life of poverty – and not have her not c ome across as a spoiled little madam for whom nothing is good enough. Especially when considering the lives of other people like her at the time. So it was very important for us that we should cast an actress who could get that balance right – s omeone you would like , someone you would empathise with."

Mbatha - Raw, who'd never appeared in a period drama before, says the part appealed to her immediately. 'It was the story that hooked me initially," she says. 'Just the idea that there was this girl who was part of our cultural legacy in England – a mixed race woman in the 1780s. Speaking as a mixed - race woman myself in 2013, there aren't that many historical stories for people like me. When people think of -dual heritage', they think it's something of a modern concept, or of the 20th Century, but really it's not. So the fact that Dido was really a pioneer of her time is amazing to me and I wanted to do justice to her. Her story needs to be known . Which is a tremendous responsibility but it's exciting at the sam e time, because I really want people to share that story."

Asante feels that, in her performance, Mbatha - Raw gets right to the core of Dido's being. 'The power of Gugu, for me," she says, 'is in those moments when she really reaches inside the character a nd you really understand her experience.

The Mansfield Household

The story starts with Captain Sir John Lindsay, played by Matthew Goode, collecting his daughter from the living nightmare of Bristol docks. 'I find her in the slums," he explains, 'and she makes quite an impact on my character. She's in quite an appalling state, which is another reason Lindsay wants to take her away and put her with his family."

At this point, all Lord Mansfield knows is that Lindsay will be bringing a child with him to the family home at Kenwood House, on London's Hampstead Heath. 'So when I arrive at the beginning," says Goode, ' Lord Mansfield and the ladies in the room are shocked by Dido's colour. At the beginning, certainly, he's reticent – because of his position in society – about taking on this responsibility. But he's got a good heart, and take it on he does."

Tom Wilkinson notes that Mansfield's domestic arrangements were unusual in more way than one. 'I like the fact that Lord Mansfield has an emotional, loving relationship with his family," he says, 'including his wife. That might sound surprising, but he didn't have to – this was an age where marriages were often arranged at certain levels of society. That wasn't the case with Mansfield; he loved his wife and family."

Says Amma Asante, 'Tom Wilkinson was obvious casting as Lord Mansfield. The actor who played him had to have gravitas and also he had to be tough, but he had to ha ve the warmth and empathy that Tom Wilkinson brings to the character. You also have to believe that the relationship between Lord Mansfield and Dido is really strong. Tom Wilkinson brings great qualities to Lord Mansfield and, actually, makes him a little bit more gentle, a little bit warmer in more ways than I had envisaged."

Mansfield's wife, played by Emily Watson, is, suggests Asante, something of the power behind the throne. 'Lady Mansfield, in her own way, is running that household," says the director. 'I feel, in a way, that it was her decision to take Dido in. I feel very strongly that it would have been impossible for Dido to have been brought up the way she was – to be brought up as a lady, as an equal – without Lady Mansfield sanctioning this. I feel she was a woman with a great heart, very magnanimous."

Emily Watson admits that such philanthropy is perhaps not uppermost in Lady Mansfield's mind when Dido first arrives at Kenwood House. 'Their first reaction," she says, 'is, -How dare you? You've brought this black child for us to raise in our family as part of our family.' Racism was completely accepted in those days – it was unusual not to think about it in any other way. But Lady Mansfield very quickly decides to take this challenge, even though she knows there are going to be problems ahead. What's going to happen when Dido gets to the age when she needs to be out in society? Is she going to marry? It was a profound, brave and singularly principled thing to do at that time."

As well as the Mansfields, the other person young Dido meets for the first time is Lady Mary Murray, played by Penelope Wilton. 'Lady Mary is Lord Mansfield's sister," says Penelope Wilton. 'She's not married, but she has had a relationship – one that her mother didn't allow to go any further. Her job is a sort of chatelaine in the house. She's a very caring, rather kind woman, but with a feeling that she has to keep the decorum of the house. And also she has grown up in a political house, so she's informed and very well educated, which makes her a very interesting, rounded person to play."

The Mansfield's home is also where Dido encounters Lady Elizabeth Murray, played by Sarah Gadon. Says Asante, 'When we first see her, Elizabeth is a very lonely child in a very big house, and I wanted the feeling that once there were two children in the house, the house would come to life. Suddenly there is music in the house – the fires burn and it is a much warmer place. It's very true to say that Elizabeth makes a choice when Dido arrives. She could either feel that this is somebody who is encroaching on her territory, or she could see her as a friend, as a sister. So she makes a choice: she's going to love Dido and not see her colour."

At first it seems that the two girls are with the Mansfields for the same reason, but it soon becomes clear that this is not the case. While Dido's father is acting honourably towards his daughter, Lady Elizabeth's is not. 'Elizabeth and Dido grow up in the Mansfield home as sisters and as equals," says Sarah Gadon. 'But they come from different places, in the sense that Dido is from the slums, even though her father is a notable man. Elizabeth, however, was born into more privilege. Her birth mother has died, and her father is unwilling to recognise her as his child, so he leaves her in the custody of the Mansfields. So the difference is that Dido's father acknowledges her, whereas Elizabeth's father does not, which is why Lord and Lady Mansfield step in as their parents."

However, it is Lady Mary who has the closest interaction with the girls, as their tutor and moral guardian. Says Wilton, 'Lady Mary takes care of their day - to - day needs. She's taught them to play the piano, she's taught them how to sew, she's taught them how to do a little bit of painting and she's really taken care of their manners, making sure they have been brought up as nice young ladies. She only wants the best for them . She has a side to her that is quite severe. But there's also a very romantic side to her – she wants them to have a life, and not the life that she had."

The Character Of John Davinier

In the late 18th Century, life at Kenwood House would have been something of a safe, leafy haven for the girls, especially Dido. 'Nowadays," says Asante, 'we think of Hampstead as a place that's almost in central London, but in those days it was the countryside. So Dido would have been very much closed off from the rest of the world there. She would be kept away from any issues of slavery, any issues faced by anybody who might have lived a life similar to that of her mother. But when John Davinier comes into her life, with him comes information, information that allows her to make choices about herself, choices that allow her to grow as a person."

John Davinier, played by Sam Reid, is the son of the parish vicar, and when he comes to the Mansfield home his ambitions lie not with Dido but with Mansfield himself. Says Reid, 'At the beginning, I think John is more concerned with Lord Mansfield. When we meet him, he wants to be Lord Mansfield, he wants to be in that position. And although John is a little ambitious and rambunctious, Lord Mansfield recognises his passion for humanity and his passion for the law and the good in human nature. Lord Mansfield recognises his younger self in John. He's had to contain that and work around it – find a way to make it work within the boundaries of the law."

For a time, John Davinier l ooks to making headway with Lord Mansfield. 'He begins as Lord Mansfield's pupil," says Reid. 'He's probably a little bit more emotional than Lord Mansfield and doesn't have the same grasp on how to deal with the law that he has, but I think there's probably a similarity between them that Lord Mansfield comes to recognise. He's a young man with huge ambitions ; he wants to change the world, because there's a lot of injustice in it. He can see that, through the law, he can make changes. But his way of going a bout it is to stamp his foot and shout."

Wilkinson agrees that there are fundamental differences as well as similarities between the two men. ' Lord Mansfield's relationship with John Davinier is slightly rocky," he says, 'in the sense that my character sees this young man's ideals as not being suited to the legal world. At th e beginning of the story, Lord Mansfield is more pragmatic about what can or cannot be achieved, whereas John is much more of an idealist. Lord Mansfield dismisses this at first but then slowly sees the validity of his position. He comes round to the fact that this ought to be translated into law."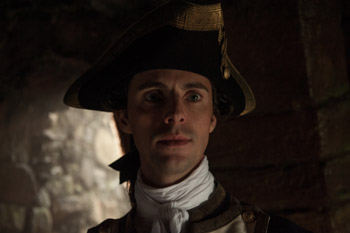 It is through Davinier that Dido first hears of the Zong slave ship and of Lord Mansfield's involvement with the appeal. When Davinier and Lord Mansfield fail to see eye to eye, Dido becomes more and more attracted to this obstinate but principled man. Says Asante, 'She starts to move in John's world – and John's world is a world of intellectuals and revolutionaries – people who want to make an impact on the world , who, as John actually says in the film, -want to make the world a better place'.

'Because, at that time, artists really were pushing the boundaries. They were trying to change the social norms, and a lot of the writing that was ag ainst slavery came from poets, journalists and artists, or people who painted, or people who drew and people who wrote. It's the world of the inn, the world of the canal and it's a very working - class world – but it's mixed together with quite an intellectual world. It's an arty world, but it's also quite a socially aware world."

Dido's attraction to Davinier and his ideals do not go unnoticed by Lord Mansfield, and they have an effect on his preparations for the Zong case. Says Wilkinson. 'Lord Mansfield is caught between a rock and a hard place. On the one hand, there's Dido, who is born of a slave mother and who in some way represents the slaves who were drowned by the owners of the slave ship. And on the other, he is a wealthy man about to rip out the foundation of the livelihoods of his peers and those people around him if he finds against the slave owners, if he actually stands up and has the courage to say, -This is wrong.' He has to struggle with that decision."

But instead of making Dido choose bet ween the two men and making this a simple matter of right versus wrong, Asante took the bold step of emphasising the similarities of the two men's personalities. 'It was very important for me that John is a mirror image of Lord Mansfield," she says, 'and t hat these two men who love Dido so much, are actually one facet of the other. John Davinier is really a reminder to Lord Mansfield of who he used to be before he became a part of the establishment. So you have these two men that Dido loves and who both love Dido. They have great similarities – they are both massively progressive people – and that's why they are able to love Dido, and that's why Dido is able to love them both."

The Ashford Household

As well as the more socially relevant aspects of the story, Asante was keen to explore the more traditional elements of the period costume drama. 'I've never seen a film," she says, 'that combines the Jane Austen elements that we know so well – the marriage market, and the lives of girls who are growing up into ladies – combined with the story of slavery. No, we don't go into the lives of slaves in massive detail, but, yes, there's a weight to our story, one that doesn't negate the lightness of the lives of Dido and Elizabeth as they grow up at Kenwood."

By juxtaposing the fates of the two girls, Asante takes the opportunity to explore the lives of many women of the period, not just Dido's. Far from being a victim, Dido emerges the more fortunate of two when it comes to marriage. 'In our story," says Asante, 'Elizabeth is not an heiress and Dido is, and so we have turned the story on its head slightly. It is the mixed - race character, who you would least expect to have money and a dowry, who becomes the character that young gentlemen are interested in marrying – because she is worthy of being married."

In the course of her bid to enter society, both Dido and Elizabeth encounter Lady Ashford, played by Miranda Richardson. 'Lady Ashford is a high - society lady of the 18 th Century with a job to do," says Richardson. 'Which is that she has two sons and they need to be married. You see this all through the film: her main goal is to get her boys married off in a match that will enable them to go further than the generation before – and in high society, that has a lot to do with land and money."

When she first meets Dido and Elizabeth, Lady Ashford makes the assumption that Elizabeth is the girl who will carry the biggest dowry and dismisses Dido entirely. But when the truth of the situation is revealed, she has second thoughts. 'What's so lovely about Lady Ashford is the dilemma she faces about this mixed - race girl," says Richardson. 'How black is black? Is Dido white enough to be a suitable candidate for her son? Dido is refined, beautiful, highly accomplished and she has recently come into a fortune, so Lady Ashford has to persuade herself that Dido is white enough to marry her son. She makes that turn - around with great facility, because she can see the advantages of the match. And, indeed, there is no downside – except that the social conventions of the time mean that her son has n o business marrying a woman who is deemed as black."

Lady Ashford's two sons – James (Tom Felton) and Oliver (James Norton) – are equally bewildered by the arrival of Dido on their social scene. At first, both men are horrified at the thought of marrying a mixed - race woman, even though both are undoubtedly attracted to her. Though Oliver begins to develop feelings for her, James maintains his hostility until the end. 'My character, I think, represents the status quo of the time ' says Tom Felton. 'I'm sure many viewers will be shocked by James Ashford's opinions and the way he holds himself, but in fact that really was quite the norm, so for me it's interesting to explore that as a character. By modern standards, James would be considered vile, but back then he would have considered himself proud and keen to keep his tradition and heritage the way it had been for the last hundred years."

Just as she had been careful with the characters in her firs t film, A Way of Life , Asante was determined not to turn James into a hate figure. 'Amma said very clearly that he's not a villain," says Tom Felton. 'He's not supposed to be depicted as the devil of the story. Sympathy is perhaps too strong a word, but my job was to try to gain some kind of empathy for him and his position – why he feels threatened. And I think half of it is because she is so attractive . That's something that clearly infuriates him; that someone -of colour' – as he would say – can be so beauti ful and hold themselves in such a lady - like fashion."

Oliver, on the other hand, finds his prejudices challenged by his emotions, spending more time with Dido and beginning to understand her. 'Oliver goes on quite an interesting journey," says James Norton. 'At first you think of him as a player, a bit of a cad who is perhaps after Dido for her money. And then, like everyone else, he falls in love with her. He's not a stock - character villain at all. Yes, he's a man about town, and he's had a history with the lad ies, but then he meets this girl and he's genuinely taken with her. The thing about Oliver is that he's completely conditioned by society, by its conventions and propriety – and that's his downfall. His values are very different from Dido's, and when he re veals his true self to her, she knows she can't marry him."

Recreating The Era

To prepare to enter the world of the late - 18 th Century, the filmmakers went back to the beginning of the story: the painting of Dido and Elizabeth. Says production designer Simon Bowles, 'Amma and I went to see the actual painting a few months before we started shooting. It's amazing; you can look into the distance and see what's behind them, see what they're sitting on and what fabrics are behind them. It's a wonderful paint ing. Taking the story from that one painting and expanding it into what you see onscreen has been such an exciting project."

For Asante and Bowles, it was important to see the sweep of Dido's journey reflected in the film's production design. 'We really w ant to take the audience with her," says Bowles. 'From the grot and the grime of Bristol docks to the sharp contrast of Lord and Lady Mansfield' s country home at Kenwood House in London's Hampstead Heath. For Bristol docks we really wanted to have the flav our that this was the gateway to the rest of the world, so we stacked it up with big trading ships.

This was the way Dido came into the country, and it was important to show that, to get that sense of connection with the rest of the world. It was a big th ing for every department, it's in the costume and it's even in the sound – we really wanted you to hear the effort of the workers at Bristol docks before you hear the quiet sound of birds chirping at Kenwood House."

Sadly, although it is one of the UK's best - preserved stately homes, shooting on location at Kenwood House would not be possible. 'It was being renovated," says Bowles, 'so it wasn't possible for us to film there. It was under scaffolding, the whole place had been stripped out, the wall covering s were off, the floors were up, and the whole place was like a building site. "

Fortunately, the original Kenwood House was designed by Scottish architect Robert Adam (1728 - 1792), a pioneer of the neoclassical style from 1760 onward. 'There are a few more of Adam's buildings in London," says Bowles, 'so we had a look at those as alternatives. We wanted to create our own version for the film, so we used five different houses in all to spread it out: the dining room is in one house, Lord Mansfield's study, th e entrance hall and the long gallery is in another, the drawing room is in another, and are all tied together with the furniture."

Says Bowles, 'I've kept everything in Kenwood very square. All the furniture has square backs to it, and the fabrics are ver y large, with flowers and strong colours." This contrasts strongly with the Mansfield's London home, to which the family move for the season. 'In Bloomsbury we have very curvy furniture," explains Bowles, 'using fantastic embroidered fabrics with mahogany. These are very specific period details – the furniture was painted and made with very simple fabrics – so it's nice to bring a little bit of the rest of the world into Bloomsbury when they come to London."

Dressing the Mansfield's London home, a townhous e in Bedford Square, was just as much of a challenge. 'It's now 250 years later," says Bowles, 'and a lot of work has been done on those houses since then. Windows, doors, even the roads and trees – all these things have changed. For a start, you have tarm ac with white lines on the roads, so we broke that up and put down peat to make it look like horse manure. We swapped the doors, put glazing bars on the windows, removed plant pots, took away street signs and put lamps on top of any posts that we couldn't physically remove."

It was vitally important for Asante to get the period detail just right. 'We are incredibly lucky in Britain," she says, 'because we have all these wonderful homes that have been preserved in the way that they are. And it was fantastic to put Dido into this environment. We've never seen a mixed - race character in this setting before – against those amazing backdrops, those statues, ceilings, floors and walls. And although in one way you know it's strange, because you've never seen it bef ore, in another way, Gugu fits in perfectly. She doesn't seem odd in those surroundings at all."

Or as Mbatha - Raw puts it, 'At first it was just the painting, then it became words on the page, and then I was standing in a country mansion, or sitting in a carriage. I loved seeing it come alive."

Shooting The Era

Although he has worked extensively on period dramas in the past, cinematographer Ben Smithard readily acknowledges that 'anything set in the 18th Century is going to be a challenge . " Says producer Damian Jones, 'Amma and Ben worked very hard and very early in prep, just going through the script making sure that Amma got what she wanted and Ben could add that little bit extra. It's been a great partnership. Ben shoots beautifully, and the film loo ks stunning. We've been so fortunate; he's terrific. He makes it look absolutely beautiful and big."

Shooting with a Sony F65 – which he describes as 'a very high - end, very high - quality digital camera that is, I think, a little more filmic than most of t he other cameras" – Smithard says that, just as it was for Asante, research was paramount. 'I didn't really look at any other films for reference," he explains, 'but I did look at a lot of paintings, because that was the dominant art form of the time – photography didn't really arrive for another 70 years." He also credits Amma with helping him understand the day - to - day behaviour of the time. 'Amma had really done her homework," he enthuses. 'She'd done a lot of research into the etiquette of the day, how p eople talked and what they did. That really helped, because it gives you something to key into. If what you're doin g with the camera isn't in synch with the way the characters are behaving, it won't look right."

These two concerns took Smithard back to the painting. 'On a purely simplistic level," he says, 'it shows the closeness of the two girls. I mean, they're not re lated, but they did become sisters, in a sense. That story i s all there in the painting – the way they've been posed and the way they're lo oking out at us. And it's real; it's almost like those two girls went into a photographic studio in the present day. There's a truth in there. It's not fake: the love between those two girls is genuine. So it informed the way I shot the two of them. Visually, I tried to treat them as equals, because they were equal in their own eyes. Even though, to the rest of the world, they weren't."

Going into Dido's world, Smithard relished the chance to shoot on location. 'I love shooting in very old buildings. Because when you're there, it puts you right in the moment, right into that time." He also refutes any suggestion that shooting period drama is somehow limiting. 'I don't think it is," he says. 'If anything, I limit myself, to a certain extent. I don't use any light that feels modern, as such. I try to use very simple, old - school lights, and I think it really helps. Because when you're using more modern lighting, like fluorescent lights, for example, some of the colours can be a wayward, so I try to avoid that. I used candlelight a lot and that can be quite tricky, so I would always augment it with other things. But it was a great opportunity to create some very beautiful images."

Asante takes up the story. 'The name of the game for everybody involved in this film," she says, 'was beauty, beauty, beauty – the whole time. I knew I didn't want any garish colours that screamed out to you unnecessarily, I knew that I wanted harmony. It was very important for me that when we were with the girls at Kenwood we were deal ing with pastels, we were dealing with the colours of innocence. Then once we get into London, and the scales do start to fall from their eyes, we deal with a lot more sophisticated colours – because we are dealing with more sophisticated characters – which means we are dealing with deep burgundies, deep emerald greens; we are dealing with much more lush and darker woods. The Bloomsbury house is much smaller and more intimate."

Likewise, Asante eschewed handheld camerawork, preferring old - style dolly and tracking shots. She says, 'It was very important to place this unexpected character in a very expected world. A very classic world, a world that we recognise. So we didn't want to get too edgy with it. The important thing about the real Dido was that she existed in that classic, Jane Austen world; and we didn't want to change the audience's perception of that world. So we went for classic all the way."

Dressing The Era

Restrictions were also at the forefront of costume designer Anushia Nieradzik's mind. Before shooting started, Nieradzik brought in the actors not just for their costume fittings but so that they could see for themselves what the era looked like. 'It's good for the actors to come in and try on different shapes and styles," she says, 'so they can get used to them, see how it might change their body language. There is a quite bit of restriction, because the outfits are quite stiff."

For the women, there were the corsets. 'Being in a corset for 10, 11 hours a day is a real shock to the system ," laughs Mbatha - Raw. 'You do get used to it, but by the time you get to your days off, your body sort of expands and relaxes, and then you have to be pulled back into it again. But it is very informative to the character because you start to realise that for the ladies of that time, there was so much they couldn't do. I couldn't even do my shoelaces up myself! It really does inform your physicality and your posture. There's a certain speed and pace of life that was different then. I mean, we're so busy the se days, but those ladies would read, play the piano, do their embroidery and look pretty, so being in a corset, you really do feel those physical constraints of women at that time. As much as we all complained about our corsets, they put us very physically into that place."

Says Nieradzik, the problems one would presume to associate with period clothing usually only arise from the fact that it isn't being made and/or fitted correctly. 'If it's on properly, the corset does do quite a lot of supporting," sh e says, 'and it does mould to a woman's body. Usually when you see period dramas people are actually wearing furnishing fabric, which is actually intended to be used for curtains and upholstery, so it's heavy and it chafes, which is why I would never use it. Whereas clothing fabric – silk, taffeta, silk, muslin – is really quite light."

And like Ben Smithard, Nieradzik's first and most important reference point was the painting, not just for its visual representation of the clothing style of the time but f or the interesting dynamic of its dual - subject image. 'For artists in the 18th Century," she says, 'the main priority was status, so it was quite unusual having a girl of mixed - race not kneeling down and being servile to the lady. She's actually slightly a bove the other girl, almost. So I did try to echo that relationship in the way that I dressed the two girls. I didn't want to make Dido look any lower than her cousin."

Interestingly, Nieradzik says she never expected to have to replicate the painting on screen, simply because – like the film – the painting was a fiction.

'We never did," she says, 'and that was true to the spirit of the painting, because the painters of the time would simply make up the backdrop. These regal people would seem to be sitti ng in their sumptuous grounds, or wherever, but really they were sitting in front of a backdrop, just like the theatre. So I tried to take little bits from the painting. I knew we were never going to see the girls dressed exactly as th e y are in the painting, but I did give them the same necklaces, so that the effect would be slightly subliminal."

To reflect the film's visual shift from pastoral tranquility to urban bustle and back again, Nieradzik created a wide variety of costumes for the two girls.

'There are two looks," she says. ' Their first look is for whe n they're in Kenwood House. At that time Hampstead Heath was practically the country – it was surrounded by fields and was, for those days, quite a way away from central London – and the Mansfield family were quite cocooned there. There's a line in the film where one of the girls says, 'When we have visitors, can we wear our silks?' So I dressed them in cottons and slightly gentler, less formal clothes.

'But when they come into London, and they have to enter the marriage market," she continues, 'we see the second look. Everything becomes a bit stiffer, more showy and dressed up. So that was the contrast – they were less puffed up when they were around Kenwood House, just being free."

The men, by contrast, proved rather simpler. 'The guys have less fabric to drag about," says Nieradzik, 'but it's still a very different silhouette to the kind you'd see in other periods. Particularly with the hats, because there wasn't such a selection of hats that you could choose from back then. It was really just the tricorn. Even the working - class wore the tricorn as well."

Tom Felton, who plays James Ashford, claims that these strictures were invaluable in terms of finding his performance. 'We rehearsed in our civilian clothes," he says, 'but it certainly added a whole new dimension when we started putting on these fabulous costumes and hairpieces. I mean, every little detail, right down to the little snuff ring that James has, really helped me get into character very easily. It would be almost impossible for me to be myself in those clothes."

Asante says that the combination of cast and wardrobe were the key elements in bringing her vision to life. 'What's been really fascinating for me," she says, 'has been thinking that I know a particular character inside out, and then learning there's even more to that character than even I could have ever known. That's what the actors bring to it. There's a sensitivity there, and a sensibility, that I knew would come, but I didn't know how, or in what guise and in what way."

'And Anushia," she continues, 'did an absolutely extraordinary job. I saw some photographs quite early on, when some of the dresses hadn't even been finished, and they were just breathtaking. Suddenly they were my characters, just as I'd always seen them. Not only were they fabulous, they were now very much alive."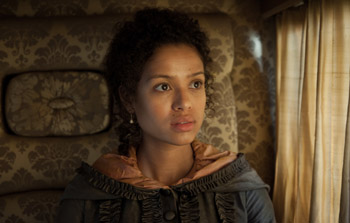 The Moral Of The Story

Though tantalisingly little is known about the day - to - day life of Dido Elizabeth Belle, we do know that she died in 1804, living in London's Ebury Street, SW1, with her husband John Davinier, having had between two and three children. She was 43 years old – young by today's standards, but in the 18th Century reaching 50 was deemed an achievement. So we do know that Dido did attain some kind of satisfaction from her life. She was not a victim, and whatever she achieved within her life, she appears not to have been diminished by the obvious boundaries that faced her.

Says Asante, 'Dido very much goes from a girl who says, -As you wish, sir,' to a woman who says, -As I wish.' Not because she is being selfish, not because she is a privileged young woman who wants more, but because she is a woman who is saying, -I want equality. I would like equality within my own household and within the world that I exist in.'"

For Gugu Mbatha - Raw, in this respect Belle is not simply a film about an individual woman in a certain period of time but about all of us. 'These issues are universal," she says. 'It's about family, it's about falling in love for the first time and it's about finding your identity in the world. These are very resonant, contemporary issues." Producer Damian Jones adds , 'It's a story about someone discovering who they are, both figuratively and physically, as well as finding true love. If those things aren't universal, I don't know what is!"

For Asante, Belle was also a chance to continue to explore some of the issues she first raised in her debut film, A Way of Life . But where as that story was about young people who are desperately in need of love, her second film is about a girl who is shown love and finds love. Through that love, she finds a voice and is able to stand up against the things that she feels aren't right with the world.

Says Asante, 'In terms of the them es that will resonate with the audience; I like to think the love story will draw people in. But I also like the idea of drawing those people in and ensuring that they leave the cinema with a whole lot more. So although the love story is very important, I like to think that they will leave feeling happy with Dido's sense of completion, in terms of her journey, and also be uplifted by Lord Mansfield's journey in the story as well. He is a father who has to do the thing that I guess all fathers find hard to d o when it comes to their daughter and that is to let go. Let her go, let her fly, and still love her, regardless of the decisions that she makes."

As far as the moral of the story goes, however, Asante is quite clear. 'I think the moral of this story is that sometimes – sometimes – love can conquer all," she says. 'Sometimes love is enough. When I look at that painting of Dido and Elizabeth, I don't just see two people, I can see three: Elizabeth, Dido and Lord Mansfield, because they are all so relevant to that painting, and that painting could only have been commissioned out of love. And so for me, what was the starting point for the film – Dido's father, Captain Sir John Lindsay, accepting his responsibility and saving Dido from a life of poverty – is ca rried through to the end, with Lord Mansfield and his ruling in the Zong trial.

'It's about doing what's right," she concludes. 'As John Lindsay says to the Mansfields at the beginning of the film, 'What is right can never be wrong, what is right can nev er be impossible,' and I like to think that's true. So much of this story is about love and about courage and I like to think that sometimes love and courage are enough ."




Belle
Release Date: May 8th, 2014