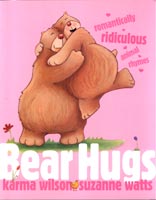 Rhino Mister and Rhino Miss
gaze at the moon in rhino bliss.
They rub their rhino tusks like this.
And now you've seen
Rhinocerkiss

Karma Wilsonprevious picture books include Bear Snores On, Bear Wants More, Bear Stays Up For Christmas and Bear's New Friend all illustrated by Jane Chapman, as well as Bear Hugs, Hilda Must be Dancing, Moose Tracks!, Mortimer's Christmas Manager and Sleepyhead. She lives with her family in Montana.

Suzanne Wattswas born and raised in Gloucestershire, England, and lives in an old fisherman's cottage near Falmouth with her husband and two cats, Benny and Floyd. She also illustrated Karma Wilson's Hilda Must Be Dancing.

Simon and Schuster
Author: Karma Wilson and Suzanne Watts
ISBN: 9781416949589
Price: $14.95

An endearing story full of rhyme and love.