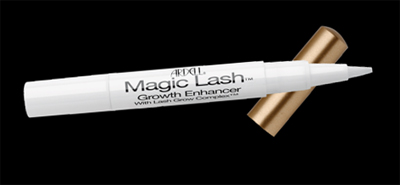 Ardell's MagicLash Growth Enhancer
"Attending a masquerade ball need to find man, how do I get the attention I want and demand without revealing who I am!"

Want stand out luscious natural lashes?

Give your lashes a healthier, fuller appearance with Ardell's MagicLash Growth Enhancer.

This concentrated serum is a new breakthrough formula which fortifies and rejuvenates lifeless lashes with Opti-Grow Complex™. Multi-proteins immediately work to repair weak, thinning lashes and stimulate new growth so that they appear healthier and fuller while preventing future loss.

Conditioners are also added to nourish lashes to protect against future damage. The pen-style delivery system allows for precise application on the lash line where it is needed most; at the root. When used daily, results can be seen in as little as 3-5 weeks.

Flatter your eyes with luscious lash!

Ardell's MagicLash Growth Enhancer
RRP: $19.95

Available from Terry White and selected pharmacies nationally.
Selected ArdellBrow accessories available from Priceline. For nearest stockist call (02 ) 8709 8800.