Rio 2
Cast: Anne Hathaway, Jesse Eisenberg, will.i.am, Jemaine Clement, Tracy Morgan, George Lopez, Leslie Mann, Rodrigo Santoro, Jamie Foxx, Andy Garcia, Bruno Mars, Kristen Chenoweth
Director: Carlos Saldanha
Rated: G
Running Time: 101 minutes

Synopsis: It's a jungle out there for Blu, Jewel and their three kids in Rio 2 after they venture from that magical city into the wilds of the Amazon for a family reunion. Out of his element in a land he doesn't know, Blu must face his most fearsome adversary - his father-in-law - while evading Nigel's fiendish plans for revenge.

Rio 2
Release Date: June 30th, 2014 (VIC, NSW, QLD) July 3rd, 2014 (SA, TAS, WA)
About The Production
In April 2011, Twentieth Century Fox released Fox Animation and Blue Sky Studio's CG animated feature 'Rio." The film was born from the imagination of Carlos Saldanha, who co-directed or directed the global blockbusters 'Ice Age," 'Ice Age: The Meltdown" and 'Ice Age: Dawn of the Dinosaurs." Saldanha had long wanted to write a love letter to his hometown of Rio. He came up with a story about a nerdy, highly domesticated bird who goes on the adventure of a lifetime in that wondrous city.
To fully realiSe the scope and breadth of this magical world and its vivid characters, Saldanha brought together an all-star voice cast, led by Oscar® nominees Anne Hathaway and Jesse Eisenberg, Oscar and Grammy®-winner Jamie Foxx, acclaimed musical artist will.i.am, actor-musician Jemaine Clement, comedic actress Leslie Mann, actor Rodrigo Santoro (a Brazilian native), actor-comedian George Lopez, and funnyman Tracy Morgan.
The filmmakers enveloped the action – and audiences – with a combination of Brazilian sounds and contemporary pop music. The soundtrack featured a stellar musical cast performing under the guidance of composer John Powell and Brazilian music legend and 'Rio's" executive music producer, Sergio Mendes.
'Rio" became a worldwide smash with a global box office tally of $486 million. It also was a huge hit on DVD and Blu-ray disc.
Now, Carlos Saldanha returns to Brazil and reunites his beloved characters in Rio 2. In the new film, it's a jungle out there for Blu, Jewel and their three kids, after they're hurtled from Rio to the wilds of the Amazon. As Blu tries to fit in, he goes beak-to-beak with the vengeful and villainous Nigel, and meets the most fearsome adversary of all…his father-in-law.
Our favorite 'Rio" characters are joined by Oscar nominee Andy Garcia, Grammy winner Bruno Mars, Tony® winner Kristin Chenoweth and Oscar/Emmy®/Tony/Grammy winner Rita Moreno. Rio 2 also features new Brazilian artists and original music by Janelle Monáe and Wondaland Arts Society.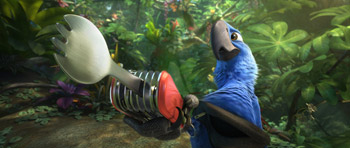 'Rio" producers Bruce Anderson and John C. Donkin return for the new film, as well.
In Rio 2 we find Blu, Jewel and their family living the perfect domesticated life in the city. The offspring are: Bia (voiced by 'The Hunger Games'" Amandla Stenberg), who lives with her beak in a book and likes spouting facts and figures, just like her dad; Tiago (Pierce Gagnon, 'Looper") the youngest, who is always up for adventure, especially if it involves destroying something; and Carla (singer/actress/comedian Rachel Crow), the eldest, a spunky teen who longs to get a little space from her protective family so she can express her musical side.
When Jewel decides the kids need to learn to live like real birds, she insists the family venture to the Amazon. Blu tells his buddies of his travel plans, but Nico, Pedro and Luiz warn him of the myriad dangers that could lie ahead in the wild. But the ever-positive Rafael encourages Blu, reminding him that 'a happy wife means a happy life!"
Upon their arrival, Blu and Jewel meet the locals, including Eduardo (Andy Garcia), a larger than life patriarch with a firm set of rules, who becomes a comedic obstacle for Blu; Mimi (Rita Moreno), Eduardo's warm and sassy sister, who likes to speak her mind, even to her overbearing brother; and Roberto (singer-songwriter-record producer Bruno Mars), a perfect specimen of a wild bird who charms everyone around him and makes Blu self-conscious. As Blu tries to fit in, he worries he may lose Jewel and the kids to the call of the wild.
Meanwhile, the treacherous cockatoo Nigel plots his revenge on Blu, aided by Gabi (Kristin Chenoweth), a cute poisonous frog who is fiercely loyal to Nigel and though small in stature, possesses a huge villainous heart.
With the success of 'Rio" the call for a sequel came quickly. Having already teased a new life together for Blu and Jewel – and their three new arrivals – in the film's finale, Saldanha pitched his idea for a new story. What if Blu and his family aren't the last Blue Macaws, he posited. What would happen to the family dynamic?
Saldanha decided to set his new story in the mammoth Brazilian wilderness. 'I wanted a setting very different from the one we explored in -Rio,' he explains. 'I thought we should move away from the city."
So, in Rio 2, it's on…in the Amazon, not only visually, but musically. 'We wanted to look at different musical -flavors,' sounds and exciting new beats that make the soundtrack for Rio 2 even bigger than the first film's," says the director.
After Saldanha wrote the story, screenwriter Don Rhymer, who had worked on 'Rio," began fleshing out Saldanha's ideas. It was a fruitful collaboration, which sadly ended when Rhymer passed away in late 2012. 'Don was our guy," says Saldanha. 'He embraced the vision of the first film and had really exciting ideas for Rio 2. His death left a big gap for us. We were lucky to have the amazing writers Carlos Kotkin, Jenny Bicks and Yoni Brenner help finish the screenplay, but Don was a very special person who played a big role in the project's development."
It's A Jungle Out There


Among 'Rio's" multitude of fans are two of its leading lights: Anne Hathaway and Jesse Eisenberg. 'The filmmakers and Carlos Saldanha set a high bar with -Rio,' but they've just blown the sky open with Rio 2!" exclaims the Oscar-winning actress. Adds Eisenberg, who recently made headlines with the announcement of his casting as super-villain Lex Luthor in the 'Man of Steel" sequel: 'Rio 2 doesn't feel like an extension of the first film; it's something totally different. And I love playing Blu because he's such a funny and sweet guy."
We're reintroduced to Anne Hathaway's Jewel and Jesse Eisenberg's Blu in Rio 2's spectacular first scene, which tops even the gala musical sequence that opened 'Rio."
'We start the movie off with a bang – a big musical number – just like we did in -Rio,'" Saldanha explains. 'We had already explored Carnaval [in the first film], and knew that in Brazil, the next biggest event is New Year's. So we decided to kick off Rio 2 with all of our favorite birds back together in a New Year's musical extravaganza. It's a great way to reintroduce the audience to our characters."
We then catch up with Blu, Jewel and their three kids, all of whom have settled into life in Rio. They experience the comforts and conveniences of city dwelling. Blu remains as domesticated as ever, but Jewel is concerned that the children are becoming more like humans than birds, and that they may never know how to be birds.
Anne Hathaway explains: 'Jewel grew up in the jungle and the kids are being raised in Rio, so there's definitely more of a human influence on them. They listen to music players, eat pancakes and watch TV. Jewel is not the biggest fan of that kind of domesticity."
Blu, on the other hand, is reveling in the conveniences of modern life. 'He's definitely in his comfort zone, living large and like a human," says Jesse Eisenberg.
We also catch up with Blu's best pal, Linda, who's now married to the scientist Tulio. The newlyweds are exploring the Amazon, where they discover there may be more Blue Macaws, and set out to find them.
Leslie Mann, who returns to voice Linda, describes the game-changing discovery: 'From the sky, a little blue feather falls between Linda and Tulio. He tastes it and he realizes it's a Blue Macaw feather. And they go off in search of more Blue Macaws."
Leslie Mann's on-screen hubby, Rodrigo Santoro, who reprises the role of Tulio, notes that, 'Linda and Tulio are still working hard to protect birds in Brazil. And they make a terrific couple because Tulio is a great thinker and Linda is a great -do-er.'"
'Today" show news anchor Natalie Morales portrays the newscaster who is the first to report that Linda and Tulio have made this profound scientific discovery.
Making her feature film debut, Natalie Morales says she was 'really psyched about being turned into an animated character" – even if she is somewhat typecast. 'I think I landed the role by just being a real-life news anchor," she says with a laugh. 'Not to mention that I'm half-Brazilian. So this role really hits home for me!"
Armed with the knowledge of Linda and Tulio's finding, Jewel decides her family must pick up stakes and take a walk – make that flight – on the wild side. 'In -Rio,' we learned that Blu and Jewel were the last of their kind, but in the new film they learn they might not be – that there may be other Blue Macaws out there," notes Anne Hathaway. 'So it becomes important to Jewel to find who's out there in the Amazon. She's thrilled there could be more like her and Blu."
Blu is a little reluctant to make the journey, and for good reason: 'In the first film, Blu thought the city of Rio was wild, but he hasn't experienced the true meaning of wild until he travels to the Amazon," Saldanha explains. 'It's a big trip for Blu and Jewel and the children. He's not comfortable with it, but he'll do it for the good of his family."
After all, what could go wrong on a family vacation?
Blu's pals Nico, Pedro, Rafael and Luiz don't want to be left behind, and more importantly, they have their doubts about Blu being up to the rigors of the expedition. But as we learned in the first film, these guys are also all about taking things to the next level with their big ideas. Now, they're on the hunt for new musical artists – a 'South American Idol" talent search, if you will. Carnaval is just around the corner, and the birds need a new group of musicians to put on the biggest show on Earth.
Says George Lopez: 'Rafael loves life, loves Rio and lives for Carnaval, and he can't wait to get the audition process started. They've pretty much exhausted the talent base in Rio, but they think the Amazon and its thousands and thousands of creatures will have all types of talent and amazing performances."
Jamie Foxx's Nico is a little yellow ball of energy who lives for music. Says the Oscar-winning actor: 'When you hear the music, you know you're in Brazil – or you know you want to be there. Music is part of the film's DNA, so every time you hear that amazing percussion, you know something magical and fantastic is going to happen."
Nico's partner in music is Pedro, a cardinal voiced by will.i.am. The Black Eyed Peas frontman says Pedro is an ideal judge of musical talent. 'He has this quirky, cool and unique eye for superstars. We have a lot in common when it comes to that," he says with a smile.
will.i.am himself is a fan of the film's music, especially the songs from Brazilian music titans Carlinhos Brown and Sergio Mendes. 'They know how Brazilian music is supposed to feel, how it's supposed to breathe."
With their pals in tow, Blu, Jewel and the kids make their way down the Amazon, and take in some memorable sights. Saldanha envisioned a mini-travelogue that would get the characters from Rio to the Amazon swiftly and show his beloved Brazil in a fun way.
To mark the journey, the filmmakers devised an unfolding map and pop-up map, as well as some GPS imagery, all presented in a stylized way. As the sequence progresses, the scene weaves back and forth between the real world and the paper pop-up world.
Finally arriving at their destination – the largest jungle in the world – the family takes in the marvels of the Amazon: massive trees of all types, the limitless flora and fauna, and giant rivers. It is a much bigger canvas, and thus more challenging to render than building the city of Rio in the first film. 'We wanted to capture the vibe of the forest and its harmony, with nature and with animals," comments Saldanha.
The director wanted a vast, wild and untamed jungle. Every area is natural and overgrown, which provides a sense of the Amazon's vastness, while at the same time highlighting its intimacy. Additionally, the Amazonian forest is a preserve in every sense of the word. 'The fact is that these birds we'll soon meet have been kept alive and have managed to survive because they have been in isolation from human contact," notes Saldanha. 'We created a contained bird village that's a microcosm of the gigantic Amazon."
To bring the wonders of the Amazon to life, the filmmakers relied on Blue Sky Studios' proprietary rendering software, CGI Studio™, which the research and development teams have continued to evolve for over a decade. Producer Bruce Anderson explains: 'Just figuring out ways to generate so many plants isn't a matter of just adding a bunch of computers to render them. It requires technological change. Sure, we always develop new and more powerful computers, but that only gets you so far. To make the next leap you need more innovation under the hood, meaning the rendering software."
Meet The Parent - And An Old Friend
To everyone's shock, especially Jewel's, the family discovers that the leader of the lost flock of Blue Macaws is Jewel's dad, Eduardo, portrayed by Andy Garcia.
'Eduardo is the top bird," says the veteran actor and Oscar nominee. He's passionate about his family and his flock, as well as the Amazon and the sanctuary he's created for his fellow Macaws."
'We had the idea of adding the emotional core of exploring Jewel's back story," producer John C. Donkin continues. In -Rio,' Jewel had remarked that humans had taken everything from her. So we came upon the idea that she had been separated from her family and that was a perfect thing to call back when they get to the Amazon sanctuary, where they discover that her father is the leader of the Tribe of Hidden Macaws. That became one of the film's big moments. And it also sets up the humor about Blu not being able to fully relate to Eduardo, and vice versa."
Initially grateful that Blu has brought Jewel back into Eduardo's life, the stern patriarch quickly becomes a disapproving father-in-law. 'Eduardo is joyful about reuniting with Jewel and discovering he's a grandfather, but as he gets to know Blu, he finds much about his son-in-law to be annoying, or worse," Andy Garcia notes.
'Eduardo is very strict with Blu and is unhappy he has so many ties to human and human things, like his ever-present fanny pack and GPS system," Jesse Eisenberg interjects.
'A fanny-packing bird is not Eduardo's idea of a good match for his daughter!" adds Andy Garcia.
If meeting a critical father-in-law weren't enough, Blu must also contend with Jewel's childhood friend Roberto, played by Bruno Mars. 'Roberto is pretty much the opposite of Blu – all charm and suaveness – and he can sing like an angel," says Anne Hathaway. Jesse Eisenberg notes that, 'Roberto and Jewel have a history and an almost secret language. So Blu feels not only threatened by Roberto, but is frustrated because Roberto seems like the perfect guy. Everything he does is heroic – and he's a great singer!"
Roberto owes his vocal prowess to the music icon who voices him: Bruno Mars. The Grammy winner, who has sold over 130 million records worldwide and has a catalog of 22 Hot 100 hits as a singer, producer and songwriter, enjoyed his first foray into feature animation. 'I like that Roberto has a good heart," Bruno Mars explains. 'He's a genuine dude and he really has love for Jewel – genuine love. They grew up together, so they have a bond that's pretty special."
The filmmakers considered a long list of candidates for the role, but a Bruno Mars appearance on 'Saturday Night Live" helped sealed the deal. 'I saw a clip of Bruno acting on SNL, and I thought he was really funny," Saldanha remembers.
Producer John C. Donkin notes that casting Bruno Mars 'transformed our thinking about the character. He added a unique quality we initially hadn't envisioned for Roberto, which we came to embrace, and the character really blossomed."
If Roberto's looks, talent and friendship with Jewel weren't intimidating enough for Blu, the songbird hosts the clan in his magnificent mansion, located in one of the Amazon's most impressive trees. Interweaving roots create open pockets, perfect for rooms housing Blu and his family.
As the family settles into this exciting new world, Blu finds his learning curve to be a steep one. He is unable to handle even the most simple and important tasks, like building a nest and foraging for food. 'Blu not only feels out of place in the jungle, he feels out of place with this entire flock of birds who share his DNA, but none of his lifestyle choices," Jesse Eisenberg notes.
'Blu must deal with something that's bigger than him," adds Bruce Anderson. 'When we meet him in Rio 2, he still has his creature comforts and he's made it work. So we had to think of ways to escalate his fish-out-of-water story from the first movie."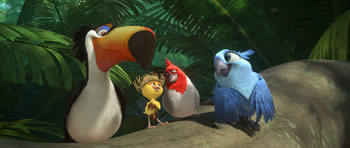 Revenge!
While Blu deals with rigors of jungle life, a disapproving father-in-law, and a potential rival for Jewel's affections, yet another threat looms. Nigel, who suffered the most undignified of indignities at the end of 'Rio," is back. He's followed Blu and Jewel to the Amazon, and now he's hungry for payback.
For Nigel, revenge is a dish best served cold…and with lots of blue feathers.
In 'Rio," Nigel was defeated by what he calls 'the pretty birds," including Blu, with the wily cockatoo losing his feathers in the process. Now he flies like a chicken and works as fortune-teller's assistant at a third-rate street fair. Nigel is at the lowest point in his life, and he's not happy about it. So when he sees the blue birds that have caused him so much misery, he seeks vengeance. 'He's had some bad luck, professionally," says Jemaine Clement, who returns as Nigel.
As he did in 'Rio," Jemaine Clement focused on the character's less unsavory qualities. 'Nigel's predominant passions are Shakespeare, alliteration, revenge, and attention," he notes. 'He is still evil but Nigel really wants to return to acting. Sometimes that can affect his focus on evil-doing."
Nigel's dreams of show business glory take flight in a particularly telling moment. As he prepares to deal with Blu once and for all, Nigel instead ends up taking center stage, in disguise, at the auditions overseen by Nico, Pedro and Rafael. Nigel comes up with an act, on the fly, which sparks his inner artist. His rendition of the Gloria Gaynor standard 'I Will Survive" (with special parody lyrics by Clement and co-screenwriter Yoni Brenner) is a big hit. In fact, Nigel is told he's made the cut for the musical extravaganza!
Nigel's henchperson – hench-frog, that is – is an amorous amphibian named Gabi, who is deeply in love with Nigel – 'understandably so, of course," says Jemaine Clement. The tragedy of their love is that they can't canoodle because Gabi is highly toxic – and Nigel has no interest in her, anyway. Indeed, he often finds her to be quite annoying.
Venomous adoration doesn't prevent Gabi from trying to bond with her wannabe soul mate. 'Gabi wants to make Nigel proud of her," says Kristin Chenoweth, who voices the role. 'That is why she's always by his side and hoping he notices her in the way she wants to be noticed, which of course he doesn't. Gabi will do whatever it takes to keep Nigel safe and happy and where he belongs, which is on the stage."
The third member of Team Nigel is Charlie, a mute, tap-dancing anteater. The creature with the prolonged proboscis is at Nigel's beck and call – until he's inevitably distracted by ants, that is.
The Beat Of Brazil
Award-winning film composer John Powell, who wrote the score for 'Rio," returns in Rio 2, as does Brazilian music legend Sergio Mendes as executive music producer, with additional songs by fellow Brazilian phenomenon Carlinhos Brown.
Rio 2 also features performances by Brazilian artists Barbatuques, UAKTI, and prominent Brazilian singer-songwriter and guitarist Milton Nascimento.
For Carlos Saldanha, the reunion of his 'dream team visionary musical artists" – Powell, Mendes and Brown – was critical, but only the first step in capturing a Brazilian beat quite different from the one that captivated audiences in 'Rio."
'-Rio' was about Carnaval, so it had a lot of Bossa Nova and Samba," Carlos Saldanha explains. 'For Rio 2, we wanted to explore other rhythms and percussion from the north and northeastern parts of the country. I think we have a very sophisticated and fun soundtrack for Rio 2."
'One of the most enjoyable things about the movie is all of those different sounds," says Anderson. 'We wanted the story and music to support Brazil's diverse musical culture. -Rio' introduced the world to Brazilian flavor, but it was about a very small region of the country. And here we're covering much broader territory."
Adds Donkin: 'The music is as much a part of the story as the characters' journeys. From the beginning, Carlos, Sergio and John wanted to explore the diversity of Brazil's world music. What you hear as popular in Bahia is different than what's popular in Manaus or in Rio de Janeiro."
Sergio Mendes, who along with Carlinhos Brown and Siedah Garrett, was nominated for an Oscar for the song 'Real in Rio," from the first film, notes that, 'Brazilian music is very rich, with different rhythms and beats. There is so much diversity."
Sergio Mendes introduced Carlos Saldanha to Nascimento, and they began mapping out the film's music. John Powell also became a key player in this vital work, as he was with 'Rio." 'John Powell is very sensitive to the Brazilian music," says Sergio Mendes. 'He loves it and immediately understood the richness of its rhythms."
John Powell, who was taking a break from film scoring for a long-planned return to the concert stage, was intrigued, and he returned to the world of 'Rio." 'I was fascinated by the fact that Brazil has so many cultures and, thus, has so many wonderful musical cultures," says the famed composer. 'I couldn't resist it. We got to go all over the country, musically speaking. I really sparked to the idea of exploring a multi-cultural Brazil, rather than just the music of Rio."
Rio 2 opens with a grand scene in which the birds we met in the first picture – and a flock of their friends – soar together in a rousing musical celebration, to the song 'What is Love," performed by Janelle Monáe, a rising R&B/Pop star, songwriter and producer. The music is by Janelle Monáe, Nathaniel Irvin III and Roman Irvin, with lyrics by Janelle Monáe. Also performing are will.i.am, Anne Hathaway, Jesse Eisenberg, Jamie Foxx and Carlinhos Brown.
'Janelle Monae represents the vanguard of American music today," says Sergio Mendes. 'She has her own style and her music fits perfectly with the Brazilian rhythms. Adds Powell: 'Janelle is an extraordinary artist who has a rare ability to cross boundaries. She had the right energy and the right attitude for a scene and song celebrating New Year's Eve."
'Ô Vida," with music by Carlinhos Brown, John Powell and Sergio Mendes, lyrics by Carlinhos Brown and Taura Stinson, and performed by Carlinhos Brown and Nina de Freitas, charts Blu and his family's course down the Amazon River as they head to the wilds of Brazil. 'It was interesting trying to find something that straddled the two worlds, starting in Rio and ending up in the Amazon," says Powell. 'The song is in both Portuguese and English – it's a kind of -call and answer' and it's basically about calling out, -Life is wonderful when we get to Bahia'; -Life is wonderful when we get to Belo Horizonte; et cetera.' The storyboard artists worked really beautifully to get it all to line up so that we could make the song describe the journey."
'Poisonous Love," with music by Carlinhos Brown and John Powell, lyrics by Randy Rogel, and performed by Kristin Chenoweth and Jemaine Clement, is one of Powell's favorites. The scene has the toxic amphibian proclaiming her love for the cocky cockatoo. 'I must admit that every time we get to -Poisonous Love,' I always end up laughing," says Powell. 'There's something about the passion with which Kristin sang, as well. She just goes for it and when performed with that much belief, you're on the edge of laughing and crying simultaneously."
Bruno Mars lends his signature vocal stylings to the track 'Welcome Back," in which his character Roberto expresses his joy in reuniting with Jewel. The song was written by Bruno Mars, Philip Lawrence and John Powell, and produced by Bruno Mars and John Powell.
UAKTI lends its unique percussion beats to the Brazilian version of 'It's a Jungle Out There," performed along with Philip Lawrence, written by Jean Yves 'Jeeve" Ducornet and Michael Diskint, and produced by Philip Lawrence and Jean Yves 'Jeeve" Ducornet and John Powell. Later, audiences are treated to a pop version of the song.
The track 'Beautiful Creatures" is performed by Barbatuques, Andy Garcia (as Eduardo) and Rita Moreno (as Mimi). The music is by Andre Hosoi and Renato Epstein, with lyrics by Taura Stinson and Andre Hosoi, and it is produced by John Powell and Sergio Mendes. The song and scene are a celebration of life in the wonderful bird sanctuary that Eduardo has created. 'We desperately wanted to work with Barbatuques," Powell remembers. 'Their performances are all really done with stomps and claps and body hits and things like that. And then once the [women in the group] started singing, it really came to life.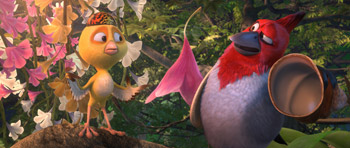 'We were looking for a sound in the Amazon that was very exotic and unusual, that just didn't sound like anything we'd heard in the first movie," Powell continues. 'So it really did feel as if Blu was out of his element. To Blu, the sanctuary really had to feel like the most exotic or foreign place it could for a bird from Minnesota via Rio."
'Don't Go Away" is a lullaby that Jewel sings to her three offspring on their first night in their new home in the Amazon. The music and lyrics is by Flávia Maia (member of Barbatuques), and Taura Stinson, respectively. It is performed by Anne Hathaway, featuring instrumentation by UAKTI and produced by John Powell.
Saldanha recalls that he had long admired UAKTI. 'I wanted to bring them in for the first movie, but I didn't have a chance to do so. The group makes its own instruments, made out of pipes and crazy objects and they come up with unique and wonderful sounds that I wanted to represent a bit of the score and the voice of the jungle."
Another show-stopping musical moment comes with Jemaine/Nigel and Kristin/Gabi's impromptu rendition of the classic Gloria Gaynor hit 'I Will Survive," during the Amazon auditions. The parody lyrics are by Jemaine Clement and co-screenwriter Yoni Brenner.
Powell was initially surprised, if not shocked by that song choice, but he notes, 'When they showed me the scene, I suddenly realized, oh, they're on to something here. And when Jemaine performed the song and added a rap section he had written, which happened, literally, while we were recording his vocals, it really came together. He started coming up with these incredibly funny lines. The hardest thing with Jemaine is to pick the lines you want, because there were so many great ones. And Kristin was the perfect partner, adding her own special touches and fun to the tune."
The final big musical moment, 'Batucada Familia," comes during an Amazon version of Carnaval. It is performed by Carlinhos Brown, Siedah Garrett, will.i.am, Jamie Foxx, Rachel Crow, Amy Heidemann, Andy Garcia and Rita Moreno; with music by Carlinhos Brown, Sergio Mendes and John Powell; lyrics by Carlinhos Brown and Siedah Garrett; and produced by John Powell, Sergio Mendes and Carlinhos Brown.
Powell notes that by the time audiences hear the full song, it might seem like they've heard at least parts of it before – and, indeed, they have. He explains: 'Once we'd created -Batucada Familia,' we were able to go back and place bits of it throughout the movie, so it appears right by the title sequence at the beginning of the movie, after Janelle's song. I've quoted it all the way through the score. By the time you get to the end and that song pops up again, it should be familiar territory, as it were."
During the end credits, Ester Dean and B.o.B. perform 'Rio Rio," a new version of the beloved song 'Let Me Take You to Rio," which Dean so memorably sang in the first film.
Rio 2
Release Date: June 30th, 2014 (VIC, NSW, QLD) July 3rd, 2014 (SA, TAS, WA)