AMY RYAN INTERVIEW FOR GREEN ZONE
(Lawrie Dayne)
Question
: What attracted you to this project?
I was excited about being in this project because of the names, Paul Greengrass and Matt Damon, as I knew their involvement was a potential recipe for an exciting and rewarding experience.
Question
: When did you become familiar with Greengrass' work?
The first time Paul Greengrass was brought to my attention was with Bloody Sunday, because Ihad never seen a movie that felt so real. Since then, he has been on my list of directors I havewanted to work with.
Question
: What can you tell us about your character, Lawrie Dayne?
Lawrie works for The Wall Street Journal and is one of those journalists that reported inaccuracies.Paul and I had lengthy discussions about her because we were interested in portraying her humanflaws and how her ego got in the way of her job.
Question
: Who do you think she represents?
Lawrie Dayne represents the failure of the press, the same way Matt's character represents thehero.
Question
: And how did meeting Chief Miller, played by Matt Damon, open her eyes?
She is a smart journalist and realizes that it is an odd sight to see him in The Green Zone talking toa CIA agent like Martin Brown. So, Miller becomes her next target; but once Lawrie realizes shewas wrong about the whole weapons of mass destruction issue, I think the journalist she startedout as, kicks back and searches for real answers.
Question
: Could you be a journalist?
I don't have the right set of skills and I believe my mind is inquisitive in other ways, as I focus moreon human behavior. And I am not nearly as brave as they are!
Question
: How would you explain your character's relationship with Clark Poundstone?
Right off the bat you see that this senior official from the Pentagon and my character are veryfamiliar with each other, and it sets off some doubts as to what information he has been feedingher. We actually explored their back-story in an earlier version of the script and even the possibilityof them having some kind of romantic relationship in the past.
Question
: How did you prepare the role?
The first thing I did was read Rajiv Chandrasekaran's book Imperial Life in the Emerald City. I hadnever heard of The Green Zone before, and I have to admit that I was shocked by his detailedaccount of what went on in there. And then a friend put me in contact with Anne Garrels, who spenttime in Iraq covering it for NPR and wrote a very interesting book called Naked in Baghdad. So,she very generously spoke to me about her experience, and we also had many journalists on setthat I could go to.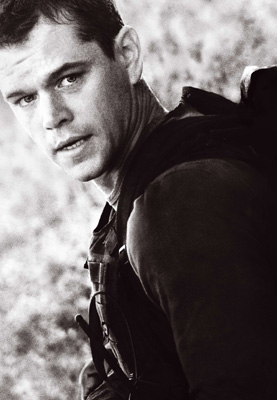 Question
: Green Zone feels very real.
That's thanks to Paul's way of shooting it, which comes from his background in documentaries. Heknows how to make an action movie and has a really sharp eye to ensure that every scene fits andthe story is being propelled forward at all moments. So, even if we may feel we are improvisingsomething unexpected, it's all in his head and it works out perfectly in the end. Other directors tryto duplicate his style throwing the camera around; but only Paul knows how to do it, because thereis a method to his madness.
Question
: And he knows how to deliver an entertaining action movie!
Paul's world is this impressive moving force of cameras and cables. All I can say is that you don'twant to be the one that trips and spoils the take!
Question
: How is Greengass as a person?
He is pretty laid back for someone who makes these frenetically fast-paced movies. PaulGreengrass is very relaxed and a true pleasure to be around.
Question
: What was the energy like on set then?
There was a lot of camaraderie and laughing on set because Paul kept it light. They all form anamazing group that has worked together before, and it was amazing to be a part of it.
Question
: Where did you shoot the film?
I went to Morocco, Spain and England; and it's funny how all these filming locations doubled asBaghdad. We spent most of the time in Morocco - which I loved because it is such a friendly andmagical place.
Question
: What was Matt Damon like to work with?
Matt is incredibly down-to-earth and smart, and he is also very hard working. The biggest challengehe had was to command real soldiers - which was a very hard thing to pull off, but he did itbeautifully.
Question
: What did you learn from working with Greengrass and Damon?
A lot! I'll never forget this scene in which Matt confronts me, as I couldn't figure out what to do. Paultold me to run with it and see what happens, even though I was dreading it; but it came to lifebecause it was about my character being in the hot seat. So, what I was feeling ended up beingexactly what the scene needed. That day I learned that sometimes not knowing can actually help.
And what can you say of Greg Kinnear?
Greg is a very talented actor with a great sense of humor, and he made me laugh many times onset. It was great to work with him.
Question
: In such an intense fast-paced thriller, is it important to have those moments of humor?
Oh, it certainly helps, and especially during such an action-packed movie. Greg and I wouldsometimes have a laugh about the fact that we were just two actors in a war movie.
Question
: What did you think of the film when you finally saw it completed?
I loved it! And it was breathtaking to see the final look of the film and how it adds to the thrilling rideof the story.
Question
: What do you think an international audience will take from Green Zone?
I think they will enjoy this ride because this movie does a great job at entertaining. And I believethey will connect with Matt's character, who kind of represents the audience.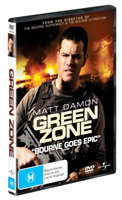 Green Zone
Cast
: Matt Damon, Greg Kinnear, Amy Ryan, Brendan Gleeson, Jason Isaacs, Khalid Abdulla
Director
: Paul Greengrass
Classification
: M
Genre
: Action
Running Time
: 115 minutes
Matt Damon and director Paul Greengrass (The Bourne Supremacy, The Bourne Ultimatum,United 93) re-team for their latest electrifying thriller in Green Zone a film set in the chaoticearly days of the Iraqi War when no one could be trusted and every decision could detonateunforeseen consequences.
During the U.S.-led occupation of Baghdad in 2003, Chief Warrant Officer Roy Miller(Damon) and his team of Army inspectors were dispatched to find weapons of massdestruction believed to be stockpiled in the Iraqi desert. Rocketing from one booby-trappedand treacherous site to the next, the men search for deadly chemical agents but stumbleinstead upon an elaborate cover-up that inverts the purpose of their mission.Spun by operatives with intersecting agendas, Miller must hunt through covert and faultyintelligence hidden on foreign soil for answers that will either clear a rogue regime orescalate a war in an unstable region. At a blistering time in a combustible place, he will findthe most elusive weapon of all is the truth.
RRP: $39.95
RRP: 2 disc SE: $44.95
RRP Blu-ray: $44.95