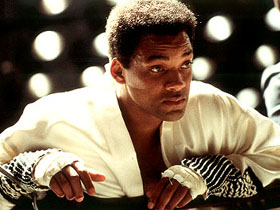 Release Date:
21st February, 2002
Starring:
Will Smith, Jamie Foxx, Jon Voight, Jada Pinkett Smith
Director:
Michael Mann
Genre:
Drama
Rated:
M
Synopsis:
Tackling political, social and religious values as defiantly as the fists he faced in the ring, Muhammed Ali became a heavyweight sporting superstar.
Born into a racially segregated world, headstrong Cassius Clay Ali (Will Smith) took what he was given and made it work for him. Treading a delicate line between impudence and belligerence, he really did float like a butterfly and sting like a bee when dealing with a white world, ultimately leaving an indelible mark by igniting and mirroring the conflicts of his time.
His first breakthrough was conquering Sonny Liston for the world heavyweight title in 1964. The film follows his journey through to 1974 when a world renowned champion now known as Muhammed Ali reclaims the title from George Foreman in the famous 'Rumble in the Jungle' in Zaire.
This dynamic portrait, praised for its faithful recreation of some of Ali's most famous fights, also explores Ali's often troubled relationships with women, the invention of his public persona and consequent rise to global fame.