The Book of Eli
Cast
: Denzel Washington, Mila Kunis, Ray Stevenson
Director
: Albert Hughes, Allen Hughes
Genre
: Action, Adventure, Drama
Rated
: MA
Running Time
: 118 minutes
Synopsis
: In the not-too-distant future, some 30 years after the final war, a solitary man walks across the wasteland that was once America. Empty cities, broken highways, seared earth-all around him, the marks of catastrophic destruction. There is no civilisation here, no law. The roads belong to gangs that would murder a man for his shoes, an ounce of water…or for nothing at all.
But they're no match for this traveler.
A warrior not by choice but necessity, Eli (Denzel Washington) seeks only peace but, if challenged, will cut his attackers down before they realise their fatal mistake. It's not his life he guards so fiercely but his hope for the future; a hope he has carried and protected for 30 years and is determined to realize. Driven by this commitment and guided by his belief in something greater than himself, Eli does what he must to survive-and continue.
Only one other man in this ruined world understands the power Eli holds, and is determined to make it his own: Carnegie (Gary Oldman), the self-appointed despot of a makeshift town of thieves and gunmen. Meanwhile, Carnegie's adopted daughter Solara (Mila Kunis) is fascinated by Eli for another reason: the glimpse he offers of what may exist beyond her stepfather's domain.
But neither will find it easy to deter him. Nothing-and no one-can stand in his way. Eli must keep moving to fulfill his destiny and bring help to a ravaged humanity.
Alcon Entertainment presents a Silver Pictures production, a Hughes Brothers Film: "The Book of Eli." The film stars two-time Academy Award winner® Denzel Washington ("Training Day," "Glory"), Gary Oldman ("The Dark Knight," the "Harry Potter" films), Mila Kunis ("Forgetting Sarah Marshall"), Ray Stevenson ("Punisher: War Zone"), Jennifer Beals (Showtime's "The L Word"), Frances de la Tour and Michael Gambon (both of "Harry Potter and the Goblet of Fire").
"The Book of Eli" is directed by the Hughes Brothers ("Menace II Society," "Dead Presidents") from a screenplay by Gary Whitta. It is produced by Joel Silver, Denzel Washington, Broderick Johnson, Andrew A. Kosove and David Valdes. Steve Richards, Susan Downey and Erik Olsen serve as executive producers, with co-producers Steven P. Wegner, Yolanda T. Cochran and John David Washington.
The creative team includes director of photography Don Burgess, production designer Gae Buckley, Editor Cindy Mollo and costume designer Sharen Davis. Jon Farhat is the visual effects supervisor. Music is composed by Atticus Ross, and the music supervisor is Deva Anderson.
Release Date
: May 20, 2010
Website
:
www.bookofelimovie.com
About the Production"One day I heard this voice, like it was coming from inside me. It led me to a place...I found this book, buried deep in the rubble… And the voice told me to carry it west."
"What we liked about this story was that it was an action adventure but it also had something to say about commitment, sacrifice, survival and human nature," offers Allen Hughes, who, with his twin brother, Albert, directed "The Book of Eli." It is the fifth feature film for the pair, who made their auspicious debut at age 20 with the powerful and acclaimed inner-city drama "Menace II Society."
Says Albert Hughes, "'The Book of Eli' takes us to a future that is decimated-whether by war, nuclear or natural disasters, or any combination of events, it doesn't matter. The devastation is total and that allowed us to speculate about how the world would look and how people would manage if the whole grid was wiped out and we were thrown back into a primitive way of life. There would be a lot of lawlessness. But, in time, there might be a few brave individuals who would regain a sense of purpose and take up the mantle of leadership."
Eli is one of these few. In a time when people are either hunter or prey, he dares to be a free man, committed only to his belief in what he's doing and his determination to see it through. But the price he pays for following his conscience is harsh. Without respite, without a home…nearly every day brings him into fresh peril and another fight against the forces that would drag him and whatever is left of society into an ever-deeper abyss.
Denzel Washington was so taken with the story that, when initially approached for the title role, he also signed on as a producer. "It's an interesting journey," he acknowledges. "Eli is a man on a mission of great importance that he's been pursuing for a long time. When we meet him, he's nearing the end of it but his greatest tests are still to come."
Exactly who Eli is-where he comes from and where he is going-remains largely, and intentionally, a mystery. Says Allen Hughes, "A character like Eli, the enigmatic lone warrior, is almost mythical. You know there's a rich back story, but it shouldn't be entirely revealed, and Denzel Washington was conscientious about doing little things that would shed light into his past without spelling it out. One of his ideas was for Eli to bear a burn scar on his back as a mark of the catastrophe he has survived. He was very good at painting in those kinds of details that would add to Eli's mystique."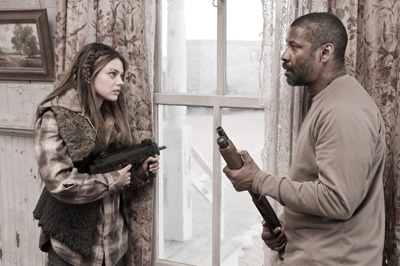 "Denzel Washington really got into the soul of the movie, taking it beyond the adrenalin rush of action," says producer Broderick Johnson. "His performance makes you want to take that walk with him, to be moved by Eli's quest and the obstacles in his way."
Adds Broderick Johnson's longtime producing partner, Andrew A. Kosove, "One of the themes of the film is about believing you can do something that needs to be done, and then following through. Eli has a hard road to travel, literally, but he believes he can succeed. He has a driving faith in what he's doing."
But if it's this conviction that keeps Eli focused, it's his quick wits and quicker fists that keep him alive.
Producer Joel Silver, the force behind some of Hollywood's most memorable action films, addresses the character's dual nature. "He has a mission to fulfill. If people try to divert him from it or stop him for any reason, then he will, quite simply, do whatever is necessary to get past them. I think you're inclined to forgive his actions because, at his core, he's an honest and peaceful man, and this mission is the most important thing in the world to him."
"Part of what makes Eli heroic is this focus on the future. He is constantly moving forward," notes producer David Valdes. "I'm a real movie fan. I love the classic struggle of good versus evil, and I especially love to see a hero who believes in the future as much as Eli does. It speaks of hope."
"He's not like the others. You won't be able to make him do what you want."
The most formidable of Eli's obstacles is a man named Carnegie. Like Eli, he is one of the few living relics from "the time before" and carries the burden of remembering how things used to be. "There's a line in the movie where Eli explains, 'People kill each other now for things we used to throw away,' and he's talking about basic things like soap or matches, that are now rare and valuable commodities," reveals Albert Hughes.
Unlike Eli, Carnegie has devoted the past 30 years to amassing a crude empire amid the ruins of an abandoned town and his taste for power has grown. He is accustomed to getting what he wants, and what he wants now is a book that Eli carries in his pack-a Bible, believed to be the last one on Earth.
"It's a great mano a mano dynamic between these two men in total opposition. Each of them wants the same thing but for entirely different reasons, and they are equally determined not to give up," Joel Silver says.
In his role as filmmaker, Denzel Washington contributed significantly to the development of Eli's nemesis. "Denzel Washington started fleshing out the Carnegie character, first, in pre-production, saying, 'The good guy is only as good as the bad guy is bad,'" recalls Allen Hughes. "We'd talk about whether or not Carnegie was a true villain or just a man caught in desperate times who does bad things as a means to an end. With Carnegie, things are not black and white, but gray. The remnants of his humanity make him all the more unpredictable."
Denzel Washington and the Allen Hughes brothers agreed that the actor portraying Carnegie would have to present Eli with a formidable challenge and that led them to Gary Oldman. Says Washington, "Gary Oldman's a champion actor and I wanted to be sparring with the best." Albert Hughes also cites Gary Oldman's "wicked sense of humor," saying, "He and Denzel Washington injected some levity into tense moments on screen. It's a serious story, but it's definitely not bleak and especially not when these two face off."
"I always appreciate a classic battle," Broderick Johnson attests. "When Denzel Washington confronts an enemy on screen, I know that's a movie I'm going to enjoy."
"Carnegie is essentially a dictator," states Gary Oldman. "He has built this town through violence and through control of a very valuable commodity-fresh water-because he remembers where to find it. But he's also smart. He has a philosophy. Carnegie is familiar with the book Eli carries and he's aware of what it can achieve because it's a part of his own history and childhood. He's been looking for it himself for years. These two men have the same obsession over this book, though one is coming from a good place and one from a darker place."
An essential question raised by the story is what contributes to building a civilisation. As much as Eli believes the Bible will serve as the basis for a new, just and equitable society, a chance to start over and avoid the errors of the past, Carnegie sees the same text as a means to controlling people and expanding his dominion. The two might agree on the inherent power of the words between the covers of this book but have diametrically disparate views on how that power should be used.
Carnegie has no qualms about eliminating Eli, yet at the same time, he can't help being intrigued by this extraordinary man who dares oppose him, unlike the uneducated thugs in his employ or the damaged souls who roam the landscape. It's as if he has finally found a worthy adversary and must savor the moment. "Eli has a powerful presence. He's steady, resolute and composed," adds Gary Oldman.
"Carnegie has never seen anyone quite like him." Says Denzel Washington, "Eli won't capitulate and Carnegie won't take no for an answer. Carnegie challenges him on every level. It becomes a great battle of wills." It also becomes a battle of heavy artillery as Carnegie launches an all-out assault on the man he derisively calls "the walker."
Their conflict plays out against the ongoing and immediate issues of survival that affect everyone around them, and is another of the themes the film explores. Screenwriter Gary Whitta once attended a practical two-day survival course in which he learned some stark truths that served to inspire some of the onscreen action. "The first thing you learn is that it's not pleasant. You may have to eat something or drink something you would ordinarily never consider, but the bottom line is that you'll do what you have to do to stay alive and that comes from basic human nature."
When people regress to a primitive level, true character emerges and every conflict is more dramatic," observes Allen Hughes. "The simplest exchanges are potentially life-or-death."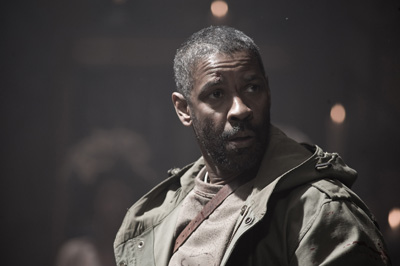 "I don't plan on staying. I got someplace I need to be."
Despite Eli's singular goal, Denzel Washington believes that part of his journey involves lessons he's not yet aware he needs to learn. "When Eli crosses through Carnegie's town, he becomes the focus of some unwelcome attention-not only from Carnegie, who wants to destroy him, but from Carnegie's stepdaughter, Solara, an innocent who reminds him that being human means dealing with other human beings. In his desire to protect the book he thinks of nothing else, but part of his responsibility might also be to open himself up, to really give and do more for others. He's been entrusted with carrying the book but he must also remember to carry its message. It could be the final test of his particular mission and he is very reluctant to take it on."
Carnegie's household includes his blind common-law wife, Claudia, and her daughter, Solara, both of whom he rescued from the badlands years ago and continues to protect-though that benevolence is often tainted by his own self-interest. Mila Kunis, who stars as Solara, points out, "Carnegie keeps them safe, but they are virtually slaves for it. Solara is a smart girl, a young, strong spirit. She believes there is more to life than this town, but it's not until she meets Eli that she is inspired to escape. Solara is fascinated and drawn to him. She wants to learn from him, follow him wherever he's going and explore the rest of the world."
The filmmakers recognised in Mila Kunis the ability to convey vulnerability mixed with boldness and optimism, all of which define Solara as she ventures into a realm she has long been denied. "Mila Kunis is a firecracker," says Albert Hughes. "She plays Solara in a way that lets you watch her grow, and she grows up fast once outside of Carnegie's control." Solara shares a strong bond with her mother, Claudia, played by Jennifer Beals.
Together, the two women endure Carnegie's tempers and ill-treatment for each others' sake. Jennifer Beals explains, "Claudia lives for her daughter. Through her relationship with Carnegie she is able to provide Solara with food and clothes and some of the amenities that are completely impossible for other people to get. If Carnegie is the king of this place he has created, then Claudia is its powerless queen."
Albert Hughes credits Jennifer Beals with "playing all their tortured history in her face. There's not a lot of dialogue so she communicates a lot through her body language and her expressions." Like Solara, Claudia too has a strong reaction to Eli's arrival. "He is the first person aside from Solara who shows Claudia unmitigated kindness, and it reminds her of what civilisation used to be and how people were once capable of behaving," says Jennifer Beals. "It's a sliver of hope and it gives her strength. The fact that Eli stands up to Carnegie is thrilling for her because it's something she would love to do but can't."
Another person who would love to stand up to Carnegie is his right-hand man, Redridge, played by Ray Stevenson, who describes his role as "Carnegie's enforcer and personal bodyguard, among other things. He does as he's told but you get the sense that he's biding his time. He has his own agenda."
When Eli and Solara are discovered fleeing town, Carnegie orders Redridge to execute a search-and-destroy. It could be the break Redridge has long been waiting for.
Meanwhile, in the wasteland beyond Carnegie's borders are two people who have devised their own unique way of coping with the daily difficulties of existence: George and Martha, played by Michael Gambon and Frances de la Tour as a happily married couple who are also shrewd survivalists.
Eccentrics, even in this strange age, the pair live in a quaint, meticulously decorated cottage, complete with embroidered sofa pillows and framed photos on the wall-a striking anomaly in this desolate terrain where no other structures stand for miles in any direction. "They've tried to retain a bit of the old life, a wind-up gramophone and china cups for tea," says de la Tour. But like many things in "The Book of Eli," these two may not be what they seem. "When strangers show up at their door, they're treated as a threat. George and Martha think everyone is a threat. Because they are."
"You lay that hand on me again and you will not get it back."
Veteran stunt coordinator Jeff Imada ("The Bourne Ultimatum," "Fight Club") orchestrated the film's explosive confrontations to reveal the breadth of Eli's hard-won survival skills. "In 'The Book of Eli' we're going to see some street-oriented fighting. There will be a lot of weaponry, some knife fighting, sword and stick fighting; you'll see Eli using his environment to defend himself, facing multiple opponents coming at him like a pack of wolves, and some one-on-ones. Anything goes," he says.
Preparation for these brutal sequences attest to Denzel Washington's dedication. He put in months of hard work with some of the industry's best trainers to credibly achieve the fluid action the filmmakers wanted, which meant fight scenes captured in a single take and without the support of a stunt double.
"Denzel Washington really stepped up to the plate," says Allen Hughes. "There were a lot of physically demanding scenes and we weren't cutting around it and making him look good. He really had to do it straight through and he pulled it off. It was amazing." Working with renowned martial arts practitioner and teacher Dan Inosanto, a protĂ©gĂ© of Bruce Lee, Jeff Imada subjected Washington to what he calls "total immersion." It was a discipline not unfamiliar to the actor, who famously worked out for a year with boxing pro Terry Claybon for his Oscar-nominated® role as middleweight champion Rubin "Hurricane" Carter in "The Hurricane" and has continued to use the sport to keep in shape. "We put Denzel Washington through a crash course in all different aspects and techniques of fighting and pulled it all together for the final result, which is a combination of various different styles of marital arts and hand-to-hand combat skills," says Jeff Imada.
From Denzel Washington's perspective, it represented an opportunity. "I was fortunate to work with experts like Jeff Imada and with Dan Inosanto, one of the great masters of martial arts. It was challenging and a lot of fun to train with these guys in the dojo and I have the utmost respect for what they do. Together, we worked on a fighting style for Eli that was an amalgamation of skills he would have developed the hard way, on the road."
"Denzel Washington also learned to expertly handle a blade as if it was an extension of his arm," saysAlbert Hughes. Eli's weapon of choice was originally conceived as a Samurai-style sword but Denzel Washington and the Hughes brothers opted for a shorter, machete-hybrid design, a less formal design that better suited the lone traveler's circumstances, something he could easily conceal under his backpack and grasp quickly when needed.
Both the look and function of Eli's eclectic arsenal and fighting style are part of his character. Forced to travel light, he must use everything he has learned and everything he has collected along the way to maximum affect-whether to get him through the day or to serve his greater purpose. This pragmatic approach extended from the performances to production design, from wardrobe to props. In Eli's hands, a knife is not only for self-defense but for hunting and cleaning.
Eli's response to the highwaymen, Carnegie's hit-men and others who confront him is likewise instinctive and visceral and calls into play all of this accumulated knowledge. "He had to be able to face down his adversaries with proficiency but not appear to be trained in any specific system," says Jeff Imada, who strove to organise each scene as if unchoreographed, "where people are grabbing and pulling at him, punching and kicking him all at the same time."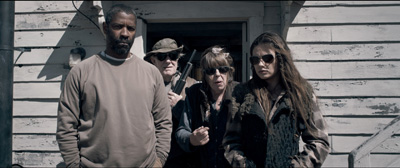 Says screenwriter Gary Whitta, "It's essential that Eli wasn't a combat veteran or some supersoldier who would already have remarkable skills. We wanted him to be a nobody, an Everyman. Through him and what he's able to do, you see how people would have to adapt to stay alive. Denzel Washington understood that audiences would have to buy these fight scenes to buy into his character and the story."
"I want to see what the rest of the world looks like." "No. You don't."
The film's opening scenes introduce audiences to a disturbing reality as Eli strides past long-dead bodies in looted, burnt-out vehicles that litter the road. Lonely miles stretch far ahead and behind him, along what the filmmakers came to refer to as the Highway of Death. It's a world Joel Silver calls both "futuristic and completely broken down, a strange, surreal place with minimal functionality."
"We knew the Hughes brothers would bring a very distinct visual style to it that's integral to the action and the themes of the movie," says Broderick Johnson.
David Valdes explains, "The challenge was creating this primitive existence 30 years into the future. Usually, on a futuristic movie you're thinking about concept cars and trying to figure out what a blender is going to look like decades from now. On 'Eli,' the idea was that in the future only the most rudimentary mechanical things, relics from the past, would still work." The filmmakers imagined a stark and gritty landscape that was dramatic and yet realistic in its depiction of what the earth might resemble following a major calamity. "We researched material about the likely impact on the environment, whether from a nuclear or biological assault or even ash from a super-volcano," says Allen Hughes. "What would happen to plant and animal life, weather patterns, cloud formations? What degree of decomposition would there be? What would such a future look like?"
"In some ways it was inspired by graphic novel imagery, even though the story doesn't have those origins," adds Albert Hughes. "We used comic book artists Tommy Lee Edwards, Chris Weston and Rodolfo Dimaggio to help us arrive at the overall look of the movie: the color template, characters, sets and locations…a kind of visual script." Extensive storyboarding then developed into a set of reference books that set the tone for each department, from preproduction through scoring and color timing. "The cast and crew could look at them and instantly get the vibe of the movie."
Employing a strategy of dividing the workload as they often do, Allen Hughes spent much of the pre-production schedule overseeing casting and the script in Los Angeles while Albert Hughes focused on the specifics of production design and cinematography with Valdes on location, maintaining constant communication.
"Allen Hughes and Albert Hughes have a seamless partnership. They complement each other so well and they each bring so much to the table, it's exponential," says Andrew A. Kosove. The production filmed at various New Mexico locales, primarily in and around Albuquerque, as well as the roadways at Cochiti Pueblo. It also utilised the White Sands National Monument and White Sands Ranch in the southern part of the state for its characteristic open skies and expansive vistas.
For all its topographical perfection, the area had its drawbacks, like blinding 65 mile-perhour dust storms. "Extreme weather can come up out of nowhere. It can be a calm sunny day and the next minute it's like that scene in 'The Wizard of Oz' where the house blows away," Allen Hughes laughingly recalls.
Though naturally austere, exterior footage still required digital adjustment, a task entrusted to visual effects supervisor Jon Farhat ("The Mask"), who describes, "Even in shots of the most barren parts of New Mexico, the sage and tumbleweeds had to go. The directors wanted a totally denuded environment. Essentially, every exterior shot in the movie-from the horizon up, and behind anything in the foreground-was modified."
Visual effects also enhanced the sense of movement and urgency the Hughes brothers wanted. Says Jon Farhat, "In this fragile atmosphere, the sky needs to move a little faster than normal. Clouds were a significant design element. During most of the movie they are moving against Eli's forward progress, indicating that he's heading west."
After some experimentation, the directors and cinematographer Don Burgess elected to shoot "The Book of Eli" with a RED Digital Camera, which records directly to a flash or hard disk. "With computers set up in the trailer, we had the opportunity after every scene to coloradjust and immediately project the image onto a screen. It kept us in tune with the changes of color or texture we'd be making in post," says Don Burgess.
Color and texture were also the focus of production designer Gae Buckley, reuniting with producers Broderick Johnson and Andrew Kosove after "The Sisterhood of the Traveling Pants 2." "Gae Buckley had worked with us on a very different kind of film," Andrew Kosove says, while adding, "I knew she could create Eli's world. What she did is magnificent. The sets were spectacular; everywhere you look, it's a post-apocalyptic universe."
Gae Buckley designed sets on soundstages at the Albuquerque Studios, as well as an abandoned road and set piece elements for green-screen work on the backlot. She also oversaw construction of the house occupied by George and Martha on a desolate stretch of desert a short distance from the studio. But her most comprehensive design was Carnegie's town.
"We were looking for a small community that might have some missing buildings in its downtown area so we could build in some ruined structures," says Gae Buckley, who found what she needed in the New Mexico town of Carrizozo, population 1,036. She created a streetscape that stretched between two avenues, installing false fronts over existing businesses or building new structures in vacant spaces on both sides of the street, based on historic photos of war-torn sites.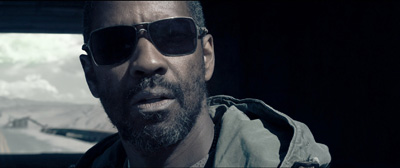 The jewel in this crown was the story's Orpheum Theatre, Carnegie's home and base of operations, relatively well-preserved due to its brick construction. It's here that Eli and Carnegie first size each other up.
Addressing the artistry of cinematic decay, Gae Buckley admits, "I love working with crumbling walls and their silhouettes, and creating these textures with layers of paint and rubble. Our painters were incredible. Every single surface has about four or five colors on it: the undercoats, then the peeling and aging coats. It was a tremendous amount of work." The theater's interior was built on a soundstage, an elaborate two-story set with a circular balcony and a bar that showcases one of the big fight scenes.
Another unusual set was a stark and leafless forest that Gae Buckley constructed entirely indoors, with dead trees harvested from the site of New Mexico's recent Manzano forest fire, through the cooperation of the National Forest Service.
As the setting for the film's opening scene, the forest immediately defines Eli's brutally inhospitable surroundings and helps to define the man himself: smart, resourceful, able to use everything in his environment to stay alive. It suggests the sacrifices and the risks such an existence would require.
"I think there are elements of instinct and human nature here that anyone can relate to. Our hope is for audiences to feel an emotional connection to these characters and come away with a feeling that stays with them," says Albert Hughes.
Adds Allen Hughes, "What we'd like people to take away from 'The Book of Eli' is an appreciation of life and how precious it is. It's a story that touches on universal themes of faith, commitment, sacrifice and, ultimately, hope. These are the elements that originally attracted us and we tried to do them justice."