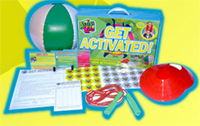 Join Amy Wilkins & Scott Ehler and Get Activated!
Active Kidz Outdoor is the ultimate 2-6 player game for backyards and parks. The game has over 115 activity and active facts cards as well as a skipping rope, markers and a blow up ball, neatly packed into a funky carry case. To achieve a winning 5 gold medals players must be able to Bounce it like Beckham, do some Outstanding Handstanding, Limbo, Jump the River or Flick Kick.
To keep motivation and confidence high, all players get involved, even if it is not their turn. Active Kidz Indoor and Outdoor have found the perfect formula to get Aussie kids ACTIVATED !!.
Available from ABC Shops, Kmart, Target, Toys R Us and all leading game and toy stores. Indoor RRP $29.95/Outdoor $39.95. Go to
www.bright-sparx.com.au
or call (02) 9810 8596 for more information.