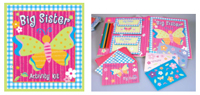 Involve the Big Brother and Big Sister in the arrival of their new sibling.
54 piece activity kit for the brand new Big Sister includes an activity and colouring book, 10 announcement cards, 47 deluxe stickers & 6 colour pencils.
The chances are you probably know someone who is about to have a baby and babybuds® offers the perfect gift to celebrate baby arrivals & gifts for siblings, Big Brother or Big Sister.
Young children seldom understand the arrival of a new baby and can get jealous when new baby arrives. Activity Books for Big Sisters & Brothers make an excellent distraction in the hospital and make everyone feel important. RRP $29.95
www.babybuds.com.au