The Fastest, Most Powerful Iron Just Got Smarter
With intelligent automatic steam PerfectCare Elite Plus is the most powerful and fastest steam generator in the world, with ultra-light iron and intelligent automatic steam for ultimate convenience. No temperature settings is required and no burns - guaranteed.

No temperature setting needed, guaranteed no burn
• No burns – guaranteed
• OptimalTEMP technology, no temperature settings required
• Independently tested and approved

Fast ironing with continuous powerful steam
• Easy and efficient descaling system for lasting performance
• Intelligent automatic steam for faster, easier ironing
• Powerful steam for ultimate crease removal
• Save energy with ECO mode
• T-ionicGlide soleplate, ultimate gliding & durability

Ultimate ironing experience
• Automatic shut off when iron is left unattended
• Carry lock for safe and easy transport
• Large 1.8L detachable water tank for easy refilling
• Light weight and comfortable iron to handle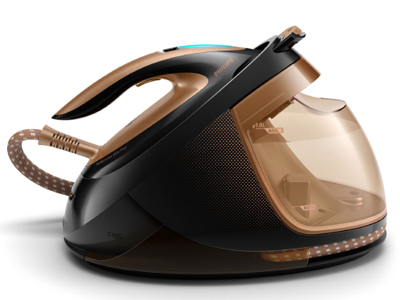 Review: The PerfectCare Elite Plus has been a game-changer for us, especially during the busiest month of the year, festive season. We've been using the PerfectCare Elite Plus for light summer dresses and my partner's shirts. The PerfectCare Elite Plus makes ironing speedy and definitely cuts the time of ironing a shirt in half which is extraordinary considering we haven't used any of the special functions other than the automatic steam - I start ironing and it starts steaming!

Impressively light, the PerfectCare Elite Plus is the smoothest iron I've ever used and provides fantastic, crisp results without the continued back and forth over the same section. And, when I was talking about how impressed my partner and I were with the PerfectCare Elite Plus a colleague mentioned their Aunty has two as she runs an ironing business and two irons means she can rotate as the water runs out.

The best tip for the PerfectCare Elite Plus is to ensure you keep on top of the decalc tray to keep the iron working as well as the first time.


Interview with Abbey Gelmi
Question: Are you able to share any wedding details, with us?

Abbey Gelmi: It was magic. Everything we'd hoped for and more… Ben and I were married in the Adelaide Hills, with our families as well as nearest and dearest in attendance. We had the best team of creatives to work with and the venue, Lot 100, was the most spectacular backdrop. I wore two dresses; for the ceremony A gorgeous Pallas Couture gown and then to dance the night away a Lillian Khallouf cocktail number. We kept the formalities to a minimum because we just wanted everyone to just have fun and celebrate with us. There was a lot of love in the room and I can't remember the last time I laughed or cried that much. It wish we could do it all again!


Question: Can you tell us about your partnership with Philips Garment Care?

Abbey Gelmi: It was a very natural fit for me, Phillips have an incredible range of garment care products and the brand is synonymous with quality. Spring Racing is one my busiest times of year and involves a lot of outfit changes. Covering racing for Channel 7 means I always want to look my best and nothing feels better than putting on a well pressed, crease free frock!


Question: What do you love most about the PerfectCare Elite Plus?

Abbey Gelmi: The fact that I don't have to think about it, it adjusts the temperature automatically and I can just move from one fabric to another without having to worry, makes things a lot quicker and easier.


Question: How do you use the PerfectCare Elite Plus?

Abbey Gelmi: I pretty much use it for everything! It handles the most delicate silks and chiffons as well as denim. This may sound crazy, but my favourite is steaming pleats… Perfect every time. And very satisfying for my OCD side.


Question: After use, how do you continue to keep your favourite garments crease-free?

Abbey Gelmi: I invest in good wooden coat hangers that have broad shoulders for proper support of jackets and coats and I will layer more delicate dresses and shirts underneath, so they are protected. The key is not to have too many items in your wardrobe so everything has a bit of breathing room so I try to have a closet clean out every season. And hang everything up as soon as you have cleaned it!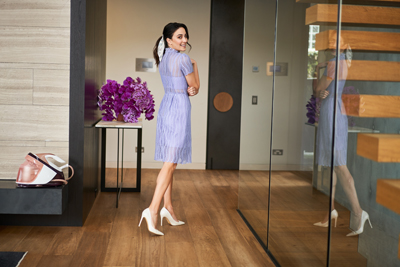 Question: Can you share your top Summer fashion tips with us?

Abbey Gelmi: My best summer fashion tip is always go for comfort and don't be afraid to dress up. Talulah do some wonderful floaty dresses, LOVER is great for going beach to bar and for something more formal, you can't go past a Ralph Lauren pant suit.


Question: What is involved in your new hosting roles with Channel 7's House Rules and cricket?

Abbey Gelmi: I am very excited to be hosting the new House Rules series alongside Jamie Durie. The show is going to be next level and we have a lot of fun on set. I can't give too much away, but this is house rules as you've never seen it before. The stakes are higher and the renovations spectacular. Aside from House Rules, I will be tripping around Australia visiting some beautiful locations while hosting the Big Bash. I really really love my job.


Question: What originally inspired your passion for broadcasting?

Abbey Gelmi: I played a lot of sport as a kid and when I found out you could have a job talking about it seemed too good to be true. I studied journalism and did my post graduate in broadcast. Later I interned with a network and got a great understanding of what goes on behind the scenes which really ignited my interest. Live TV is fast, unpredictable and a lot of fun. I love it.


Question: What's a typical day like, for you?

Abbey Gelmi: I wish I could say I have a typical day, but every day is different, which keeps things interesting. As much as possible I love to start the day early with a walk with my dog Harrold and Ben. Coffee in hand. If I am not filming or traveling somewhere to film, you will find me near the water, catching up with friends for dinner or just watching reality TV with Ben. Well I watch, and he laughs at my running commentary…


Interview by Brooke Hunter