Zero Dark Thirty
Cast
: Jessica Chastain, Joel Edgerton, James Gandolfini
Director
: Kathryn Bigelow
Genre
: Action, Thriller
Rated
: MA
Running Time
: 157 minutes
Synopsis
: Zero Dark Thirty reunites the Oscar winning team of director-producer Kathryn Bigelow and writer-producer Mark Boal (The Hurt Locker), for the true story of history's greatest manhunt for the world's most dangerous man.
Release Date
: January 31st, 2013
About the Production
The hunt for Osama bin Laden preoccupied the world and two American presidential administrations for more than a decade. But in the end, it took a small, dedicated team of CIA operatives to track him down. Every aspect of their mission was shrouded in secrecy. Though some of the details have since been made public, many of the most significant parts of the intelligence operation--including the central role played by that team--are brought to the screen for the first time in a nuanced and gripping new film by the Oscar®-winning creative duo of Kathryn Bigelow and Mark Boal.
Their account of bin Laden's pursuit and capture, vivid yet faithful to the facts, takes the viewer inside the hubs of power and to the front lines of this historic mission, culminating in the special operations assault on a mysterious, suburban Pakistani compound.
But it is the lead-up to the raid that truly distinguishes Zero Dark Thirty from other accounts. The quest to find bin Laden was fraught with danger from the start, and not every U.S. operative survived. Some intelligence experts came to believe that the assignment was impossible to carry out, but on the ground a determined team of analysts and interrogators defied the odds and proved them wrong. For the first time, their struggle to find Osama bin Laden is told on the screen in electrifying detail.
The initial, self-imposed creative challenge Kathryn Bigelow and Mark Boal faced in developing Zero Dark Thirty was how to tell this multifaceted story in the compressed time frame of a motion picture. The film encompasses sweeping events spanning nearly a decade, journeying across multiple countries and involving a precisely chosen cast of hundreds along with a devoted crew whose objective was to capture the on-the-ground reality of this mission as truthfully and viscerally as possible. To that end, it pulls no punches in documenting the moral lines--including torture--that were crossed. The intention was to create a cinematic work with the sweep and human emotion of a historical novel.
Zero Dark Thirty (the title is military jargon for the dark of night, as well as the moment-12:30 a.m.-when the Navy SEALs first stepped foot on the compound) marks Kathryn Bigelow's most ambitious production to date. Deploying the full arsenal of filmic art, from the naturalistic performances of an ensemble that includes Jessica Chastain, Jason Clarke, Joel Edgerton, Jennifer Ehle, Mark Strong, Kyle Chandler, and Edgar Ramirez, to innovative cinematography in extreme low-light conditions, to the painstakingly layered art direction, every facet of the production became a proving ground for Kathryn Bigelow to make living history come alive on screen.
For screenwriter and producer Mark Boal, a trained journalist and award-winning dramatist, sourcing and reporting the story so that it could be told accurately and fully presented countless unique challenges. He made a commitment to his sources that he would chronicle not only their personal struggles, but also the details and the ramifications of this historic operation, while simultaneously protecting the identities of those he interviewed. Through dialogue and scenes inspired by extensive interviews, Mark Boal crafted characters that captured the essence of the real life people involved in the operation as well as other members of the military and intelligence communities.
At the end of the day, the filmmakers chose to tell the story through the eyes of a little-known participant in the intel hunt: Maya, a young CIA officer and targeter whose job is finding terrorists. In a multifaceted performance by Chastain, the character of Maya, which is based on a real person, became Mark Boal's vehicle for dramatizing the individual's role in the larger scheme. In some ways, the portrait of her development, from innocence to horror and grim determination, echoes the evolution of a nation struggling to cope with the ruthless calculus of terrorism.
Unlike Kathryn Bigelow and Mark Boal's previous collaboration, The Hurt Locker, in which fictional characters were set against the terrifying real world of Iraq, Zero Dark Thirty is distinctive and singular in its approach. It is an amalgam of action-film and investigative reporting and drama, neither a work of fiction nor a documentary but an exciting hybrid that tracks closely what is known of the intelligence hunt, while shedding new light on the secretive, dark corridors of the war on terror. It deftly depicts the mysteries of human courage and the ambiguities of a situation in which the usual moral rules no longer apply.
Cinematic story telling became the perfect means to relay the narrative. In staking out this novel territory, Mark Boal's inspiration was the New Journalism of the 1960s, when major American writers learned to apply the techniques of literature to the description of real events. In this sense, Zero Dark Thirty attempts to move the genre of literary reportage forward, offering the audience a unique kind of movie: the reported film.
At its core, Zero Dark Thirty offers a cinematic rendition into one of the most discussed but least known events of modern times from creative artists challenging themselves to push the limits of their craft. Events are recreated with a fidelity to the facts, including filming in Pakistan itself, embedding the viewer into the centre of the action. The result is a film as profound and provocative as it is stunning and real.
Manhunt
In the storied history of manhunts for international criminals, the quest for Osama bin Laden has no real precedent.
"It is the story of finding a very sharp needle in a very large haystack," notes director Kathryn Bigelow. "Once bin Laden escaped from Afghanistan, he fenced himself in with a byzantine network that took years and years to unravel. And what I think is so intriguing about Mark Boal's script is the way it tracks all the minute steps, in a way that's dramatic yet totally unsentimental, unsparing, and unsettling. This is a very raw account."
Where would the breakthroughs come? What clues might give bin Laden's location away? Could Al Qaeda operatives be turned?
While these were all essential questions, for Kathryn Bigelow and Mark Boal a more fundamental question loomed: who were the CIA operatives who refused to give up and stayed on bin Laden's trail even when it went cold and the world was distracted by other crises? For the first time, a film focuses on the human dimension of that story, illustrating the internal struggle of the operatives and the overwhelming toll of the mission.
"The question for me as a filmmaker was, how do you tie all the pieces of this epic story together in a way that will be tonally united and all in the same register?" says Kathryn Bigelow. "Mark Boal's research and script brought the breadth of it, from Afghanistan to Washington to Pakistan, to life. And then it became a kind of instinctual process, moment-by-moment, scene-by-scene, of telling the story with restraint at every level. It was both a massive undertaking and a very careful, subtle undertaking and there is no way I could have made Zero Dark Thirty without all the experiences I've had as a filmmaker so far."
Research
The quest to tell the story of Zero Dark Thirty would eventually lead Kathryn Bigelow and Mark Boal into their own labyrinthine encounter with secretiveness and intense production challenges. But it all started simply and quietly, six years ago.
"This thing is pretty handmade," says Mark Boal, "and it's gone through two iterations. It began six years ago as a movie about the failure to capture bin Laden in Tora Bora. I spent a few years on that, researching and writing, and we were in pre-production of that film by 2011, with scouts in Romania. Then, more or less out of the blue, bin Laden was killed, and that film became ancient history. So I had to start again."
"This story was always personal to me because I grew up in New York City, in the shadow of The World Trade Center and, after 9/11, I really felt I needed to understand more about bin Laden and the U.S. response to him," notes Mark Boal, who has reported on national security issues and the wars in Iraq and Afghanistan for magazines as diverse as Playboy and Rolling Stone. "The guy attacked my hometown, and the long aftermath of that day has defined my professional life as a writer. I can't say I picked the topic. Writers, like children, don't always get to pick their influences. It picked me."
At that time, Kathryn Bigelow was already drawing critical and popular attention as a director with her own uncompromising vision and affinity for meshing taut, involving action with human intrigue in features including Near Dark, Blue Steel and K-19: The Widowmaker. In the midst of Mark Boal's initial research on Tora Bora, he and Bigelow made The Hurt Locker, which would win her a place in history as one of the leading chroniclers of 21st Century warfare and as the first woman ever to win the Oscar® for Best Director.
Still, even with acclaim and awards on their side, the topic of bin Laden remained a non-starter in Hollywood and the filmmakers had to find independent financing to get the project off the ground. Mark Boal and Kathryn Bigelow joined forces with producer and financier Megan Ellison, who funded the picture through her label, Annapurna Pictures.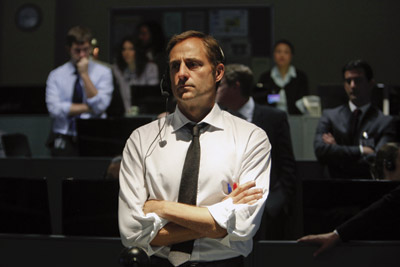 After the historic events of May 1, 2011, when news of bin Laden's death stunned the world, Mark Boal moved to Washington for several months, diving into 80-plus hour work-weeks, literally pounding the pavement and knocking on doors. He then travelled to Pakistan and other parts of the Middle East to follow the leads of the story.
"Public affairs at some agencies were helpful, and then a lot of the reporting was done the old-fashioned way, with shoe leather, and sourcing and luck," explains Mark Boal. "My intention was to get as many first-hand accounts from those who were involved as possible, and I was at the end of the day fortunate to be able to write a script drawn almost entirely from first-hand accounts of the people directly involved in the mission."
"Obviously, unless you are making a documentary, at a certain point, you have to take off your journalist's hat and put on your screenwriter's hat to tell a great story. This is a movie after all. When you are detailing a ten-year manhunt and compressing those facts and that research into a two-hour movie, you have to tell your story efficiently."
Mark Boal's approach synched perfectly with Kathryn Bigelow's vision for the film. "The public knows very little about what the unsung heroes in the intelligence community go through, which is as it has to be, but here you get a rare opportunity to have a first-hand look at the men and women at the heart of one of the most covert operations in our history," says the director. "Mark Boal didn't just ascertain facts; he absorbed the subtle nuances permeating the atmosphere of this world - the personalities, the conflicts, the motivations, the uncertainties - and then brilliantly illuminated them."
Interrogations
Along with the audience, the central character of the story, Maya, is parachuted into the hunt for bin Laden with the unsettling experience of a so-called "enhanced interrogation" session of an Al Qaeda detainee.
Maya's complex response to these very disturbing moments echoes our own.
"Putting it mildly, this is an extremely controversial subject. I wanted to try to capture the complexity of the situation, morally and psychologically. It's not an aesthetic goal of the film to settle scores, or end the debate about torture's efficacy - which is still ongoing, even within the community of people who advocated for it and implemented it," says Mark Boal. "But it was part of the story and we needed to include it. The goal was to portray the events vividly and to make them real for the audience."
"On the other hand," he says, "towards the end of the film, we see that, ultimately, bin Laden's compound was found not through any of these techniques, but through a combination of bribery, traditional spy work and electronic surveillance.
When it came to shooting these sequences, Kathryn Bigelow took a leap far outside her comfort zone. "As a human being I wanted to cover my eyes, but as a filmmaker, I felt a responsibility to document and bear witness," she says. "I felt I had to overcome my discomfort for the sake of telling the story.
Director of Photography Greig Fraser ACS also found it harrowing, but revealing, to shoot the interrogation scenes. "It was extremely difficult to watch, and they are not something I would like to do again," he confesses. "Even in simulation, it leaves a heavy burden on one's psyche. But these things happened and I think it's a testament to the film that it immerses you in every event equally."
CIA Operatives
At the core of Zero Dark Thirty's production lay a demanding casting process that would weave together more than 120 speaking roles from auditions of over 1000 actors from around the world.
Each and every character - from the main cast of CIA operatives and Navy SEALs to the smaller roles, including detainees seen only in video clips (that Kathryn Bigelow shot individually as mini-movies) - was carefully hand-picked to create a web of personalities to define the story. Kathryn Bigelow wanted experienced actors who weren't defined by a public persona, so that audiences could see them as their characters.
"It was an enormous and very involved casting job," says Kathryn Bigelow, "but I felt the choices could only be determined by instinct. For each role, I was looking for certain cadences, certain rhythms, a certain feeling of absolute veracity. You know it when you see it."
Kathryn Bigelow even sought to cast the background voices with the precise accents one would hear in the border regions of Pakistan.
The keystone of the casting was Maya, the CIA targeter who devotes her very existence to finding bin Laden, and traces him to a Pakistan suburb. She is a woman who to some degree falls into the classic category of obsessive cinematic sleuths - those who cannot rest until their man is caught - but with a distinctively contemporary take on motivation, for the film offers no clear explanation for her evolving personality, leaving viewers to reach their own conclusions about what makes Maya tick and what makes her change. While there is no doubt that she is extremely focused, intelligent, and resolute, she remains essentially mysterious.
"I'm not a huge fan of Freudian back-story and exposition," says Mark Boal. "I like characters who are defined solely by what they do, in the existential present tense. At the same time, there was the practical consideration. I had to limit biographical detail for the sake of protecting identity."
Nevertheless, Maya is clearly a woman with aspirational qualities, and to play the role, the filmmakers chose one of today's most versatile and magnetic actresses, Jessica Chastain.
"We needed a tremendously talented actress with the verbal agility to handle the complexity of the dialogue, as well as the fearless approach that the role demanded," Kathryn Bigelow says. "Jessica Chastain possesses a real gravitas and intensity. She can channel depth and nuance into even the subtlest of moments."
Jessica Chastain remembers being drawn to the role. "By page 20 of the script, I knew I had to play Maya," she recalls. "I immediately understood why she was so completely consumed and obsessed by this search. I thought it was one of the best parts I'd ever read; I just loved her strength and tenacity.
"The character made me laugh with how focused she can be on getting what she wants. The detail of the screenplay was amazing. Everyone in my generation remembers where they were when they heard bin Laden was dead - but none of us knows what it was like to be in the CIA hunting him. This story brings heroes like Maya, people who made a difference, into the light."
She was also compelled by Maya's metamorphosis from a shell-shocked new recruit to a steely navigator of the fog-shrouded world of counter-terrorism.
"I was really moved and excited by Maya's arc," Jessica Chastain continues. "In essence, you see her grow up through the film, as finding bin Laden becomes a more and more personal mission to her. You see her start to lose her old self and become someone new. The very end of the movie is so interesting to me because it's almost like she doesn't quite know who she is anymore. And to tell that kind of emotionally complex and very real story about a character is why I do this."
Working in India and Jordan also gave her further insight into what women like Maya go through trying to slip unnoticed into a foreign culture. "You really feel that you are on the other side of the world and cut off from all the things you are used to," Jessica Chastain notes. "I imagine it felt similar for Maya when she first arrived. All your relationships become very intense - very close, very fast, and that was something you only understand by experiencing it. I don't see how we could have made this film in this way anywhere else."
When Maya arrives in Pakistan, she is taken under the wing of Dan, a CIA operative who initiates her right away into the wrenching work of handling hostile terrorists.
Taking the pivotal role is the Australian actor Jason Clarke. He won Kathryn Bigelow over during an audition a few years back. "His presence really stayed with me," she says. "He's a force of nature, with a combination of strength, resolve and worldliness that was pitch-perfect for this role."
Jason Clarke has travelled in Afghanistan, and was backpacking there on 9/11, in a remote village. Bigelow continues: "He's someone who has a knowledge of history and is always an engaged student of the world no matter where he goes."
"All my traveling worked particularly well in creating Dan," Jason Clarke concurs. "He's a guy who has to be able to blend in and deal with the unknown, to be watchful, sensitive and aware. I've been to some strange and even scary places and I know you have to learn to be smart, you have to be decisive and most of all, you have to be patient - all qualities that Dan has cultivated."
Those qualities all come into play in CIA interrogations, but they also get mixed in with adrenaline and primal instincts as frustrations grow. Jason Clarke notes that extracting information from the uncooperative is a complex field with many gray areas for those engaged in it. "Ironically, interrogations are about forming relationships," he explains. "I think the film gives people a raw experience that is visceral, emotional and intelligent, so they can make their own conclusions."
One of the most harrowing roles in Zero Dark Thirty is that of the man whom Dan interrogates in a series of sessions encompassing physical and mental torture. Playing the uncooperative black site detainee Ammar is the French Algerian actor Reda Kateb, who won acclaim for his performance in Jacques Audiard's daring prison drama, A Prophet.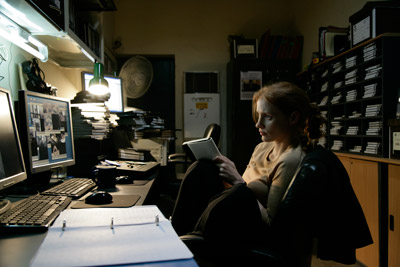 Regarding these sequences, Mark Boal says, "We don't get to choose the times we live in. The war on terror put individuals in a situation where the normal rules, the usual moral compass, was not so clear."
Kateb admits that he had his reservations. "When I read the part I was a bit scared, because of the intensity and brutal honesty of the environment and situation… these are things I'm not used to doing. But then I read it again, and it was so well written and I felt it was not really the cliché of the Arab world you see on TV. I felt the screenplay took in all the human sides of the story, and my point of view is that the angle of the artist must always do that."
Once on the set, Kateb says it was important to conserve his physical and emotional energy and apply it judiciously. "You have to be very careful not to be too taken by the energy of the moment, because you need to be ready for the next take," he explains. "So you give a lot, but you also try to preserve yourself to be ready for the next moments over several days."
Working with Jason Clarke as his interrogator also required deep trust. "It is strange to meet someone and right from that moment go into these harrowing encounters together," Kateb admits, "but we were clear on the fact that these were roles we were playing when the camera was rolling. With that clear, we were able to go very, very far, and actually developed a great connection."
Unsettling as those scenes got, Jason Clarke would often reassure Kateb when the cameras stopped that he was still the same Jason Clarke. "I just wanted to let him know as Jason Clarke that anything he needed, just ask," he says. "Which was, of course, a mirror of what was going in the scene."
Playing the character of Joseph Bradley, Maya's CIA Station Chief in Islamabad, is Kyle Chandler. "Kyle Chandler has an all-American charm," says Kathryn Bigelow. "I understand that there are men like him in the CIA - case officers who cultivate that side of themselves, to be smooth. You feel in him the desire to do the right thing, but there's a bit of a rascal, too," she observes.
Mark Boal adds, "A former station chief once said to me, 'good people don't become case officers,' and I kept thinking about that - about a job where deception is a prerequisite for career advancement - when I was writing Kyle Chandler's part."
"He is someone whose job places the most incredible demands upon a person," Kyle Chandler comments. "He is someone who has to be able to make decisions that might be life-altering for other people, whether immediately or down the line. It's remarkable to me that ordinary people do these extraordinary jobs."
At Langley, Maya's ultimate boss is George, head of Afghanistan and Pakistan Divisions of the Counter Terrorism Center at the CIA. Taking the role is Mark Strong. Although Mark Strong's dialogue was scripted, many of the phrases came from reporting. "The long speech where he says 'do your jobs, bring me people to kill'. That was actually said in real life."
As the clues come and go and the lead never quite crystallises, Maya adds a new recruit to her fanatical quest in the form of Larry, a CIA ground branch operative and surveillance specialist. He is played by Edgar Ramirez, who was recently seen playing the notorious terrorist Carlos the Jackal in Carlos.
"I found it really interesting to try to get under the skin of a guy whose very job is to blend in and go unnoticed," he explains. "Larry is someone used to erasing his identity."
The film's bona fide locations, and guerilla shooting style, added to the intensity for Edgar Ramirez. Kathryn Bigelow sent him into sprawling markets in India with only loose blocking instructions and hidden cameras following his every move.
"It gave a very special texture to things," he says. "You had the feeling you were breathing in the same air that the people who really hunted for bin Laden did. That's what I like so much about this film. It's about the authentic experiences and emotions of the people who really were there, and how they live with their jobs."
Contrasting with Maya is another female CIA operative in Pakistan: the more experienced and tradition-minded Jessica, a character inspired by a real life CIA officer.
As played by Jennifer Ehle, Jessica represents a generation of CIA analysts that came to the fore before 9/11. "She's more Old School in the way she looks for leads," Jennifer Ehle notes. "When she was just starting out as an operative, the CIA's techniques were Cold War-based and that's how she learned."
This makes both for competitive tension and a connection that will come to haunt Maya. "Jessica and Maya are both Alpha Women among the operatives in Pakistan, says Jennifer Ehle. "So of course there is some natural friction between them, but eventually they become close."
NAVY Seals
As the hunt for bin Laden reaches its climactic moments, the focus switches from CIA operatives to another veiled group of warriors: Navy SEAL Team Six. They were tasked with carrying out the helicopter incursion into Osama bin Laden's Abbottabad compound. Renowned for their physical conditioning, and their ability to function under extreme pressure, Navy SEALs are a special breed of soldier - thinking, creative, tough, trigger-pullers. To portray these men, Kathryn Bigelow looked for actors who could capture their intense personalities and withstand the training for the film, which included a rigorous, intensive Special Forces style boot camp.
Taking on the role of SEAL team leader Patrick is another rising Australian actor, Joel Edgerton. "Kathryn Bigelow and Mark Boal were obsessed with every detail," says Joel Edgerton. "We were under the scrutiny of an actual retired Navy SEAL on the set, constantly asking 'how do they enter a room?' 'how do they carry their arms?' It never stopped."
Adds Kathryn Bigelow: "Joel Edgerton has a very quiet, intense presence and you immediately feel his authority and strength. He made Patrick an accessible character, which was so important to the climax of the film. He has a natural leadership quality that makes him very believable as a leader of men."
She felt similarly about Chris Pratt, who came to the fore in the multiple Oscar®-nominated film Moneyball, and plays Justin, Patrick's comrade on the raid. "There is such an affable strength to him and that was what excited me." But Chris Pratt brought an even more impressive quality to the role - he had a family background in the military. Kathryn Bigelow adds, "He seemed to really understand how these guys survive the soul-crushing nature of their work through humor."
Chris Pratt's character, Justin, represents the skeptical response many had when they were first briefed on the circumstantial nature of the evidence that bin Laden would be the hidden quarry in the Abbottabad compound. "I think it's easy to understand his skepticism," says Chris Pratt. "After all, this is not the first time these guys have been sent to 'kill bin Laden.' And a guy like Justin has lost friends on those missions, and he understands as well as anyone the potential costs of being wrong."
The Illusion Of Reality
"I wanted to create an environment that would never feel artificial, but also captures the exoticism and force of the story with as much striking imagery as possible," says Kathryn Bigelow. "So it ends up being planned to within an inch of its life, but hopefully it appears unplanned, or even 'found'… Naturalism takes a lot of work."
In the first place, for Kathryn Bigelow, part of the work was tackled on a managerial level with a plan to mesh the camera department with the art department, in order to merge the two fields into an integrated whole. Set design and dressing were also conceived and coordinated, she says, "in absolute lock-step with camera."
Kathryn Bigelow chose a cinematographer, Greig Fraser (Snow White and The Huntsman, Let Me In, Bright Star) and a production designer, Jeremy Hindle (making his feature film debut), who were not only former colleagues but also close personal friends. "They're both masters," says Kathryn Bigelow. "They work so closely together that they can finish each other's sentences, and all that adds up to help create a unified aesthetic."
"I know Greig Fraser loves reflective surfaces," says Jeremy Hindle, "So I'd look for opportunities, especially in the low light work, to give the photography a little kick."
The result is a camera that is alive and immersive, hand-held, which creates an intimacy and rough-hewn quality. "Every time there was a shot that looked like it was a reference to another movie, Greig Fraser and I would look at each other and say, 'Oh God, we shouldn't do that,' so we'd change it to look a little less familiar, and strip it back to be as bare and natural as possible."
From the get-go, Greig Fraser was intrigued by the challenges of Zero Dark Thirty. "Photographically, one of the most appealing things about this story is that you are taking the audience into worlds they don't really know. From the CIA offices in Washington to the streets of Pakistan to bin Laden's compound, you have a lot of natural contrasts and myriad looks that take the audience on a real journey."
Those contrasts become another entrée into Maya's day-to-day reality. "She is going back and forth from the clean, white light and clarity of CIA offices to the smoggy, colorful haze of being outside and on the streets," observes Kathryn Bigelow.
Kathryn Bigelow and Greig Fraser decided early on to shoot the film with the Arri Alexa digital cameras. "It was a very specific decision, driven in part by the need to capture the low light of the raid in Abbottabad," explains Kathryn Bigelow. "The cameras are wonderfully sensitive to light, so we were able to utilise the softest, dimmest light source possible, allowing us to more accurately simulate a moonless night.."
"In Greig Fraser's hands, and with the specific lenses he chose, the Alexa gives you a unique texture that is neither like film, nor really what you would expect from digital," says Kathryn Bigelow. "It's not perfectly clean, it's faintly granular, and yet has colour latitude that can create a very dense, saturated, lush, image."
The Inspiration of Extreme Locations
Creating that lush image meant traveling far and wide to locate the picture in places that closely matched their real life counter parts. To keep their commitment to organic realism, Kathryn Bigelow and Mark Boal determined early on that they could not and would not shoot Zero Dark Thirty on soundstages. Instead, they were ready to go to the most far-flung places to find locations that closely mirrored the distinctive tribal regions and cities of Pakistan where much of the hunt for bin Laden unfolded.
Says Kathryn Bigelow, "You take a real environment and manipulate it, through blocking, dressing, all the tricks of the trade, and try to make it visually resonant."
After a worldwide search for a building that could double as the American embassy in Islamabad, Pakistan, the filmmakers settled on a science university in a small town of Chandigarh, in northern India, close to the border of Pakistan. The school, fully functioning with young students, was repainted, and re-dressed, and a lot of attention was paid to the way the surfaces and spaces would work on camera. Extensive testing was done to manipulate the color palate, and texture of the walls. Then came finishing touches of a secured State Department post, from cameras to cypher locks.
"The way we shot the movie, where and how we shot - each of these choices was informed by a vision of respecting how the real story happened," says Mark Boal. "We knew it would be a difficult process to drag a whole film company half way around the world, but it gave us something essential. Once you start compromising on a film like this, it becomes a slippery slope."
However, Zero Dark Thirty was the first Western film to be made there, so the production attracted considerable attention. "There are a lot of different colors to shooting in India," notes Mark Boal. "They require permits and approvals for many aspects of filming that we take for granted in the US: for cigarette smoking on the set, for shooting on a national holiday, approval by the Home Office…you might think that with all of these permits, nothing would be left to chance, but at the same time there is a lot of unpredictability."
In Chandigarh, shooting took place in the chaotic thrum of the streets, which meant dealing with the constant uncertainty of crowd management. "Large crowds came out to watch us film, and It could easily have gotten out of control," recalls Mark Boal. "We found that one way to solve this was to distract a crowd with 'fake shoots' - including one where we had one of our grips dancing, while we got the actual shot we needed elsewhere."
At one point, the production drew a different kind of crowd: a group of angry protesters. After some investigation, it turned out they were upset over a 2-inch American flag decal inadvertently left on a faux Pakistani street sign. Diplomacy was necessary. "The group sent their head guy and we all sat in a circle and I told them we did not want to insult India in any way," recalls Mark Boal. "They said, you're our guest and you're welcome to shoot here."
Replicating The Bin Laden Compund In Jordan
The climax of Zero Dark Thirty plays out on the film's most challenging and intriguing set: Osama bin Laden's final hiding place inside a 38,000 square foot compound, tucked into a well-to-do, suburban area of Abbottabad, Pakistan, just 100 miles from the Afghanistan border and less than a mile from the Pakistani military academy.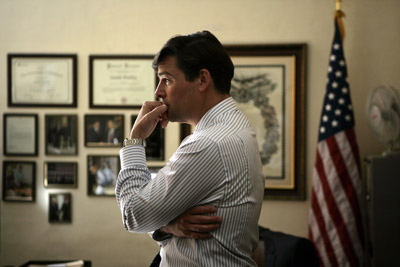 Based on blueprints, open-source intelligence and independent reporting, the production built its own replica of the walled compound, brick by brick, inch by inch, right down to the tiles, using local builders in a Dead Sea village not dissimilar to those found in Pakistan. Kathryn Bigelow wanted to show precisely the state in which bin Laden was found, and that absolutely meant she did not want a partial set.
"The house we built was entirely real - the lights went on, the doors locked and every room was arranged exactly according to the research," says Kathryn Bigelow.
The work of the re-creation fell to production designer Jeremy Hindle, who says he shares with Kathryn Bigelow a passion for genuine detail. "We both felt the art direction on this film shouldn't look art directed," he explains. "You are just there in the moment."
"Her perspective is to bring an emotional context to action and violence, rather than just the physical," he observes. "You walk away from her films feeling that the action has gone as much to your heart as to your head."
For the compound, Jeremy Hindle worked with the London-based company Frame Store to 3-D model the entire structure. He and his team then spent three months building the compound out of cinder block that was aged for a lived-in look that made it nearly indistinguishable from the photographs they had seen.
"It was just eerie," he muses. "After six solid weeks of painting, texturing, layering, cracking, breaking and smashing, it turned into the real thing. You felt like you were standing right there in Abbottabad."
The authenticity extended to the structure's very stability. "We had to build the compound so that it could withstand real Black Hawk helicopters flying right down on it, so we built the structure on six-to-nine-foot caissons underground," Jeremy Hindle explains.
While the bin Laden compound was a massive undertaking for Jeremy Hindle, the scope of his work extended to recreating a number of largely unseen locations from headlines of the last few years. These include the Khobar Towers, a Saudi Arabian housing development that was bombed in 1996, a terrorist act later attributed to Osama bin Laden and Al Qaeda; and Camp Chapman, the CIA base near Khost, Afghanistan that was attacked by a suicide bomber in December of 2009.
Lighting the Raid
Once the compound was created, an intensive effort began to capture, as precisely as possible, what happened there on that fateful night. The trick was to carefully choreograph a lighting scheme and a shooting style that would simulate what the SEALs would have experienced in real time.
"The SEALs arrived on a moonless night - the darkest night of the month - and we had to find ways to recreate that while also giving the audience enough visual information to know what is going on," says cinematographer Fraser. "We knew that we didn't want conventional night lighting, so we invented our own look. It's actually very, very complicated to create a 'no light' look."
"We looked at dozens of different ways to make a nighttime look, we did a lot of testing and we did a lot of talking about just how dark it should be." Fraser continues: Ultimately, we came to the conclusion that to really let the audience in on how dark the night was and what the mood was like, we had to do something fairly unconventional."
While a midnight inkiness abounds in the sequence, flashes of luminosity punctuate it, whether from explosions or other sources around them. "This is also part of the reality for SEALs," notes Fraser. "They crave light and hunt it out whenever it naturally occurs."
"We did that by wiring up a series of infrared lights, and then making them film-friendly. This turned out to be pretty accurate to what SEALs see because they also have mounted infra-red lights."
Kathryn Bigelow shot most of the raid sequences twice - once shooting night-for- night and again shooting with the Night Vision lighting scheme - all while dealing with local sandstorms that blew walls of dust across the set.
"We were shooting the night of the first-year anniversary of the raid, it was a haunting feeling," says Kathryn Bigelow.
The Stealth of Black Hawks
One of the most daring aspects of the U.S. mission in Abbottabad was the use of a top secret, experimental flightcraft that had never been deployed in this kind of situation: Sikorsky Black Hawk helicopters modified with stealth technology to allow them to approach undetected by the compound's security or the Pakistani military. Although conventional Black Hawks have had a long history of military use in treacherous, closed-in areas in Grenada, Iraq, Somalia, the Balkans and most recently Afghanistan, the untested stealt