World Password Day
With World Password Day, a global celebration to promote better password habits, fast approaching on May 5th, Intel Security is reminding consumers to ensure that their personal data is secure at all times.
A recent survey conducted by Intel Security has revealed the following Australian password habits*:
Australians have an average of
26
different personal and business-related accounts that require a password

33%
of Australians forget a password at least once a week

68%
of Australians don't know what multi-factor authentication is

20%
of Australians have regretted sharing a password with a family member or friend in the past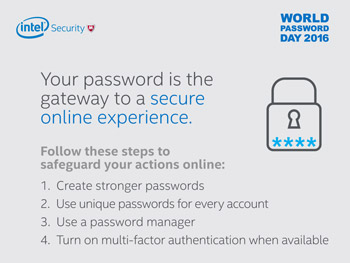 53%
of Australians would prefer to use thumbprint recognition and
20%
would prefer to use an eye scanner to login into their accounts instead of the traditional password
These findings don't come as a surprise, as many consumers feel overwhelmed by the number of passwords they are required to keep and manage safely.
However, staying on top of passwords, keeping up to date with current threats, new trends and safe practices is essential in today's fast paced digital world.
"With ransomware and malware attacks continuing to grow, password security plays a huge part in helping us stay protected online. Individuals need to prioritise their digital safety and security by using services such as password managers and multi-factor authentication. These tools are there to help with the daily challenge of trying to remember several passwords," said Melanie Duca, APAC Head of Consumer Marketing & Online, Intel Security.
Intel Security is urging consumers to take stock and secure their digital lives this World Password Day. Take charge of your passwords by visiting
https://passwordday.org/
to check how secure your passwords are and change them today.
For further tips on how to ensure that your passwords are keeping you safe, Intel Security has compiled the below tips to help consumers:
Use unique passwords for every account
Change your passwords regularly
Stop using one word passwords
Lock your mobile with a PIN or password
Let a manager memorise your passwords
Enable multi-factor authentication