William Hurt Late Bloomers Interview
Cast
: Isabella Rossellini, William Hurt, Joanna Lumley, Simon Callow
Director
: Julie Gavras
Genre
: Drama
Running Time
: 88 minutes
Synopsis
: In writer/director Julie Gavras' delightfully warm and wise romantic comedy, the inestimable Isabella Rossellini and Academy Award-winner William Hurt play a couple whose 30-year marriage is starting to run into trouble.
Hurt is Adam, a London-based architect horrified to find himself the recipient of awards that suggest he's reached the end of his career, while wife Mary (Rossellini), taken aback by an unexpected health scare, sets a course of radical action in league with her vivacious best friend Charlotte (Joanna Lumley). As Adam & Mary respond to these challenges in completely opposite and unpredictable ways (successfully infuriating each other in the process), their three adult children plot to find ways to keep them together…
With luminous supporting performances from a mix of established and upcoming British acting talent (including Simon Callow, Kate Ashfield and Luke Treadaway), Late Bloomers is an elegant and engaging portrait of marriage, and the joys & realities of getting on.
Release Date
: February 23rd, 2012
Interview with William Hurt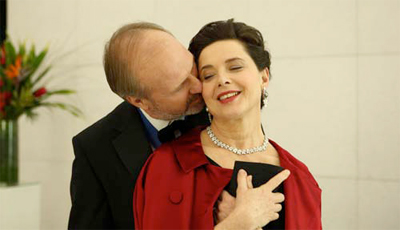 Question:
What attracted you to take part in this film?
William Hurt
: The script. I accepted straight away after having read it. And I also appreciated the fact that Julie crossed the Atlantic to discuss it with me.
Question:
How did you feel when you read the script?
William Hurt
: Even though I read the English version - which was not the original French version - it felt very true. The emotions were there, on each page. Julie's words found an echo with me; they sounded right. I immediately understood what the film was about: time slipping by while old age and death are looming on the horizon. The story combines several generations, each busy with their own worries and identities, which is sometimes the same in music. There was something melodic about the story, something deeply compassionate.
Question:
Is this compassion important for you?
William Hurt
: I have no wish to waste my time or my life. I need to feel something, to find a sense to my work and the only way to do so is to take on projects that broach real themes which are anything but superficial.
In the film industry we are confronted with artifice due to the very nature of our work.This leads us to look for truth as much as a better comprehension of things, because we need to understand reality to be an actor.
Question:
Does the subject of this film affect you?
William Hurt
: Who would not be? One of the most important scenes of the film takes place in a graveyard. Even in those settings, Julie and her story give us hope. We will all end up in a graveyard. This film is about all of us.
I think it's wonderful to be able to tackle a subject that so many avoid. Regarding MobyDick, Herman Melville explained that his book posed a question about a very human paradox. If I remember rightly, he said: "Why do the living take so much trouble silencing the dead? The dead are still alive our minds, and in this way their existence can continue eternally. Therefore there is nothing more precious than the present. Both in memory of those who were and for ourselves, because we too will all die for our loved ones". I have been wondering about this since I was young. I started my acting career in classical theatre in which the main questions about human nature are very present. I have always asked myself these questions and I'm delighted to be able to do so with this film. To have the chance to broach this vital, sublime and deep question, is a wonderful opportunity for an actor and I'm glad Julie Gavras gave me the chance.
Question:
Your character, Adam, appears to be in denial about his age…
William Hurt
: That's one of the questions the film raises. How is it possible to agree with what we become, regardless of age? How can one not give into fear and the image of the future we can imagine? How do we live our lives? A lot of courage is required to have an inkling of a chance of finding the answers. Growing up is a challenge. Life can be brilliant for those who can accept it.
Question:
What do you think of Mary and Adam?
William Hurt
: As for most long term couples, they are as much together as apart. Although both of them are experiencing a personal journey, they stay a team. This reminds me of a remark someone made a few years ago: a relationship is not an addition, it is a multiplication. The film recreates that, both Mary and Adam have their own personalities and yet they form a couple. It's a marvellous nuance. How did this couple manage to commit without either of them losing their own identity? That's the way it is, I believe, for all these wonderful couples.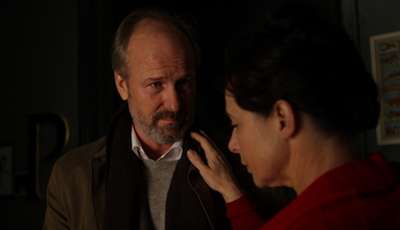 Question:
Can you see yourself in your character?
William Hurt
: I am only an actor. When I play a part, I endeavour to find something about myself that resembles the character, but that is not enough to define me as a person. At the beginning of the film preparation, my partners gave me a little book called, "101 lessons from the college of architecture". Before then I had raided the architecture section at my local book store to read up on the subject, but as all the books intimidated me, I read this gift which seemed more in my reach. It's an incredible book. Page 101, there is, amongst a host of observations, a mention that architects are 'late bloomers'. What a coincidence! So, is the actor the character he plays? When people stop me in the street and talk to me about the image I inspire for them, I reply that I am not who they think I am. I relate to the character through details. And I do so with quite a lot of attention to the story and in a way that ensures there is an echo with the other characters. The aim is that the spectator can relate too. That's the secret of the show: helping people to recognise who they are.
Question:
How did you work with Isabella Rossellini?
William Hurt
: The people I prefer working with are those who have their feet on the ground, who are natural and feel happy in themselves. Isabella is remarkable, she is always herself. In my opinion, acting is an act of generosity, of sharing, and Isabella seems to see things the same way. She always shows great conscientiousness, which I believe she partly inherited from her parents. Shooting a scene with her is a pure joy.
Question:
Has this film helped you to find answers about life?
William Hurt
: Everyone can find elements in the film to feed on. As for me, I now feel capable of confronting my own mortality and choices better.