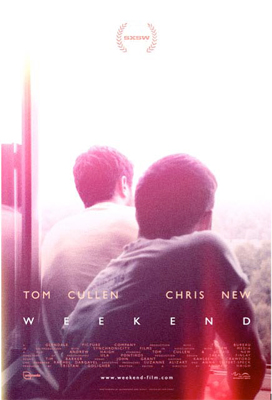 Weekend
Cast: Tom Cullen,Chris New
Director: Andrew Haigh
Genre: Drama, Romance
Rated: MA
Running Time: 96 minutes

Synopsis: A one-night stand that becomes something more - an unconventional love story between two young men trying to make sense of their lives. On a Friday night after hanging out with his straight mates, Russell heads out to a nightclub, alone and on the pull. Just before closing time he picks up Glen. And so begins a weekend - in bars and in bedrooms, getting drunk and taking drugs, telling stories and having sex - that will resonate throughout their lives.

Release Date: January 26th, 2012

Production Notes
Weekend is the second feature by director Andrew Haigh and stars newcomers Tom Cullen and Chris New. It was produced by Glendale Picture Company with The Bureau, and Coproduced with Synchronicity Films through support from EM Media (the East Midlands regional funding organisation). The film shot for 17 days entirely on location in Nottingham, UK. It premiered at the SXSW Film Festival in 2011 winning the Emerging Visions Audience Award and picking up North American distribution with IFC's Sundance Selects label. They will release the film theatrically in the US on Sept 23rd. During the US festival run it also picked up the Grand Jury Prize and Best Actor Award at the Nashville Film Festival and the Grand Jury Prize at Outfest in Los Angeles. In New York it opened the BAMCinemaFest where A.O. Scott of The New York Times called the film 'Perfectly realised - a bracing, present-tense exploration of sex, intimacy and love'.

Paul Brunick in his review for Film Comment said the film was 'a work of surpassing emotional insight and artistic accomplishment. It's about the human condition and it's already one of the best of the year' and Amy Taubin for ArtForum wrote 'Just when it seemed that it would be unbearable to sit through another movie about identity-as sex and vice versa, one comes along that's more precise and moving than almost all the others'.

The European premiere took place at the Karlovy Vary Film Festival in June 2011 taking part in the 'Forum of Independents' competition. The UK premiere is set for October 2011 where distribution will be handled by Peccadillo Pictures who will be releasing the film theatrically on November 4th. Weekend will also receive distribution in Germany, France, Brazil and Poland with more to be announced soon.

Directors Statement
I wanted to tell an honest, intimate and authentic love story. I wanted to express that feeling of both fear and excitement that comes with the possibility of something new. I wanted to watch these two guys slowly fall for one another, fall for each other's differences almost as if they were uncovering missing pieces of themselves. I wanted to capture those moments that two people share when they truly start to engage with one another, gently focusing in on the struggles at the core of their characters. Russell and Glen are two people navigating through life in very different ways but both are looking for same thing - to find their place within the world around them. They are trying to work out who they are, what they want and how they should define themselves, in private as well as in public. Obviously when dealing with two gay characters many of these issues become especially pertinent and it was important to me that I tried to say something truthful about the complexities of the modern gay experience. However, just as there are many ways to define a person, the same can be said of a film. I hope that rather than narrowing the resonance of the story, the gay context helps to amplify the themes felt at the heart of Weekend - those struggles we all face regardless of sexuality.