LOOKING DIVINE - THANKS TO WINE!
DESIGN HOTELS™ PRESENTS MADEIRA'S FIRST VINOTHERAPY SPA AT THE VINE HOTEL
Whoever said wine was just for drinking? The recently opened The Vine is the only hotel in Madeira to exclusively offer Vinotherapy treatments containing Chardonnay, Merlot and Cabernet grape varieties. Known for its anti-ageing properties, a Vinotherapy treat is a sure fire way to take back the years. So wine lovers, beauty enthusiasts, or seekers of an extra special treatment take note - booze never made you look so good!
Divine Relaxation

The Vine's spa offers over 300m+ of pure rejuvenation. All treatments are carried out with TheraVineproducts, one of the most renowned Vinotherapy brands.
In the spa there is an ample relaxation area with a Jacuzzi and steam room as well as five treatmentrooms: three rooms for classical treatments, one room with a hydro-tub featuring integrated massagefunctions and a 'Vichy Shower' room in which guests are sprayed with smooth water jets from variousshower heads as part of their massage.
A further highlight is the spa area on the roof terrace. With panoramic views over the sea and the island'scapital Funchal, guests can enjoy treatments in the open air followed by a sundowner cocktail or a glassof Madeira wine at the bar.
The spa at The Vine offers a range of treatments featuring everything from facials with ground grapeseeds to anti-stress body massages to relaxing body wraps. Each treatment follows a fixed ritual and allproducts are ecologically sourced. The most popular treatment is the 'Red Wine Divine Bath' involving afull body peel, followed by a bath of grape oils, full body massage and a glass of red wine of course!Those who favour complete peace and relaxation can further indulge in in-room spa treatments whereclients will be totally undisturbed.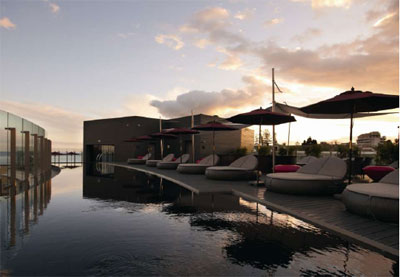 About The Vine

The hotel took its name and inspiration from the famous Madeira wine. The interior design was createdby the young and up-and-coming Madeiran designer Nini Andrade Silva. Ricardo Bofill was responsiblefor the architecture. A further highlight is The Vine's gourmet restaurant UVA, headed by AntoineWestermann who has been awarded three Michelin stars.
For reservations, please visit the website:
www.designhotels.com/the_vine_hotel
or telephone theappropriate Design Hotels™ toll-free number. Design Hotels™ has a Best Rate Guarantee!
EUROPE
Austria, Denmark, France, Germany, Greece, Ireland, Italy, Netherlands, Norway, Portugal, Spain,Sweden, Switzerland, UK: 00 800 37 46 83 57
Belgium: 000 800 37 46 83 57
Finland: 990 800 37 46 83 57
Hungary: 06 800 1 22 36
Russia: 810 800 20 74 10 49
ASIA/PACIFIC
Australia: 0011 800 37 46 83 57
China, New Zealand: 00 800 37 46 83 57
Hong Kong, Singapore, Thailand: 001 800 37 46 83 57
Japan: 0041 800 37 46 83 57
AFRICA
South Africa: 09 800 37 46 83 57
ABOUT DESIGN HOTEL™
Design Hotels™ represents and markets a hand-picked collection of more than 175 hotels in over 40countries across the globe. Established in 1993, as the first of its kind, the company offers unparalleledspecialist knowledge from conceptual branding through to market trend consultancy and internationalrepresentation.
The member hotels are independently owned but united by a commitment to individuality, progressivedesign and cultural authenticity. Design Hotels™ embody the most advanced ideas in the hospitalityindustry and offer cosmopolitan travellers new options for both travel and inspiration. The company hasits headquarters in Berlin and branches in London, Barcelona, New York, Singapore, Bali, Tokyo andPerth.