Hailing from Melbourne, Velvet Bloom releases a slinky new single '7Hundred25' encompassing the very essence of longing and the prospect of loss.

Oozing with lush vocals and honey dipped stripped back acoustics, '7Hundred25' takes listeners on a journey, subtly introducing elements until you realise that you are in the midst of an electronic strings section with choir like harmonies, rolling cymbal crashes and droning bass notes.

The single speaks to the fact that an acoustic style song can be entirely full without a major drum and bass section.

Velvet Bloom is a neo-soul, alternative-pop and jazz-rock music project with captivating ballad style vocals. The project is fronted and founded by Maddy Herbert, she performs solo and with different variations of her live band "The Vito Collective".

This intricate single will be released as a part of a 'Cousin Will Records' compilation album with artists like 'The Grogans', 'Auntie Leo And The Backstabbers', 'Polly And The Pockets' and the like.

The band had a huge 2019 with the re-release of Maddy's debut EP 'Bitter Sweet', as well as the release of singles' 'Isobel's Song – Live At Box Hill', 'Teach Ya' and 'DM ME' receiving praise and airplay from Triple J/Triple J Unearthed. Velvet Bloom also won Listen Up Music Org's 2019 national 'Songs That Heal' competition. In early 2020 saw the release of 'Standards', an up beat alternative-rock, soul- pop track that showcases Maddy's raw and powerful vocals.

During COVID-19 Maddy was accepted into the MIME mentoring program through Boxhill Institute and is currently being mentored by Kylie Auldist.

If that's not enough the band has also supported many established Australian acts like Kim Churchill, Josh Cashman, Death By Denim, Dulcie, The Grogans, Great Gable, Ben Wright-Smith, Zoe Fox And The Rocket Clocks, Teenage Dads to name a few.


Interview with Velvet Bloom
Question: How would you describe your music?

Velvet Bloom: Velvet Bloom's music speaks to the soul with an oozing honey pot of silky vocals, lush soundscapes and raw emotion.
We play a fusion of neo-soul, ambient jazz, pop, folk and indie-rock!


Question: Can you tell us about your latest single 7Hundred25?

Velvet Bloom: The subject matter of 7Hundred25 revolves around realisation and acceptance.
We released this track as a part of Cousin Will's compilation album and it was recorded by the amazing Quin Grunden! What a great time to release a community project hey?!
We wanted an extremely gradual build and to make the song fee like it was forever growing. 7Hundred25 has this simplistic and raw energy to it and we wanted it to really develop during the recording process!


Question: What inspired the song?

Velvet Bloom: I was in the midst of a breakup, and wanted to focus my energy back into me and centre myself. I was able to come to a realisation that the relationship wasn't fulfilling me. This song is about accepting your current situation, growing from your experiences and moving forward.


Question: Is there a particular message you hope listeners take from your music?

Velvet Bloom: Most of our songs incorporate the theme of self-love. I think it's imperative in todays society to really focus on the relationship that you have with yourself and nurture it.


Question: Do you prefer performing live or recording?

Velvet Bloom: I love both!!! There is something super special about both aspects of music - I'm so sorry, its too hard to pick!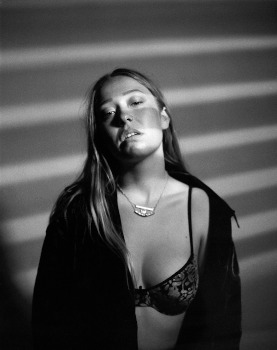 Question: Which is your favourite song to perform live and why?

Velvet Bloom: I think it changes each show actually! We have different variations of our live band and some songs work better in different contexts. I think Standards has to be up there with one of my favourites to perform live - it's so soppy and I always feel like dancing when we play it!


Question: If you could have anyone, in the world, attend a show, who would it be?

Velvet Bloom: It would be incredible to see Matt Corby at one of our shows, I'd be super nervous though!


Question: Which music/artists are you currently listening to?

Velvet Bloom: Lianne La Havas, Rissa, Great Gable, Remi, Dulcie, Julia Jacklin, Jaala, Hiatus Kaiyote… to name a few


Question: If you could collaborate with another artist, who would it be?

Velvet Bloom: Oh, I'm so down for collaborations but right now I'd have to say Jordan Rakei would be a dream.


Question: How does it feel to hear your song played all over the airwaves?

Velvet Bloom: I never get used to it, being played on the radio is always the most exciting part of my day.
My interview with Nkechi on Triple J for the premiere of 7Hundred25 was so unbelievable, she was so easy to talk to and got the best out of me because I was so comfortable. There was a massive spiel about us, it felt very surreal when I listened back.


Question: What has been your favourite part of becoming a music artist?

Velvet Bloom: Honestly, every part of it is so great!
Recording, performing, touring, writing, jamming and meeting other musicians are all things that contribute to its appeal BUT there is so much grind that goes into it behind the scenes.
It's so rewarding when the hard work pays off though, when you've been putting heaps of effort into something and it finally happens… that is the best feeling.


Question: What's next, for you?

Velvet Bloom: We will be recording our debut Velvet Bloom EP as soon as we are allowed to!! This release will come out next year with a run of vinyl! We are so super excited! We hope to head off on a tour next year too, granted that the boarders are open!


Question: What's a typical day like?

Velvet Bloom: At the moment its a whole lot of not too much hey!
In the morning I wake up and make myself a big feed! I will do half a day of work for Velvet Bloom, The Night Cat and Flo Creative then head down to the beach for a walk and usually try to do something crafty.
There's always a little bit of music making for my own project or collaborations. I've been getting into lots of pottery and baking with this extra spare time which has been very therapeutic!


Question: Can you share your socials? (links please)

Velvet Bloom: Facebook
Instagram
Bandcamp
Youtube
Spotify