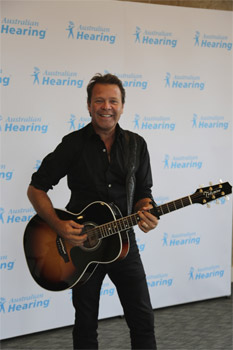 Troy Cassar-Daley I Can Hear You Now
Iconic singer and musician, and Australian Hearing Ambassador, Troy Cassar-Daley, launched a heartfelt song, inspired by Australians who have either lived with hearing loss and can now hear again, or are hearing for the very first time.

The song, -I Can Hear You Now', was performed publicly for the first time by Troy, to a packed audience, at the National Centre of Indigenous Excellence in Redfern, attended by the Minister for Human Services, Senator the Hon Marise Payne. It was also officially launched on iTunes. Proceeds from the sale of the song will be directed by Australian Hearing to support young hearing impaired people with their education.

The film clip for the song features a compilation of footage from Australian Hearing centres, capturing the moment when someone's hearing device is switched on for the first time. It includes reactions from hearing impaired babies and children and the parents' responses when their child hears for the first time.

Troy is calling on all Australians to watch and download the song, to raise awareness about how hearing is a gift and to take inspiration from the Australians, young and old, who have overcome hearing loss.

'After partnering with Australian Hearing last year, I was moved to write a song that captures the moment when someone is given the ability to hear."

'This song tells the story of a person who feels disconnected from the world because of hearing loss. They can't experience everyday things, like laughter. The song and the film clip are about finally being able to come out of the shadows, to be part of the world and people's lives again. And these people can hear again thanks to organisations like Australian Hearing," said Cassar-Daley.

'I'm proud to announce that all proceeds from the sale of -I Can Hear You Now' go towards helping support hearing impaired Australians," said Cassar-Daley.

Australian Hearing Managing Director, Bill Davidson said, 'We're delighted we have provided a canvas from which Troy has been able to create, what we consider, to be a unique masterpiece for our industry. Helping people live their lives to the fullest is our driving mission. I hope that people will view the video and understand that there is help at hand."

Hearing loss is an issue that will touch almost every Australian at some point in their life, with one in six Australians suffering hearing loss today, and this figure is set to rise to one in four by 2050.

Senator the Hon. Marise Payne, Minister for Human Services said the song will create a lasting legacy for people suffering from hearing loss.

'Troy's song is a fantastic way to celebrate the unique moment when a person gains the ability to hear that will help improve the lives of young Australians with a hearing impairment," Minister Payne said.

To purchase the song please visit www.hearing.com.au/Troysong.

Australian Hearing is Australia's leading hearing specialist, researcher and largest provider of government funded hearing services. Australian Hearing provides subsidised hearing care for eligible people, including pensioners and most veterans. To find out if you or your loved one are eligible, or to contact your nearest Australian Hearing centre call 131 797 or visit www.hearing.com.au.