Tremila expands home delivery menu for Melbournians with new hand-stretched gourmet pizza flavours, fresh pastas and DIY classic Italian desserts kits.
One year ago, restaurateurs Ramey Samweil and Dane Conboy launched Tremila, offering wholesale, authentically Italian, hand-stretched pizzas to commercial kitchens, restaurants, pubs and cafes around Melbourne. Business was booming, with Tremila supplying freshly crafted goods to over twenty venues including major hospitality groups like the Caulfield Racing Club, Pegasus Leisure Group and popular eateries like Sonder, Etto and The Albion Hotel. However, since COVID-19 restrictions have been issued, Tremila sadly had to stop working with over 80 per cent of clients, forcing the young owners to get creative and expand its offering to everyone and anyone within the Melbourne region.
Back in April, the Tremila team began personally delivering its pizzas to homes, not knowing whether or not their newly formed business model would be popular with hungry Melbourians. Fast forward five months and the business has sent out over 25,000 pizzas. There is a clear demand for restaurant quality dishes that are easy to prepare and reasonably priced which lead the founders to not only expand its menu offering and include fresh pastas and desserts, but also make the decision to permanently offer home delivery.
"Like millions of other people in hospitality, the COVID-19 lockdown has impacted our business dramatically." said Ramey Samwell, Co-Owner of Tremila. "We were devastated to shut down our restaurant in Oakleigh, The Italian Corner at the beginning of the pandemic but wanted to continue working with food regardless, so we redirected our business model to connect with people while they're staying home. We know it's hard keeping positive with everything going on but know that food can help bring us together and switch off for a few hours with our loved ones. Melbournians have such a strong love affair with Italian food and we've found that our products are purchased by businesses wanting to treat their staff and perfect for those celebrating anniversaries. People can still feel like they are going out with a Tremila pack as our products are the perfect balance of comfort and classy. We are so grateful that we have managed to survive as a business in 2020 and plan to expand even further having seen success in our new delivery model"
QUALITY INGREDIENTS IS THE KEY TO ITALIAN AUTHENTICITY
Tremila dishes are not your average frozen or homemade Italian meals. All pizzas use imported '00' flour from Naples along with a complicated 48-hour fermentation process, ensuring a fluffy artisan style crust, just like you would get in Italy. Using imported tomato sauce for the base of pizza and a combination of local meats, cheeses and vegetables, these pizzas are Italian delights with a Melbourne twist.
This week, Tremila have added more flavour choices to its pizza range and also have a range of fresh pasta, sauces and a selection of delicious DIY dessert kits to choose from.
All pasta is hand made using an Italian pasta machine and Australian sourced ingredients. It is important to the Tremila team to support local farmers, sourcing eggs from family farms around Victoria. Two types of flours are used in the pasta making process, durum wheat semolina and '00' flour, both of which come from NSW. Known as the Golden Triangle, this region of Australia is popular for premium hard wheat growing environments due to its hot weather, which creates a grain high in protein and perfect for making pasta. The addition of '00' flour adds a silky, smooth texture and organic Victorian olive oil and salt gives it a great seasoning. Pasta sauces are made without artificial flavours or refined sugars, unlike supermarket sauces, using Australian tomatoes, Victorian beef and locally grown vegetables. The Super Veg pasta sauce option has been extremely popular with families opting to choose a healthier dish containing six different kinds of vegetables. Furthermore, the fresh pasta lasts three weeks in the fridge, the sauces can last a couple months and best of all only takes three minutes to cook. Combine that cooking time with reheating a sauce for a few minutes in a pot, a vac pac pizza in the oven for five minutes and you can feed the entire family in 10 minutes.
Nine delicious pizza flavours are available to order at wholesale prices via the Tremila website and there are also options to substitute gluten free bases and vegan cheeses. Classic pizzas include Margherita ($11), Garlic & Cheese ($10.50), Pepperoni ($12), Capricciosa ($13), Pepperoni ($13) Vegetarian ($13.50), Hawaiin ($12.50), Sopressa ($14.50) and Chorizo ($14). Rotating fortnightly, a "special" pizza is also available and this week kicks off with a mouth watering Italian Sausage ($15.50) option. Pastas available include Fettucini, Spaghetti, Rigatoni and Torchio (all $10) and sauces to add including Napoli & Basil, Super Veg, Bolognese and Amatriciana (all $10).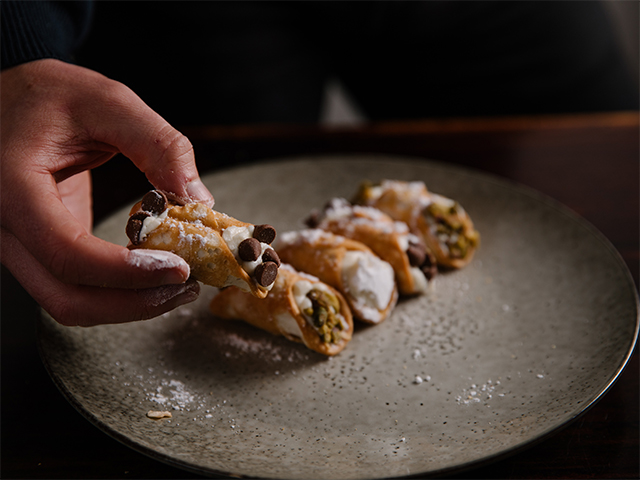 Tremila now offers fun DIY dessert kits too. People can choose from a Cannoli Kit which consists of six cannoli shells, Sicilian ricotta, chocolate chips and crushed pistachios ($15) and an impressive Ricottamisu ($10), a spin on a classic tiramisu that is perfect to share between two. Again, making sure they are catering for all sweet lovers, Tremila are also launching a Lemon Cheesecake and Cherry Ripe version of the ricottamisu dish in the next two weeks for those looking to try something a little different.
Tremila dishes are prepared so they can be served in just a couple of minutes, making it easy for busy families and is a great option for people looking to support Melbourne born businesses.
For all orders, please visit www.tremila.com.au.
Instagram: @tremila3000 | Facebook: /tremila3000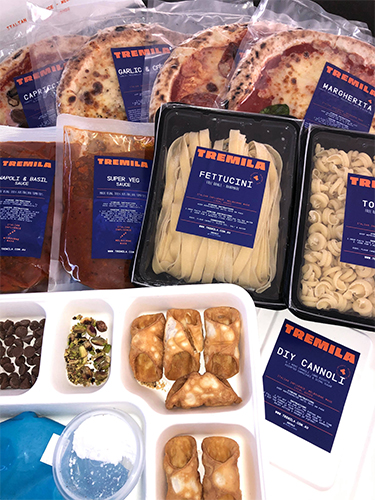 Review:
What would you do if this arrived at your door? Solving that tiring question that we all face "what's for dinner?" Tremila came to my rescue.
With a range of pizza, pasta, sauces and a DIY cannoli kit we were all chomping at the bit to give Tremila a try. And they didn't disappoint, first up Pizza. As is always the go to for any family with teenage kids pizza is always a winner, Tremila has a great range of topping to suit the fussiest of eaters. Usually quality toppings and thick based pepperoni pizza really hit the spot filling up my "bottomless pit" of a teenage son, while the Margherita was ample for both me and my daughter. Creatures of habit, happy to report that both kids requested this pizza again. Delivered cyrovaxed means they have a fridge life of a couple of weeks so very handy when you're too tired to think. Can be oven baked or cook in minutes with my benchtop Mastpro Pizza Oven.
Next up, my favourite pasta. We tried the Tremila Fettuccine with Super Veg Sauce and the Fresh Torchio with Napoli & Basil Sauce. Now my only criticism is that they come in portions of 2-3 serves, which makes it a bit tricky for a family of 4. However couple of options here; accompany with salad, or as a side with meat, or even add veg & meat to these bases to easily make 4 portions. I went for a different option. I cooked up the lot, turning my extra serves into lunch for the next day. The sauces were tasty with plenty of flavour and the pasta…. well it just melted in the mouth and only took 3 minutes to cook which is a winner in our house.
But you should have seen the eye bulges when I pulled out the DIY Cannoli Kit. Easily pipe in the filling to the cannoli shells (before they pipe it direct to their mouths) and add finishing touches of choc bits, pistachio and a dusting of icing sugar. Then stand back as the kids dive in.
Tremila offer free delivery for orders of $75 or $11 Victoria wide & Greater Sydney region.