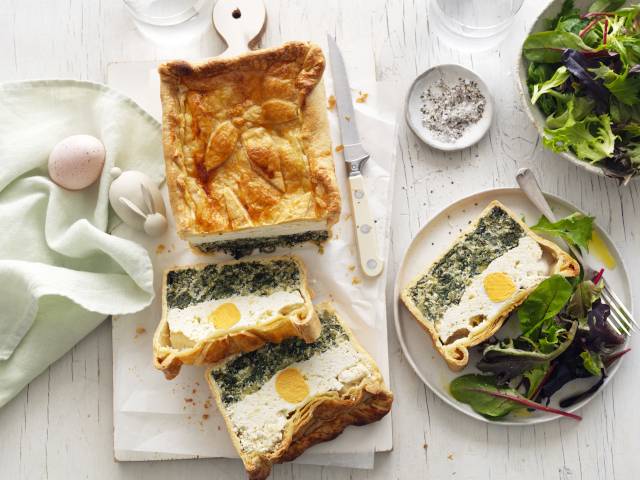 Torte Pasqualina
Prep time: 40 minutes
Cook time: 1 hour 10 minutes
Serves 4-6

Ingredients

Spinach filling
• 1 tbsp olive oil, plus extra for greasing
• 1 small onion, finely diced
• 1 large stick celery, finely diced
• 1 clove garlic, crushed
• 3 x 250g packets frozen spinach, thawed and squeezed of excess moisture
• 150g firm ricotta
• ½ cup (40g) grated parmesan
• ½ tsp lemon zest
• 1 egg
• Salt and pepper to taste

Ricotta filling
• 500g firm ricotta
• ½ cup (40g) grated parmesan
• Salt to taste
• 4 whole small eggs, plus 1 beaten egg for glazing
• 2 sheets shortcrust pastry, just thawed
• 1 sheet butter puff pastry, just thawed

Method

Spinach filling
1. Heat oil in a large non-stick frying pan over medium-high heat and add onion, celery and garlic and cook for 3-4 minutes until softened but not coloured. Transfer to a mixing bowl and cool. Stir in spinach.
2. Add ricotta, parmesan, lemon zest, egg and season with salt and pepper. Mix well and set aside.

Ricotta filling
3. Mix together ricotta and parmesan. Season with salt.

Assembly
4. Place a baking tray onto the middle rack of the oven and preheat to 220°C fan-forced. Grease a 21cm x 9cm (base measurement) loaf pan with oil. Line with baking paper, making sure to leave a 5cm overhang on both long sides.
5. Place a shortcrust pastry sheet onto a lightly floured work surface. Cut the other sheet of shortcrust pastry in half. Attach it to the first sheet by brushing one edge of the pastry with beaten egg, overlapping sheets by 5mm and rolling over seam with a rolling pin to secure. You should now have 1 ½ sheets of pastry attached together.
6. Use a rolling pin to carefully place pastry inside loaf tin, lining the long sides with pastry and gently pushing into the edges of the tin. Brush edges with beaten egg.
7. Cut remaining shortcrust pastry in half across ways to line the ends of the loaf tin. Press overlapping pastry to join the pastry together.
8. Brush egg wash all over the base and sides of pastry. Spoon cooled spinach mixture into the tin and smooth out. Add ricotta and press down evenly. Make 4 holes along the top of the ricotta. Crack an egg into each hole. Brush all the edges with beaten egg.
9. Cut ⅔ of the puff pastry sheet to make the top. Place onto the loaf and press down gently over the egg. Trim off excess pastry from the edges.
10. Pinch and fold over edges to seal. Cut out leaf shapes from remaining puff pastry and arrange over the top. Glaze the top with remaining beaten egg.
11. Place loaf tin on preheated baking tray and cook for 15 minutes. Then reduce temperature to 180°C (fan-forced) and cook for a further 45 minutes. If pastry is browning too fast, cover the surface with foil. Cool completely in tin.
12. Serve warm or cold.

TIPS
• This Easter torte is best eaten at room temperature or just warm.
• Make Easter torte the day ahead. Cool completely in tin before refrigerating. Cover with cling film or foil.
• To warm, place onto a baking tray and warm in a low oven for 30-45 minutes before slicing and serving.
• Use firm ricotta, available from the deli section of your supermarket.