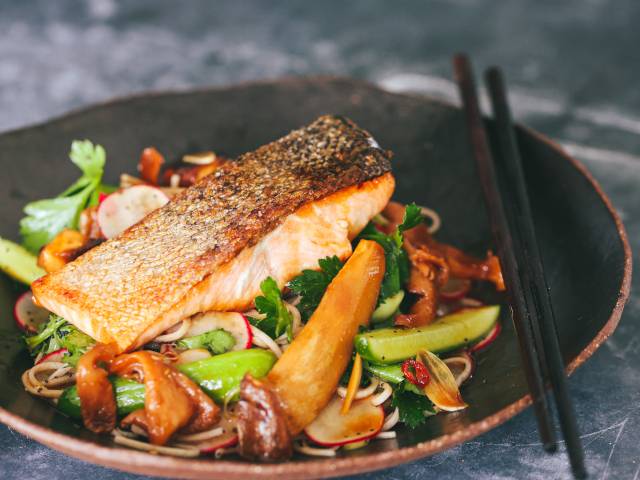 Guy Turland's Miso Salmon and Soba Noodle Salad
Difficulty: Medium
Serves: 2 +
Time: 25 minutes

Ingredients:
300g Tassal Fresh Tassie Salmon Skin On
¼ cup red miso paste
¼ cup soy sauce
2 tbsp honey
2 tbsp rice vinegar
1 clove garlic, minced
1 tsp grated ginger
1 cup wild mushrooms such as beech, shiitake or maitake
200g buckwheat soba noodles, cooked
½ small cucumber, seeds removed and thinly sliced
1 small bunch spring onions, chopped
1 small bunch of coriander, roughly chopped leaving stems aside
1 bunch parsley
1 tbsp sesame seeds, white or black
1 tbsp sesame oil
Juice of 1 lemon

Method:
1. Make your miso sauce by mixing the miso, soy, honey, rice vinegar, garlic, coriander stems and ginger in a bowl until combined. Preheat your oven to 180 degrees.
2. Pat the salmon skin dry with a paper towel. Brush the fish with a tiny bit of sesame oil and season with salt and pepper. Make sure you do this only just before cooking the salmon.
3. In a non-stick pan, add olive oil to fully cover the base. Heat the oil on medium-high heat (make sure your pan is hot), then put the salmon on skin side down and turn down to medium.
4. Using an offset spatula, press down on each salmon fillet for 15-20 seconds. This ensures the skin is as flat as possible against the skillet.
5. Cook skin side down until ½ of the salmon is cooked (approx. 7-10 minutes), then flip.
6. Add mushrooms and your miso sauce in the bottom of your salmon pan, making sure you pour it over the skin. Place the pan in the oven.
7. While your salmon is in the oven, make your soba noodle salad by mixing buckwheat noodles, cucumber, spring onions, coriander leaves, parsley, sesame seeds, sesame oil and lemon juice.
8. Remove your salmon pan from the oven after 5 minutes, or until salmon is cooked through. Serve immediately with your soba noodle salad.