Toni Servillo The Great Beauty Interview
Cast: Toni Servillo, Carlo Verdone, Sabrina Ferilli
Director: Paolo Sorrentino
Genre: Comedy, Drama
Rated: MA
Running Time: 142 minutes

Synopsis: Rome, in the splendor of summer. Tourists flock to the Janiculum Hill: a Japanese man collapses, felled by such beauty. Jep Gambardella – a handsome man with irresistible charm, despite the first signs of ageing – enjoys the city's social life to the full. He attends chic dinners and parties, where his sparkling wit and pleasant company are always welcome. A successful journalist and inveterate seducer, in his youth he wrote a novel which earned him a literary award and a reputation as a frustrated writer. He masks his disenchantment behind a cynical attitude, which makes him view the world with bitter lucidity. On the terrace of his Rome apartment which overlooks the Coliseum, he hosts parties where 'the human apparatus" – that was the title of his novel – is stripped bare, and where the comedy of nothingness is played out. Weary of his lifestyle, Jep sometimes dreams of taking up his pen again, haunted by memories of a youthful love which he still hangs on to. But will he ever manage it? Can he overcome this profound disgust for himself and others, in a city whose dazzling beauty sometimes leads to paralysis?

The Great Beauty
Release Date: January 23rd, 2014



Interview with Toni Servillo
Question: You have worked with Paolo Sorrentino since his first film, L'UOMO IN PIÙ. How did you first meet?

Toni Servillo: My first meeting with Paolo Sorrentino took place in Naples in the theatrical community, with the 'Teatri Uniti" founded in 1987 from the union of three companies: Mario Martone's Falso Movimento, Antonio Neiwiller's Teatro dei Mutamenti, and the Teatro Studio de Caserta, which I directed. 'Teatri Uniti" produced Martone's first films and also contributed to the production of Sorrentino's first films. Sorrentino was a young writer back then who was hanging out with the 'Teatri Uniti", an enterprise which had relaunched theater and cinema in Naples by creating a sort of 'Factory", where both were practiced. After various pieces of work, he finally offered us the script of his first feature film. Angelo Curti, who was closely involved in production work, took charge of him. I remember that at that time I was preparing to stage The Misanthrope by Molière. When I read this script, I thought it was fantastic, and that was the start of this relationship which now takes us to our fourth film together, out of the six that Paolo has directed. We have a very privileged relationship which has become quite singular in Italian cinema, because it seems relatively rare that a filmmaker and an actor work together over such a long time.


Question: Do you stay in touch between films?

Toni Servillo: We have something in common which we both cultivate, and that's a taste for mystery. That has something to do with esteem, with a sense of irony and self-mockery, with certain similar sources of melancholy, and certain subjects or themes of reflection. These affinities are renewed each time we meet, as if it were the first time, without there being any need for a closer relationship between one film and the next. We meet and it's as if we've never been apart. And that means there's a deep friendship between us, and that's what is so great. When a necessity emerges, it's this necessity that becomes a film. This is fed by silences and by something mysterious that we like to leave as it is. The foundation of our relationship has this element of mystery that we don't want to unravel. We don't try to explain it.


Question: Did you discuss the script before the shoot?

Toni Servillo: As with all the films I've done with Paolo, he keeps the surprise of the script for me. He calls me and says: 'I've written a film and I'd like you to play the lead character." Then he sends me the script right away. He does that every time. Afterwards, we discuss the script together. Once he sends it to me, I take part in the initial readings. He doesn't only want to rouse my curiosity about my character, he also wants an opinion on the script. From that point on, a conversation starts about the character and the film, which doesn't stop and carries on throughout the creative process. For my part, while I like suggesting or adding things, I think that Paolo has a great talent for writing a script and dialog. When you read the script, you can already visualise the film. Paolo is one of those directors who has the whole film in his head. He arrives on set very well prepared. None of which stopped us having conversations beforehand to develop the character. For this film in particular, I'm very pleased with the character. I think it's Paolo's most personal film, his most free.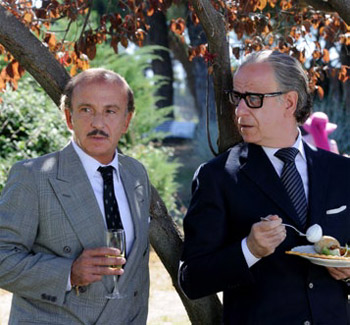 Question: Does he have a particular way of directing actors?

Toni Servillo: He chooses the actors according to the talent he sees in them, and the esteem he has for them. Then he expects a certain interpretation from them. He counts on the actor he has selected; he has backed him, and so he expects the maximum. He doesn't just maintain a lasting relationship with me, although we have a deep connection running through four films. He really gambles on all the actors he picks, like you bet on a horse thinking it will win. Most of the time, he chooses an actor and imagines the character embodied by that actor. Naturally, on set there can be a small margin for improvisation, depending on circumstances. But what's special about him is this dimension for gambling, which makes him choose an actor for a given character and gamble everything on his talent. So, for example, in the film I think Sabrina Ferilli and Carlo Verdone are really very good. They are very well-known actors in Italy, and they illustrate exactly what I was explaining. Their talent and their nature had to serve the characters that Paolo had in mind. Personally, in this film, more so than in the others, I felt as though I was passing the baton from the writer to the character. With deep affection, I felt that Paolo really needed this character, this Gambardella he'd invented, to have my face. And he passed the baton onto me. He told me: 'Put your face, your body, your way of being into it." What's more, he's a Neapolitan character who lives in Rome, with a Naples style that we both know well. It's a film with a very rich cast, a spectrum of characters which goes from Neapolitans to Romans, but not just that. Even more than with Il Divo, Paolo relied on actors with stage experience – in other words actors who, for the main part, currently act in theater in Italy, and lots of them for many years. Paolo really appreciates the discipline of stage actors, the absolute preparation with which they arrive on set, a preparation comparable to his own. He demands the same thing from all his actors.


Question: It's clear that for you, acting on stage and in the movies is not the same game.

Toni Servillo: To me, they are two quite different things. They are two profoundly different languages which are employed in completely different spaces and times. In my relationship with Paolo, the fact that he's been a very attentive spectator of my stage work for many years naturally enriches our relationship in cinema, which explains our great complicity. Question: Do you think that Sorrentino has, in a certain way, gained in maturity over the course of the years?

Toni Servillo: Yes, I've noticed that his writing ability, whether for a screenplay or dialog, which was already remarkable in L'uomo In Piu, has become increasingly refined, and at the same time he has developed his directing skills as a creator of images. I think this latest film, La Grande Bellezza, is the most accomplished demonstration of this. Over the years, he has become more of a director, whereas for his debuts with L'uomo In Piu, he was more of a writer, an inventor of extraordinary stories and dialog, but less a creator of forms. But in the course of his career, including his US experience, his writing has matured. Paolo makes films with an absolute liberty, without taking into account the expectations of the market or any career strategies. Paolo has great freedom as an artist and, even when he has some huge opportunities like with his American film, or for this one which is a European coproduction with a major budget, it doesn't change anything about his way of filmmaking, nor his dimension as a writer. This has even grown over the years. Instead of his creative freedom softening or becoming anesthetised, it has augmented.


Question: The film can be seen as a homage to Fellini.

Toni Servillo: Paolo has never made a secret of his profound love for Fellini. And I, like all the actors of my generation, have never hidden my love for Mastroianni, nor for Volonté. They are key references for us. I think this film and Eight And A Half, Fellini's masterpiece, are linked to the same word: 'dissipation". They are both films which develop this theme in an extraordinary way, the dissipation of the personality, of talent, of feelings, his own personal story, his social role. Gambardella has total indifference to his great talent, and instead squanders and destroys it. In my opinion these two films, which are completely different, from two different writers – an acknowledged master and a young talent who's carving out his reputation – share this same rhythm, this pacing linked to the theme of dissipation.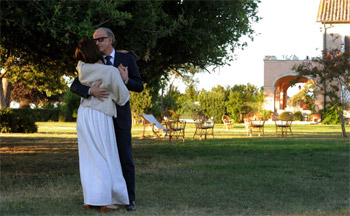 Question: The film also conveys a certain anxiety.

Toni Servillo: It is in some ways the film which recounts the end of an era, without knowing what awaits us in the future. For me, it's the definitive film which recounts the last 30 years in Italy, with the worrying consequences it displays. The anxiety also comes from the fact that it's a film which doesn't look towards a future. Because we're all quite lost in the face of this uncertain future.


Question: The terrace is the film's emblematic setting.

Toni Servillo: Yes, it's a magnificent terrace in an authentic apartment, in a red building which is easy to recognise, located in front of the Coliseum. You feel as if you could touch the monument with your fingertips from the terrace. It's Gambardella's apartment, the symbolic terrace where numerous important conversations take place on the themes we mentioned earlier. Gambardella hosts lots of stupid and vulgar parties there. Every emotion finds a place there.


Question: At the start, there's the death of a Japanese tourist; by the end, you feel that the spectator might succumb too.

Toni Servillo: I interpreted that death as one of the many manifestations of the effects of beauty. We know that beauty can also kill. And I'd be pleased if the film attains that objective.


Question: In Il Divo, you acted with a mask; here, you act with your face revealed: two traditions of Italian theater.

Toni Servillo: Yes, despite the fact that I have a haircut which changes me, I'm perfectly recognisable in this film. I used no mask. The character often hides, he is often almost dislikeable due to his cynicism, but he's also very sentimental. When he has the opportunity, he reveals deep feelings. He's very human. I'd say my performance is the opposite of Il Divo. Instead of working on the mask, I stripped myself bare in the circumstances which presented themselves.


Question: Do you prefer either of those two films?

Toni Servillo: That depends on the aims, on the vision one has of the finished work. For me, both experiences were exciting, each having their own requirements in terms of the film's objectives. Each time I work with Sorrentino it gives me the opportunity to express myself in a very different way. That's also a demonstration of Paolo's rich inventiveness. The four films I've made with him – L'uomo in Piur, The Consequences Of Love, Il Divo and La Grande Bellezza– are by the same director but, in a certain way, they are four self-sustaining universes, with characters which have nothing to do with one another. The only thing in common in the four films is a note that I really like in his movies: a disturbing sense of melancholy, which is also very seductive, and which corresponds to Paolo's deep personality. In one way, I feel a strong irony in my way of looking at life, but in another, this melancholy is something which binds us deeply, even though we never talk about it. The Great Beauty
Release Date: January 23rd, 2014